« Ketanji Brown Jackson: I Can't Say What a "Woman" Is. I'm Not a Biologist.
|
Main
|
Double Domino Cafe »
March 23, 2022
Quick Hits
True Conservatives Bill Kristol and Mitt Romney's former senior aide and current Lincoln Project alumnus Stuart Stevens spent all day cheerleading for the left:


Question: Why is it that all of the "True Conservatives," who claimed they opposed Trump for being insufficiently conservative, turn out to be leftwing liberals precisely as we have always suspected?
How did it just turn out that way? Random chance, perchance?
Surely not. They were in fact almost all left-liberals, precisely as we thought. And they were angry with Trump precisely for the reason that he blew up their deception.
Our party was -- and to this day, largely is -- in the control of left-liberals whose only agreement with actual conservatives was over the question of how much the well-heeled such as themselves should pay in taxes. And, formerly, an agreement that the US military could serve as cop and social worker to the basket-case Muslim world.
But now they've all de-masked and revealed what they are. And what they are is what we always thought they were -- and they called us liars when we correctly identified them as leftwing interlopers.
Why would we ever trust a lying NeverTrumper again?

Oh, I should mention that Madeleine Albright has died at 84.
Sorry for not mentioning it earlier. It's such sad news I'm having trouble even dealing. I am inconsolable. I am bereft.
When I heard she had died I just went to another place and haven't come back yet.

Speaking of: Jeff B. is very angry about the treatment his special needs kid is getting from the corrupt, gangster Chicago Teachers Union:
Jeff B. is *BOX OFFICE POISON* @EsotericCD


I rarely have thoughts that I know I shouldn't voice on Twitter, which I guess is one reason I haven't deleted my back catalogue, even thought it's a chronicle of idiocy.

Today is the first time I can remember in a decade where I simply cannot express my sense of anger properly.

"Now could I drink hot blood"
- Hamlet, Act III sc. ii
He flashes back to a thread from last week:
Jeff B. is *BOX OFFICE POISON*
@EsotericCD

On Monday, Chicago Public Schools finally went "mask-optional" for kids. This was over the violent objection of the Chicago Teacher's Union, which claimed removing masks had to be "bargained for" (read: paid off) due to terms they extracted during their January wildcat strike.

Refresher course: during the new year during the Omicron wave, the Chicago Teacher's Union staged an illegal strike--illegal by their own bylaws, no less!--and walked off the job for five school days in order to extract concessions from Mayor Lightfoot and the City Council.

What they wanted was full-time remote learning (and a pay raise down the road). What they got was a mask mandate and hyper-strict quarantine requirements (and a pay raise down the road). And now to get rid of it, well son that's gonna cost ya.
As Henry Hill said in Goodfellas: "F*** you, pay me."
Gangster government. The government is just an armed protection racket for brigands and thieves, despoiling the countryside. It's just a police department for gangsters, as I think Hill also said in Goodfellas.
He notes that Chicago schools are now supposed to be "mask optional."
But the corrupt Chicago Teachers Unions are saying "F*** you, pay me," again.
For the few who seem to have stubbornly missed this point, I would like to emphasize the OPTIONAL in "mask-optional." We made that choice. My little buddy emphatically agrees (he's nobody's fool, even at this age.)

Nobody else gets to make that choice anymore, even in Chicago.

On Monday, Chicago Public Schools finally went "mask-optional" for kids. This was over the violent objection of the Chicago Teacher's Union, which claimed removing masks had to be "bargained for" (read: paid off) due to terms they extracted during their January wildcat strike.


UPDATE: today my son, who faces severe speech delays and needs to see faces and be able to see his own, toddled off happily to pre-K at school (he goes b/c CPS has therapy options).

He was returned to me two hours later with a mask forcibly tied to his face by a teacher. Crying.

I am writing this as neutrally as I possibly can because I don't think merely posting an unbroken string of expletives will explain much to anybody, but...I am not in a congenial mood.

Moderna is petitioning for its Emergency Use Authorization for its vaccine... for toddlers.
Don't worry, it's totally worth the risk for toddlers who have near-zero susceptibility to covid. The vaccine has an effectiveness of -- are you ready for this? -- nearly 38% for those two to five years old, and very nearly 44% for those from six months to two years old.
But the firm said the vaccine proved only about 44 percent effective in preventing symptomatic illness among children 6 months to 2 years old, and 37 percent effective in children 2 through 5 years old. The company is studying the effectiveness of a booster shot, and one of its top officials said she expects a booster will be necessary for that age group, just as it is for adults.

Dr. Jacqueline Miller, the firm's senior vice president for infectious diseases, said that the relatively low level of protection demonstrated the ability of the Omicron variant to evade the vaccine's shield. Nonetheless, she said in an interview, "What we have seen is a successful trial."

"What I will say is 37.5 percent and 43.7 percent are higher than zero," she said. "If I were the parent of a young child, I would want there to be some protection on board, especially if we see another wave of infections."

When a parent attempted to read passages from a book called, I think, Homegoing -- available at the school library -- at a Cherokee County School District forum, she's ruled "out of order" -- for reading something "obscene" at this adult government meeting!
But it's totally okay for children!
OK Groomer. I never heard of this book and I don't know anything about it beyond the quote she provided.
By the way, last time I checked -- speaking of "True Conservatives" who demasked as the New York City left-liberals we always knew they were --AllahPundit was still babbling that the book being objected to was Toni Morrison's Beloved.
I also don't know how graphic the sexuality was in that book, either.
Refused to ever write the words "Gender Queer" or "Lawn Boy," the two sexually, pictorially explicit books showing actual man-to-boy penis-in-mouth sex.
No no no, the left-liberal "True Conservative" was busy parroting the line he got from his leftwing Twitter Palz (TM) that the book objected to was Beloved.
Which he asserted must be okay for kids, because... liberal intellectuals praised it.
Oh? If a books is praised by the left intelligentsia, it's automatically age-appropriate for little kids?
Does that rule hold for... Lolita, AllahPundit? That book is praised and considered an all-time classic.
Do you think little kids should be reading a book which is superficially about the joys of Man-Child sex, or nah? (I say "superficially" because it's written from the pedo's perspective -- who has orgasms bouncing "Little Lo" on his tumescent lap -- but I'm certain Nabokov wasn't himself endorsing Humbert Humbert's predations.)
Such a purely left-wing "argument" -- if something's okay for adults, then obviously, it must be good for fifth graders, too.
No one on the right believes anything like that -- in fact, we believe in a strong distinction between "appropriate for adults" and "appropriate for children."
Left-liberals are the ones always claiming that children are just "Li'l Adults."
By the way, check out this link to The Bulwark's Sarah Longwell -- claiming she's a "conservative," making the "Conservative Case for Teaching Sexuality to Kids Aged Four Through Nine."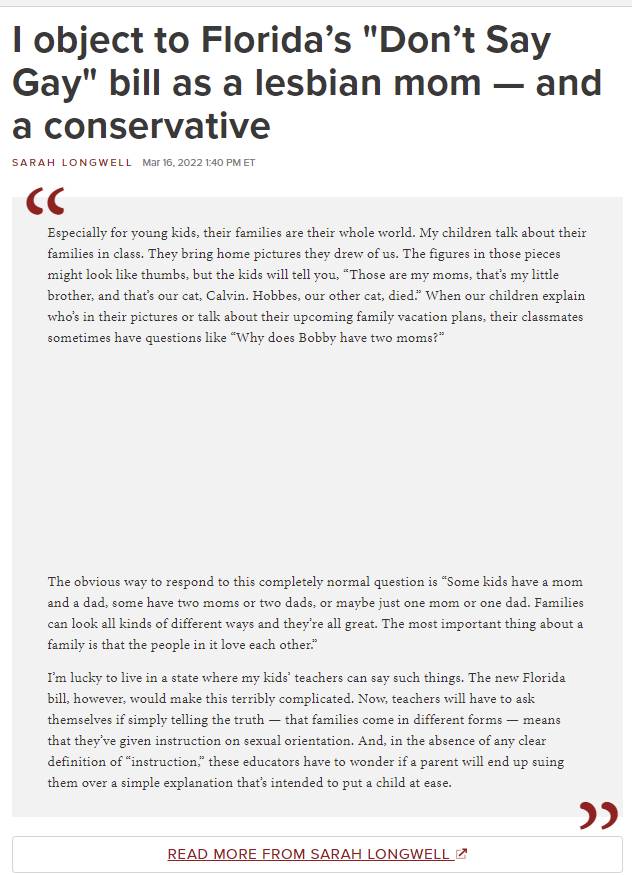 Ah yes, the "conservative" working for the Democrat-promoting Bulwark. Though she writes here for the also-conservative Washington Post.
Allah is constantly linking his Twitter Palz (TM) at the Bulwark. He's their official Bulwark-linker.
All of these platforms -- Salem, PJMedia -- instruct their writers to link to articles on their platform.
I wonder how many Salem media articles AllahPundit links to, compared to how many articles in The Bulwark and The Daily Beast.
Maybe Salem's management should look into that.
Harry's Razors stopped advertising on the Daily Wire over the Daily Wire's backwards belief that boys were boys and girls were girls.
So this Jeremy Boering character has started his own razor company. He claims it's real.
Good luck to him! I respecc the initiative and hustle.
Here's the website. I haven't tried ordering yet. I assume if an order does go through, that means either 1, it's real, or 2, Jeremy wants to have some fun with the federal mail fraud laws.
I think it's real. That is a well-produced ad which cost money.

By the way, National Review's Baseball Cvck linked that "Slipper Slope 'Fallacy'" meme I've been linking lately.
Someone decided to clue Baseball Cvck in: "Dan, this meme is about you."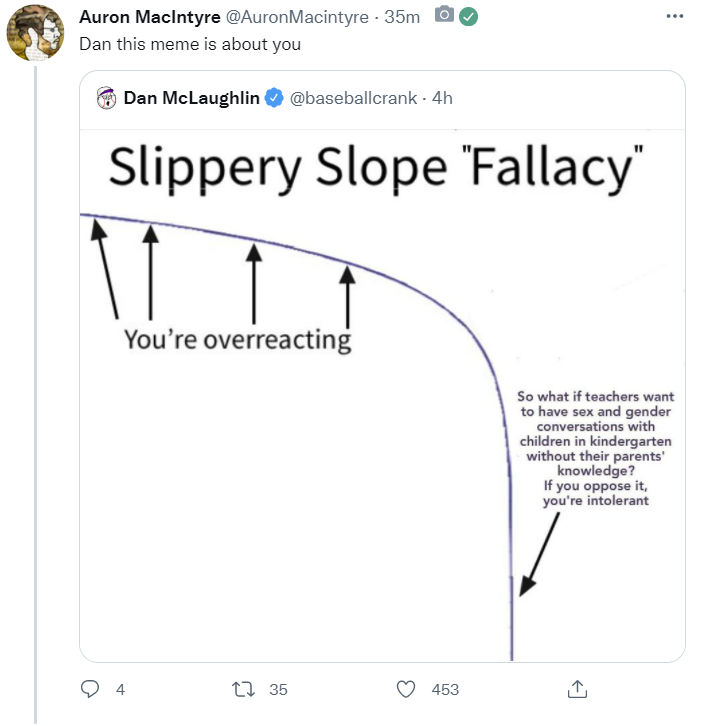 Indeed. These are the people who are always telling actual conservatives to stop being "paranoid" about the left's ultimate goals and just go along with The Plan.

posted by Ace at
05:52 PM
|
Access Comments