« Book: Biden's (Female) Communications Director Suggested a Scandalous Theory: Maybe the Person Failing to Position Kamala Harris for Success Is...
(wait for it...)
... Kamala Harris Herself!
|
Main
|
Ketanji Brown Jackson: I Can't Say What a "Woman" Is. I'm Not a Biologist. »
March 23, 2022
Texas' AG Writes Letter to Austin School District Telling Them That Their Elementary School Gay Pride Marches and Gender Theory Indoctrination Is Against the Law
Yesterday I noted that the Austin Independent School District was staging in-school "Gay Pride" marches for their elementary school students.
Libs of TikTok, which is absolutely pummeling our decadent, corrupt, failed "educator" class, has the video of the "Gay Pride March." Note teachers waving the rainbow flag and shouting praise at the children for participating in the indoctrination.
Now the Texas AG takes notice, and informs the Austin Independent School District that they are violation of Texas state law.

"The Texas Legislature has made it clear that when it comes to sex education, parents -- not school districts -- are in charge," Paxton wrote in a letter to Austin ISD Superintendent Stephanie S. Elizalde. He explained that the state's Education Code requires that "before a student may be provided with human sexuality instruction, a school district must obtain the written consent of the student's parent."


"By hosting 'Pride Week,' your district has, at best, undertaken a week-long instructional effort in human sexuality without parental consent. Or, worse, your district is cynically pushing a week-long indoctrination of your students that not only fails to obtain parental consent, but subtly cuts parents out of the loop. Either way, you are breaking state law," Paxton said.

...

Pride Week runs from March 21-26 at the school. As part of the lessons, teachers were initially instructed to tell students to keep conversations had in the classroom secret. Later, the guidance was changed to tell teachers that students could be told that they could what was said with adults they trusted.
As I mentioned: This is the Groomers telling kids "Don't Say Gay" -- specifically, keep our little Gay Grooming Sessions secret from mom and dad. Though you can share information with "adults you trust."
Note that when they say to keep this secret from parents but maybe share their gay indoctrination with non-parent "adults you trust" -- trust to keep your gay grooming indoctrination a secret -- they're actually directing children to seek out strangers, more Groomers, on the internet.
Like this pyrsyn, who tells kids to slide into her (?) DMs to talk about gayness with her (?).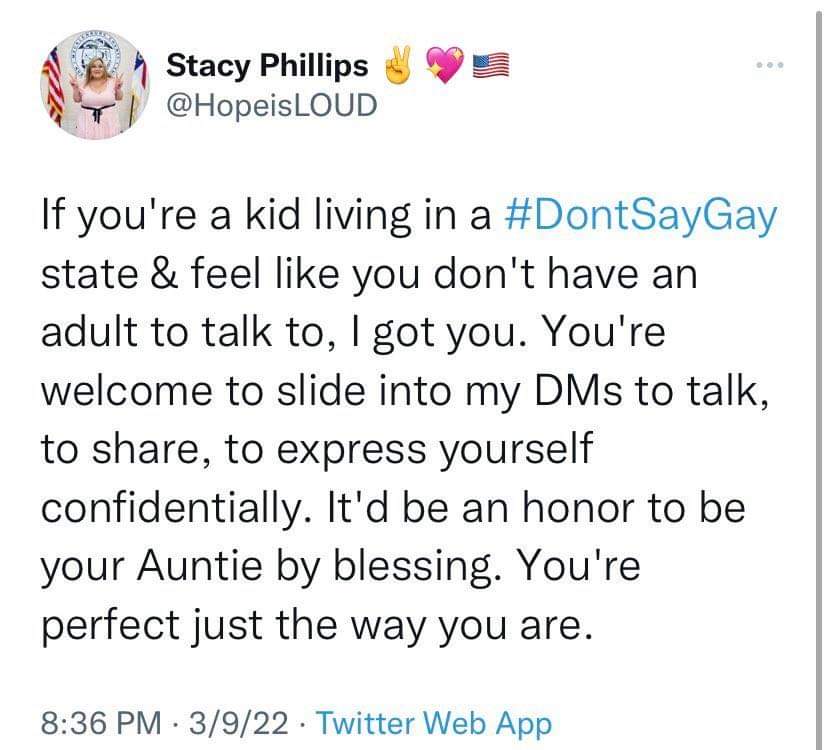 Don't tell your parents, but definitely search Twitter to find "adults you trust," kids.
So many adults are just dying to "understand," "comfort," and "guide" you through these confusing moments in your sexual evolution, Children!
Texas Attorney General @TXAG


Today, I sent a letter to @AustinISD for their curriculum and lesson plans that constitute "human sexuality instruction" governed by state law.

The Texas Legislature has made it clear that when it comes to sex education, parents--not school districts--are in charge.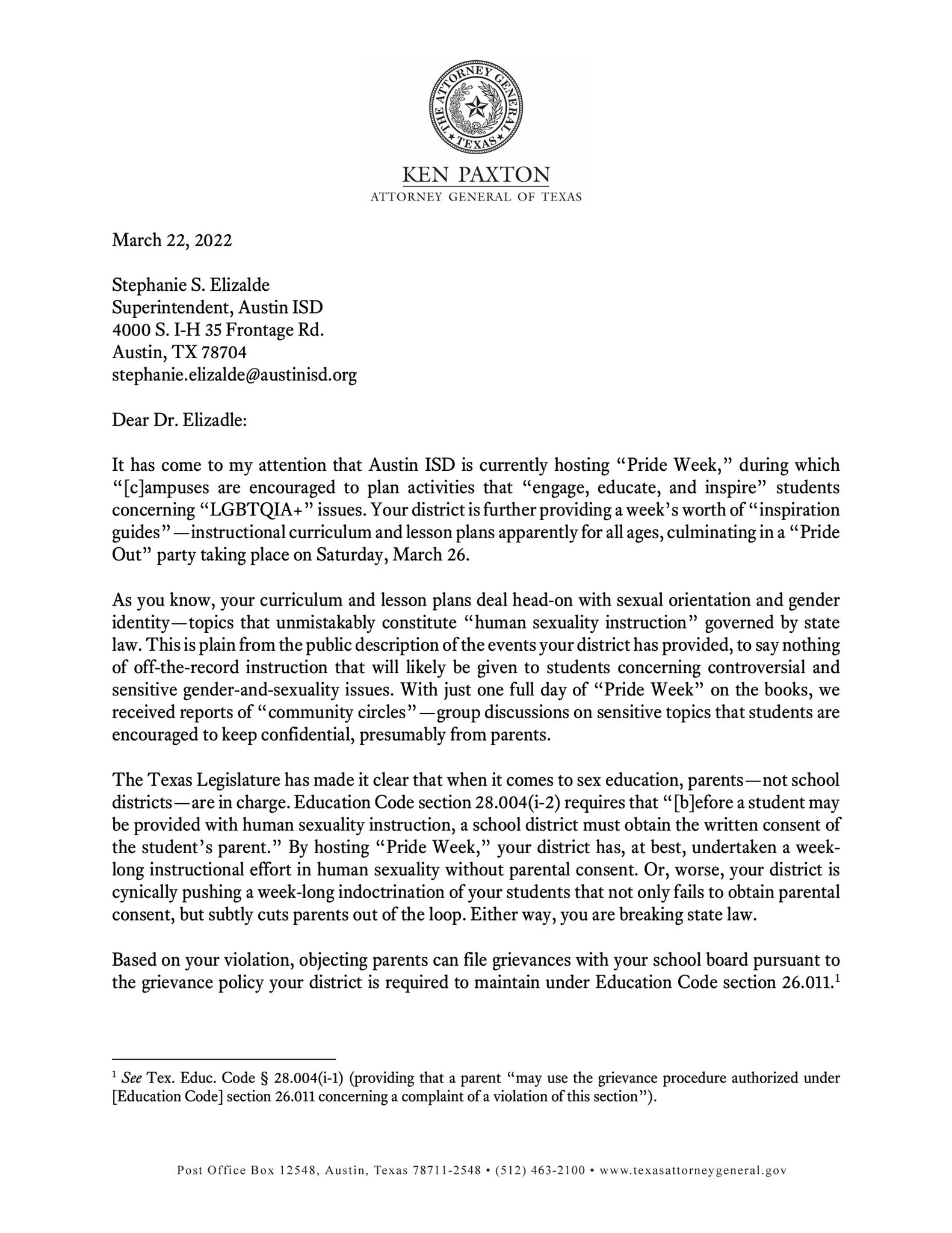 The school, as usual, claimed that it's okay to break the law and violate the trust of the parents who are paying them to do a specific job because they're "protecting LGBTQIA+ students."
Dr. Stephanie S. Elizalde
@AustinISDsupt

I want all our LGBTQIA+ students to know that we are proud of them and that we will protect them against political attacks.
Doctor of education, no doubt. Like "Doctor Jill."
As usual: They're lying and claiming "children" were attacked, when it's teachers being warned that they are breaking the law by grooming children.
This is the same claim they make with the Anti-Groomer bill in Florida, the so-called "Parental Rights in Education" bill -- they claim the restrictions about talking about homosexuality and transgenderism are laid on the children. Not at all. The bill says nothing about what kids can talk about.
It forbids teachers and school officials from starting "rap" sessions with kids about what gender they think they are or would like to be and what kind of genitals do they think they'd be interested in copulating with?
Actually it forbids all mentions of sex by teachers, not just stuff about homosexuality and transgenderism.
But let's be frank: Never in the history of American education did anyone think it was proper or acceptable for adult groomers to talk to children aged four through nine about sex of any kind.
It's only since Obergefell -- only since gay marriage was legalized, which gays promised would not affect non-gay citizens, parents, or children at all -- that there has been this lunatic deviant obsession with grooming children as young as possible into all the choices in Sexual Partners and Genders they can choose.
Rod Dreher noted the Sexual Left's "Law of Merited Impossibility:" to secure the changes in law and culture that they seek, the Sexual Left promises -- lies -- that these changes will have no negative effect on the greater population, and that any of the fears that traditionalists have about, say, forcing children to learn about homosexuality in kindergarten (or Pre-K!) are just paranoid delusions of bigoted minds.
Then, when they have secured the changes they seek, they immediately impose the measures that the "paranoid" people feared they would.
And then they say: "Of course we're not forcing your children to learn about homosexuality and transgenderism at five years old. What did you expect, bigot?"
The "impossibility" part of the rule is the claim that the things traditionalists fear can never, ever happen. They are Impossibilities.
The "Merited" part concerns the Sexual Left's gloating after they've imposed these things they previously claimed were "impossible:" Well, you deserve it, bigot.
You merited this impossibility.
I guess we should all just take any future claims by gays and gay advocates that the changes in law they're demanding will have absolutely no negative effect on non-gays and children to be more contemptuous lies, huh?
That's what people are taking from this: Eric July/YoungRippa, a libertarian who, as libertarians do, supported the gay "rights" and gay marriage push, now says he can't help but notice that everything the gay lobby told us turns out to be a lie, and everything the Christian skeptics warned us of turns out to be completely accurate.
Everyone is waking up to this.
Is this really what the gay "rights" lobby wants to do? Burn every future bridge they might want to take all for the great prize of Grooming Children?
I guess so. I guess so.
You deserve this impossibility, Christians, traditionalists, normies, and Breeders!
Related:
Ron DeSantis: "If you are out protesting this bill, you are by definition putting yourself in favor of injecting sexual instruction to 5, 6, and 7 year-old kids. I think most people think that's wrong. I think parents, especially think that's wrong."
Here's the video of the illegal, in-school "Gay Pride March" for elementary school children. In case anyone thinks I'm making it up.

posted by Ace at
03:21 PM
|
Access Comments