« Quick Hits
|
Main
|
Sun Dog Cafe »
March 21, 2022
More Quick Hits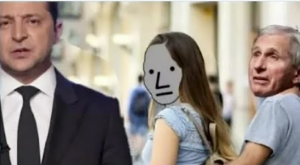 If you don't get that, that's the old "Distracted Boyfriend" meme but with a Karen NPC swapped in place of the boyfriend. Now his head is being turned from his current flame, Anthony Fauci, to this hot new Current Thing, Vlodymyr Zelenskyy.
Akshually... There are a bunch of these microstock photos, only one of which became a meme. I think the Fauci/Zelensky parody is making use of the "Distracted Girlfriend" photo, seen here.

The Federalist: Senate Democrats praise National Review for helping them in their Supreme Court confirmation efforts.
Much like the White House and its cronies in the corrupt corporate media, National Review was quick to accuse Hawley of orchestrating a smear about the Breyer replacement nominee.

"Despite your record, we've heard claims that you are 'soft on crime.' These baseless charges are unfair," Durbin claimed. "A conservative National Review columnist called claims brought by one of my colleagues 'meritless to the point of demagoguery.'"

...

Sen. Richard Blumenthal of Connecticut also testified in defense of Jackson's record on Monday and cited the same National Review article to discredit Hawley's claims.

"I'm likely to be followed by one or more colleagues who have raised allegations about your record that are simply unfounded in fact, and indeed irresponsible. They're unproven and unprovable. They're simply false," Blumenthal said. "There is simply no evidence to support these unfounded attacks. I found the commentary in National Review cited by Senator Durbin says about those allegations they are 'meritless to the point of demagoguery.' I agree."

"Thank you for your service," Company Man McCarthy.
The Federalist should just spam this article to everyone of their email contacts.
It's time for conservatives to finally stop funding the enemy.
You knew David French -- who claims that public libraries hosting Drag Queens to do sexualized performances for children under the guise of "Story Hour" are a "blessing of liberty" -- would of course have to choose this Pedo Hill to die on:
Marc Andreessen
@pmarca


Overheard in Silicon Valley: "The modern university is a political madrassa married to a trade school married to a hedge fund married to a sports team married to an adult day care center married to a visa law firm."
The Dukes of Tesla:

posted by Ace at
06:22 PM
|
Access Comments