« EMT 3-13-22
|
Main
|
American Foreign Policy Is Adrift. If There Is A Plan, It's A bad One, And if There Is No Plan, It's Just As Bad »
March 13, 2022
Sunday Morning Book Thread - 03-13-2022 ["Perfessor" Squirrel]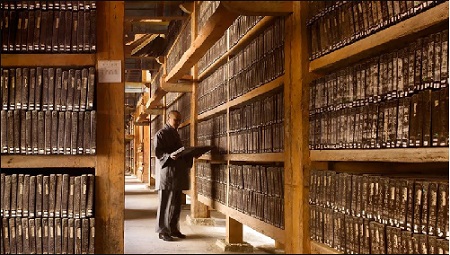 Good morning, Horde! Welcome to the prestigious, internationally acclaimed, stately, and illustrious Sunday Morning Book Thread! The place where all readers are welcome, regardless of whatever guilty pleasure we feel like reading (fartclam not included). Here is where we can discuss, argue, bicker, quibble, consider, debate, confabulate, converse, and jaw about our latest fancy in reading material, even if it's nothing more than the instructions on how to get the battery off the Ryobi drill. (ht: creeper). As always, pants are required, unless you are wearing these pants...have some extra straps handy, just in case!
So relax, find yourself a warm kitty (or warm puppy--I won't judge) to curl up in your lap, pop open a tin of bacon-flavored SPAM®, and crack open a new book. What are YOU reading this fine morning?
NOTE ON COMMENTS:
As a general rule on specialty threads (Book, Pet, Gun, Food, Gardening, etc.), please keep comments mostly relevant to the specialty of that thread. Comments that are simply about the events of the day don't really belong here. That's why we have the EMT and ONT, though maybe a COB could create a mid-day Open Thread for discussions of current events and political topics (or anything goes). At the very least, a good rule of thumb is to obey the "100 comment" rule, where all comments should by relevant to the specialty subject until after 100 comments or so. Thank you.
Now on to the meat (or gelatinous meatlike byproduct) of the Sunday Morning Book Thread!
PIC NOTE
The Tripitaka Koreana sounds like it would be quite interesting to visit, even if you don't read or speak Korean. Not all libraries contain "books" in the sense that we normally understand the word. The Tripitaka Koreana consists of a collection of wooden printing blocks dating back to the 13th century. There are no known errata or errors in the 52-million+ characters carved into the wooden blocks. It's apparently the most complete collection of Buddhist treatises, laws, and scriptures in the entire world. There's a crazy amount of dedication and skill required to create a library like this one.
IT PAYS TO INCREASE YOUR WORD POWER
noosphere - [noh-uh-sfeer] - noun
the biosphere including and modified by such human activities as agriculture, forestry, husbandry, urbanization, and industrialization.
in philosophy, the part of the biosphere affected by human thought, culture, and knowledge.
The "noosphere" is a rather fascinating concept blending evolution, philosophy, and sociology. How much influence has the human mind had on the development of the Earth over the past several millenia? How does evolution account for our creativity? What are the limits of the development of human consciousness? Are there other stages of evolution beyond the maximum human consciousness?
portmanteau - [pawrt-man-toh or pawrt-man-toh] - noun
a word that combines the form and meaning of two other words; a blend.
something that combines or blends several items, features or qualities
Note that "noosphere" is an example of a portmanteau word because it's derived from the Greek word "noos" (mind/reason) and the word "sphere" (ball, globe, implying the whole of the Earth). It should also be noted that "fartclam" is actually a compound word, rather than a portmanteau word. Here are some more examples of portmanteau words: "bromance," "frenemy," "mansplain," and "SPAM®." What are some other portmanteau words that we've used here at AoSHQ? Ace is great at coming up with clever turns of phrase (e.g., "fartclam"). What other portmanteaus can our brilliant commenters create?

GREAT QUOTES IN LITERATURE
From time to time, I come across passages and quotes in my readings that are very thought provoking. Today's entry comes from Lloyd Alexander's The High King, Book 5 of The Chronicles of Prydain. If you are not familiar with the series, it's one of the best fantasy series ever written for younger readers, right up there with The Chronicles of Narnia. Alexander explores many of the same themes that J.R.R. Tolkien and C.S. Lewis used in their respective works. Just some darned good reading, even after all these years.
With horror, Taran listened to the words of of Pryderi as he spoke to the High King. "Lay down your arms. Abandon the weaklings who cling to you for protection. Surrender to me now. Caer Dathyl shall be spared, and yourself, and those I deem worthy to rule with me." Math raised his head. "Is there worse evil?" he said in a low voice, his eyes never leaving Pryderi's. "Is there worse evil than that which goes in the mask of good?" (emphasis added)
CONTEXT: King Pryderi was supposed to support High King Math's military campaign to ride against Arawn Death Lord, but decided to thrown in his lot with Arawn instead, believing the Death Lord to be victorious eventually. These words come back to bite him when Pryderi attempts to assault the good enchanter Dallben at Dallben's farm. PRO TIP: Whether you are a good guy or a bad guy, it's *always* a bad idea to storm a wizard's stronghold. You WILL pay a high price even if you are successful in striking him down.
The force of the old man's voice was like a cold wind. "You have steeped your hands in blood, and in your pride sought to pass judgment on your fellow man. Was it your concern to serve Prydain? You chose an evil means to do it. Good cannot come from evil (emphasis added). You leagued yourself with Arawn for what you deemed a noble cause. Now you are a prisoner of the very evil you hoped to overcome, prisoner and victim. For in The Book of Three you are already marked for death."
SPOILER: Pryderi suffers an agonizing--yet karmic--death.
What are some of your favorite passages from literature? What gives them meaning to your life?
MORON RECOMMENDATIONS:
18th century American history is one of my favorite periods to study for many reasons. And the Townsends YouTube channel is outstanding for bringing that time to life by delving into the culture, technology, and attitudes of the period.

The channel just started a 'sort of' book club. Jon Townsend will read portions of a period book on a YouTube live stream each Wednesday at 4pm eastern and offer context for what was read. It is like an audio annotated book. The first is "The Autobiography of Benjamin Franklin". The first session went well with commenters asking questions that occurred to them. I've had seminars by acclaimed professors that weren't as good. Unless you are a history nerd, a reading like this is very helpful.

Franklin's Autobiography is worth reading on many levels.
Posted by: JTB at March 06, 2022 09:40 AM (7EjX1)

Comment: We live in a time of marvels because we can enhance our reading experience through complementary media. I like the idea of an "audio annotated book" even though I'm not really into audio books. A livestream reading punctuated with questions and answers from the audience sounds pretty neat.
+++++
Recently finished Omnibus numbers 5 and 6 of the Conan the Barbarian comic. They were kind of a slog. The original comic writer left, they had run out of Robert E Howard stories to adapt, and the new writers were.....middling, at best. Between the two books, there was a two-year stretch of almost nothing: generic adventures with no over-arcing story, no supporting cast, and no real change of scenery. But it was still Conan, and the art was still fantastic.

And now Omnibus number 7 is about to come out. So I will be 'all caught up' for one whole week...
Posted by: Castle Guy at March 06, 2022 09:32 AM (Lhaco)

Comment: I have yet to finish reading Robert E. Howard's Conan stories, but I thoroughly enjoyed the Kull stories and the Solomon Kane stories, even though some of them are incomplete fragments. Conan is a larger-than-life character that's just perfect for comic book or graphic novel format. Of course, it really only works if you have a good writer who understands the character and his motivations. You can have great art and bad (or middling, in this case) stories, unfortunately.
+++++
Soviet writers the Strugatsky brothers wrote a lot of fantasy and sci-fi fiction beginning in the very late fifties; Roadside Picnic, It's Hard to be a God and Solaris among them. The theme in one of the books being a solely Eurasionist concept of a noosphere-like middleman consciousness connecting earth and another planet to the greater universe. Interwar Russian Eurasianist thinkers wanted to create a unified field theory of everything social, scientific and artistic for Soviet eurasia. The problem being no one had discovered this new academic discipline called 'personology'. The Strugatsky novels use these interwar themes as narrative fodder. Posted by: 13times at March 06, 2022 10:15 AM (yxp1g)
Comment: I'm not familiar with the Strugatsky brothers, though I may check them out as this sounds intriguing. I'm only familiar with a few other Russian fantasy and science fiction authors. But as I've said before, Russian literature may be up there among the greatest cultural literature in the world. *sigh* I just ordered Roadside Picnic as it's considered to be one of the greatest science fiction novels to come out of Russia.
+-----+-----+-----+-----+
That's about all I have for this week. Thank you for all of your kind words regarding my Sunday Morning Book Thread. I hope I am able to continue doing this for the foreseeable future.
If you have any suggestions for improvement, reading recommendations, or writing projects that you'd like to see on the Sunday Morning Book Thread, you can send them to perfessor dot squirrel at-sign gmail dot com. Your feedback is always appreciated! You can also take a virtual tour of my library at libib.com/u/perfessorsquirrel.
PREVIOUS SUNDAY MORNING BOOK THREAD - 03-06-22 (hat tip: vmom stabby stabby stabamillion) (NOTE: Do NOT comment on old threads!)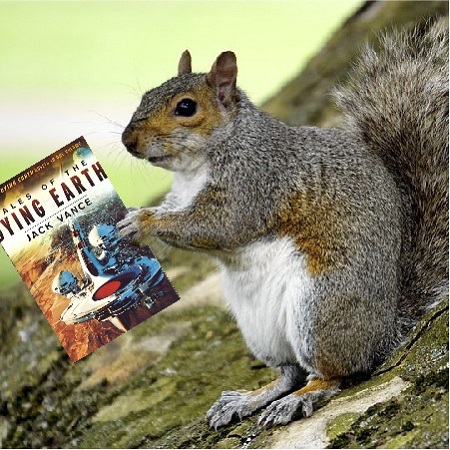 posted by Open Blogger at
09:00 AM
|
Access Comments