« Open Thread: Late Afternoon Pre-Cafe
|
Main
|
Biden's About to Give Iran the Bomb and Also Give All of Iran's Terrorists Carte Blanche To Travel The World Free of Restriction »
March 08, 2022
Biden Announces Ban on Russian Oil, Then Lies and Claims He's Not Stopping US Oil Production (Despite Running On Doing Just That)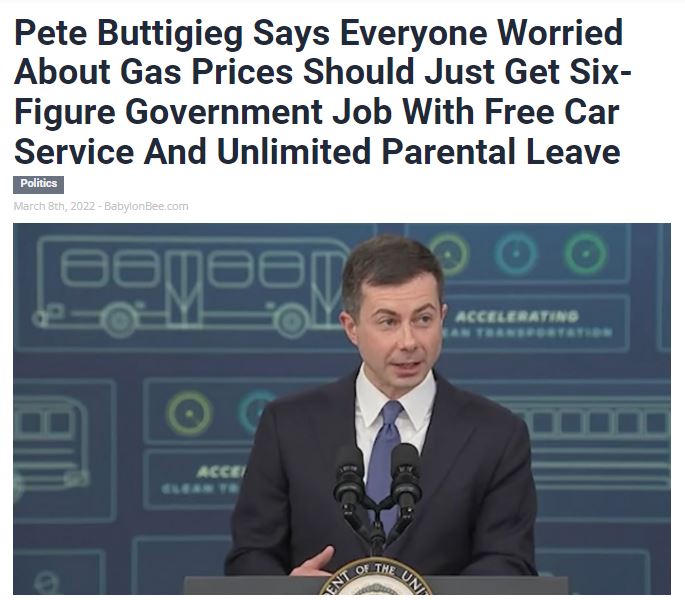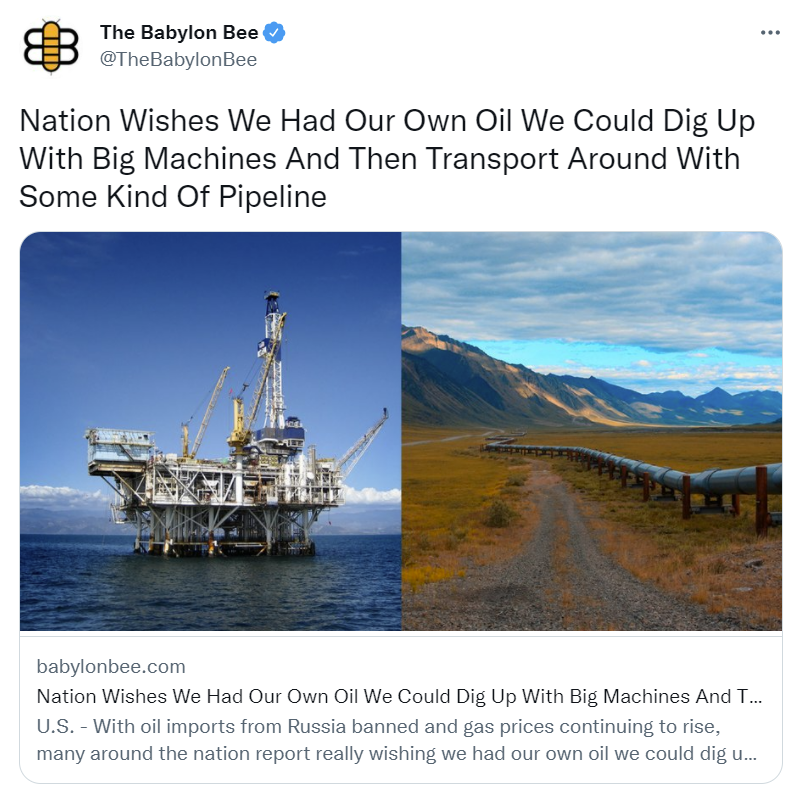 Gas prices just hit a record -- before this announcement, though the entire Democrat-Media Complex is now claiming that this announcement has reached back in time and retroactively caused Biden's inflation.
Breaking911 @Breaking911 White House Press Sec. Jen Psaki:

"Americans are paying a higher price at the pump because of the actions of President Putin. This is a Putin spike at the gas pump."
Thanks to AnonysaurusWrecks.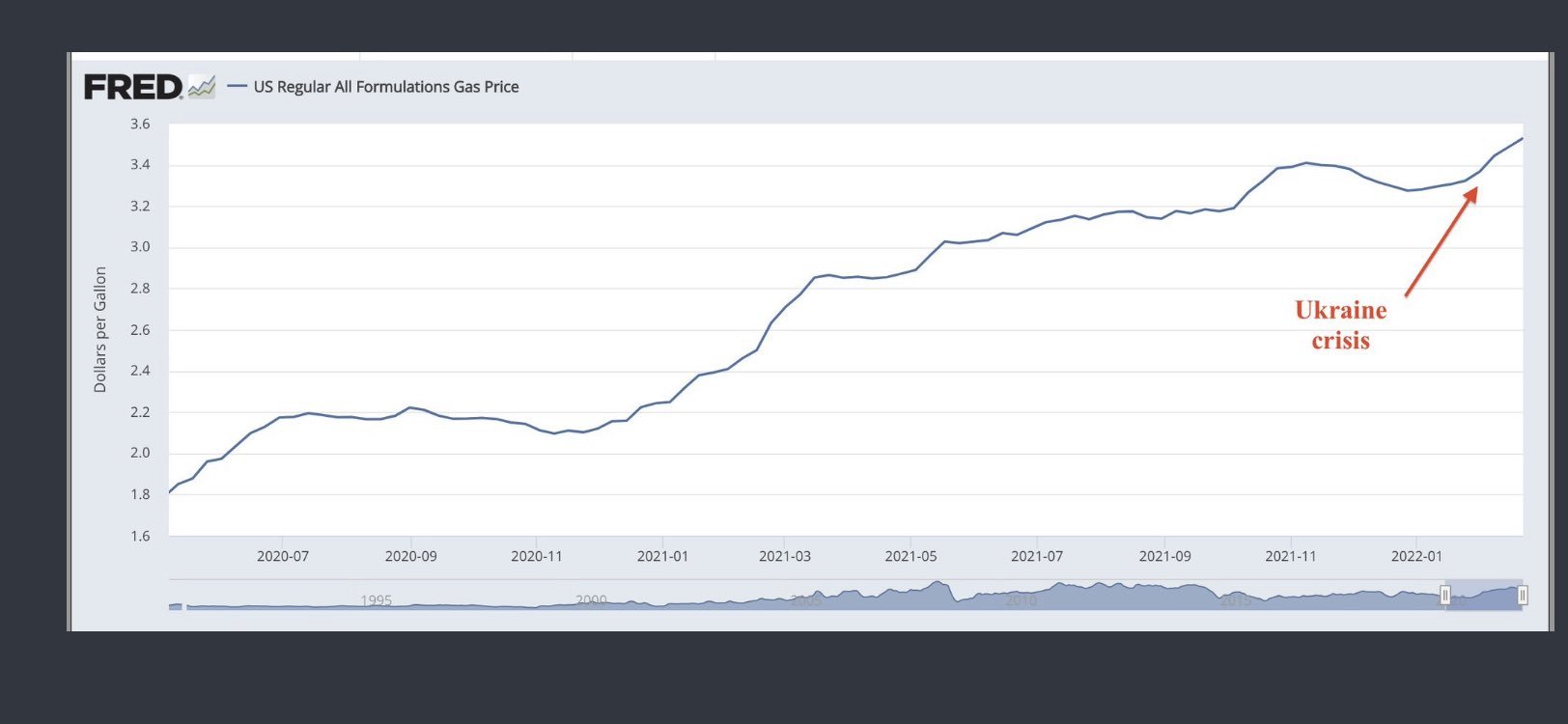 It's kind of like the Terminator where Michael Biehn goes back in time but instead of fathering John Connor he gives Biden his "brain stutter."
The "Biden Tax" on gasoline will cost you two thousand dollars per year.
President Biden on Tuesday said it is "not true" that his administration is holding back domestic energy production, while warning that the United States' ban of Russian oil imports will "cost" American families, as Russia's invasion of Ukraine continues.

Biden on Tuesday warned that gas prices will "go up further" from their current record levels, and he reiterated his support for government spending on renewable energy sources and criticizing the oil and gas industry for not taking full advantage of drilling opportunities in the U.S.

Americans are experiencing the highest gas prices since the 2008 financial crisis, with the national gas price average reaching more than $4 per gallon -- the highest average to date, according to AAA.

"The decision today is not without cost here at home," Biden warned. "Putin's war is already hurting American families at the gas pump since Putin began his military buildup on Ukrainian borders."

"And with this action, it's going to go up further," he continued. "I'm going to do everything I can to minimize Putin's price hike here at home in coordination with our partners."
No, he's not. He's not going to end the sanctions on US oil production.
...

Defending his administration, Biden said it is "simply not true" that his policies "are holding back domestic energy production."

"Even amid the pandemic, companies in the United States pumped more oil during my first year in office than they did during my predecessor's first year," he said.
What a very strange, carefully-tailored metric to cite. You mean that when Trump came into office, and was still operating under the rules that you and Obama left him, the US was pumping relatively little oil, then in 2021, operating mostly under the rules Trump left you, you were pumping more oil than Trump did operating under the rules you left Trump.
How about comparing your first year to Trump's second, third, and fourth years -- you know, as the US began operating more and more under Trump's rules?
Of course you don't want to do that, because US energy production plummeted from Trump's administration to yours -- as planned.
As you promised AOC and the "New Green Deal" caucus.
The entire plan of the Greens is to artificially cause "energy prices to necessarily skyrocket," as Obama promised long ago, so that the prices of "alternative energy" will look competitive by comparison.
And we're in the "causing energy prices to necessarily skyrocket" phase.
Biden keeps citing all the places people are allowed to drill, but aren't drilling. Yes, that's because those wells are non-productive.
But you won't grant leases to drill in productive wells. You keep citing all these dead wells people are allowed to drill in. Gee thanks so much. Can't wait to spend millions to drill and get the earth to cough up some dust.
But when people find a new lake of oil, somewhere it makes sense to drill, and file for drilling rights, you say "No."
Meanwhile, the left is in full blame-shifting mode:
Marco Rubio @marcorubio

Stop importing Russian oil

Start producing more American oil again

That's the plan
Replying to Rubio, this... "journalist:"

Catherine Rampell
@crampell

It'll take many months before any ramp-up in US production today feeds thru to more available oil, regardless of regulatory environment
In the mean time, US gas prices will spike, and people like you will use higher gas prices against Dems in the midterms
https://washingtonpost.com/opinions/
2022/03/07/russia-energy-sanctions-republican-trap-biden/

That's a "journalist," by the way, not an out-and-open Democrat operative.
Kind of hard to tell the difference, isn't it?
Via John Sexton, she also argues that Republicans should not "seize" on Brandon's surging gas-price troubles.
Including, apparently, the surging gas prices that occurred over the past year.
If Republicans truly believe our patriotic duty is to orchestrate a Western embargo of Russian energy, they should commit, today, to not politically exploiting the economic pain such sanctions will inevitably cause American consumers.
Sexton comments:
What Rampell and Sargent are arguing, in so many words, is that the GOP should help Biden sell this, or at least not make it harder for him to do that. That's a nice thought but it's not likely to happen. Republicans know it certainly wouldn't happen if the roles were reversed in this little drama. After the past four years, Democrats are really in no position to ask Republicans to take it easy on the president because he's engaged in foreign policy with Russia. That's just not how Democrats have been playing the game.
It also, it should be noted, wasn't Trump who encouraged Ukraine to get out on a very parlous limb with Russia, thereby setting this entire calamity in motion. That was the neoliberals, assisted, as usual, by their neocon Renfields.
And the claim that announcing that America was back in the energy production game wouldn't reduce prices is wrong.
Of course, prices would start to fall on a signal that future supplies are increasing...
AG
@AGHamilton29T

This is intentionally deceptive because it's not how oil markets work. Markets don't just react to current supply, but also potential for future supply.
Of course it's "intentionally deceptive" -- it's from a "journalist." Everything they say is intentionally deceptive. They're liars and propagandists by trade. They have no other skill or function.
Plus: How does she know how long this will go on for? One analyst said his belief was that this would turn into an Afghan-style quagmire for Russia that could go on for years and years.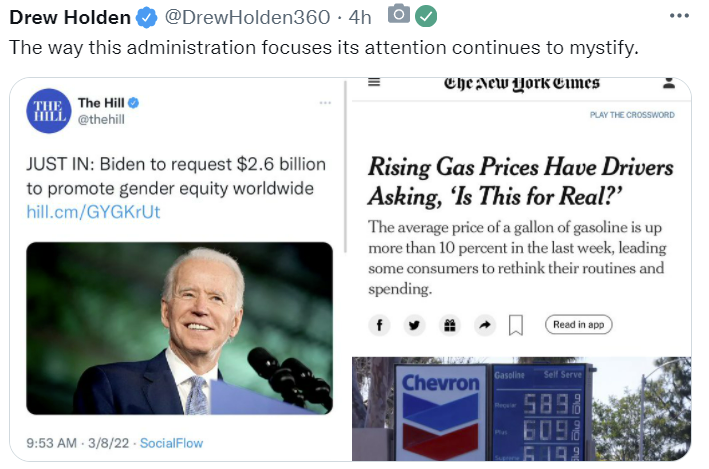 Oh by the way: Trucks are racist.
Remember, they're very serious about reducing oil prices. They're laser-focused on it, in fact, to the exclusion of all else.
Notice the phrase "during the transition to cleaner alternatives."
That just keeps popping up.
And here's how those Power to the People liberals -- the ones who care so much about the workin' folks -- are greeting the news that the Biden Tax will cost people two grand per year:

posted by Ace at
05:20 PM
|
Access Comments