ę Governor Kim Reynolds of Iowa Signs Bill Into Law Banning Males from Competing in Girls and Women's Sports at Any Level
|
Main
|
Quick Hits Ľ
March 03, 2022
The US Will Not Increase US Energy Production, and Will Continue Enriching Russia By Gobbling Up Russian Oil At Jacked Up Prices.
But We Will Be Hitting Them Where It Really Hurts.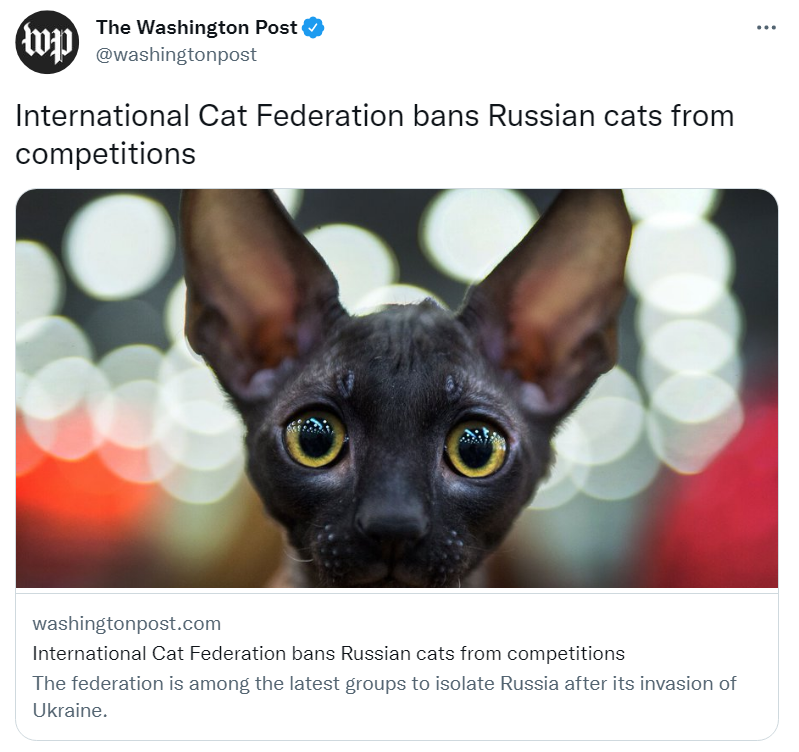 But... we will continue buying Russian oil, and we will consider buying Iranian oil too.
We will not even consider increasing domestic US energy production.
Because we're That Serious.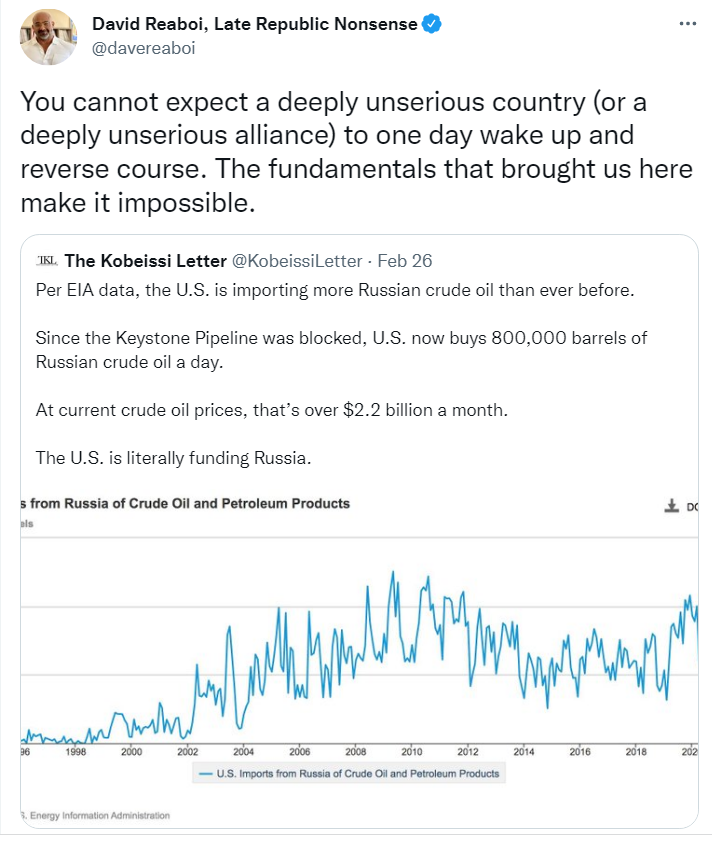 Manchin has demanded that Brandon change his priorities:
Steven Dennis @StevenTDennis

Manchin told me he's told the administration he wants Biden to reverse oil and gas restrictions after Ukraine invasion to end imports of Russian oil & export to NATO:

"We're buying 650,000 barrels a day from Russia. Itís ridiculous. Totally ridiculous."
But the centrist, moderate Joe Biden continues following the sage advice of Noted Petrostrategic Genius Sandy Cortez.
Jen Psaki says it's the US's plan to make itself intentionally reliant on foreign sources of energy to give us the freedom and space to develop "green alternatives."
Energy Secretary Jennifer Granholm confirms this: We are deliberately throttling down our own energy production to force ourselves to create "green alternatives."
As Obama once said, "electricity prices will necessarily skyrocket."
Don't worry: Someone Positioned Kamala Harris For Success in explaining the US's policy:
By the way, the Democrat Party has dispatched its Propaganda Ops arm to quash any discussion of the fact that we are flooding the Russians' coffers with much-needed US dollars, even as we're supposedly imposing "sherioush shancshionsh" on them.
In fact, the US has doubled its imports of crude oil imports from Russia from last year.
Maria Bartiromo reported that fact.
Politi"Fact" "fact" checked her. They said this fact was "untrue."
They said it was untrue... while conceding it was, technically, what some people might call "true." Or a "fact."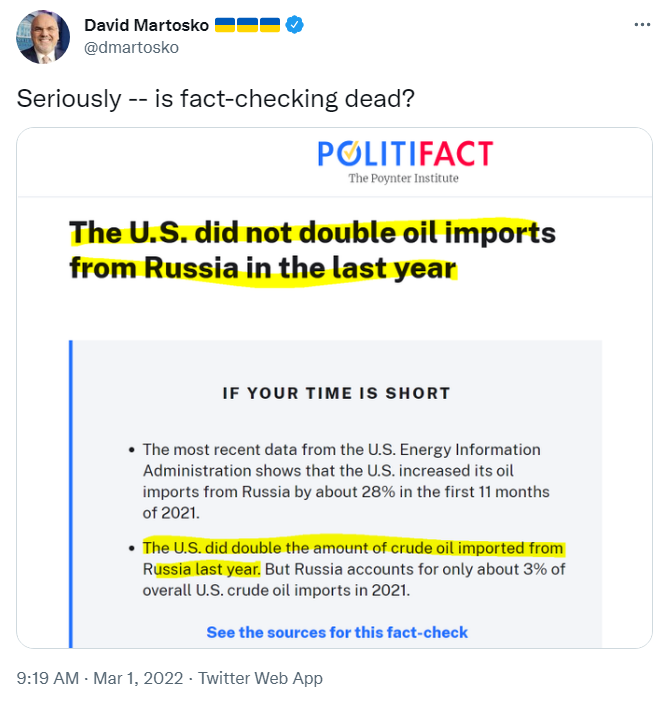 These are the people the Democrat Party has threatened the tech monopolies to use as "fact" checkers to decide who deplatform and throttle and block and demonitize for "disinformation" violations.
And Conservative, Inc. cheered, because they're being paid off by the tech monopolies, who are in turn being issued orders by the Democrat Party.

posted by Ace at
05:50 PM
|
Access Comments