« It's a Miracle! Covid Ends in Blue States at Same Time Democrat Pollster Warns That Covid Must End!
|
Main
|
Ukranian City of Kharkiv Decimated by Russian Terror-Bombing; Transgenders Hardest Hit »
March 01, 2022
Wyoming Senate Passes Bill to Defund Gender Studies and Women's Studies at University of Wyoming
Lawmakers in the Republican-controlled state Senate, by a 16-14 vote, adopted the amendment to defund the department, decrying it as a politically motivated and biased program.

State Sen. Charles Scott, the chairman of the legislative body's Education Committee, said he couldn't see "any academic legitimacy" to the department, which he called "an extremely biased, ideologically driven program."


"I think we'll hear complaints about how we're interfering in the internals of the university, but I think what we're really doing is sending them a message that they need to clean up their act in terms of the quality of the instruction that's being given," Scott said.

The amendment was proposed by state Sen. Cheri Steinmetz, who said in a floor speech that she submitted the amendment to defund the academic department because her "conscience" wouldn't let her sleep "without addressing it here in this body today."
I completely support this. They need to write the bill to stop the university from evading the ban, which they will do, by seeding "gender studies" professors throughout all other departments. That is, they'll take the old gender studies department and just reassign all the staff to positions in the other departments.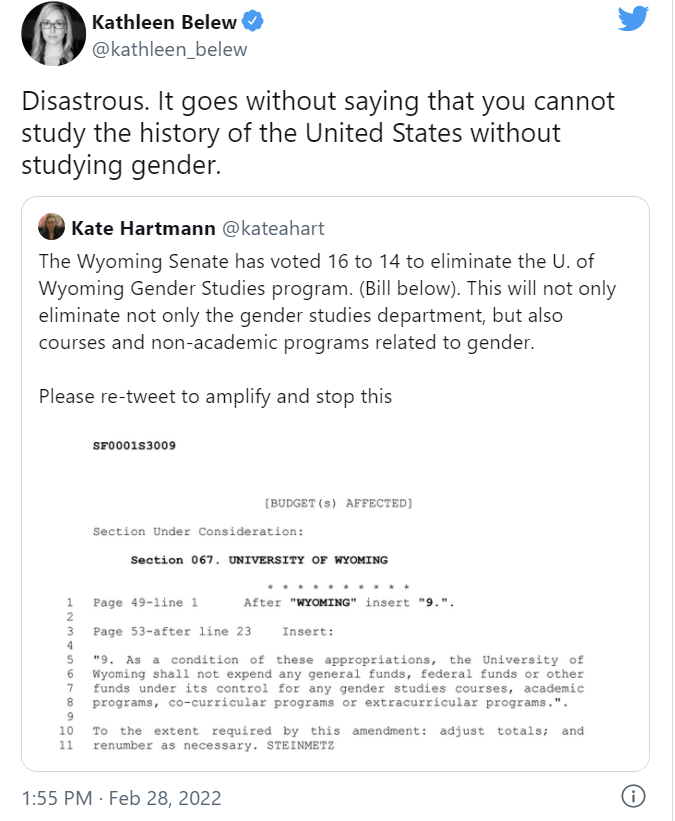 Yeah, what a disaster.
These are not real "studies," this is not real academic work, this does not "contribute to the net store of human knowledge," as actual academic work is supposed to do.
This is simply Marxist vocational training to prepare you for work in the Democrat Party, in associated organizations like Planned Parenthood, or in the leftwing propaganda media.
If you want that training, apply instead to Jezebel State College or the University of the Huffington Post.
Great Moments in Gender Studies: Dog Parks are manifestations of rape culture and oppression.
The PhD in feminist studies writes that dog parks are "petri dishes for canine 'rape culture.'" Never mind that dogs are, y'know, animals. Just go with it:

They offer a very public view into the ways human companions foster and perpetuate masculinist systems of communal oppression across species and in public spaces. The cultural norms operating within and upon these spaces form microcultures where acceptable and unacceptable behavior in human communities may be reflected in the way human companions construct their interactions with dogs, particularly in regard to rape culture and queering, and a-/moral interpretations of such behaviors and their human analogues under the assumptions of rape culture.

"In essence," Wilson adds, dogs parks "become rape-condoning spaces in which human rape culture plays out by the moral permissiveness we extend to animals."
Now, that's one of the so-called "Sokal Squared" Hoax papers, written to prove that gender studies are a joke and gender studies journals will publish an-ny-thin-nguh, no matter how asinine.
And it worked: This fantastically absurd piece of shit was published as "real science" in the field of gender studies.
Well, it's not a "piece of shit" -- it's a brilliant, brilliant parody of gender studies "science," in which the author claims to have documented like "over 10,300 instances of intracanine unconsented nasal-anal sniffing" or crap like that. I mean, absolutely absurd stuff that anyone who isn't absolutely stupid and/or ideologically lobotomized would immediately recognize as crank bullshit.
This is MAD Magazine level stuff. And it was published. In an "academic" jounal.
And they would have kept on publishing for years except the right-leaning press noticed how bizarre and unbelievable these papers were and did some digging and the hoaxers had to confess and expose the hoax before they intended.
It wasn't the Gender Studies scholars who figured out they were being punked -- it was the Wall Street Journal.
One of their papers got a Prize! For being among the best Gender Studies papers of the year!
Oh: For those of you who don't know, journals represent the cutting edge and the prestige of a field of study. So when you punk a gender studies journal into publishing this absolute nonsense, that means your garbage was better than 90% of all submissions to this "prestigious" journal of gender studies "research."
That means that the Helen Plukrose, Peter Boghosian, and James Lindsey are in fact among the world's very most serious and prestigious Gender Studies researchers, and they did it as a joke after "studying" the field for about a month.
Someone might say, "But they're not real Gender Studies researchers, their papers were made up and silly!"
But the point of their exercise was to prove that "normal" Gender Studies papers are just made up and silly.
They followed the normal rules of the game. They won.

posted by Ace at
01:10 PM
|
Access Comments