« Wyoming Senate Passes Bill to Defund Gender Studies and Women's Studies at University of Wyoming
|
Main
|
Oh My: New York State Study Shows That Vaccine Only Had 12% Efficacy In Producing Resistance to Omicron in Kids »
March 01, 2022
Ukranian City of Kharkiv Decimated by Russian Terror-Bombing; Transgenders Hardest Hit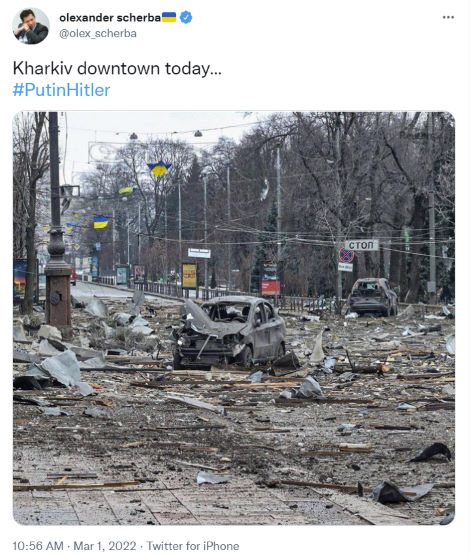 So, about those transgenders being hardest hit.
I wasn't just doing a snarky headline.
For years, transgender people in Ukraine who wanted to be legally recognized had a long list of steps they had to go through to do so. According to Human Rights Watch, the government mandated that transgender people undergo extensive psychiatric observation and under gender reassignment surgery to get legal documents that aligned with their gender.

Legislation was introduced in 2017 to lessen the process, but still would require that transgender Ukrainians undergo outpatient psychiatric examinations. There is no indication that legislation was ever implemented.

"I don't want to go through that. This is like, humiliating for the world," [Zi] Faámelu said. "...I decided to keep my passport, keep male in my passport, and now I cannot leave this country."

So, media, am I supposed to take the Russian attack on Ukraine seriously, or not?
Is the attack on Ukraine a serious matter, or is it just yet another front for you to wage culture war on your domestic enemies?
That's why people are so resistant to waving their little plastic American flags for Ukraine: It's because we know this all a sham, because the whole "Support Ukraine" propaganda campaign by the left is really just cover for the real campaign, which is "Destroy American Conservatives."
Tucker Carlson's whole segment is worth viewing, but I've cued it up to the most important part. Lead RussiaGate Hoaxer, Senator Mark Warner,* makes it clear that he's keenly interested in using the Russian attack on Ukraine as a pretext for -- what else? -- deplatforming and censoring his political enemies and taking away their right to speak and criticize Democrats.
That's all they ever want.
Again, this is what accounts for 90% of the resistance to waving the little plastic American flags.
Note that Mark Warner was also a lead Pressure-Bringer to big tech to censor conservatives.
FaceBook found that the Russian ads placed before the 2016 election were 1, only a small ad buy, 2, in service of a variety of different political causes, on the left and right, and 3, economically motivated, not politically motivated.
Mark Warner sent his people out there to convince them otherwise. FaceBook folded, and then began its crackdown on free speech.
And he's doing it all again. He's again using government pressure to force media corporations to censor his political enemies.
And I'm supposed to wave my little plastic American flag as I worry about Ukraine.
Do I worry about the authoritarian tyrants at Ukraine's door? Yes.
But I worry about the authoritarian tyrants at my own door first.
The left used to warn that cheerleading for the National Security State would just empower them to come after the citizenry's more inconvenient human rights. We ignored them -- to our considerable detriment.
I think the January 6 political prisoners, serving four year jail terms for trespassing, curse our ignoring that danger.
We are not ignoring that any longer. They are coming after us again.
Isn't it strange how in every single crisis, the Corporate-Political-Security Complex decides that the solution must be the censorship and increasing decitizenization of the American right?
The left never moves its focus away from the real war, the war on its domestic enemies.
I have chosen to mirror their tactics. I too will only wage war on my domestic enemies.
And like the left, I will not be diverted by false foreign enemies.

posted by Ace at
02:23 PM
|
Access Comments