« The Morning Rant: Minimalist Edition
|
Main
|
Wyoming Senate Passes Bill to Defund Gender Studies and Women's Studies at University of Wyoming »
March 01, 2022
It's a Miracle! Covid Ends in Blue States at Same Time Democrat Pollster Warns That Covid Must End!
Just in time for the State of the Union! Another Miracle of Science (TM)!
Breaking911 @Breaking911


BREAKING: California, Washington and Oregon scrap school mask mandates
The Maskless Sexagenarian has also finally decreed that kids can unmask in NY.
On Sunday, New York Governor Kathy Hochul announced that the state would be dropping its school mask mandate, effective March 2.

"Our top priority has always been keeping kids in school and making sure our classrooms are safe," wrote Hochul.
Until Brandon's personal pollster told us that kids' safety was no longer so important.
...

Hochul celebrated the state's accomplishments in regards to COVID-19, stating that New York is first in the nation "for fully vaccinated teenagers" and second "for fully vaccinated kids ages 5-11."
Great. Children who face virtually no threat from covid have been forced to take the jab to protect teachers.
Note that Hochul is choosing the favored Democrat dodge where she allows Karen Kountines to continue imposing mask mandates based on local Karen neuroticism levels:

It should be noted that covid case rates and death are actually higher now that they were a year ago.
Don't misunderstand; I'm not saying keep the mandates on. I'm saying that, per the rules they've been operating by, the mandates should be kept on.
What they should admit is two things:
1. We're dropping the mask mandate because they never worked and there was never any "science" to suggest they did, ever.
It's not that the conditions have changed -- it's that the premises we were basing mandates on were always false, and we've known that for at least a year.
2. Biden's personal pollster told us that this Performative Fetish Mask Voodoo we were telling the New Age Krystal Karens to do was toxically unpopular: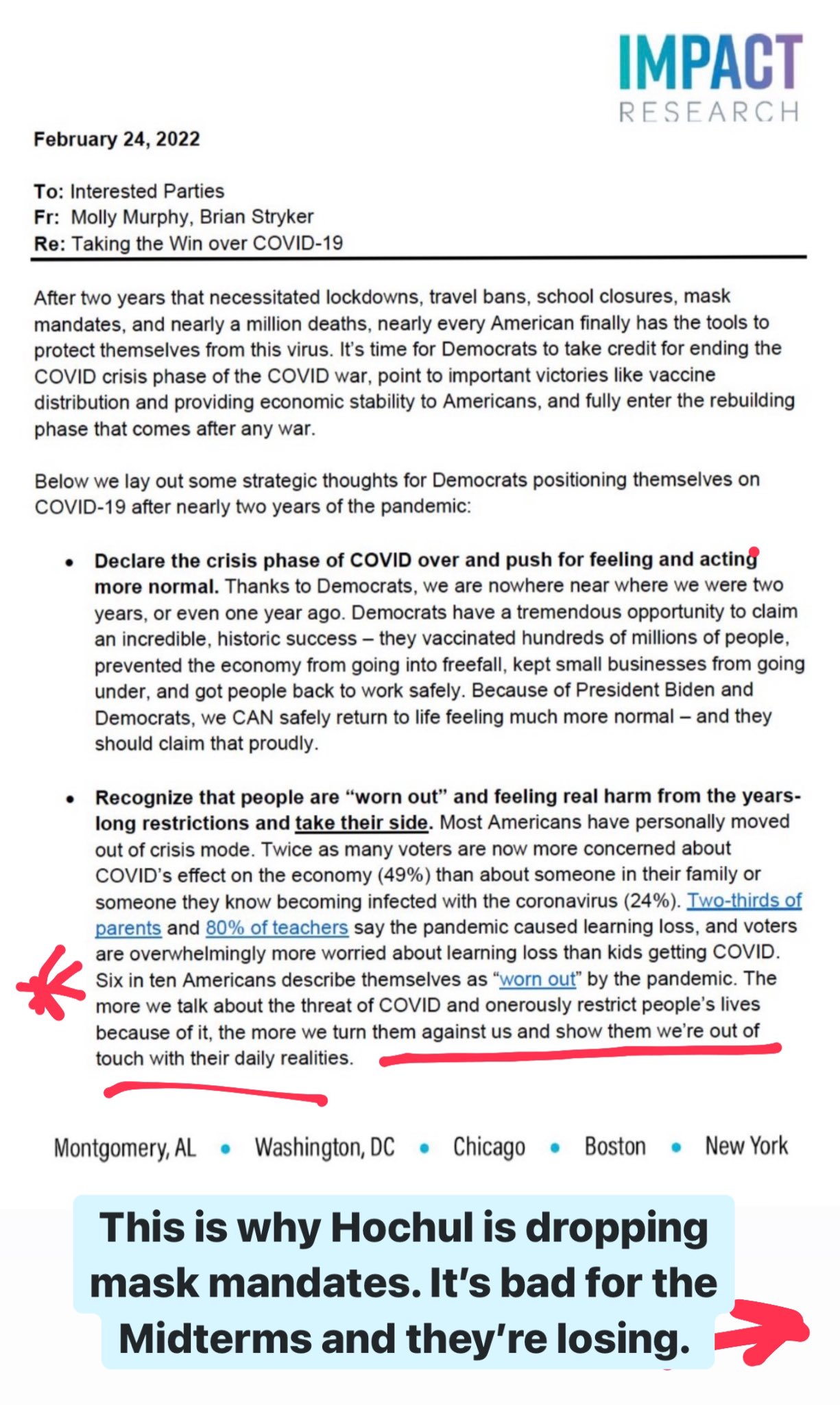 Saturday Night Live has joined the effort to spread the word of Brandon's Personal Pollster, and that NPC Programming must be updated before Brandon's job approval falls to 33%.
Remember, it's Saturday Night Live, not Saturday Night Funny.

posted by Ace at
12:10 PM
|
Access Comments