« Doughy-Faced Dictator Trudeau: I Will Stand Up to Authoritarianism
|
Main
|
Quick Hits »
February 23, 2022
Kamala Harris' Peace-Seeking Trip to Europe Went So Well That Putin Invaded Within 24 Hours
This is embarrassing. Embarrassing.
Not for her. Apparently she's not embarrassed by this. She thinks this is Charlie Sheen #Winning.
This is embarrassing for America.
Thanks, NeverTrump. You really showed your Patriotism by supporting a dementia patient and this perpetual dog-ate-my-homework whore.
If you can believe this, some White Supremacists and Haters of Women actually said that it seemed like she was "unprepared" here, and was just making shit up off the cuff.
Unprepared? She started off with "Come on, guys." She was up all night writing that!
One particular clip of Harris addressing the press has drawn particular scorn on social media.

"I mean, listen guys, we are talking about the potential for war in Europe," Harris said. "I mean, let's really take a moment to understand the significance of what we're talking about."

...

Viewers called her remarks "word salad" and concluded she was "perpetually unprepared" for the critical foreign policy moment.

"How seriously does the Biden admin take our national security? On the brink of a potential war in Europe, they used a security conference as a photo op for Kamala, and then leaked to the press that she was totally unqualified to be there," Sen. Ted Cruz, R-Texas, tweeted, linking to a Washington Post piece that quoted an American official suggesting that Harris's trip was disorganized and more about "burnishing her political credentials" than finding solutions.

Harris was also fact-checked for saying that Europe has been warless for 70 years.


Others suggested Biden only sent Harris overseas in order to distract from the administration's apparent "domestic disasters."

"Kamala is in Munich discussing the potential for 'war in Europe' because she is desperate to draw attention away from her boss's domestic disasters," U.S. Senate candidate for Nevada Sam Brown wrote. "There's nothing 'reassuring' about her visit there."
What a shock that Putin saw that and decided to invade.

The Democrats were really impressed by her performance: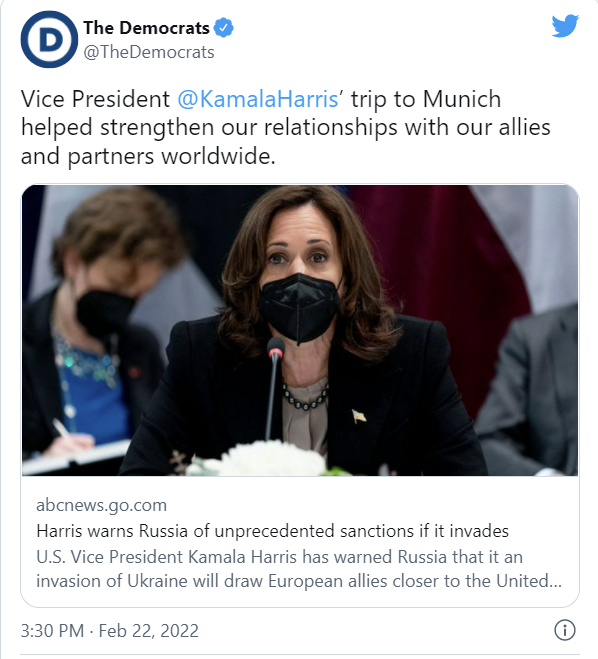 posted by Ace at
05:48 PM
|
Access Comments