« Governor Youngkin Will Sign Mask-Optional Law This Afternoon
|
Main
|
Entire Media Now In Feeding Frenzy Using Hacked GiveSendGo Information to Intimidate Freedom Convoy Donors »
February 16, 2022
Allison Gollust Resigns From CNN After Investigation Finds She Violated CNN's (giggle) "Standards" (LOL)
The Power Couple has been yeeted.
So now CNN's "standards" are restored to their pristine factory settings.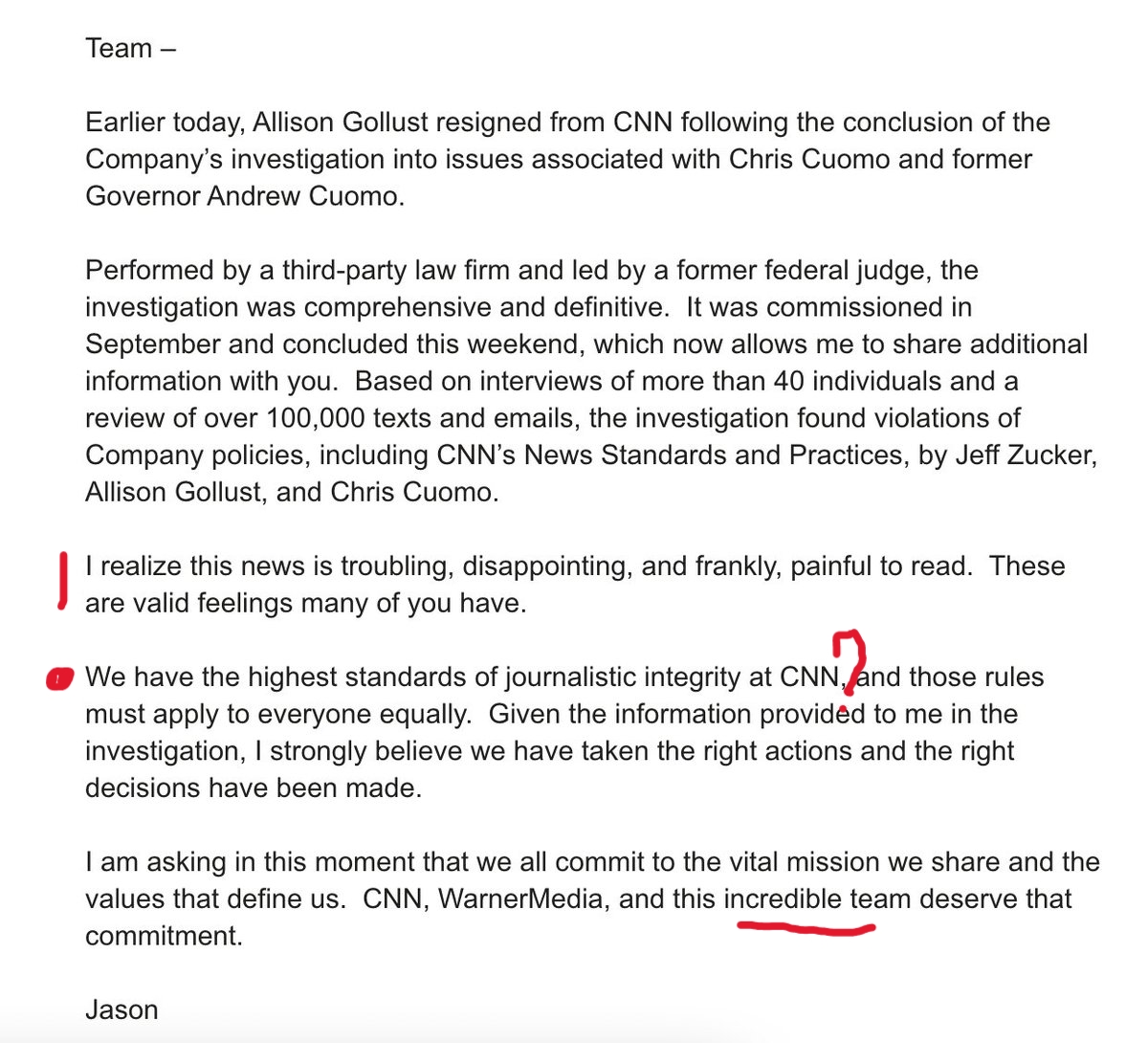 Gollust seems to be threatening a lawsuit herself -- she claims, improbably, that her firing is "retaliation."
For what, it's not clear. Consider it a placeholder for grounds for a wrongful termination lawsuit to be imagineered later.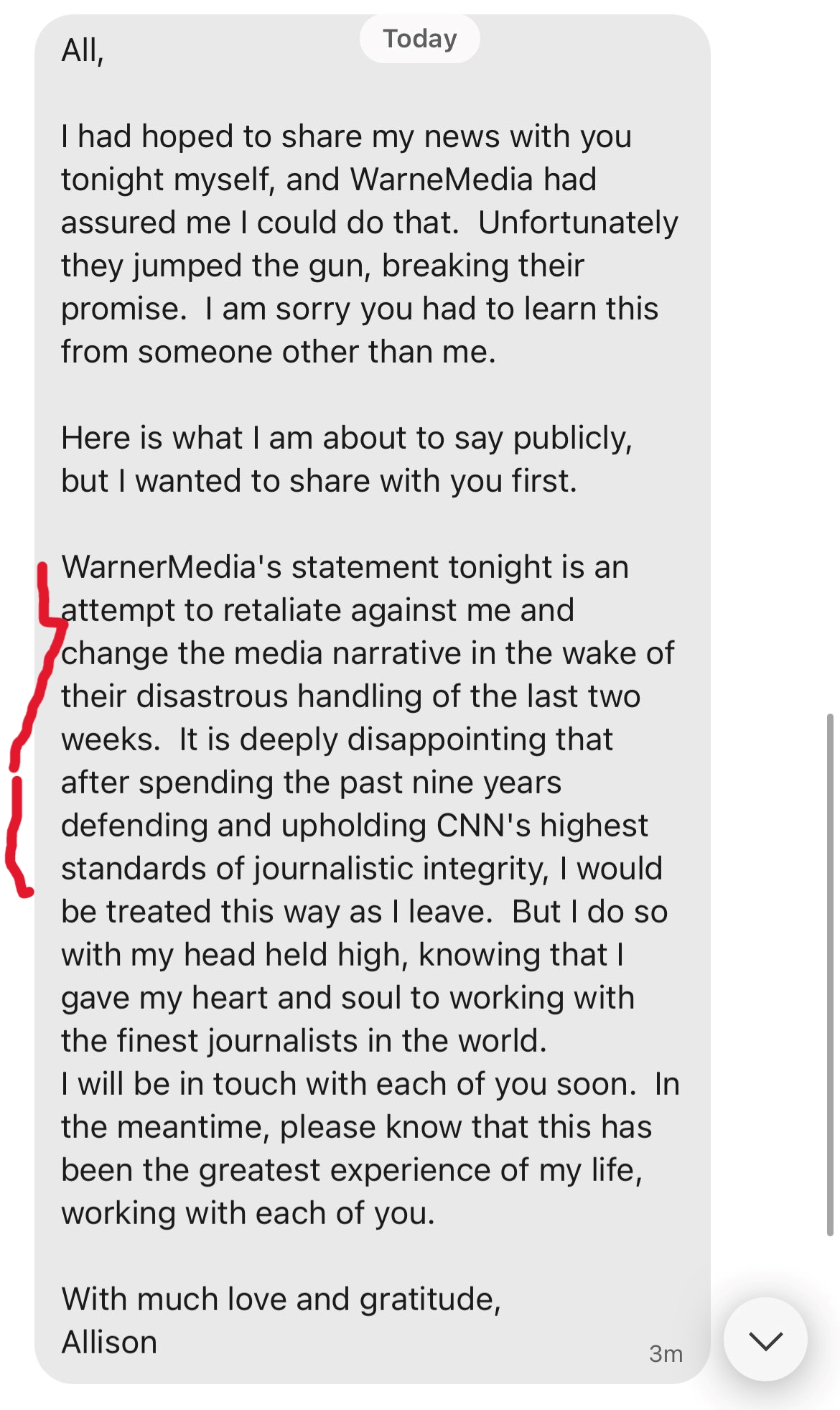 As has been widely suspected -- in fact, I think it's been "reported" (whatever counts as "reporting" these days (modern "reporting" is just speculation with most of the caveats stripped out) -- Chris Cuomo was not fired for aiding and abetting his brother's sexual harassment defense, which Zucker and Gollust of course knew all about as they were in on it, but for having (allegedly) sexually harassed a woman himself.
Late in the day on Nov. 30, Jeff Zucker, the president of CNN Worldwide, summoned his star anchor and friend, Chris Cuomo, to a meeting in the network's skyscraper overlooking the Hudson River.

Mr. Zucker was joined by the network's chief marketing officer -- and his secret romantic partner -- Allison Gollust. They had to deliver a delicate message.

Mr. Zucker told Mr. Cuomo that CNN was suspending him because of his unethical interactions with his brother, New York's governor. Mr. Cuomo was shocked and offered to resign. Mr. Zucker countered that the anchor might be able to return at some point, according to people with knowledge of the conversation.

Mr. Cuomo felt reassured. He and Mr. Zucker were confidants, their fortunes entwined. Mr. Cuomo didn't bother to consult a lawyer.

Barely 24 hours later, a letter arrived at CNN. It was from a lawyer representing a woman who had worked with Mr. Cuomo years earlier at ABC News. She said he had sexually assaulted her and that, in the heat of the #MeToo movement, Mr. Cuomo had tried to keep her quiet by arranging a flattering CNN segment about her employer at the time.

The letter described it as an "abuse of power at CNN to attempt to silence my client."

...

It relayed a story that had begun in 2011 when the woman, who was referred to as Jane Doe, was a young temporary ABC employee hoping for a full-time job. One day, after Mr. Cuomo, an anchor, had offered her career advice, he invited her to lunch in his office, according to the letter, interviews with the woman and emails between her and Mr. Cuomo.

When she arrived, there was no food. Instead, Mr. Cuomo badgered her for sex, and after she declined, he assaulted her, she said. She ran out of the room...

Ms. Katz's letter said that at the height of the #MeToo uprising, after TV personalities like Charlie Rose and Matt Lauer were felled by misconduct allegations, Mr. Cuomo contacted the woman, seemingly out of the blue.

Mr. Cuomo proposed arranging a CNN segment about the company where she worked doing public relations. The woman tried to avoid any contact with Mr. Cuomo, but CNN ultimately broadcast a segment anyway...

On Friday, Dec. 3, two days after Ms. Katz sent the letter, she and a lawyer for CNN made plans for her to hand over evidence to substantiate the woman's claims.

Before that even happened, Mr. Zucker fired Mr. Cuomo the next afternoon.
These were not even the first allegations of sexual battery made against Fredo.
Complaints soon began surfacing about the younger Mr. Cuomo. Shelley Ross, a longtime TV news executive and Mr. Cuomo's former boss at ABC, wrote in a Times opinion piece in September that Mr. Cuomo had groped her at a 2005 party. (Mr. Cuomo apologized.)

Around the same time, The New York Post reported that Mr. Cuomo's former producer, Melanie Buck, had asked to be removed from "Cuomo Prime Time" because she found his conduct to be threatening.
The article notes that Fredo was viewed as a bully by his coworkers, and that his emails often had a "threatening" tone.
That checks out, given that Fredo has been nonstop threats the past few weeks.
Fredo, the article reports, felt aggrieved. He thought he'd been fired "without due process," and feared that reports of this newest allegation of sexual assault would appear in the media.
Coincidentally, it was at that time that Fredo's new lawyer, known for roughhouse tactics, began making blackmailish noises about Zucker's and Gollust's dealings with Andrew Cuomo.
And their secret dealings with each other's privates.
Seriously, how does he ever get another job? Who wants to work with an alleged repeat sexual assaulter and a blackmailer?
On Dec. 5, Mr. Freedman sent a letter to CNN demanding that the network preserve all documents related to any dealings between any CNN employee and anyone in the governor's office.

It was a clear signal that a key element of Mr. Cuomo's defense would be that Mr. Zucker and others at CNN had acted similarly to Mr. Cuomo in communicating with the governor, with no repercussions.
One more thing:
The new complaining witness came forward... after the arrogant bully Fredo "taunted" her.
Well, he didn't actually taunt her, but she took it that way.
What she took as a taunt was this alleged serial sexual assailant... proclaiming how deeply he cared about the #MeToo movement.
Like all of these monsters do.
When you hear a leftwing man talking about how much he cares about #MeToo or sensitivity towards women, what you should hear is a rape whistle.
The moment Chris Cuomo 'taunted' his sex assault accuser into coming forward: ABC staffer reported him to CNN after he claimed on air that he 'deeply and profoundly' cared about #MeToo

Chris Cuomo went on-air in March 2021 to say he cared 'profoundly and deeply' about the #MeToo movement

He made the comments while addressing why he couldn't talk about the scandal involving his brother Andrew

A woman who worked with him at ABC News claims Cuomo forced himself on her in his office in 2011

She watched the broadcast in March 2021 then hired attorney Debra Katz, who contacted CNN in December

posted by Ace at
02:30 PM
|
Access Comments