« Allison Gollust Resigns From CNN After Investigation Finds She Violated CNN's (giggle) "Standards" (LOL)
|
Main
|
Youngkin Signs Bill Making Mask Mandates Illegal By March 1st »
February 16, 2022
Entire Media Now In Feeding Frenzy Using Hacked GiveSendGo Information to Intimidate Freedom Convoy Donors
The owner of a cafe is being threatened after having her name doxed:
At least one Canadian businesswoman claimed on Tuesday to have received threats after appearing on a list of alleged donors to Freedom Convoy protestors hacked from the site GiveSendGo and shared with media.

Tammy Giuliani, owner of Stella Luna Gelato Cafe, said she has been forced to close the doors of her Ottawa business due to threats from extremists after her name appeared on the list. The Freedom Convoy is a protest movement calling for an end to all civil rights violations imposed on Canadians allegedly to prevent the spread of Chinese coronavirus.

"We got a call from the team saying, 'We're getting phone calls here,'" Giuliani told the Ottawa Citizen newspaper and added, "I said, 'What's going on?' and they said, 'They're threatening to throw bricks through our window. They're threatening to come and get us.' We said, 'Lock the door and we'll find out what's going on.'"

Giuliani confirmed that she donated to the Freedom Convoy through GiveSendGo, a Christian-owned crowdfunding site that became the go-to place to aid the anti-mandate protesters after the larger GoFundMe shut down their fundraiser and said it would give the money to causes that it deemed palatable (GoFundMe has since relented under widespread condemnation). Giuliani also confirmed that she brought food to the protestors -- but now claims she regrets helping them.

"In retrospect, it was bad judgment, but does that mean that people have a right to threaten our staff? Does it mean people have the right to threaten to throw bricks through our window and to threaten my family? We made a mistake. Who could have anticipated it?" she said.

And a former top advisor to Justin Castreau is also joining in on spreading the dox around -- and encouraging action against them:
Gerald Butts, a former top advisor to Prime Minister Trudeau who resigned amid a corruption scandal in 2019, quote-tweeted one of the accounts spreading the donor information, writing, "Quite the list of #GiveSendGo donors from Toronto. A Ford Government staffer and a bunch of @UofT faculty & students jump out."

"If you donate to a political campaign in Canada, your name and donation are published, by law. But these guys think you should be able to donate to an insurrection anonymously? Give me a break," Butts later stated after being confronted by another user.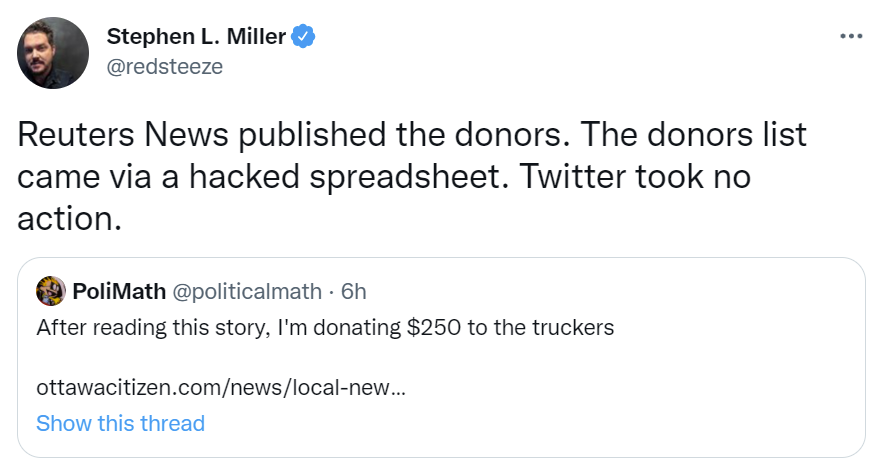 I'm not sure if Reuters posted the entire list, but Reuters is definitely doxing people on the list of hacked donors to intimidate them:
Brad Howland, president of EasyKleen Pressure Systems Ltd, which is headquartered in New Brunswick and manufactures high-pressure cleaning systems, donated $75,000 to GiveSendGo's "Freedom Convoy" on Feb. 9, according to leaked information confirmed by Reuters.

In a statement sent by a company spokesperson, Howland confirmed his support for the convoy, saying he wants the government to remove mandates "to restore all our freedoms."

"We drove to Ottawa this weekend and witnessed the protest for ourselves," the statement reads in part. "They have a beautiful, legal, peaceful protest that overwhelmed us with emotion. To see the love, peace, and unity that many of us

have longed for, for a long time -- It was an experience of a lifetime."

Holden Rhodes, a London, Ontario-based lawyer and mountain resort owner, confirmed in an email to Reuters that he and his wife donated $25,000 to the Freedom Convoy. It was the among the highest value donations from Canada.

"Without freedom, we have nothing. ... That is why I am doing what I am doing," said Rhodes, adding Ontario's decision on Monday to remove proof-of-vaccination requirements and other restrictions early is proof the movement has succeeded.
Washington Post "journalist," merrily doxing, doxing, doxing, using hacked materials from a self-declared "cyberterrorist." No really, the culprit admitted his guilt and declared himself a "cyberterrorist." See below for that.
And here's the Washington Post, gleefully using the cyberterrorist's dox.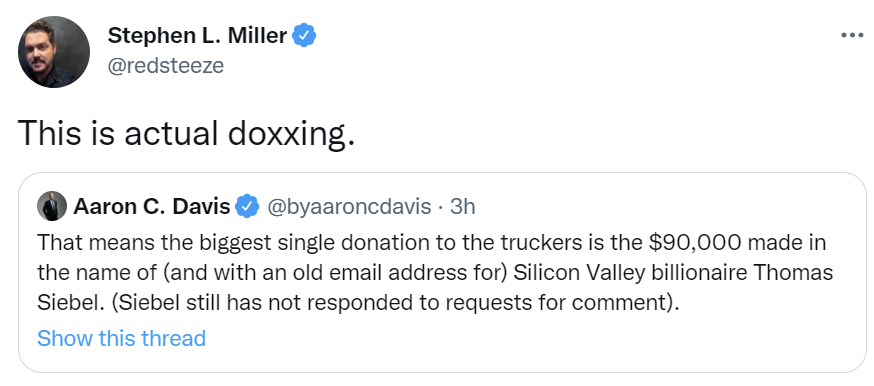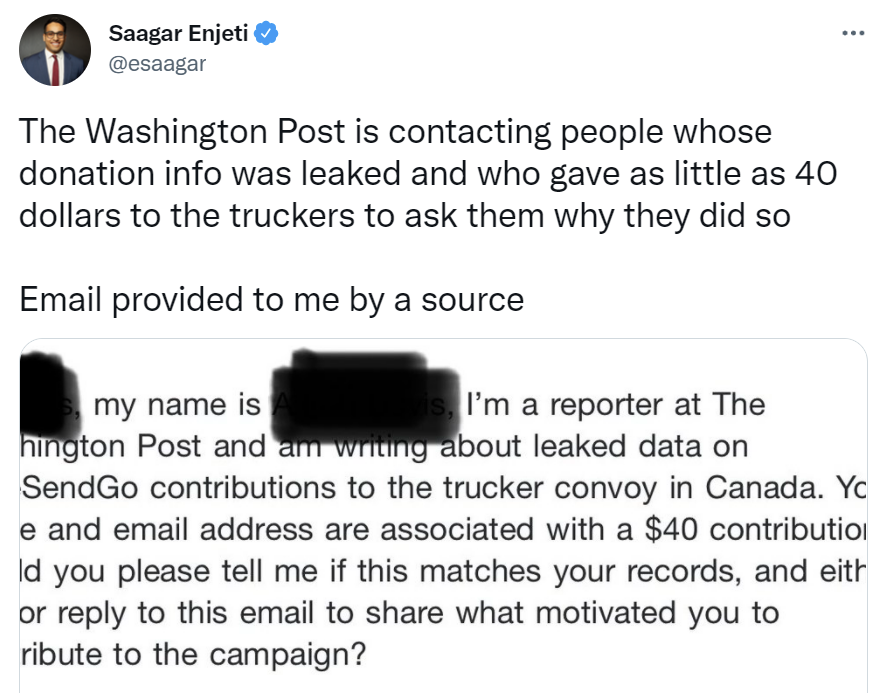 Glenn Greenwald points out that Twitter justified its censorship of the Hunter Biden laptop story on its supposed no-hacked-material rule -- but has allowed the hacked names of GiveSendGo donors to appear all over the site.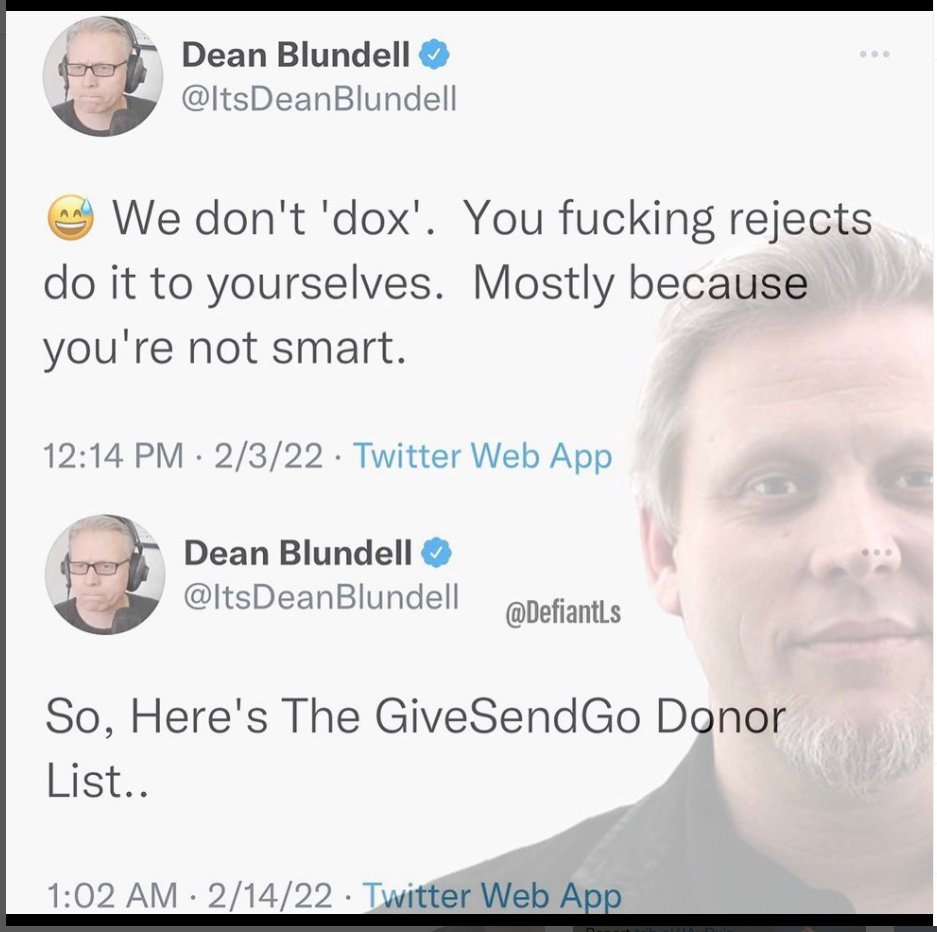 And Conservative, Inc. continues to support them. Because they're on the take, and no actual conservatives will send them money any longer. So it's all down to the Tech Monopolists to pay for their rent and food.
And if you've seen the big ol' bellies on most of these big ol' boys, you know this isn't a crew that is looking to scale back on their food budget.
Below, the demon who hacked GiveSendGo, who claims that he's untouchable.
If the government does not arrest him within days, then they have effectively declared that he is acting with their license, and they are also announcing that they are in full open warfare with the American people.
Meanwhile:

posted by Ace at
03:42 PM
|
Access Comments