« Durham's Probe Has "Accelerated," With More People Coming Before Grand Jury and "Cooperating" With Investigation
|
Main
|
BLM Activist, Gun Control Fanatic, and "Journalist" Attempts an Assassination of a Mayoral Candidate in Louisville »
February 15, 2022
Prince Andrew Settles Lawsuit With Virginia Giuffre, Issuing a Statement That Has Been Negotiated To Have the Tone of an Apology Without Saying "I Did It and I'm Sorry"
However: Note that he is required to pay money to a "victims rights group," which is the sort of thing that a guilty man would be required to do.
The amount that Andrew, 61, will pay Ms. Giuffre is confidential, the parties said in a joint statement attached to the filing.

Andrew also "intends to make a substantial donation" to a charity "in support of victims' rights," the statement says.
The theme here is Giuffre's team insisting on statements and actions that admit guilt with Andrew refusing to actually speak the words.
This statement of "regret" that he (or his lawyers, surely) just issued, for example.
Not apology or admission... but "regret."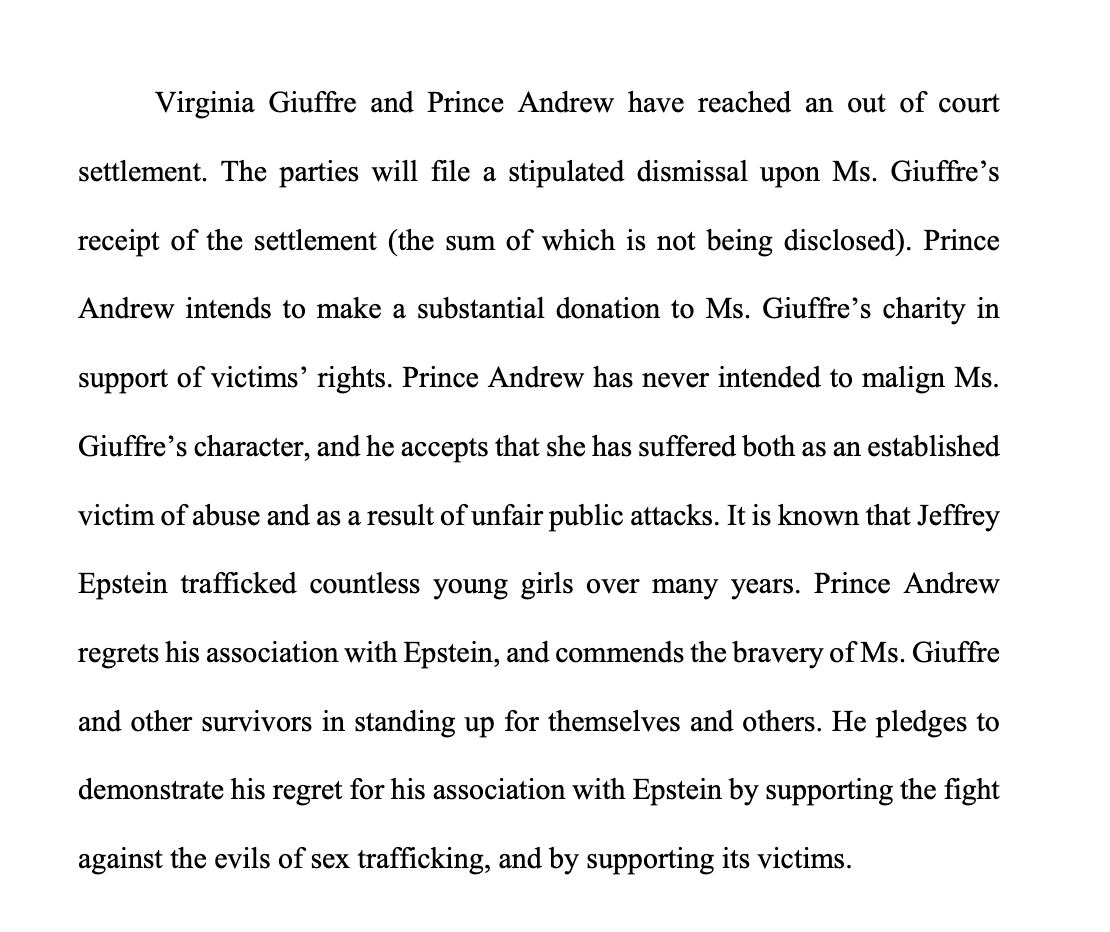 He also "commends the bravery" of Giuffre, which is a strange thing to do if he's still maintaining she's a lying grifter falsely accusing him of sexual relations with a minor to chisel some money out of him.
In the statement on Tuesday, Andrew said it was "known that Jeffrey Epstein trafficked countless young girls over many years," and that he "regrets his association with Epstein and commends the bravery of Ms. Giuffre and other survivors in standing up for themselves and others."

The statement's depiction of Ms. Giuffre as courageous contrasts sharply with the way Andrew's lawyers described her in October, when they asked Judge Lewis A. Kaplan of Federal District Court to dismiss her lawsuit.

Andrew's lawyers claimed at the time that the lawsuit was part of a longstanding effort by Ms. Giuffre to profit from allegations she had made against Mr. Epstein and others. They also claimed that Ms. Giuffre had sold articles and photographs to news outlets and reached secret deals to resolve abuse claims.

"Giuffre has initiated this baseless lawsuit against Prince Andrew to achieve another payday at his expense and at the expense of those closest to him," Andrew's lawyers wrote then. "Most people could only dream of obtaining the sums of money that Giuffre has secured for herself over the years."

In the statement on Tuesday, Andrew said that he had never intended "to malign Ms. Giuffre's character and he accepts that she has suffered both as an established victim of abuse and as a result of unfair public attacks."
Unfair public attacks, largely launched by Andrew and his lawyers, they don't mention.
Although Andrew avoids a trial and avoids a ruling on his culpability or innocence, and can still say that as a legal matter that no one has proven he had sex with a minor, the combination of the settlement, the statement, and the donation to a victims rights group leaves little doubts about the basic veracity of Giuffre's charges.

posted by Ace at
01:33 PM
|
Access Comments