« Prince Andrew Settles Lawsuit With Virginia Giuffre, Issuing a Statement That Has Been Negotiated To Have the Tone of an Apology Without Saying "I Did It and I'm Sorry"
|
Main
|
Christian Website GiveSendGo Hacked and Donor Information Published Online; Canadian Broadcast Authority Begins Going Through the List and Demanding That the Donors Explain Why They Donated to the Freedom Convoy »
February 15, 2022
BLM Activist, Gun Control Fanatic, and "Journalist" Attempts an Assassination of a Mayoral Candidate in Louisville
The New York Times immediately published an op-ed linking Sarah Palin to the attack because why not.
As streiff from RedState says: Do not ask any questions about Domestic Terrorism. "Domestic Terrorism" only applies to those targeted by The Regime, who are on the right.
On Monday morning, Louisville, KY, police responded to a call of an active shooter at the campaign headquarters of mayoral candidate Craig Greenberg. Greenberg, a Democrat, is one of eleven or so active candidates for that office.

It seems that shortly after 10 AM, someone entered Greenberg's office and attempted to light him up with a 9mm pistol. Before fleeing the scene, the shooter fired four rounds at Greenberg, managing to put one round through Greenberg's clothes.
"Grazed his sweater" is how I've seen it reported.
Gee I wonder if he's going to be using that sweater as a campaign prop.
Well, I can't blame him. Who wouldn't.
Back to the BLM activist, crazed violent zealot, and "journalist" -- but I repeat myself thrice.
Quintez Brown, 21, was charged with attempted murder and four counts of wanton endangerment after Greenberg was shot at in his campaign headquarters Monday morning in Butchertown, LMPD spokeswoman Elizabeth Ruoff said late Monday.

Brown, a civil rights activist, is a former intern and editorial columnist for The Courier Journal.
That's being reported by the Courier Journal, by the way.
One of their own psychopaths finally did what all of his fellow "journalists" were priming him to do and took Direct Action.
The Courier Journal is claiming he was merely an "intern" but he had some opinion columns published -- that makes him a columnist. And other outlets aren't reporting the Courier Journal's "intern" spin.
It goes without saying he was a socialist.
Jeff Jacoby @Jeff_Jacoby

Craig Greenberg, a Jewish Democrat running for mayor of Louisville, KY, was shot Monday. Arrested for his attempted murder is a 21-yr-old "racial justice" protester who calls for "the total liberation and unification of Africa under scientific socialism."

And yes, this is another example of an attack on a Jew -- something that gets huge headlines if the attacker is white, and nary a mention if, as is usually the case, the attacker is black. As he is here.
Deb Heine reports he was "involved" in the BLM riots:
The suspect is also a Black Lives Matter agitator who was involved in riots in Louisville during the summer of 2020 after police officers killed Breonna Taylor during a botched drug raid in her apartment that March.

A blue check ad writer for Biden's 2020 fraudulent campaign tried to Sarah Palin the shooting and claim it was the right wing who propagandized him to commit murder:
Cliff Schecter @cliffschecter

Insane. Lunatic attempts to assassinate Louisville mayoral candidate. This is what conspiratorial right-wing rhetoric and guns everywhere gets us. I'm afraid this is going to get much, much worse
Andy Ngo shut that down:
@MrAndyNgo

Quintez Brown is a black nationalist, communist revolutionaire & BLM activist whose social media history shows left-wing conspiratorial rhetoric in regards to race & white supremacy. His crazy ideas were laundered into the mainstream through his role at the @courierjournal.

By the way, Quintez is also a candidate for the Louisville City Council. Running clearly as a BLM candidate, his face masked by the violent street anarchist's favorite fashion accessory, the black balaclava.
What were the odds?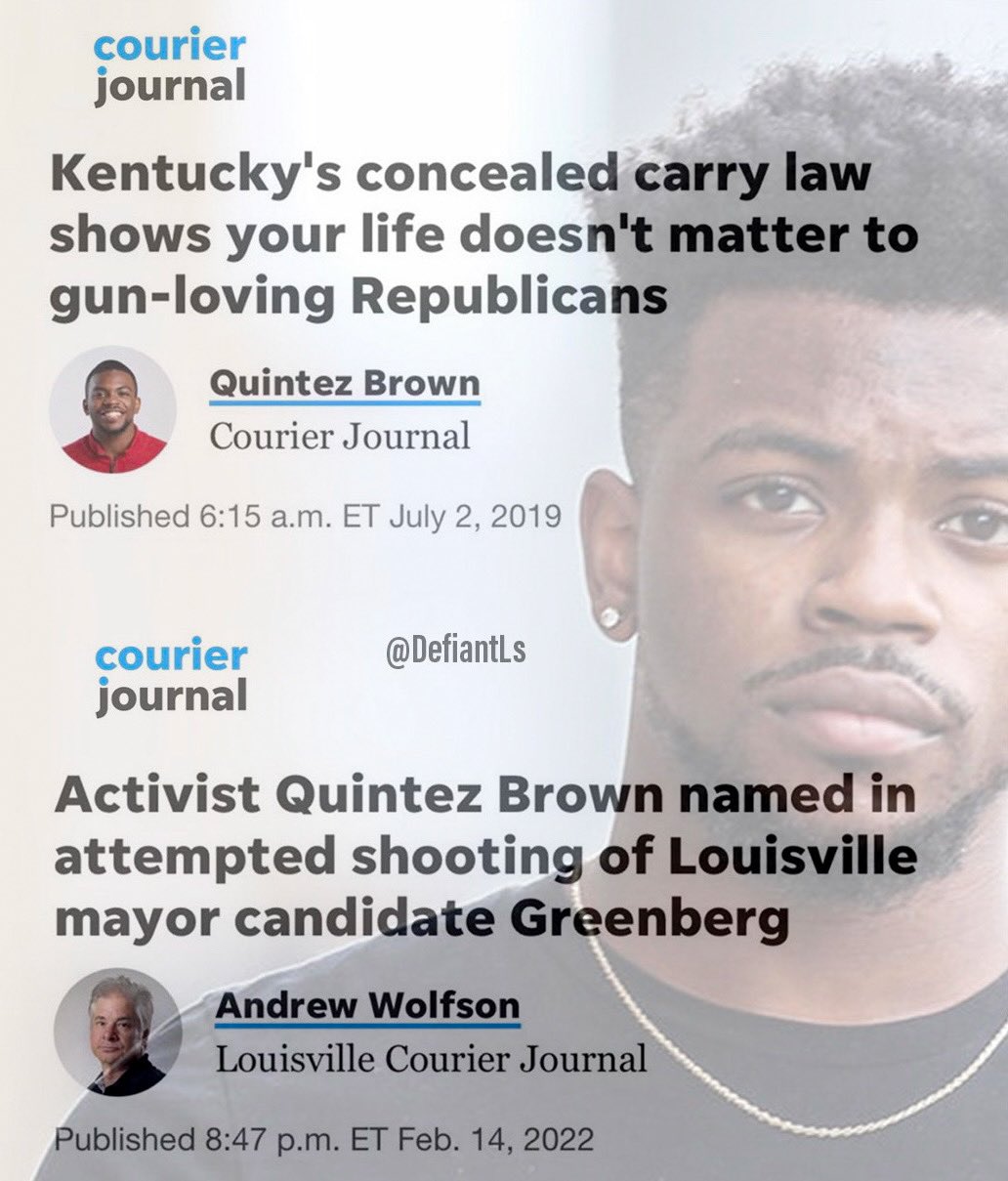 Streiff writes:
The purpose of this article is not just to drag Quintez Brown, though that would be a laudable goal. The left, the White House, the FBI, and the Department of Homeland Security have been creating a false narrative over a period of years that "domestic violent extremists" are a major terrorist threat. The way they define the term ensures it uniquely refers to center-right and right-wing groups who are concerned about the socialist and totalitarian drift in society (something that was validated by DHS terrorism bulletin labeling "proliferation of false or misleading narratives, which sow discord or undermine public trust in U.S. government institutions," as terror threats). When one compares the treatment of the January 6 trespassers to the violent felons of the BLM protests, it is obvious that the federal bureaucracy and many state governments are aligned in severely punishing protests they don't like and sugar-coating protests of which they approve[.]
Terrorism expert Kyle Shideler similarly warns about the real threat of domestic terrorism, which our government does not actually patrol for, but actually supports. "A BLM activist arrested for the attempted assassination of a Democrat mayoral candidate shows why local law enforcement must receive training in the ideologies that motivate political violence."
And not just about "QAnon" and "MAGA."
I'm not sure, but I think he's talking about "local law enforcement" because he fears that federal law enforcement is simply lost.

Brown's social media account, which was still accessible as of this writing, shows an interest in Black Power/Black Liberation ideology, featuring quotes from revolutionary figures including George Jackson, and Assata Shakur. Jackson was co-founder of the Black Guerilla Family, Marxist-Maoist Black prison gang. Shakur was a leading member of the Black Liberation Army, an off shoot of the Black Panthers that engaged in armed robberies and police assassinations in the late 1970s and early 1980s. Currently a fugitive from justice Shakur resides in Cuba, but has served as a major inspirational figure for multiple BLM leaders.

Other references from Brown's social media include retweeting the All-African People's Revolutionary Party (AAPRP), a Pan-African revolutionary socialist party founded by Ghanian leader Kwame Nkrumah.

As Nkrumah wrote in his 1968 major work Handbook for Revolutionary Warfare the purpose of the party is, "to co-ordinate policies and to direct action... A political party linking all liberated territories and struggling parties under a common ideology; and thus smoothing the way for continental unity... While at the same time greatly assisting the prosecution of the All-African People's War."

Brown seems to resonate with Pan-Africanism, writing on his twitter profile, "We have one scientific and correct solution, Pan-Africanism: the total liberation and unification of Africa under scientific socialism."

...

Brown had previously made local and national news after his parents raised concerns that he had gone missing in late June of last year. Brown later returned home in early July, apparently unharmed. The earlier disappearance may raise questions about Brown's mental health and set the stage for a defense on those grounds. Brown's bond was set at $100,000 and he was scheduled for a mental health evaluation.

Even a cursory examination of Brown's social media shows an individual who is invested in a definable political ideology, which he is obviously capable of understanding and competently articulates. Such a case shows why local and state law enforcement must be schooled in identifying a wide variety of political ideologies which motivate terrorist acts. The state of Kentucky has a state terrorism law which carries the possibility of a life sentence without the prospect of parole.
Update: Just got word, apparently this is no big deal -- he didn't cross state lines!