« The Morning Rant - Rite Aid & Rapaport: Woke Corporations Siding With Criminals Over Communities
|
Main
|
Brandon Tells Castreau to Use His "Federal Powers" to Break the Truckers »
February 11, 2022
The Same Media That Attacked Virginia For Lifting Mask Mandates Just Two Weeks Ago Now Celebrates Blue States Lifting Mask Mandates -- But Claims This Is All About The Science (TM), Not Politics
Even Politico sees through this.
The leftwing insider rag notes that the Democrats and Democrat Deep State are claiming that The Science (TM) has changed at the exact moment the polls have shifted and the midterms are coming hard and nasty.
Democrats are making a U-turn on mask mandates, just in time for the midterms.

It's happening among the party's governors, several of whom are easing up their masking rules as Covid's Omicron wave fades. And it's happening on the Hill, where Democrats are suddenly lining up to call for rollbacks of the nation's most noticeable pandemic-era rule.

Their pandemic pivot comes as they brace for a brutal November election in which the virus -- and the culture war that's accompanied it -- is shaping up to be Democrats' biggest blind spot.

"By the time we're at the midterms, we'll hopefully not be wearing these," said Rep. Josh Gottheimer (D-N.J.), gesturing to his own mask as he walked through the Capitol....

Their pandemic pivot comes as they brace for a brutal November election in which the virus -- and the culture war that's accompanied it -- is shaping up to be Democrats' biggest blind spot.

"By the time we're at the midterms, we'll hopefully not be wearing these," said Rep. Josh Gottheimer (D-N.J.), gesturing to his own mask as he walked through the Capitol.
Democrats and their "The Science (TM)" advisors are claiming that covid cases are falling, but that's misleading. Yes, they're falling from the omicron peak of two weeks ago, but covid cases are still higher than they've been for a year, and covid deaths are at their highest point for over a year.
So if this were only about "The Science (TM)," given the Blue State Democrats' hypercautious positioning in the past, the mask mandates would remain in force.
This is about falling poll numbers.
This has always been about politics. First it was about creating a phony, faked-up hypervigilance against covid to show a distinction with Trump -- creating a fake standard of covid preparedness that Trump would fail, to drive him out of office.
But the marks, the Karens, didn't get that, and adopted it as an identity. And then the left had to maintain this charade just to appease them, and to give their empty, shallow, worthless lives a false sense of righteous, New Age Holy purpose.
Masks
They're the pussyhats you wear on your face-hole!
And we've been a prisoner of the hysteria of the Karens since January 2021, when all sensible people would have dropped this Trump-era charade.
It's only with absolute political death facing the Democrats coming in November does the Party actually dare to cross its fanatical Karen zealots.
But of course the most of the media continues pushing the Party Lie that this is about "The Science (TM)."
Newsflash: we've known that masks haven't worked since before Fauci endorsed them -- his first statement, that they were useless, was the true one, his second claim was the lie -- and we've known that children were almost entirely immune to any serious complications from covid since May 2020.
We've also known that the average age of death from covid exceeds the average life expectancy from the first months of the disease, and that most people who are under 65 and who are not obese and do not have heart or lung conditions have low risks from covid from the opening months of the disease.
We've known all this. We've known it and known and known it.
No "Science" has changed.
Only the political needs of the Democrat Party have changed. They needed a Apocalyptic Panic in November 2020, and now they need a Return to Normalcy in November 2022.
Anyone who says otherwise is a propagandist and a liar.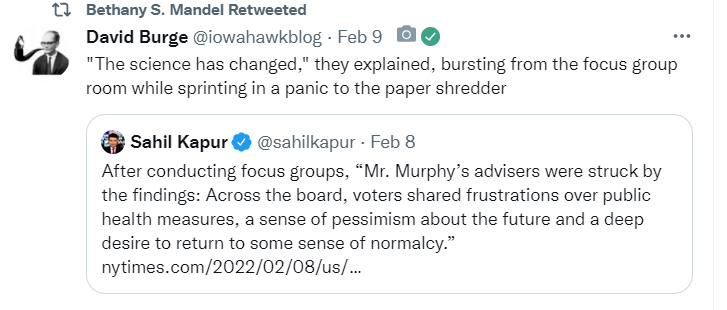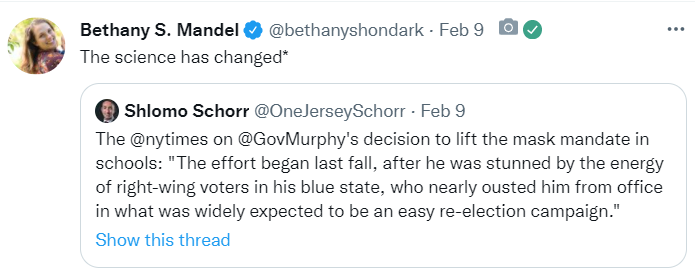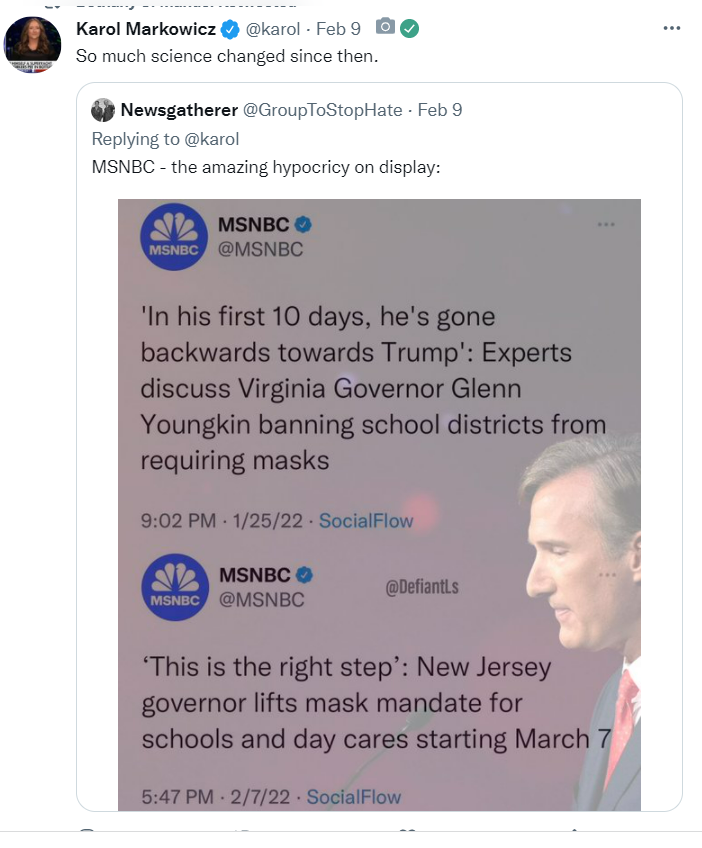 The Free Beacon notes something curious: when DeSantis removed mask mandates, the media shrieked that he was killing people for politics.
But when Blue State Democrats due so now -- remember, Now is during the worst spike in covid cases and deaths in more than a year -- they claim they're doing so "because of The Science (TM)" and so it's all just wonderful.
This clownish liar continues to claim that there's a "distinct difference" between DeSantis ending mandates and Biden's Blue State buddies doing the same:
Today, leftwing propagandist AllahPundit rushes to agree, of course. AllahPundit has always agreed with any claim that advances the Lockdown/Mask Mandate cause. When DeSantis first decreed that schools could no longer mandate masks, AllahPundit contrived some right by local schools to set their own individual policy -- which is strange, because when governors decreed mask mandate policies, AllahPundit never once suggested that individual schools retained the ability to set their own masks-optional policy.*
If governors imposed a mandate, their word was law and all schools were bound to obey their command; if a governor like DeSantis decreed that there should be no more mandates, suddenly AllahPundit was up in arms about the importance of local control.
This is, coincidentally I'm sure, similar to the One-Way Ratchet theory of Supreme Court jurisprudence, which says that the Supreme Court may only overrule state courts to tell them they must offer more liberal rulings, never to overrule them to say they have gone too far and must offer a more conservative one. The ratchet only goes in one direction, towards one favored policy outcome.
Why do Democrat presidents and governors always have more powers than Republican presidents and governors? Hmm. I guess because of some Secret Clause in the Constitution, and all the state constitutitions, too.
He is always in lockstep with the far left #Resistance because is of the far left, and for some reason, Salem Media allows him to pose as a conservative on a blog that claims to be conservative.
Might be time to Deplatform Salem Media.
By the way-- Why would individual schools retain their own ability to overrule the governor on mask mandates? Do they have their own Covid Response Boards advising them -- the Chemistry Teacher, the Biology Teacher, and the Trigonometry Teacher to do what he can with statistics, perhaps? Are they running their own blood serology surveys to determine local contagion rates?
Local school board decisions would not be based on "The Science (TM)," but only on the local politics of the school -- the Karen Factor. You could leave decisionmaking to them, but that would not be making decisions based on "The Science (TM)" as the two most committed, dogmatic spokesperson for the Brandon Adminstration, Jen Psaki and AllahPundit, claim. It would just be offloading the political decisionmaking to a lower level of government.
Drew Holden has a great thread contrasting how the media covered Florida (and Texas, and Virginia) dropping mask mandates -- writing scare stories about teachers dying, quoting scientists warning that children could die, and writing heart-wrenching stories about children writing letters to the state governors begging them to please let kids wear life-saving masks -- to how they cover the blue state governors ditching the mask mandates -- just straight reporting, and sometimes positive.
Note that Biden's CDC did not change its mask recommendations so they cannot claim that the blue states are acting according to "The Science (TM)" and the red states were acting in defiance of it; all of these state are acting in defiance of "The Science (TM)," as determined by Rachel Walensky and the man who funded the creation of Covid-19, Anthony Fauci.
It's just... well, leftwing retards think anything Democrats do is "scientific." They're like children. Very, very low IQ children.
Here are just a few of his tweets. There are a lot of these.
Starting with the story of kids -- surely not coached by their leftwing agitator teachers -- writing letters to DeSantis begging him to let them wear masks to save their widdle wives.
This story got repeated a lot in the media. Here's just one instance.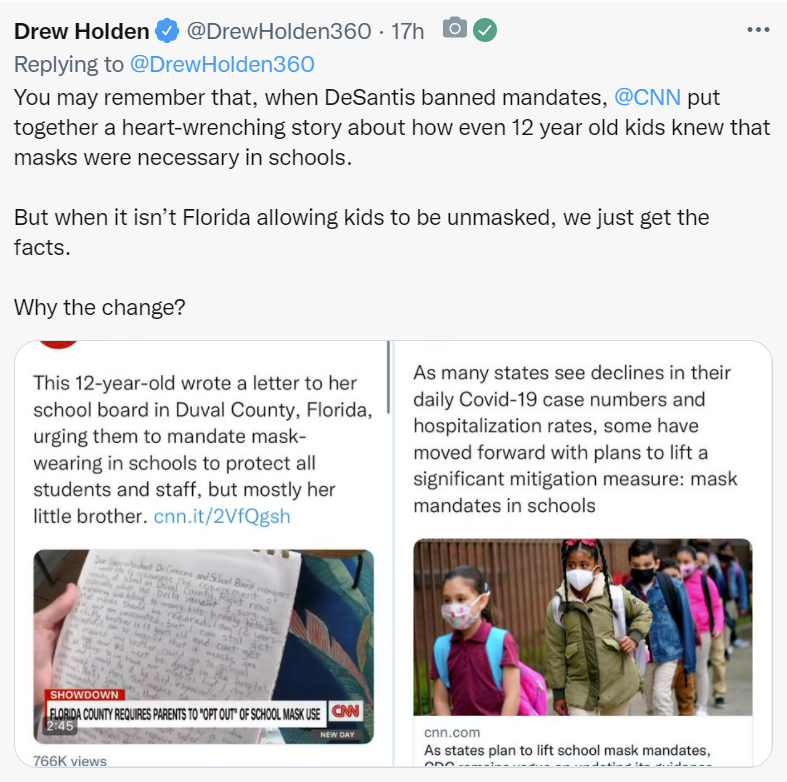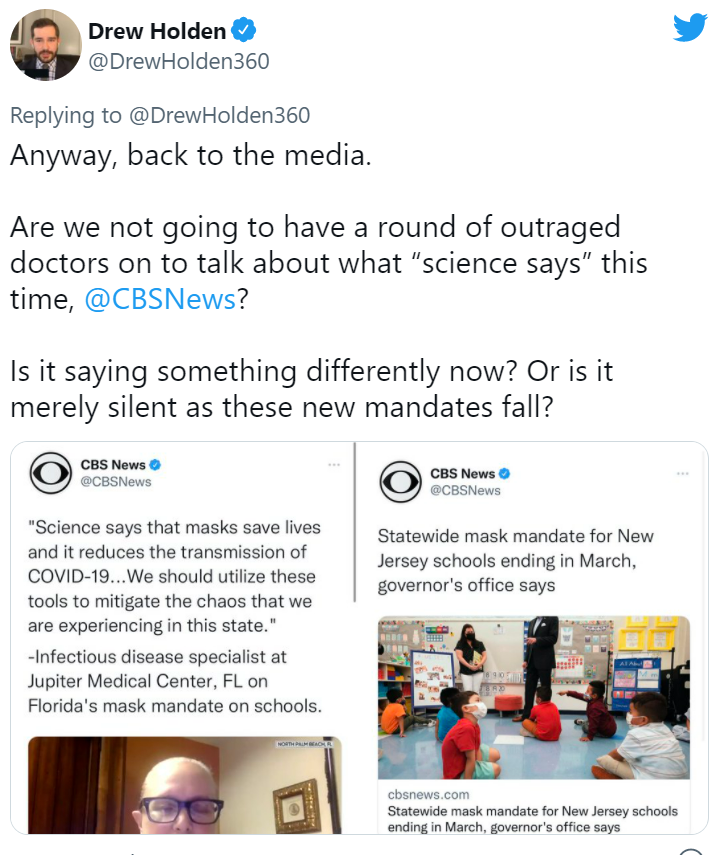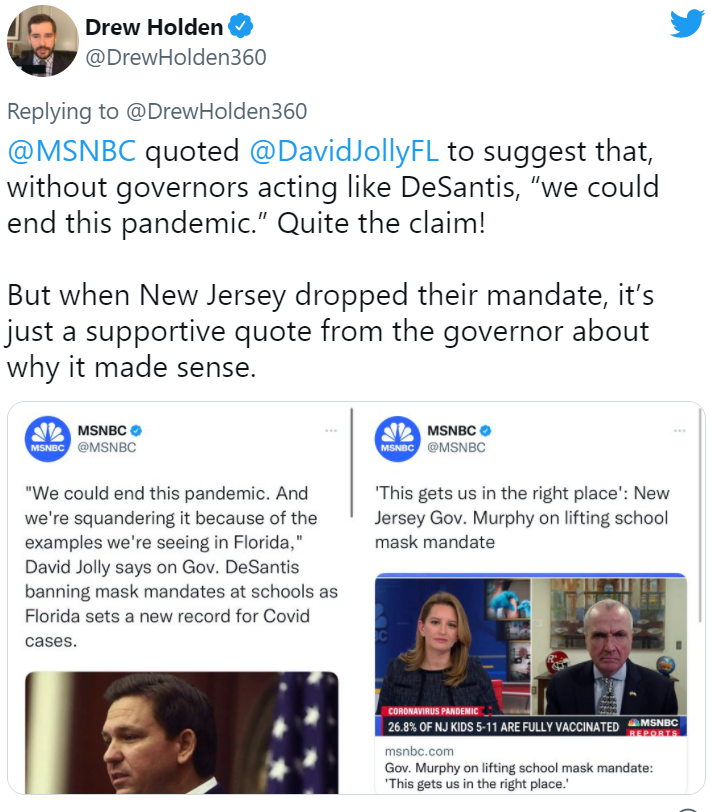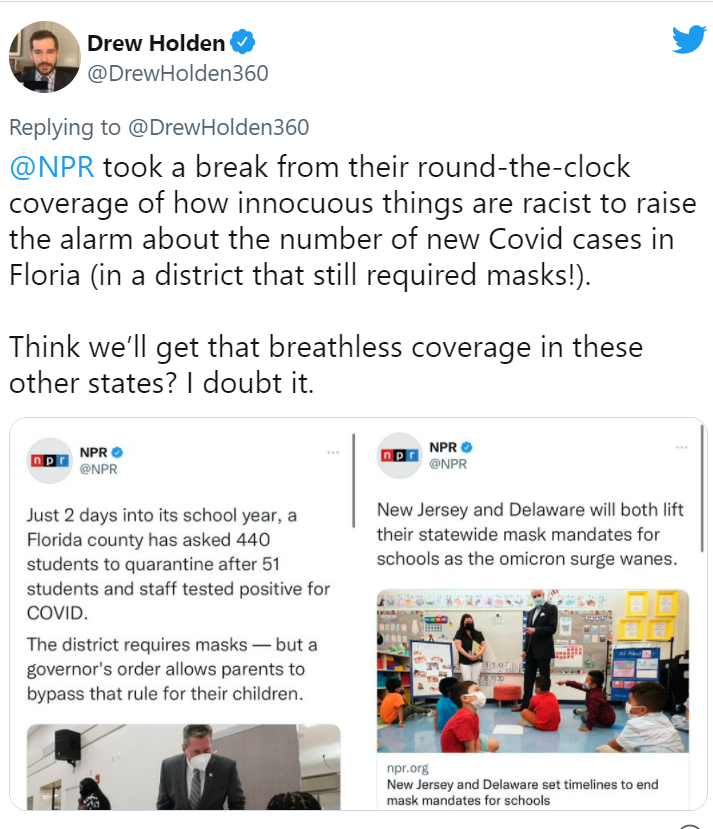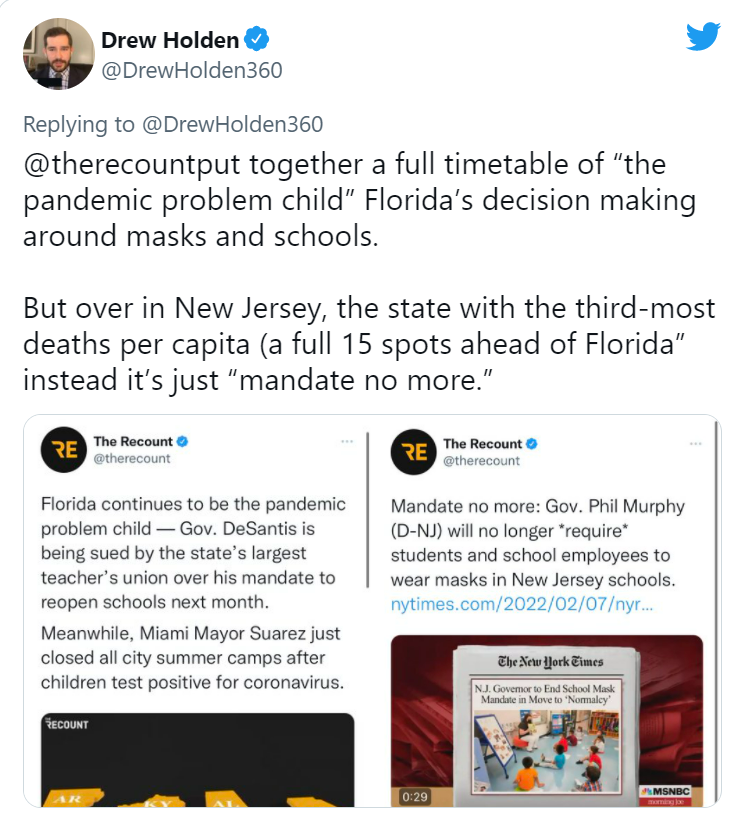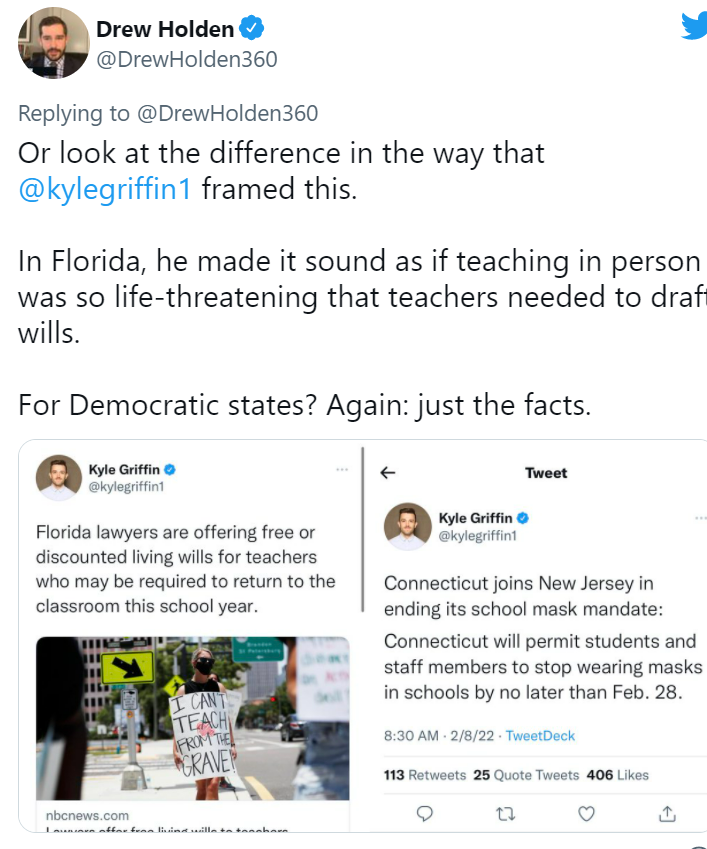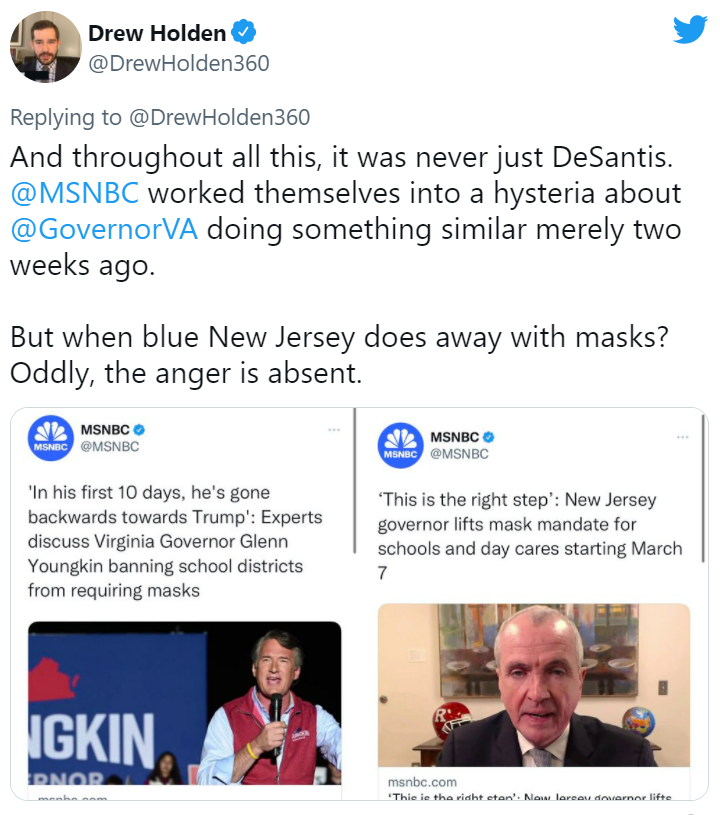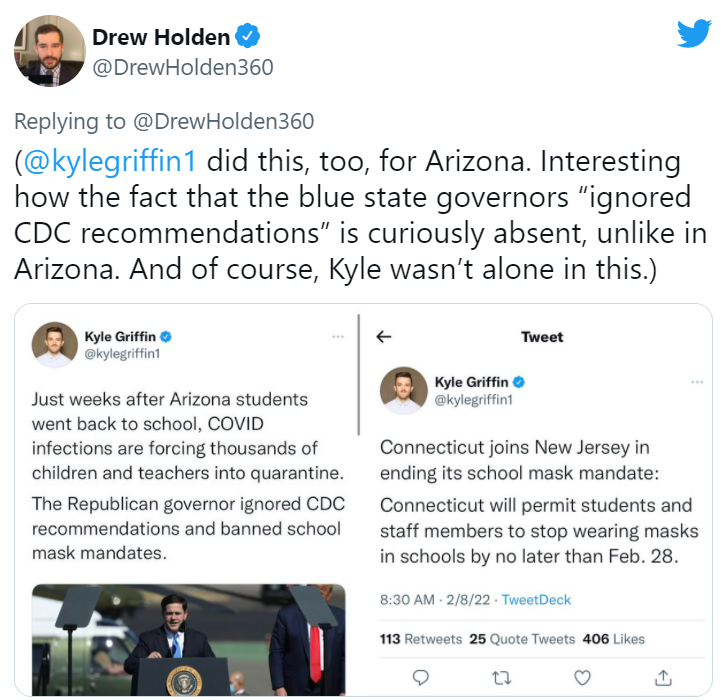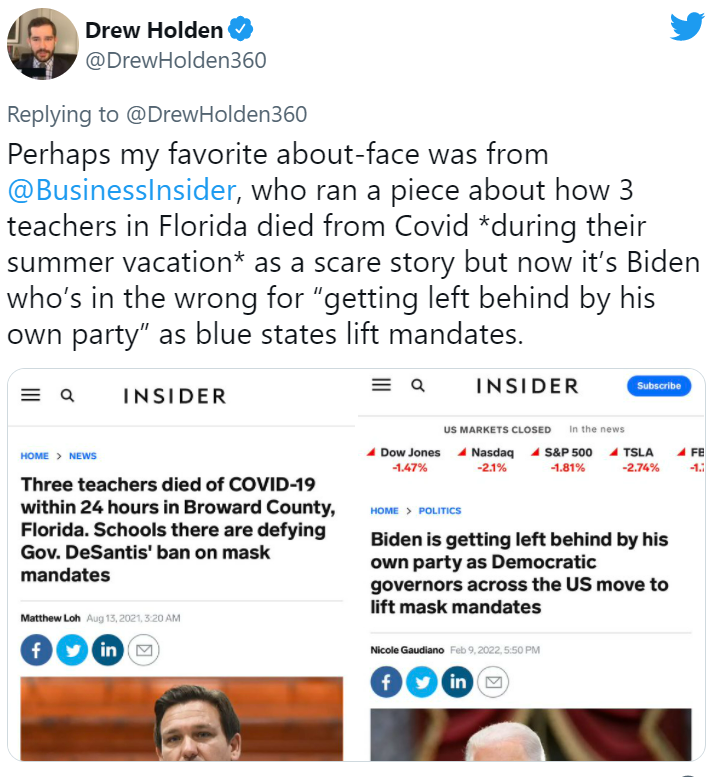 Another blue state -- Nevada -- made a snap consultation with The Science Poll and also ended mask mandates, and by a miraculous coincidence, the biggest school district in the state (Clark County Las Vegas) then immediately dropped the mask mandate, almost as if the governor had spoken to them about coordinating this.
And voila! Behold, The Science (TM) in action, ready to run on the 6pm news:

* Likewise, fake libertarian leftwinger Allahpundit and fake libertarian leftwinger Robbie Soave were keen on Biden's and Democrat governors' powers to impose vaccine mandates on private businesses.
But the minute Ron DeSantis imposed a "no vaccine mandates allowed" order on businesses, both of these "libertarians" began making gerbil distress noises: "Wait, you can't interfere with a business's right to choose as regards vaccination policy....!"
Ohhhhh, right, you can't interfere with their ability to impose a vaccine mandate, but you can totally interfere with their ability to choose to not impose a vaccine mandate.
This isn't "libertarianism." This is just reflexively siding with the left at every turn and then afterwards contriving a "libertarian" explanation for your preference for the left in every single dispute.

posted by Ace at
12:19 PM
|
Access Comments