« Mid-Morning Art Thread
|
Main
|
The Same Media That Attacked Virginia For Lifting Mask Mandates Just Two Weeks Ago Now Celebrates Blue States Lifting Mask Mandates -- But Claims This Is All About The Science (TM), Not Politics »
February 11, 2022
The Morning Rant - Rite Aid & Rapaport: Woke Corporations Siding With Criminals Over Communities
About two weeks ago, J.J. Sefton wrote about Michael Rapaport's shocking discovery that when left-wing politicians decriminalize crime, it results in rampant criminality, including shoplifting in plain view of employees and "security."
There is no way I could improve on the poetic invective that J.J. employed to describe Mr. Rapaport's politics and sudden enlightenment, so I won't even try. But I would like to comment on Rite Aid as a corporation closing the Upper East Side store that Mr. Rapaport watched being looted, plus many other Rite Aid stores that were overrun with crime.
This was from the Breitbart article that JJ linked:
The security guard seen in the video allegedly told Rapaport that the Rite Aid on 81st Street and 1st Avenue has been robbed on almost a daily basis and will be closing on February 15 along with 63 other locations due to the spike in thefts.

Rapaport lamented that he relies on the neighborhood Rite Aid for his mood stabilizers and will have to travel further to another pharmacy now that the location will be closing due to theft.
You can't blame Mr. Rapaport for being frustrated by his pharmacy closing. I wonder how its executives feel about the crime wave destroying their stores?
Well, it would appear that Rite Aid's CEO tolerates criminal action against his stores, and will not criticize it.
This lovely letter was sent out by Rite Aid's CEO in the wake of the George Floyd riots:
Rite Aid CEO Heyward Donigan

A Message From Our CEO

June 2, 2020

To our Rite Aid associates and customers,

Like you, I am deeply distraught and heartbroken by the tragic death of George Floyd and the events unfolding across the nation. Our communities are hurting, and I am sure many of you are hurting.

While my words won't take away the hurt, pain or frustration, I do believe – now more than ever – it's important to let everyone know what we stand for as a company and what I stand for as a leader.
Ok, Ms. Donigan, what do you and Rite Aid stand for? First off, she stands for word salad about racism, diversity, and empathy:
First, let me be clear: racism, injustice and intolerance have no home in the Rite Aid organization or in our communities. I do not accept anything other than the notion that diversity and inclusion make us better as a country and as an organization. I know we have many colleagues who are struggling at this time. We need to give our associates the support they need. Check in with each other, and show empathy while we all try to make sense of a situation that has decades of complication. And while I don't have the answers, I know the worst thing we can do is stay silent.
And here is where Ms. Donigan started making promises that she would not keep:

Second, my priority is the health and safety of our associates and customers. I'm grateful to share that all of our associates are safe. To ensure continued safety, we have temporarily closed a number of stores that were damaged or put at risk so we can assess the situation and make repairs. We have also adjusted store hours across nearly all of our 2,400+ locations. The situation is evolving, but know we will do whatever it takes to keep you safe.
Abandoning her retail employees to the mercy of criminals doesn't actually comport with her claim that the "health and safety" of Rite Aid employees was a priority. Hey, at least she states that she's grateful to learn that no employees were killed in the stores she surrendered to criminals. (Note that she doesn't say no employees were harmed, only that they were ultimately "safe.")
How about her empathy? She closed stores and reduced hours. Or in other words, to keep her employees safe, she simply eliminated their jobs. That's known as "empathy" in the C-suites.
And here is where she just starts spitting out falsehoods:
Finally, if we've learned anything the last few months, it's that we can come together to act on the core purpose of keeping our communities healthy and helping people thrive. We will continue to play an essential role to those we serve. While buildings and merchandise have been damaged, our commitment has not. We will fix structures. We will reopen stores. We will take care of our associates. And we will take care of ALL of our communities.
"We will fix structures." Structures were abandoned.
"We will reopen stores." Stores were permanently closed, and others that were not damaged were surrendered to criminals until those stores were closed too.
"We will take care of our associates." Associates were forced to co-exist with felons looting their stores…until the associates lost their jobs when the stores closed.
"We will take care of ALL of our communities." As Mr. Rapaport learned, Rite-Aid sided with the criminals, and then abandoned the targeted communities and their law-abiding customers.
You'll never believe what happened next – the CEOs of 20 large retailers called on Congress to intervene in stopping criminals from re-selling stolen merchandise. Guess who was one of them…good ol' Heyward Donigan of Rite Aid.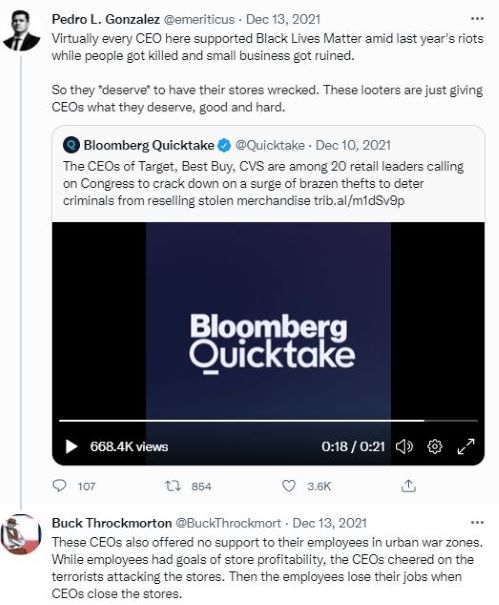 (buck.throckmorton at protonmail dot com)


posted by Buck Throckmorton at
11:00 AM
|
Access Comments