ę CNN's Expert In The Science (TM): The Science (TM) on Masking Has, Coincidentally, Changed at the Exact Moment That Public Polling Has Turned Against Democrats In an Election Year
|
Main
|
Democrats in Virginia Senate Flip to Join Republicans to Make Masking In School Optional, By Law Ľ
February 08, 2022
At CNN Corporate Grief Counseling Session, Alisyn Camarota Talks About Zucker's Firing As If It's Caused Her Psychological Trauma, and Tater Begs Warners Honcho Jason Kilar to Provide CNN "Talent" With Emotional Healing
How bad is it? It's so bad that Soledad O'Earpiece is making fun of CNN "talent" for being weak and "pathetic."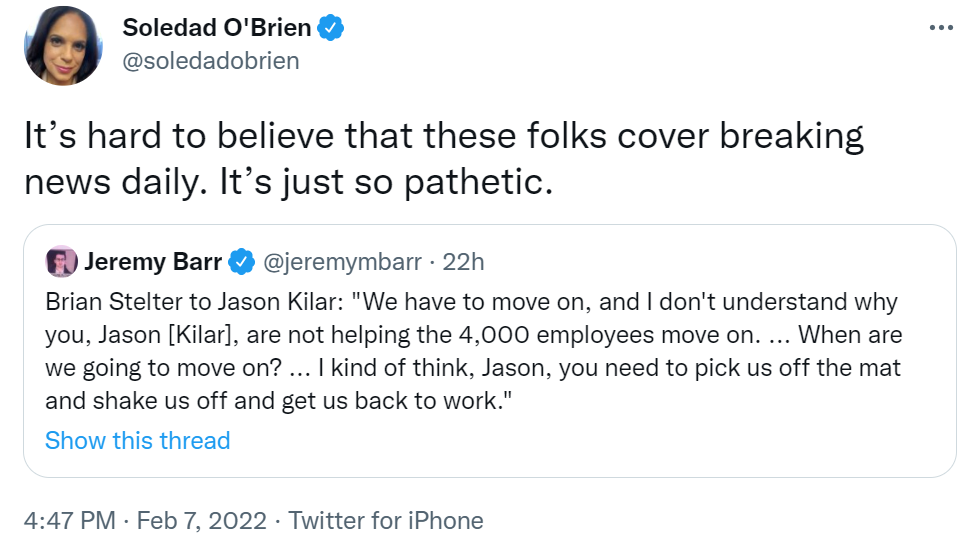 The left has never been the political movement of grit, resilience, self-reliance, and mental health. That's the right.
The left has always been the political movement of neuroses, hysteria, insecurity, cloying need for validation, emotional fragility, and childlike temper-tantrums and outbursts of pure psychopathic hatred when frustrated.
That's what makes the left the left. Leftist -- Marxism -- is best understood not as an actual politics but as a twisted self-help program for broken people, giving bent, bitter, sick individuals an external collection of boogeymen to redirect and focus their self-loathing at.
That was on display at another Q&A session intended to give what are supposed to be adults a chance to burn off their endless rage and frustration that they're not getting their way.
Note he's done three of these previously, and the people at CNN, who presume themselves to be well-balanced and judicious people who should lecture Americans about every possible matter of politics, ethics, morality, and society, still can't accept that Zucker has been fired for cause and that's that.
Five days after Jeff Zucker's dramatic and still-stunning ouster from CNN, network insiders remain vexed by WarnerMedia C.E.O. Jason Kilar's refusal to elaborate about the circumstances that led to their former leaderís resignation. On Monday morning, Kilar held yet another Q&A session with CNN's top producers and on-air talent in New York--this time over video conference, from his office in California, not in person, mercifully. But it went just as poorly as his in-person meetings had last week in New York, Washington, and Atlanta.
For context, I've heard it reported that Jeff Zucker was very buddy-buddy with all of his "talent" (what an inappropriate word in this context), constantly texting them all like they were eighth grade girls, which actually sounds about right, psychologically speaking.
Also, bear in mind that the network is absolute shit and in a merger you get rid of all of the low-performing "talent" (lol) and at CNN, that means pretty much every single one of them. Because they all apparently though they were Bestest Fwendz with Jeff Zucker, they were almost all certainly relying on that Very Deep Superficial Friendship to protect them from the coming bloodbath.
So a lot of this "grief about Jeff" is really poorly disguised "grief about my upcoming firing."
Let's check in with Alisyn Camarota. She lectures you every day on the choices you're making and the make-up of your cerebral landscape. Let's take a look at hers.
Many spoke in grave terms, emphasizing their own grieving process, and in heavy-handed metaphors. "I think that what you're hearing, and what we're all experiencing, is just a huge shockwave to all of our mental health," Alisyn Camerota, the CNN host, said during one of the most poignant moments of the meeting. "This has been incredibly destabilizing and unsettling. One of the secrets to mental health is understanding, and the way that happens is getting some answers and some closure. And we don't have that. We don't understand why the death penalty was necessary."
Wellness check on Alisyn Camarota! Hide the pills and take her belt and shoelaces.
Or better yet, leave them in open view. Maybe give her extra.
She later badgered Kilar to explain how his belief in "empathy" played into his decision.
She also mentioned that she had looked at Kilarís social media accounts recently: "On your Twitter and Instagram profile, you describe yourself as a 'big believer in the power of innovation and empathy,'" she said. "If you could just explain how empathy plays into this?"
Oh I see: She's interviewing him like he's a Republican, with absurd gotchas that make sense only to people with subnormal IQs.

The article notes that Jake Tapper arranged "an informal wake" at his house on Friday to allow his fellow headcases to grieve about their departed friend, who by the way is still alive, just not whispering in their ears any longer about what snarky things they should say about Trump and Republicans.
I'm sure he'll keep texting his suggestions, though.

There were reports -- unconfirmed -- that AT&T was considering paying Fredo $9 million of his $18 million contract as hush money to get him to stop leaking any further damaging info he might have about Zucker and CNN.
Zucker fell on his sword in an effort to keep a possible Cuomo lawsuit against CNN from seeing the light of day, sources told The Post. The ex-CNN chief was named multiple times in a draft of a suit, which hasn't been filed, sources said.

Zucker's resignation came as part of an agreement hammered out with AT&T chief John Stankey, sources say. Under the agreement, Zucker would leave CNN without a fight and Stankey would settle with Cuomo, the sources said.

That way, Cuomo's potentially damaging additional accusations about Zucker would be kept from the public, these sources say.

...
Now, sources say, if Chris Cuomo isn't given a settlement by AT&T, which owns CNN, he'll potentially file his suit. A representative for Cuomo's attorneys declined to comment.

AT&T is negotiating with Cuomo to reach a deal that would give Cuomo likely half the $18 million he is seeking in an effort to shut him up, The Post has learned.
By the way, this would explain why Kilar keeps saying that Zucker "resigned," even though it looks like a firing. Per this report, Zucker did resign, but as part of a package deal in which AT&T would spend a lot of money to protect Zucker (and itself). So it's a resignation, yes, in exchange for protection.
I'm not sure that Cuomo's information would all be about Zucker. It has been reported that Fredo claimed that there was zero distance between himself and Zucker, and if Zucker knew it, then Fredo knew it -- so he's got a lot more blackmail material. Maybe about other CNN executives and "talent."
Maybe Alysin and the rest of the broke-brains should pause a moment to wonder what Fredo might have on their fellow Preening Moralists at CNN.
John Sexton has more Kilar's Q&A with the mentally-unwell decrepit tweens of CNN.
One interesting tidbit is that Don LeMon, who used to pretend to be buddy-buddy with Fredo Cuomo, is now attacking Fredo for his lack of "journalistic ethics" and campaigning for Kilar to refuse to settle with him and to hold to his position of zero dollars in severance.
"Did you think about what message it sends to the journalists in this company, and also to the larger company, that someone can break with those journalistic standards and get paid handsomely for it," Lemon asked. "And what is to stop the next person from doing the same thing, and possibly getting compensated for it by saying, 'Hey I'm going to spread rumors if you don't give me this amount of money.'"
This might be Don LeMon worrying about what AT&T might do as regards the lawsuit against Don LeMon by a bartender for the credible accusations of assault of a particularly gross sexual nature.

Bonus: Discovery head David Zaslov said that CNN was "on the left."
After Jake Tapper finished freaking out that someone had been permitted to say something true in the media without being deplatformed for it, he then clarified he meant that he thought of CNN as on the left side of Discovery's porfolio of properties, with sports "on the right."
Sure.
Sure that's what you meant, Davey.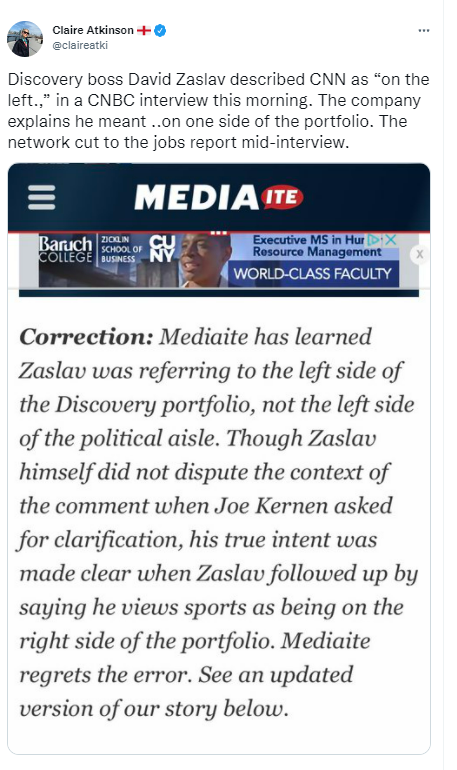 Update: Video from the CNN video grief counseling session.

posted by Ace at
02:26 PM
|
Access Comments