« Inspector General Opens Investigation Into US Capitol Police Being Caught Spying on Republican Congressmen
|
Main
|
At CNN Corporate Grief Counseling Session, Alisyn Camarota Talks About Zucker's Firing As If It's Caused Her Psychological Trauma, and Tater Begs Warners Honcho Jason Kilar to Provide CNN "Talent" With Emotional Healing »
February 08, 2022
CNN's Expert In The Science (TM): The Science (TM) on Masking Has, Coincidentally, Changed at the Exact Moment That Public Polling Has Turned Against Democrats In an Election Year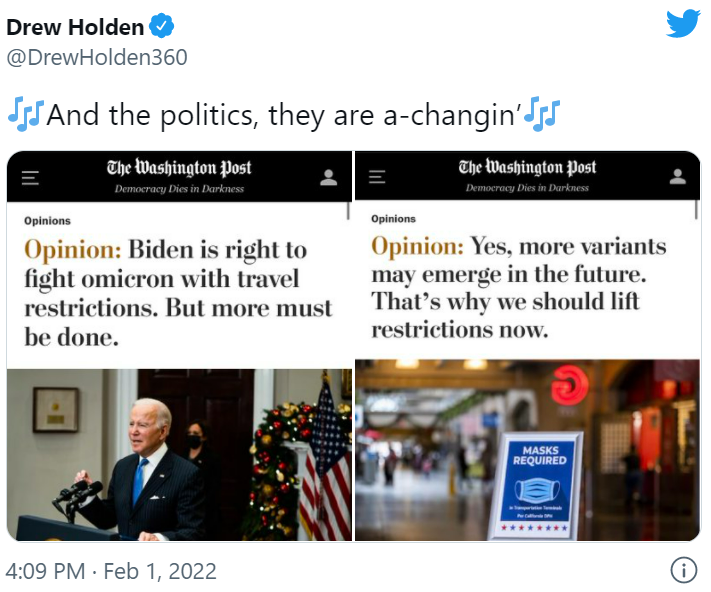 Democrats love The Science (TM), and The Science (TM) loves Democrats back, by helpfully changing itself whenever the Democrats need it to.
Leanna Wen admitted last month that the drug store masks everyone uses were useless -- "little more than facial decorations."
But she followed that up with a demand to is shackle our children's faces with N95 masks or triple-ply surgical masks.
But now, when the public turns against the Mask Theater that mentally-ill Karens have made their entire identity, Leana Wen says The Science (TM) has conveniently shifted and now kids can get by with no masks at all.
@DrewHolden360

The Biden Admin got really fortunate that The Science(TM) has changed on Covid restrictions just as the political winds shifted.

In her latest piece @DrLeanaWen laments that "a reasoned conversation about when to lift mask mandates" particularly in schools is "overdue" despite suggesting that the US should mandate "at least a medical-grade, 3-ply surgical mask" for school kids & everyone else *a month ago*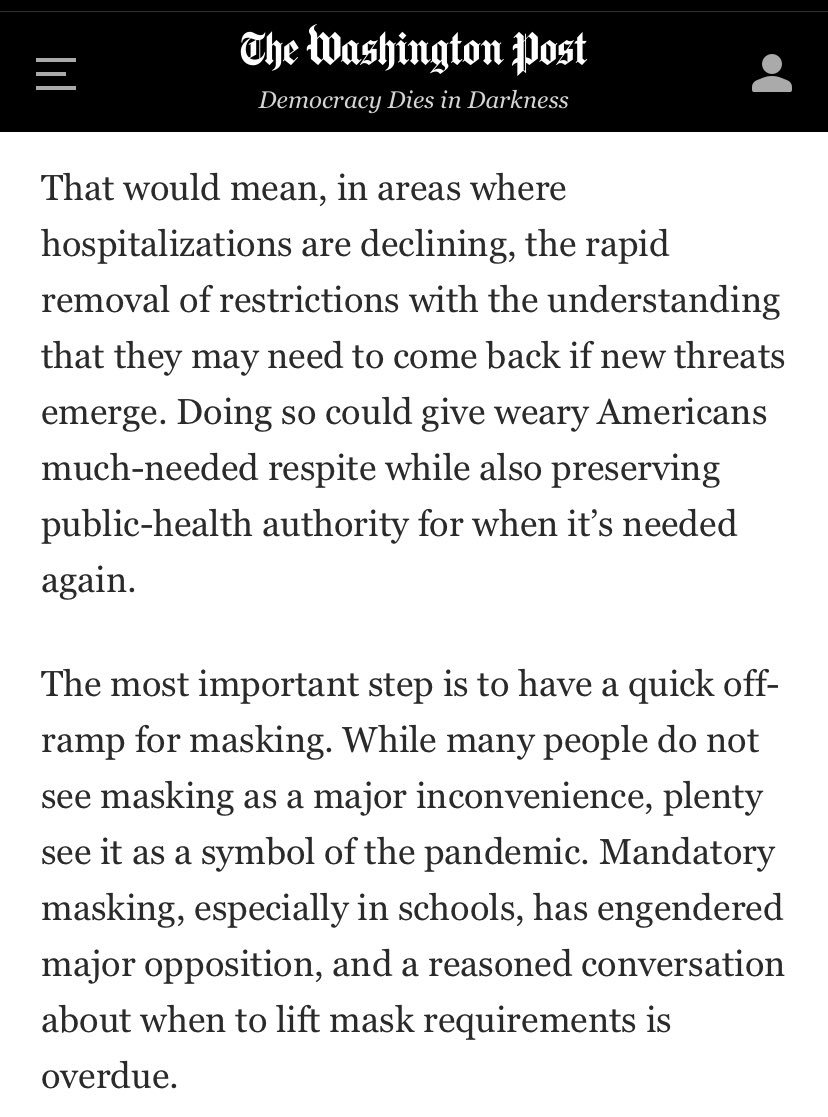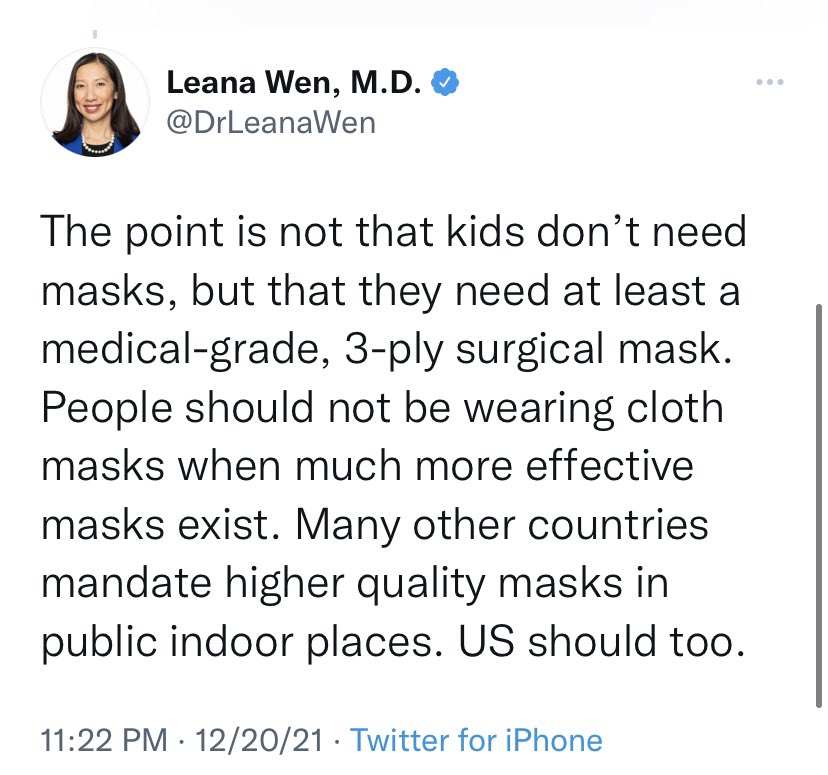 As those new polling numbers roll in, and we head for the expected bloodbath for Democrats in November, Leana Wen doesn't want to talk about Covid Zero any longer.
Now she wants to talk about a cost-benefit analysis!
You know -- like that grandma-killing, science-hating monster Trump in April 2020!!!
Mitchell
@Mitchel13290681


This ghoul went from "let's KN95 infants in schools!" to "liberty!" in two months. The Great Gaslighting.
RashyLongSleevz @Tony2Gloves


We [CNN "science analysts"] will just repeat what the "conspiracy theorists" said and were banned for the last 2 years.
Omri Ceren @omriceren


How convenient. The science has changed on the incandescently unpopular policy to which lefty politicians and technocrats have been ideologically clinging, just as voter sentiment was hardening in the runup to a national election. Sometimes in politics you just get lucky!
tsar becket adams @BecketAdams


Weird. "I trust the science" has been the go-to moral response to questioning CDC policy. Now we're told the science can change. Are we still not allowed to question CDC policy?

It's a simple, basic point -- so basic that even Bill Maher has tumbled on to it.
Whenever these guys are caught being wrong, for the hundredth time, they claim, "Well, science is an inexact science, you know. Science changes and we learn more."
They say that retrospectively, looking backwards, to explain away their errors.
But what do they say in the moment? In the all-important vital present?
In the present, in the Fierce Urgency of Now -- when we could, hypothetically, debate and change policies -- they insist that the science is absolutely settled and foolproof and beyond any question or quibble.
Futhermore, they literally organize smear campaigns with their leftwing media allies to brand anyone disagreeing with the unchangeable and eternal One True Science as "fringe" "conspiracy theorists" spreading baseless "dangerous disinformation."
This "dangerous disinformation" is accused of being of such a profoundly false and wholly baseless nature that it must not only be denounced as if it were blasphemy but driven from the public debate by authoritarian means such as censorship, deplatforming, and imposing professional penalties against those who speak these heresies.
And then a year later they go, "Oh well sure, we got another one wrong, but science is more art than science, yannow?"

So when you ask questions or dispute them, they brand you a conspiracy theorist and lobby media monopolists to censor you as spreading "disinformation."
Then when it turns out they were wrong -- again -- they just shrug and say, "Oh science is always changing and we're always learning more and we're often wrong. Everyone knows that. What, did you think it was magic where we could guarantee success??!!"
Well yes, we did think that -- you claimed that, both implicitly and sometimes explicitly ("I AM SCIENCE"), when you smeared anyone who claimed you were wrong as "anti-science" and spreading "dangerous disinformation" and "conspiracy theories."
When what they were really doing was proposing an alternative interpretation of sketchy, incomplete data open to numerous fair and defensible interpretations.
An alternative interpretation just as likely to be right -- more likely, in fact -- than your stupid theories (which you keep presenting, in the moment, as proven facts).
Incredible. Incredible.

Is this also about contriving Brandon a "success" in time for the State of the Union?
108 Joe conquered Covid. Look for details in his SOTU address. Posted by: Steve_in_SoCal

posted by Ace at
01:17 PM
|
Access Comments