« The Morning Rant: Widespread Revulsion About Beijing Olympics Reveals Preference Cascade Against China
|
Main
|
Noted True Conservative Jonah Goldberg, Who Supposedly Quit FoxNews Because He Found Its Reporting "Irresponsible," Finds a New, Totally Responsible "News" Organization to Work At »
February 07, 2022
Leftist Deplatforming Attack on Joe Rogan Hits Fever Pitch;
Rumble Offers Rogan "100 Million Reasons" To Leave Spotify for Rumble
As you probably know, the leftist attack on Rogan escalated into "and now call him racist" phase over the weekend, as someone dug up all the times Rogan has said the n-word on his podcast.
Note he only said the n-word when he was having a discussion about the n-word. Not actually using it, but in political/sociological discussions about it.
He took the position that it was silly to say "the n-word" when everyone knew what he meant and the word itself was the topic of conversation, used in a non-insulting way.
But the leftist deplatformers cut all of the context out if it to just show him saying the n-word.
A Twitter account, Wokal Distance, think they've identified the group behind the deplatforming campaign: a leftwing Democrat super-PAC called "MeidasTouch."
Does that name sound familiar? It did to me too -- they're the ones who put out this crazy-terrible "Let's Go B.R.A.N.D.O.N." ad.
Well if Rogan should be canceled for just saying the word no matter what the context, what about the man who received, giggle, the most votes in American history? Content warning:
Grandpa N-Bomb is using the word in an appropriate context, reading the words of a nominee he hopes to defeat, but the left is telling us that context doesn't matter with Rogan.
Does it matter for Grandpa N-Bomb?
And does it matter for shitlib grifters Cenk Uygur and Anna Kasparian?

The coward Dwayne "The Rock" Johnson is also getting blowback. The coward withdrew his support of Joe Rogan and joined the cancel mob. All it took was some tweeters to ask it of him. He didn't even wait for Rogan's explanation.
So, if racist words are cancellable, the coward Dwayne Johnson should be cancelled for using "ching chong ding-dong" taunts to insult a Chinese person. And for calling a woman a "tranny" to boot.
I mean -- if those are the rules you're playing by, coward, then let's play.
Ching-chong ding-dong, huh?
The cowardly corporate dogshit service Spotify has responded to this by taking down over one hundred episodes of Joe Rogan's show.
Remember, the contract supposedly guarantees Rogan complete freedom of speech with no corporate interference.
And now, one hundred shows erased.
I don't think this is a breach because it's my guess that Rogan is agreeing to all of Spotify's "little suggestions." Or "pleas."
Spotify doesn't know that attempting to negotiate with Deplatforming Terrorists only encourages them -- it tells them you're weak. It tells them to come back next week and make a new series of demands, because they know you'll comply.
Because they know you're stupid enough to think they'll just go away if you pay them off with enough Content Warnings, Disclaimers, promises to have on guests who tow the acceptable leftwing shitlib establishment line, promises to not have on the sort of rebel guests that made you a draw in the first place, and deletions of content.
They've already said their goal is to put you off the air. Mika Brzezinsky and Joy Behar and dozens of leftists already said this. Jen Psaki announced from the White House press briefing room podium that disclaimers were not enough and then demanded that Spotify "do more" to suppress Joe Rogan.
And here's Spotify, still trying to feed the alligator one finger and one foot at a time.
And here's dumb Joe Rogan, still trying to be "nice guy" with his corporate partner and agreeing to all of this.
When the right answer is always "No."
And the second right answer is always "And go fuck yourself in the heart with a knife."
So, I do not think that Spotify is in breach of contract. You cannot be in breach until your contract partner declares you're in breach, and so far, dumb Joe Rogan is playing along with his slow-motion full-body amputation. People can mutually agree to adjust a contract.
But at any moment, Joe Rogan could say to Spotify: "No. I will not make any further concessions. The contract says that you will back my freedom to express myself and guarantee that right. I am invoking that clause now and I intend to hold you to that. Otherwise, you're in breach, and I expect to be released from my contract and paid damages."
And Rumble just offered him "100 million reasons" to do just that.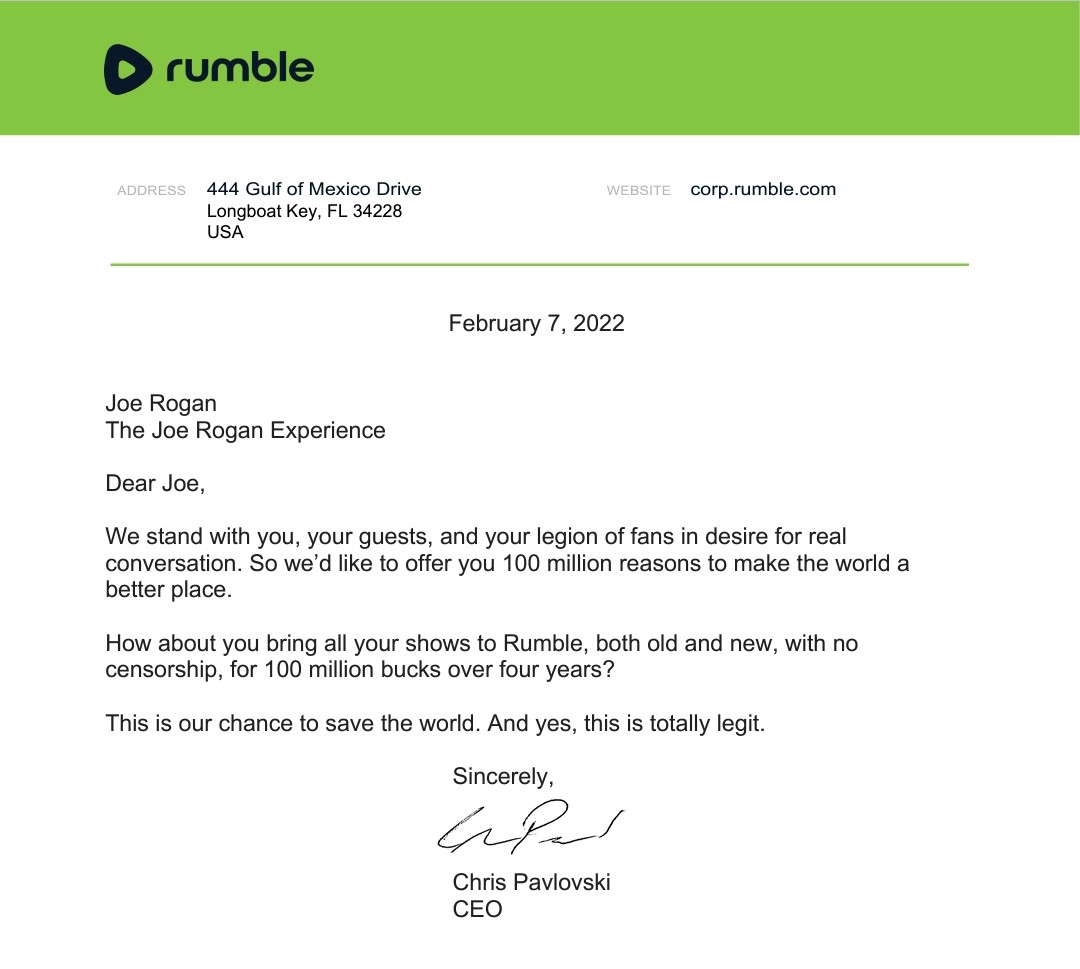 The only problem, of course, is that the moment he jumps to Rumble, they deplatform Rumble.
And the White House demands that all payment processers and web hosts and app stores drop Rumble.
And then NeverTrump and Conservative, Inc. -- let's face it, essentially the same crew of grifters -- which would freak out when Trump or DeSantis say that corporations should not censor people -- the government can't interfere with a corporation's right to choose to censor!!!-- continues remaining stone silent as the White House and Senator Elizabeth Warren and a dozen other high ranking Democrats demand, every single day, that corporations censor speech.