ę Leftist Deplatforming Attack on Joe Rogan Hits Fever Pitch;
Rumble Offers Rogan "100 Million Reasons" To Leave Spotify for Rumble
|
Main
|
"Hunter's Law:" For Sake of Racial Equity, Brandon Administration Will Distribute -- and I Remind You, This is Real, and Not Some Joke on a Racist Website -- Free Crack Pipes Ľ
February 07, 2022
Noted True Conservative Jonah Goldberg, Who Supposedly Quit FoxNews Because He Found Its Reporting "Irresponsible," Finds a New, Totally Responsible "News" Organization to Work At
This is... Totally Expected.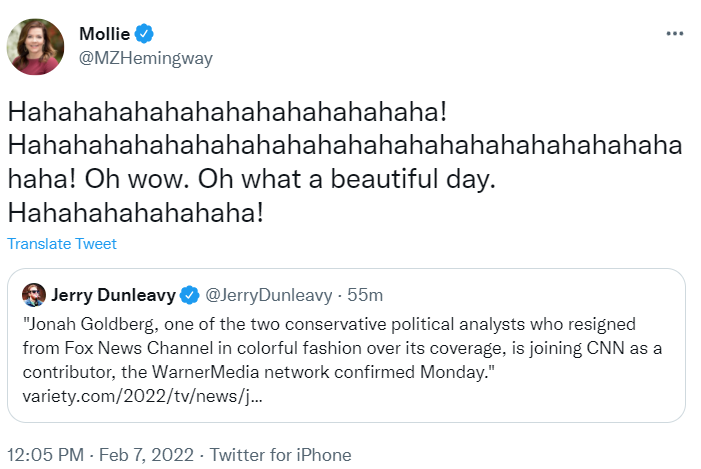 Jonah Goldberg said, regarding his alleged "quitting" of Fox News, and definitely not just his announcing he was quitting as he realized Fox wasn't renewing his expiring contract, , "I didn't want to be complicit in so many lies."
I'm glad he's found a place where he won't have to be complicit in lies: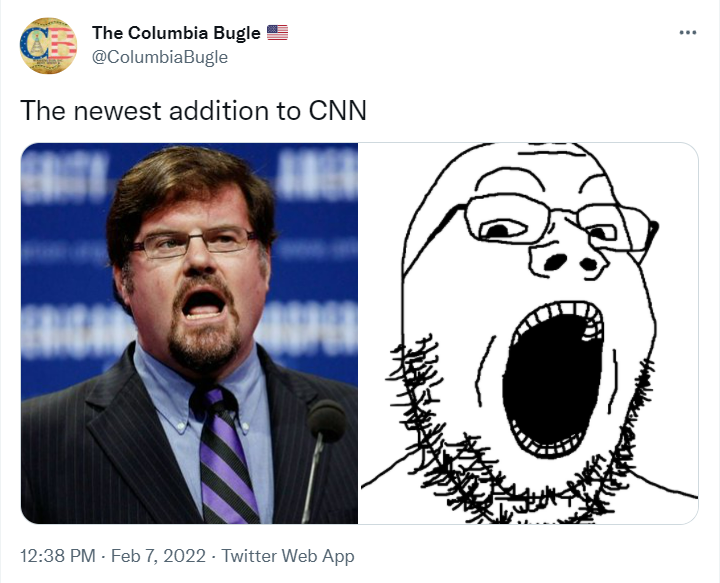 I'm starting to think of Jonah as Less Masculine Tater.
Meanwhile, RadarOnline reports Chris Wallace is very angry about the Jeff Zucker firing, because Zucker was the guy who hired him and his champion at CNN. Supposedly Zucker was to be the one who'd protect him from Jake Tapper and Sam Feist at the Washington, DC bureau -- whom Wallace despised.
First sensible thing I've heard from this decrepit old lesbian.
In wake of the decision from WarnerMedia suits to oust Jeff Zucker, Wallace is said to be "second guessing his decision" even though he is believed to be earning $8 to $10 million per year.

...

"He went over there for Zucker and now Zucker is gone. Wallace feels that he has been stiffed. Heís got no staff, no Executive Producer and the guy he gave up a prized gig for has just walked out the door."

...

"It's no secret in DC that Wallace hates Jake Tapper and despises Sam Feist," the source added.
Zucker promised Wallace, supposedly, that he would not be "compromised" by these two. Feist is the CNN Washington bureau chief, so you know he's not complicit in many lies.
Finally, Tater is a Hot Little Potato, offering up a "scathing" and "defiant" taunt to CNN's enemies: "We're not going anywhere."
"CNN is so much bigger than any single individual. It is about teams and teams of people, thousands of individuals who make up CNN," Stelter continued, "This place is not perfect. It will never be perfect."

"We will always have flaws, we will always screw up, we will always have to run corrections," Stelter said, acknowledging many concerns brought forth about CNN in recent years.

"But the people who say we're lacking journalism, that we've become an all-talk channel, that we've run off and we're all opinions all the time, that Jeff Zucker led us astray, those people aren't watching CNN," argued Stelter passionately -- despite the fact that nine of CNN's 18 hours of live programming per day, including all of its primetime lineup, consists of programs which mostly feature opinion content.

The anchor continued to rebuke critics saying, "They're watching complaints about CNN on other channels that don't know what they're talking about. That's the truth."

...

"That's what CNN is," stated Stelter, staring strongly into the camera.
Tater Stronk?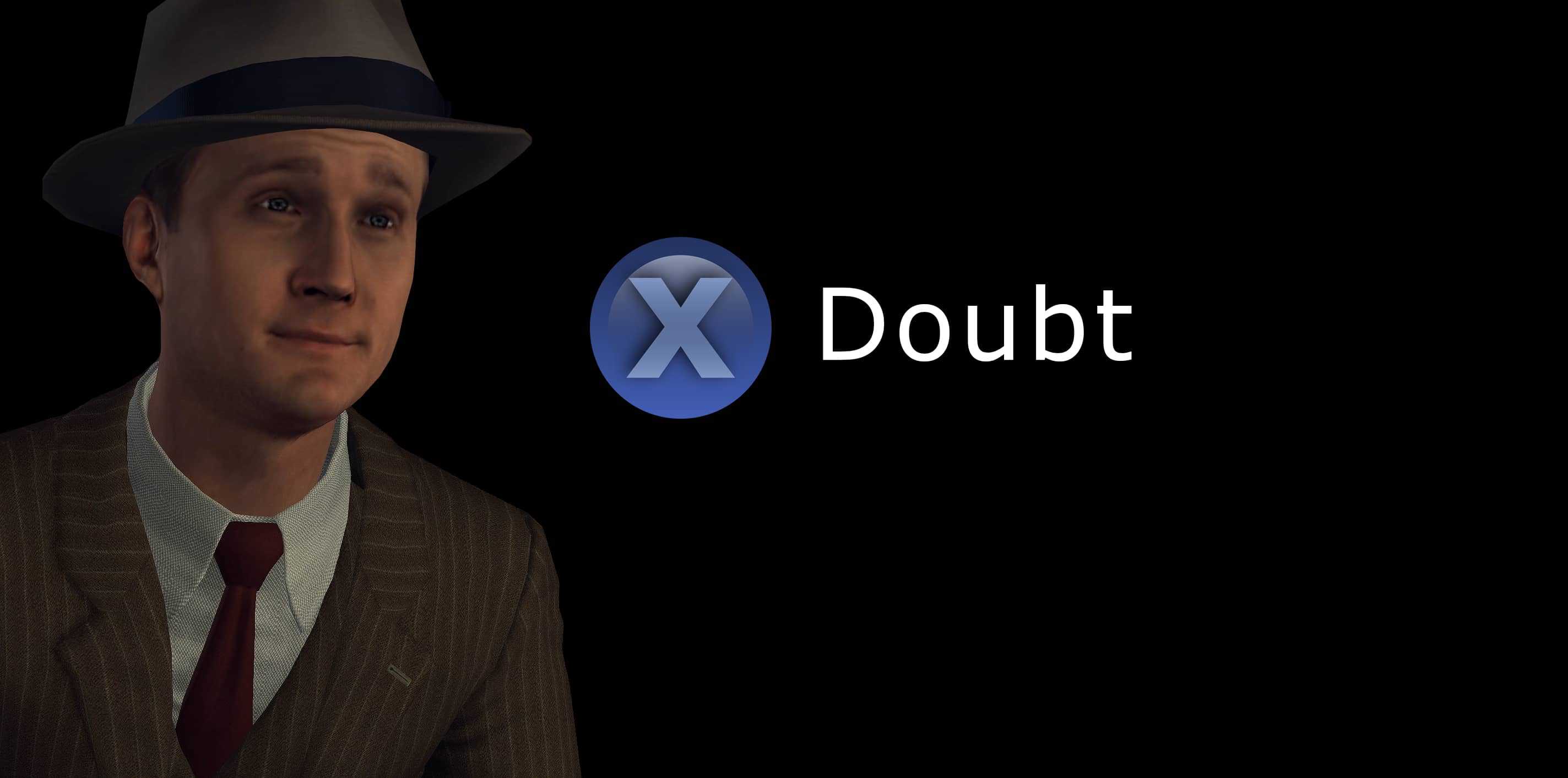 "We lost our leader this week. We're not going anywhere," he said with a smile.
Video at RealClearPolitics.

Is Tater right that he's not going anywhere?

Media analyst Ken Auletta Presses X to Doubt.
And he tells Tater to his fat face: you should be worried.
"Now, [top Discovery/Warner shareholder John] Malone has since criticized CNN for too much advocacy, too much commentary, too little reporting from the world," stated Auletta, invoking Malone's recent criticism of the network.

Auletta somewhat agreed with Malone saying, "There's some merit to that. I mean, CNN had always talked about how we cover the world like no one else...Well, they don't do it."

"If you watch CNN regularly, the's much more domestic news on it, much less international news," continued Auletta, until Stelter quickly interjected.

"I disagree with you, but we can fight about that some other time," said Stelter, attempting to move away from criticism of CNN.

Stelter then rolled the clip of Malone saying, "I would like to see CNN evolve back to the kind of journalism that it started with, and actually have journalists, which would be unique and refreshing."

The anchor assessed that "Many CNN staffers found that be offensive. Jeff Zucker found that to be quite disturbing because he's looking at that thinking, what is Discovery's key shareholder going to do to CNN?"

"It's a joke. It's not real, and he's wrong," said Auletta in response to Malone's harsh critique.

However, Auletta continued, "If I was at CNN and I was an employee and I loved working under Jeff Zucker for understandable reasons I would be concerned."

"And if you watch CNN, the anchors are much more animated with opinions than they were when Ted Turner started the network," The New Yorker writer added.

"True," Stelter concurred.

"So I would be a little nervous if I was at CNN, yes," concluded Auletta.
That video here, at Grabien.
Finishing up:
There are some dueling Tater Impressions today. One, the classic and undisputed champion from Mark Dice.
Two, the challenger, a new one, an unexpected out-of-left field Gay Don Corleone-type take from Russel Brand. Strange, but oddly compelling.

posted by Ace at
01:49 PM
|
Access Comments