« Schumer Plots Another Scheme To Force Voting Takeover Bill Through Senate
|
Main
|
True Conservative Superhero Dan Crenshaw: I Have No Power to Help the January 6 Political Prisoners and I Won't Even Bring Attention to Their Plight Because That Would Just be "A Performance" That Helps Me But Not Them »
January 18, 2022
New Virginia Governor Youngkin Signs Executive Orders Banning Critical Race Theory, Ending Mask Mandate In Public Schools
"Trump in a Fleece" -- just like the left promised!
Virginia's Republican Gov. Glenn Youngkin signed 11 executive orders on his first day in office, including one lifting a mask mandate in public schools and another banning the teaching of critical race theory, both issues Youngkin campaigned on.

"Executive Order Number One delivers on his Day One promise to restore excellence in education by ending the use of divisive concepts, including Critical Race Theory, in public education," a press release from Youngkin's office read.

"Executive Order Number Two delivers on his Day One promise to empower Virginia parents in their children's education and upbringing by allowing parents to make decisions on whether their child wears a mask in school," the release continued.

The governor also signed an executive order announcing the state was "open for business"; two orders establishing a state effort to combat anti-semitism and human trafficking, respectively, and another promising to investigate an alleged sexual assault in a Loudoun County high school, among others.
The state's website's section on Diversity, Equity, and Inclusion was deleted: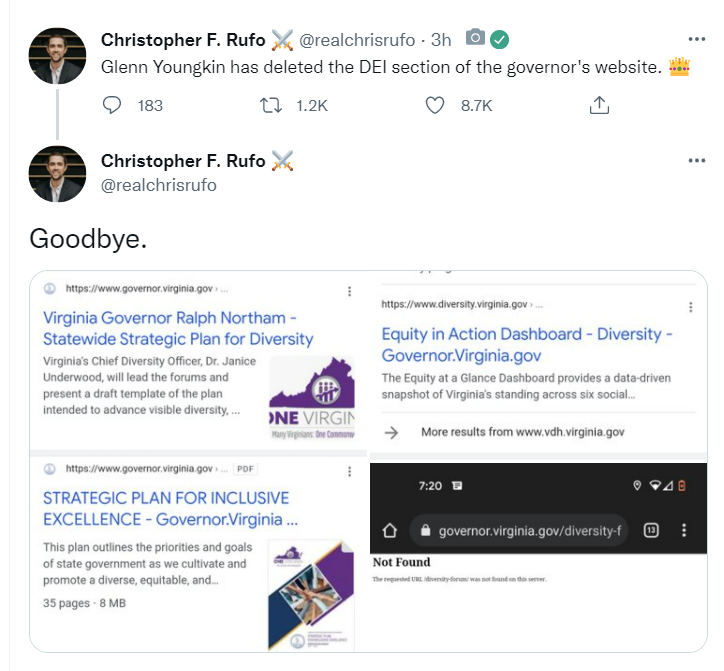 Twitchy catches CNN whining that Youngkin has banned CRT in schools, but as Twitchy reminds them: There is no CRT in schools, remember? Youngkin is just codifying what you claim is the current status quo.
Youngkin's order lifting the mask mandate permits any parent to opt his child out of any mask mandate a local school imposes, no questions asked, no reasons needed:
Youngkin's executive order--one of a flurry of orders he issued on his first day in office--states: "The parents of any child enrolled in a elementary or secondary school or a school based early childcare and educational program may elect for their children not to be subject to any mask mandate in effect at the child's school or educational program."

"No parent electing that a mask mandate should not apply to his or her child shall be required to provide a reason or make any certification concerning their child's health or education," the order says.
Note that that comes from an article which attempts an absurd "GOTCHA!" noting that Youngkin's son goes to a Georgetown prep school which still requires a mask mandate.
Um, and I'm sure Youngkin opposes that. But he's not the governor of DC (unfortunately).
Absurd. Absurd, stupid, anklebiting desperate partisanship.
The mask mandate repeal is triggering all the right lunatics:
Jennifer 'pro-voting' Rubin

@JRubinBlogger

So much for the silly narrative that Youngkin was some normal R. As @TerryMcAuliffe predicted, he's brought DeSantis anti-mask nuttery to VA. Now at war with several school districts. He's only been in office a few days. Hey, VA this is what you voted for. Best of luck.
UnReal Libertarian
@Robert4Liberty


Brought? He literally ran on personal choice and destroyed his opponent who thought he'd walk right back into the governor's mansion. This is what VA wants and you still cannot understand that?
CMG @cmg19812

I'm a Virginia public school teacher who 'srelieved that my county is maintaining our mask mandate. If he forces it, I'll resign.
Probably a Libs of TikTok repeat offender. Resign, #Resistance Indoctrinator. I'm sure the kids will be fine without you.
But the leftwing teachers are vowing to #Resist, screaming that you'll take their Force Healthy Children to Wear Masks For Nine Ours a Day To Save Obese Teachers a 0.001% Chance of Infection Policy from their cold dead hands: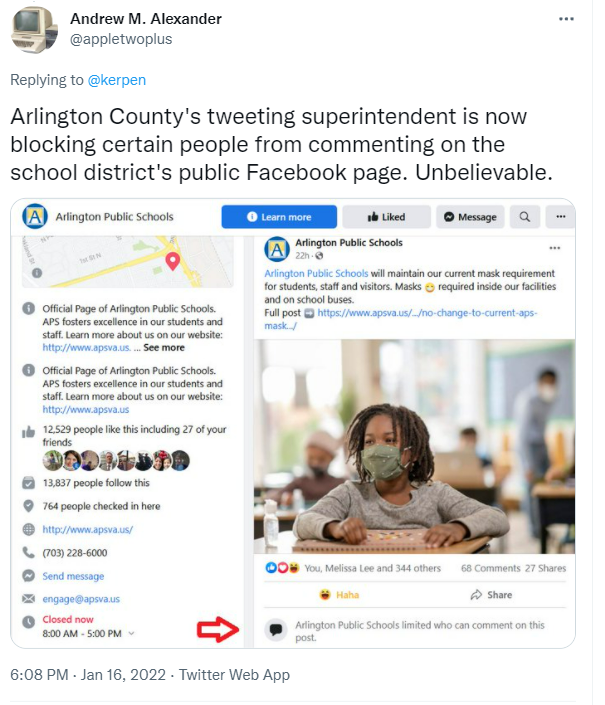 Fire them all.
Lt. Governor Winsome Sears says the state may withhold the #Resistance schools' funds:
John Roberts @johnrobertsFox


Virginia Lt. Gov. @WinsomeSears says @GlennYoungkin may withold state education money from school districts that defy his Executive Order making masking optional. So far, Fairfax, Arlington and Richmond have said their mask mandates will stay in place.
Democrats sat on their hands as Youngkin promised to empower parents:


Lieutenant governor Winsome Sears gaveled the senate into order: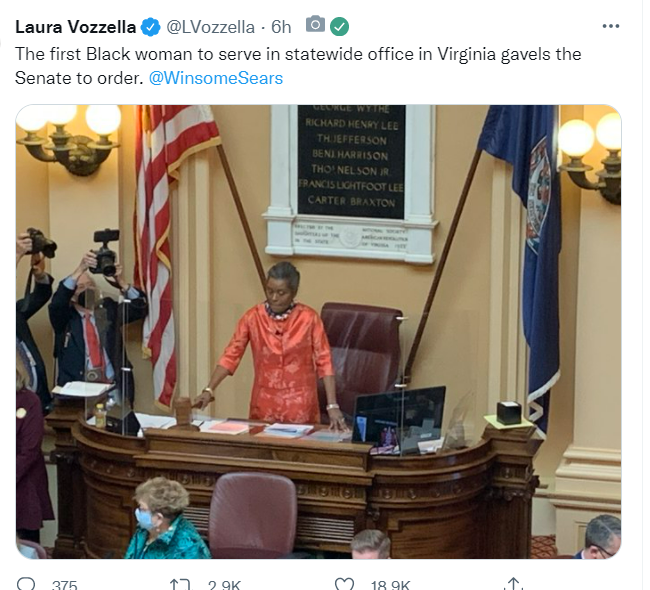 Pushing back against the Democrats' claims of America as some kind of racial hell, Sears told Fox, "I am the embodiment of what we're trying to achieve in America."
BTW, here's some hot "comedy" from Stephen Colbert:

posted by Ace at
04:20 PM
|
Access Comments