« Woke Salvation Army Struggling For Donations
|
Main
|
Is Opposition to Capitalism By Young Adults Really Just Opposition To The Monster Tech Oligopoly? »
December 17, 2021
Quick Hits 1: Biden's Covid Death Toll Passes Trump's, But Good Luck Discovering This Grim Milestone on the Leftwing Propaganda Media Sites
Strange how the media is almost totally silent about the fact that more than 400,000 Americans have died of Covid-19 since Joe Biden was sworn in January 20, with more than 1,000 deaths a day adding to the toll.

As you'll recall, there was a full-blown national day of mourning on January 19, Trump's last full day in office, which was the day deaths hit 400,000.

The New York Times has the current death count at 801,037.

It seems likely that at least another 100,000 will die as the winter storms in.

It's not hard to imagine that there could be twice as many Covid deaths on Biden's watch as on Trump's.

But what was Trump's fault under Trump is America's fault under Biden.
It's not as if this snuck up and surprised the leftwing media: the Free Beacon predicted around Thanksgiving that Biden would hit this Grim Milestone by December 26th. But Let's Go Brandon beat that analyst's expectation by nine days.
Unexpectedly.
But they've read their Orwell. They know how to control the future by rewriting the past.
Schlichterian: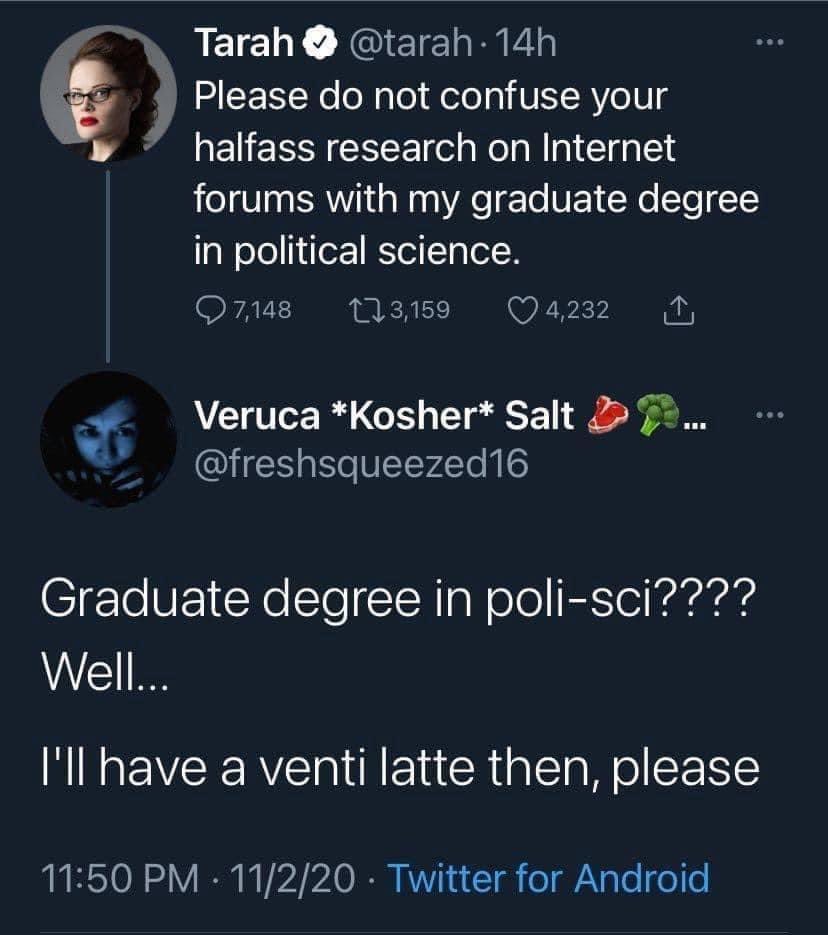 Prosecutors asked Alec Baldwin to turn over his cell phone to check for messages on or before the day he shot a woman. He refused. So they got a warrant.
Presumably Alec has deleted a lot of his messages by now.
I can't tell you exactly what they're looking for because I'm not in their heads, but I can take a few educated guesses here. They'll be looking for anything that indicates that he knew about the problems on the set. They may know there are emails and texts that are relevant from other people they have questioned. All that could be relevant to potential prosecution, for example, for negligent homicide.
Complexifying all this is the claim by the armourer's lawyer that the gun was... sabotaged, by having a live round slipped into it. Deliberately, seems to be the implication.
Jason Bowles, the attorney for Hannah Gutierrez-Reed, the armorer, is saying that she believes there was sabotage that affected the situation after she gave the gun to assistant director Dave Halls.
Now, that's her defense. How that bears on Alec Baldwin's own defense, who knows. Maybe they'll jointly agree to blame the assistant director Dave Halls, the last guy to touch the gun before Alec Baldwin.
They'll form an Alliance, like on Survivor.

Lady in Black had an interesting point about the Salvation Army's plummeting donations -- how did people even find out about their woke demands for white lamentations?
253 I think I'm a little more than surprised that SA's donations nosedive, as a result of this brazen insult to white people, was found out by so many people so quickly. If you didn't read about it on the internet, how would you know they did this? You wouldn't. It's not like it made the MFM newscasts. Our own networking seems to be getting stronger and stronger, and more far reaching than ever. Just my impression.

Posted by: Lady in Black
It's comments like that that make people say, "I love your site, Ace, I only read the comments."

The Squad has been demanding that American taxpayers pay off their student debt. The Biden Regime recently announced both that they would not be continuing the covid pause in loan repayment, and would not be cancelling part of student debt, as promised.
The left is seething. As usual.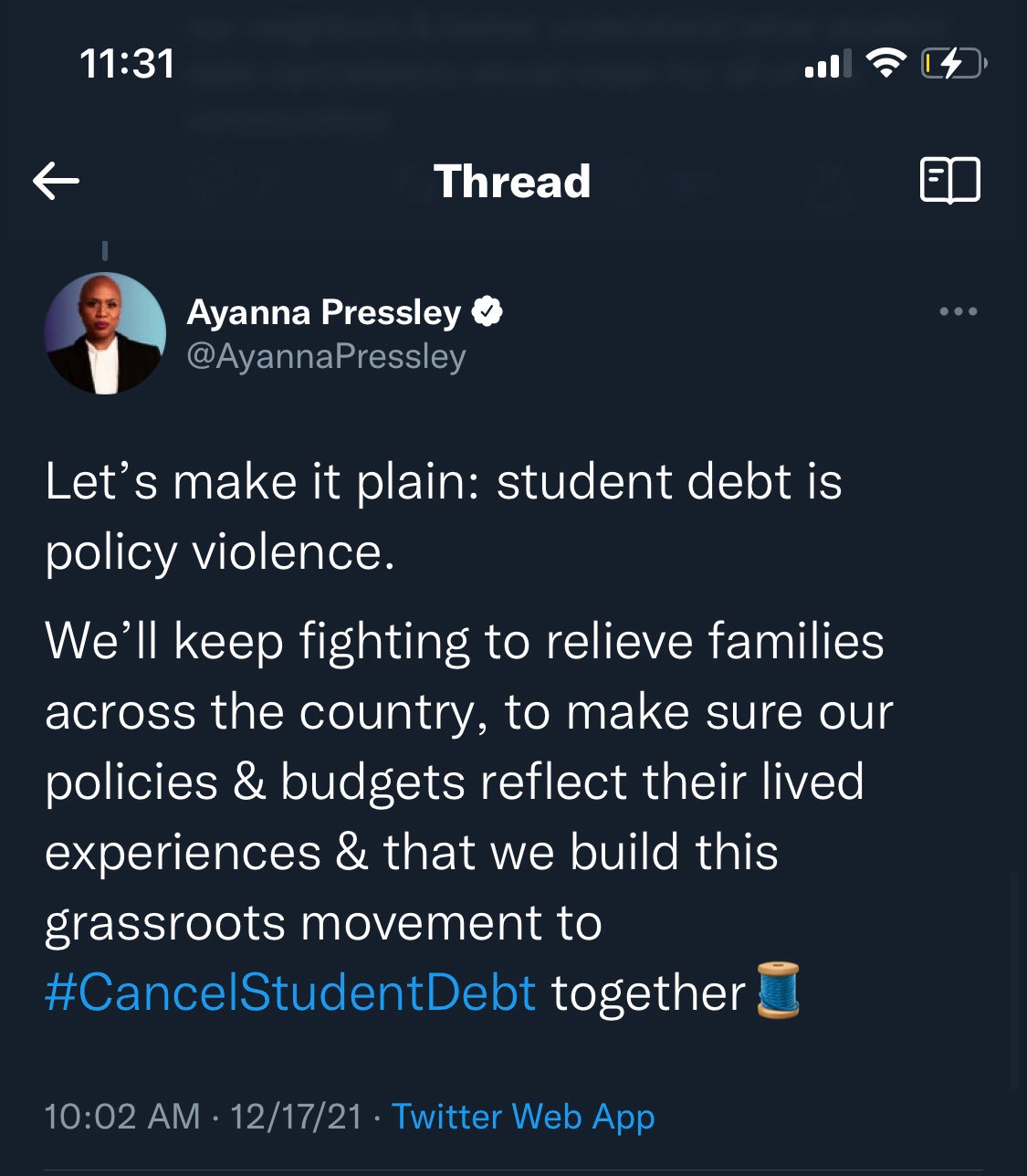 A comment about Pressley's "student debt is violence" declaration:
Kyle Shideler @ShidelerK

For these Marxists the only real crimes are political crimes. This is at the root of the "speech is violence" canard and the like. The only crime that they care about is going against the Party.
Kid whizzes on the buttons of an elevator and starts an electrical fire.
Southwest Airlines' CEO said in congressional testimony that masks "don't add much, if anything" to covid safety on flights, because the plane's HEPA filtration system takes care of most germs.
Gary Kelly, the CEO of the Texas-based airline, said on Wednesday that masks "don't add much, if anything, in the air cabin," citing the air filtering mechanism on board Southwest planes.

"The statistics, I recall, is that 99.97 per cent of airborne pathogens are captured by the [high-efficiency particulate air] filtering system", he told the Senate Committee on Commerce, Science, and Transportation. "It's turned over every two or three minutes".

Describing the situation as being "very safe", the airline boss went on to say that the "case is very strong that masks don't add much, if anything, in the air cabin" and that it was "high quality compared to any other indoor setting".
If you think that means you might be able to stop the Mask Theater while flying, forget about it: the flight attendants union, aka the Sky Karens Guild, objected, and now he's been reined in and agrees with the Forced Consensus again.
The head of the nation's largest flight attendants union says Southwest CEO Gary Kelly has assured her that he supports a federal mask mandate for airline passengers, despite his comments at a Capitol Hill hearing Wednesday casting doubts on whether face coverings increase COVID-19 protection on planes.

"And Gary Kelly, after the hearing, came over and said that he was absolutely with me on the masks and that I should not take that any other way," union chief Sara Nelson told CNBC. "It's really important that the public hear that everyone is on the same page with this. Flight attendants run into trouble when communication is not clear and not consistent."

What would we do without unions of female-dominated industries.
Some alumni are withholding donations, demanding colleges uphold free speech.
Two years ago Cornell University asked a California real-estate developer and longtime donor for a seven-figure contribution.

Carl Neuss didn't write the check immediately, saying he was worried about what he saw as liberal indoctrination on campus and declining tolerance toward competing viewpoints.

To allay Mr. Neuss's concerns, the development office introduced him to some politically moderate professors, he said. The attempt backfired. The professors, he said, told him they felt humiliated by the diversity training they were required to attend and perpetually afraid they would say something factual--but impolitic.

"If you say the wrong words, you could lose your position or be shunned," said Mr. Neuss.
Some alumni have banded together to refuse to donate unless schools commit to free speech measures, such as, at a minimum, refusing to cancel speakers just because SJWs make a ruckus.
ICYMI: Democrat Senator Richard Blumenthal spoke at the 102nd anniversary of Communist Party USA's founding, and was very "proud" and "excited" to do so.
"If you are not already part of the Communist Party, we invite you to participate and contribute and join," Bergmann said after Blumenthal's speech. "There's more and more people talking about socialism in this country as it becomes more and more clear that capitalism is not going to work for our future."

Blumenthal's wealth is so vast--one estimate puts it at $100 million--that he has sometimes been unaware of all of his investments, including in a real estate development company linked to the Chinese government. Blumenthal said he was unaware of his investment in U.S. Shanghai LLC., which is listed on his annual financial disclosure, until contacted for comment by the Washington Free Beacon earlier this year. Blumenthal's wealth comes mostly from his wife, a member of a New York real estate dynasty.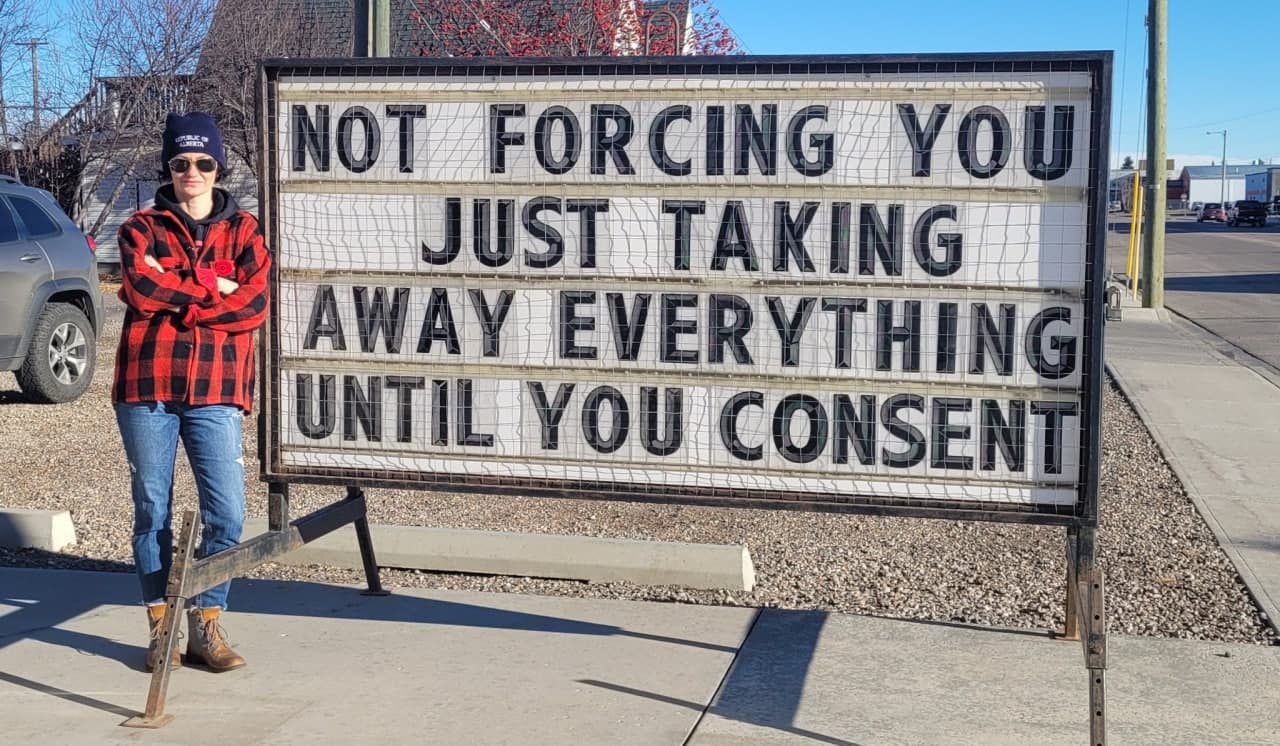 Via Bonhomme.
He's getting expodentially worse.
Biden didn't say that but his staff wrote it.
Who knows, maybe dementia is transmissible and he infected his staff with it.

posted by Ace at
02:04 PM
|
Access Comments