« Food Thread: Why Do People Torture Themselves With Monstrously Hot Pepper Sauces?
I don't Know, But I'll Tell You Next Week How It Goes
|
Main
|
Sunday Overnight Open Thread (12/5/21) »
December 05, 2021
Gun Thread: 12/5/21 Edition!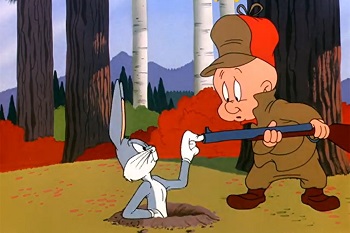 Howdy, Y'all! Welcome to the wondrously fabulous Gun Thread! As always, I want to thank all of our regulars for being here week in and week out, and also offer a bigly Gun Thread welcome to any newcomers who may be joining us tonight. Howdy and thank you for stopping by! I hope you find our wacky conversation on the subject of guns 'n shooting both enjoyable and informative. You are always welcome to lurk in the shadows of shame, but I'd like to invite you to jump into the conversation, say howdy, and tell us what kind of shooting you like to do!
Holy Shitballs! It's December! How in the hell did that happen? The months and years really come at you fast, don't they? Not a heck of a lot going on in WeaselWorld right now. Mostly work stuff this past week but I hope to get to the farm for a few days next week. After that, it'll be time to think about Christmas plans. We usually head for the NC beaches for the week and rent a house; no crowds, no bugs, and a surprising number of businesses and restaurants are open year 'round. Do you stay at home or go somewhere?
Special Announcement - Wedding Bells in Wyoming!
Double Holy Shitballs!! Our pals
Jesse (not) in DC
and
Screaming in Digital
recently tied the knot and to seal the deal headed to the range for celebratory gunfire! Can't wait for the report, and a bigly Gun Thread
Congratulations
to both of you!!
With that, let's get to the gun stuff below, shall we?
******
New Product Recommendation


This week I have a new product recommendation, having recently added Sea Foam Deep Creep to my gun cleaning and maintenance arsenal. I have used Sea Foam products for years as engine oil treatments and fuel stabilizers, mostly on stuff at the farm which sees irregular use, and I am a big fan. I guess Deep Creep must be a new(er) product because I only recently started to see it advertised, but after trying it I was immediately impressed! So much so that it's become my new go-to product as a general rust inhibitor for guns spending most of their time in the safe. Spray it on, wipe down the excess and you're done. It doesn't have any harsh odors and as far as I can tell does a really very good job!
I still like Aerokroil for certain applications, but a 12 ounce can of Deep Creep is around $10 or approximately half the price of Aerokroil.
It has always been my practice to recommend only items I like, buy with my own dinero, and use on my own stuff. Try it and let me know what you think!
******
First up, our pal A.H. Lloyd sends us a very nice report on .32 caliber revolvers. Take it away, AHL!
I may just have stumbled upon pocket pistol perfection. As Horde members know, I've been really enjoying .32 ACP pistols and as strong proponent of revolvers, it seemed the perfect time to explore other uses of this almost forgotten caliber. To be clear, this wasn't just a nostalgia trip; I wanted to see if .32 revolvers are still viable self-defense options. My wife has been having increasing issues with arthritis and grip strength, and something that has both a light, compact platform and smooth recoil would be perfect for her.

My research revealed three viable options in the current era: .32 Smith and Wesson Long, .32 H&R Magnum and .327 Federal Magnum. For brevity's sake, I'm just going call them .32 Long, .32 Magnum and .327 Magnum respectively from now on.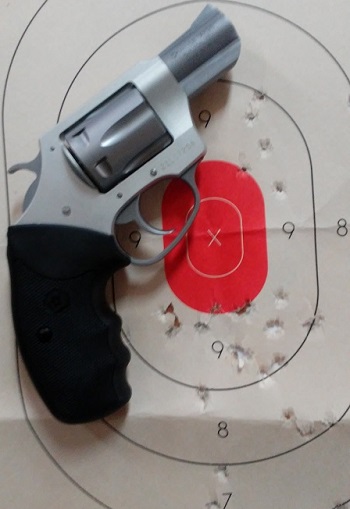 Back in the day, .32 Long was very popular caliber, widely used by civilians and police agencies, most famously the New York Police Dept. We now look at it as severely underpowered, but in fact .32 Long has pretty decent ballistics for its size. In terms of total energy, .32 Long has twice the horsepower of comparable .22 Long Rifle or .25 ACP cartridges. That's pretty good. The pistols chambered in it generally run less than $200, which is nice if you are on a budget. Another bonus of .32 Long revolvers is that they can chamber and safely fire .32 Short cartridges. It's not that common these days, but one sees it from time to time. I imagine that would be super-mild.

Next up for consideration was .32 Magnum, which was developed in the 1980s to rejuvenate the market for small-frame revolvers. In terms of energy, .32 Magnum is actually superior to the standard loads for both .38 Special and .380 ACP. Revolvers that support .32 Magnum can also fire .32 Long, so you get a bit more flexibility. A nice feature is that these use the exact same size frames as compact .38 Special revolvers and the smaller size cartridge means you get an extra round in your cylinder: six .32 Magnum vs five .38 Special.

This brings us to.327 Magnum, which was designed to compete with the .357 Magnum. Indeed, these typically use the same frames so you will get six .327 Magnum to five 357 Magnum. Because of its very robust construction, revolvers in .327 Magnum can also use all of the above-mentioned cartridges.

Here lies the rub. I've fired .357 Magnums out of a compact frame and I won't willingly do it again. There is reason to believe that the felt recoil on .327 Magnum is less, but you're still carrying a much heavier revolver. The Undercoverette is almost the same size and weight as my Taurus 85 Total Titanium; my mail scale puts them an ounce apart. A Ruger LCR in .327 Magnum adds almost 50 percent more weight.

There's also the economics of the actual weapons. Pistols in .327 Magnum cost significantly more than .32 Magnums - on the order of twice as much. A new Undercoverette could be got for under $350 while LCRs run $750 or more.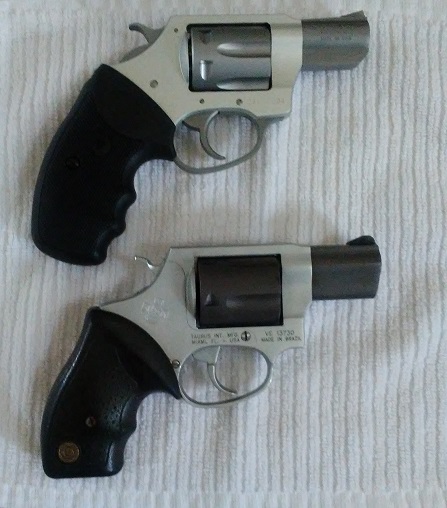 The .327 Magnum gives you a heavier weapon and harder recoil while significantly increasing your purchase price. This pretty much violates all of my criteria. In terms of performance, the Undercoverette is a total sweetheart. Yes, as the photo indicates, it's basically a clone of the J-frame/Taurus 85 platform, but the felt recoil with .32 Long and .32 Magnum are both significantly less than what you get with .38 Special. Can you tell which is which? I'll give the answer in the comments.

Firing .32 Long is pretty mild, definitely more than a .22, but hardly alarming. When I moved up to .32 Magnum, I found myself in a sweet spot – crisp enough recoil to feel like you're doing something meaningful, but mild enough that shooting one-handed was a breeze. Recovery was quick and easy. It's hard to describe other than to say it was pretty much the Platonic ideal of a Magnum revolver; hits hard, shoots flat, but at the same time is easier to control than standard loads of .38 Special.

The only knock against the .32 Magnum is that ammo has lately been devilishly hard to find. I think the reason is that there's simply more money to be made selling 9mm for 30-40 cents per round than .32 Magnum for a dollar a round. However, I noticed that my local stores are now awash in 9mm and prices are steadily falling. I've already gotten one alert on Ammoseek that retailers are getting .32 Magnum back in stock, so I think it will become more plentiful fairly soon.

Both .32 Long and .327 Magnum are available, though the latter is more expensive than the former. This is pretty similar to the .38/.357 dynamic.

One final note: yes, as Chris Baker has noted, revolvers chambered for .32 Magnum and .327 Magnum have the capability to handle .32 ACP ammunition. He thinks it's a bad idea, and he makes some good points. However, he also used a Ruger LCR in .327 Magnum, which has a chamber length 1/8 inch longer than my Undercoverette. For whatever reason, I didn't run into any of his problems. If you look at the holes closest to the Undercoverette in my target photo, you see fair group for 8 yards and all holes are clean. The mess below was caused by bullet splash from a nearby steel plate. The Fiocchi ammo I used had normal primer strikes and ejected easily.

So having disagreed with Baker, I'm going to offer three different reasons for keeping .32 ACP out of your revolver. First, even if it is accurate and doesn't tumble, it still has a different point of aim, which complicates your practice session by introducing a different sight picture. Second, there's the risk that someone will load it into Grandad's .32 Long revolver, which absolutely cannot handle its pressure. Finally, it's ballistic performance has to be severely degraded by the chamber mismatch (it is very short compared to the other cartridges), and it's not like .32 ACP is a world-beater to begin with.

Getting back to the Undercoverette, should .32 Magnum ammo come into wider availability, I would seriously consider making it my baseline carry piece. Yes, I like it that much.
Great write-up, AHL! Thank you!
******
Next up, our pal JerseyDevilRider sends us a range report with his .308.
Tis is at the farm firing my Mossberg .308. First picture is the target. We started with an 8 1/2 by 11 and didn't hit crap. Hitting the dirt mound way high and on the left. I knew I had an issue but didn't expect to be that bad. My shooting bud's stepdad helped zero it with an in the barrel laser, but we were limited to a garage due to weather. So we switched to the back of one of those ICE targets used on the pistol range. I drew a little blue dot in the center. We took turns to eliminate my lack of skill as the problem. My bud shot for years. Our first turns were all high and right. You can see the grouping. Then you can see the changes as we stepped down the scope. Once we get it about in line we moved it left. We ended up dead center. It was actually pretty cool to do the adjustments and see the results. My first time.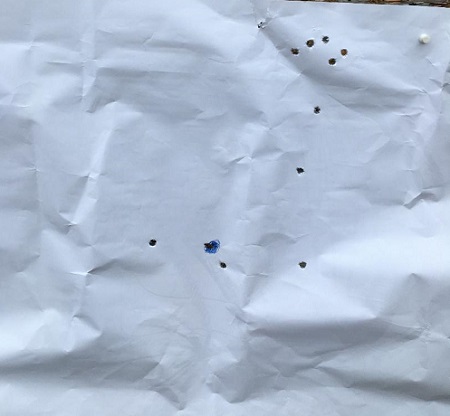 Great job and nice shooting. Thanks for sending this in!
******
Next, our pal hrothgar sends a range report zeroing a new AR-15.

In a futile attempt to become even more well known to the authorities, I let blaster convince me to send you this picture. This is the PSA blemished AR-15 kit I recently purchased. It is probably impossible to see in the photo but the only identifiable blemish I could find was a slight color differential around the trigger housing pin. One trip to the range and you'd probably see more "damage". So right now, it is basically an out of the box AR with a pretty good shot group using only factory iron sights. Blaster and I both had weapons we wanted to zero so we did the seated bench rest patterns and corrected based on those. What I found interesting was that the full magazines were fired from a standing position, and I now think that for shorter range work, a measly 25 yards, it might behoove one to do the zeroing based on shot groups fired in the position you think will be actually used, i.e., in this case from a standing position. We did not have time to try this today, but I view it as a future experiment that I need to conduct.
Nice job, hrothgar! Glad to see you getting to the range and zeroing your new rifle! Regardless of the distance, the zero is the zero, and I always recommend it be done from a bench with a very solid setup.
******
Next, our pal I used to have a different nic sends a picture of a new rifle.

Still need sights and whatnot so no range time yet.
Very nice rifle! Please let us know how it shoots once you get it set up and take it to the range!
******
Next, our pal Blake sends a video of an unusual 1911 variant.
******
Chuck Connors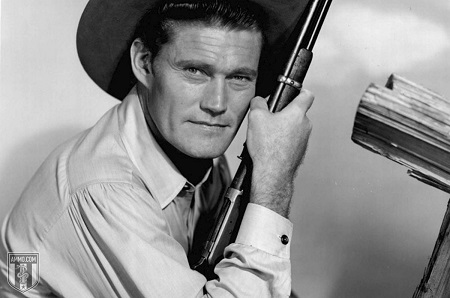 Finally, our pal redc1c4 sends along a great article on Chuck Connors.
There is a lot in the article I didn't know! Thanks redc1c4!
******
Gun Basics 101
This week we have a review of the Mantis Training System from the She Equips Herself girl.

We've covered these a lot in the past - what are your thoughts? Now that ammo availability is loosening up somewhat, are you more or less inclined to keep using this type of system?
Cigar of the Week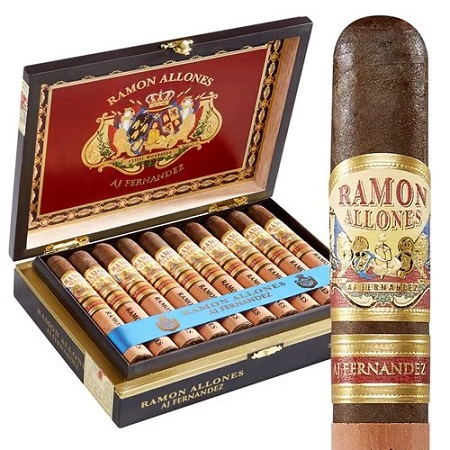 At $11 each, the Ramon Allones Robusto by AJ Fernandez are a little pricer than my daily smoke, but are a perfect accompaniment to the Gun Thread on Sunday evening!
******
Link-O-Rama
I'm really very seriously not kidding around anymore. Buy Ammo
AmmoSeek - online ammo search tool
GunBot - online ammo search tool
SG Ammo
Palmetto State Armory
Georgia Arms
AmmoMan
Target Sports USA
Bud's Gun Shop
***Mail Bag***
Blake sends us this week's MailBag entry. This is how it should be!!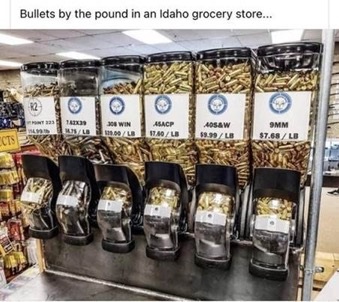 Please note the new and improved protonmail account gunthread at protonmail dot com. An informal Gun Thread archive can be found HERE. Future expansion plans are in the works for the site Weasel Gun Thread. If you have a question you would like to ask Gun Thread Staff offline, just send us a note and we'll do our best to answer. If you care to share the story of your favorite firearm, send a picture with your nic and tell us what you sadly lost in the tragic canoe accident. If you would like to remain completely anonymous, just say so. Lurkers are always welcome!
That's it for this week - have you been to the range?


posted by Weasel at
07:00 PM
|
Access Comments