« Fauci: It's "Dangerous" to Criticize Me Because "I Represent Science"
|
Main
|
Quick Hits »
November 30, 2021
President Ice Cream and His Whorish Dum-Dum of a Wife Wish You a Very Trashy Christmas
Trashy Jill Biden's -- I mean, trashy Dr. Jill Biden's -- awful trashy Christmas decorations: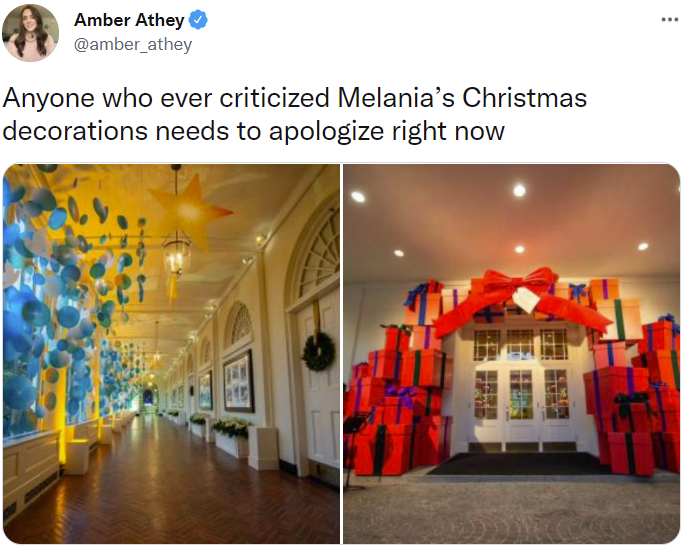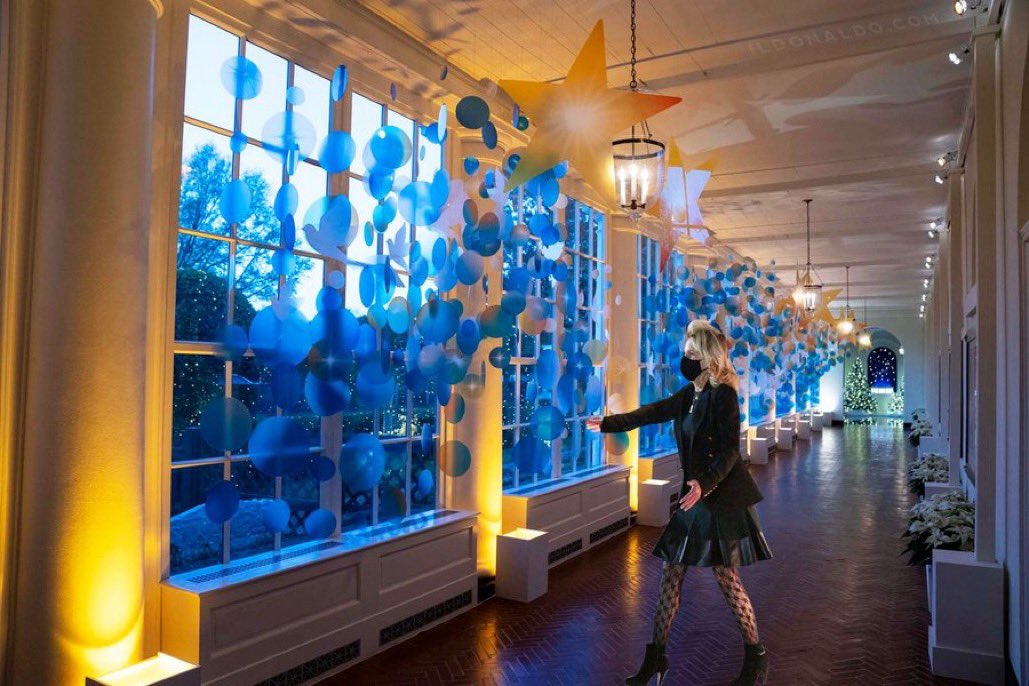 The pile of gifts represent all the goods piled up on container ships off of Long Beach that won't get here until February.
But what the hell are those blue globules supposed to be? Is that supposed to be exogenous dopamine being injected into Joe's dying brain?
34 If you saw a picture of those blue fucking disks and were asked what holiday you thought they were celebrating - what would be your answer? Because, I'm not sure I've got one. Posted by: Clutch Cargo
As I noted long, long ago: Dumb people always think that if something is abstract, that makes it "smart."
And the fishnets. Dr. Jill, this is a Christmas display, not a factory rejects GILF porn video.
Reaboi joked about the atrocious Christmas Gift Bonanza display -- filthy lucre is the reason for the season, you know -- that Joe Biden likes to set up a sexy scenario where he can chase children through a simulated F.A.O. Schwartz.
Compare to Melania's decorations, which the trashy media claimed were trashy: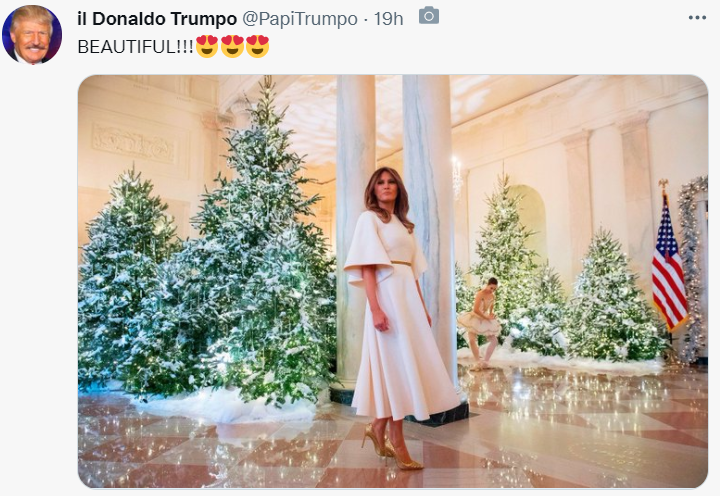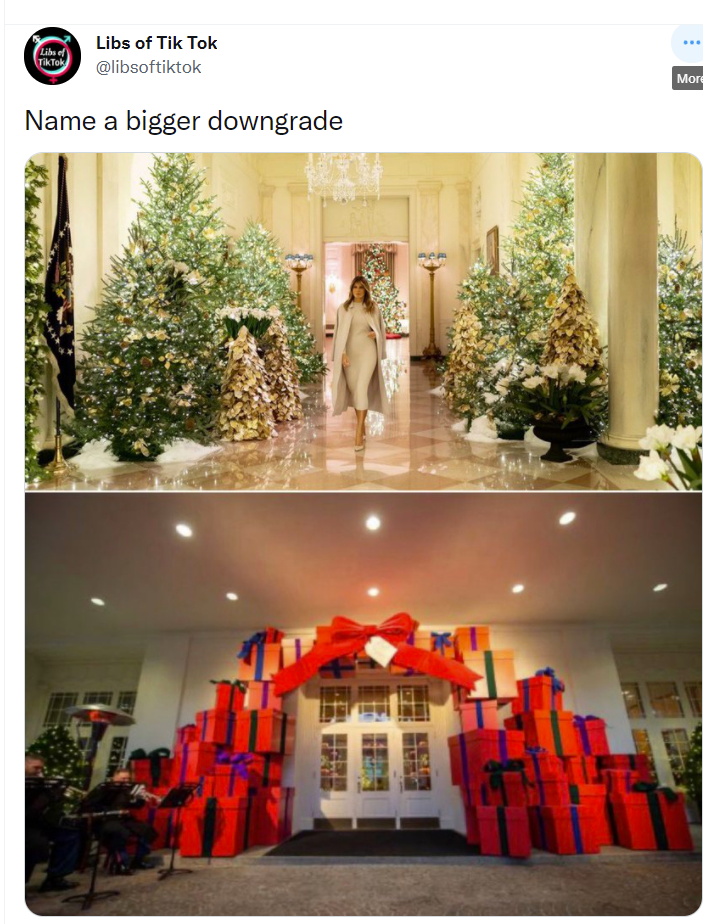 Dr. Jill proved she was a Real Teacher by forcing kids to wear masks while she, of course, ignored masking rules entirely.
She also forced them to sit on the cold floor.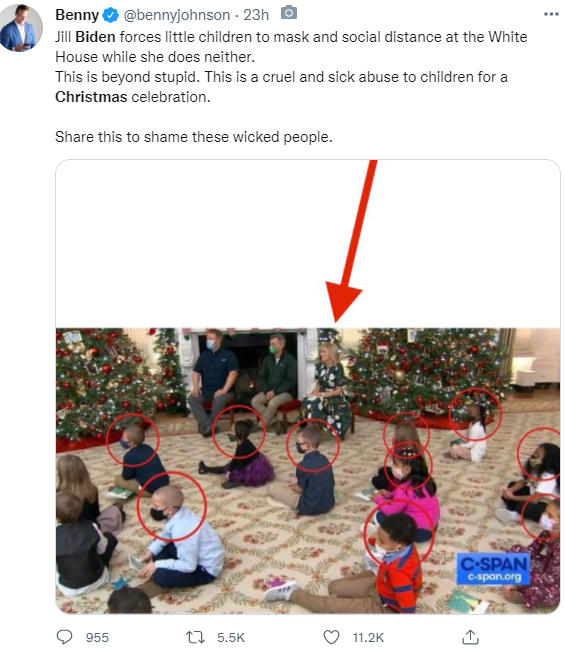 Below: This kid has the right idea.
Update: Just kidding, it's not real. It's a mix of video of Dr. Jill and old video of a kid yelling in a classroom.
Darnit.
What a magical Christmas it would have been if it had been real.
Exit question: Have you heard your first Christmas song yet? If so, what, when, and where?
I heard mine doing the last bit of supermarket shopping for Thanksgiving. It was Felice Navidad. Not sure who it was. Wasn't Jose Feliciano or whoever.
277 Certainly wildly better than some sort of postmodern mobile that looks like a piece of off-the-rack corporate HQ lobby art and mountains of fake presents.

...

That's the major thing about the decorations - they look super corporate. Which is quite a tell given that corporate America are now the enforcement arm of the DNC.

My favorite detail remains that there's supposed to be a stocking on the fireplace for each of Joe's grandchildren, but there's one conspicuously missing for Hunter's crack baby.
Posted by: Ian S.

posted by Ace at
04:08 PM
|
Access Comments