« Quick Hits, And Some Silliness
|
Main
|
Happy Fun Thread: Bat Edition! »
November 29, 2021
Could Robin DiAngelo's ideology and methodology have something in common with Scientology?
Flummoxed by The Woke yet? You're not alone. As divisive "anti-racist" training reaches down from elementary schools toward pre-school children and as creepy "diversity" training programs for adults become a lucrative business (especially for its "stars" like Robin DiAngelo), blind-sided Americans have learned to associate these programs with Critical Race Theory. We often see leftists mockingly proclaiming that Critical Race Theory is confined only to graduate law schools and that it has nothing to do with elementary or secondary schools, business, media, etc. Sometimes the same leftists will then turn around and proclaim that Critical Race Theory is necessary for the redemption of America from its all-encompassing racism.
The wokesters making these dual claims about CRT actually do have a partial point in a Motte and Bailey sort of way. No one teaches graduate CRT courses in elementary schools or during Human Resources diversity training sessions. But the leftist programs of race obsession being pushed so heavily in academia, government, corporations and media have roots in Critical Race Theory as it developed from legal theory, particularly in its emphasis on the need to change society. On the other hand, early influences on today's programs of race obsession also include other strains of leftism, often related to psychology. Building on earlier psychology-based programs, some current "race scholars" have come up with their own ways to turn interpersonal relationships into group struggles. More on that below the fold, with an unusual article that includes information about the widow of Marcuse and a Scientology-related cult.
First some clarification on currently promoted forms of race obsession which all fall under the umbrella term Critical Social Justice. Kimberle Crenshaw, one of the founders of Critical Race Theory, seems to be okay with saying that CRT is now a huge container for pretty much all forms of "anti-racist work" and "anti-racist education". This might be a mistake on her part. Because some of the race-based stuff that was developed outside the law schools and social science venues where Crenshaw first introduced CRT is not just destructive, but also whackadoodle.
Not that Crenshaw's own later contribution to today's "huge container" of Woke obsessions, "Intersectionality", has helped to clear up the crazy-making nature of Woke obsessions. The original "law school" CRT folks have enough 'splainin' to do without other strains of "race scholarship" confusing the folks at MSNBC.
The Woke Temple bills himself as a "Liberal/Left-leaning guy who sees Wokeness and CRT as illiberal, intolerant, unscientific & mean". He has made a chart demonstrating how basic Critical Race Theory, "Kendiism" and "DiAngeloism" overlap. He has also started his own congregation, perhaps attracted by the possibilities for grift in Diversity, Inclusion and Equity conferences and seminars:
He has Robin DiAngelo's number. I have thought in the past that the strangeness and cruelty of DiAngelo's programs, particularly toward biracial children, may have been rooted largely in her genuinely difficult childhood. But maybe there is more, related to her training in college.
Last June, Matt Taibbi wrote a colorful piece on Our Endless Dinner With Robin DiAngelo.
Nice Racism, the booklike product just released by the "Vanilla Ice of Antiracism," Robin DiAngelo, begins with an anecdote from the author's past. She's in college, gone out to a dinner party with her partner, where she discovers the other couple is, gasp, black. "I was excited and felt an immediate need to let them know I was not racist," she explains, adding: "I proceeded to spend the evening telling them how racist my family was. I shared every racist joke, story, and comment I could remember my family ever making..."

Predictably, her behavior makes the couple uncomfortable, but, "I obliviously plowed ahead, ignoring their signals. I was having a great time regaling them with these anecdotes--the proverbial life of the party!" She goes on:


My progressive credentials were impeccable: I was a minority myself - - a woman in a committed relationship with another woman . . . I knew how to talk about patriarchy and heterosexism. I was a cool white progressive, not an ignorant racist. Of course, what I was actually demonstrating was how completely oblivious I was.

No kidding. Instead of trying to amp down her racial anxiety out of basic decency, this author fed hers steroids and protein shakes, growing it to brontosaurus size before dressing it in neon diapers and parading it across America for years in a juggernaut of cringe that's already secured a place as one of the great carnival grifts of all time. Nice Racism, the rare book that's unreadable and morally disgusting but somehow also important, is the latest stop on the tour.
Taibbi's review gets more alarming from there. He focuses on DiAngelo's hostility toward individualism, making a surprise reference to a certain white nationalist.
You might also want to read about what your neighbors may have learned to think when they say you are "nice" in Spiked. Especially if they think you are progressive.
Could Robin DiAngelo's ideology and methodology really share a common root with Scientology?
This piece made me go "Ohhhhhh". It was written by Christian Parenti, a real leftist. He is an academic who has written for The Nation, Jacobin, etc.:
How Herbert Marcuse's widow used a Scientology-linked cult's methodology to gamify Identity Politics and thus helped steer the U.S. Left down the dead-end path of identitarian psychobabble.
Robin DiAngelo's appearance in this piece is brief, but very interesting. As suggested above, the Privilege Walk has affected a lot of people beyond DiAngelo. She is just a currently-promoted representative of a larger phenomenon.
If you can bear staring into the abyss for a little while, there is also some historical insight in this piece into how leftist academia changed over the decades. Privilege walks, knapsacks, the promotion of sensuousness as a leftist cause and more. It's a long piece, but full of interesting little bits of information about the academic left, written from a leftist (though apparently not Woke) perspective. If you want to better understand the influence of Marcuse and other leaders of the left in his era (and in the decades after his death), you might want to read it.
In the summer of 2021, a social justice training exercise called the Privilege Walk made headlines when outraged Republican lawmakers Tom Cotton and Dan Crenshaw denounced it on the U.S. Capitol floor as racist. The so-called Privilege Walk, or Power Shuffle, is a workshop activity much beloved by the diversity training industry, in which a group of participants stand together on a line, then each take one step forward or backwards in response to a facilitator reading a series of statements such as: "If you're a white male, take one step forward. If you were ever made uncomfortable by a joke about your ethnicity, gender, appearance, or sexual orientation, take one step back." At the end participants find themselves arrayed along a continuum of "privilege." Thus sorted, discussion ensues.

The Privilege Walk is now a standard element in the diversity training used by nonprofits, churches, universities, corporations, and even some parts of the U.S. military.1 Proponents of the Walk say it helps us "unlearn oppression" and "build alliances across difference." Mainstream critics say the exercise propagates divisive identity politics and mock it as foundational to the Oppression Olympics. A Marxist critique would say that the Walk transmogrifies material problems into cultural ones, economic exploitation becomes the more nebulous problem of oppression. Both are forms of domination, yet they are each very distinct. When rendered as oppression, the material problem of class power is replaced by the attitudinal problem of "classism."
I don't think the author likes this.
The real story of the Walk's origin turned out to be weirder than I had expected. It involves one of the most famous philosophers of the last century - - Herbert Marcuse; a Scientology-linked cult with a twisted fixation on the Left; and a classic tale of intergenerational conflict pitting a young woman of the New Left against her larger-than-life father, a communist-adjacent hero of the struggle against fascism who then became a jet-setting steel tycoon.
To find the Privilege Walk's origins, I leaned into the Walk's logic of biography and started with my own experience. My Walk took place in San Francisco in the autumn of 1989. . . The exercise took place in the classroom of a young anthropology professor who had picked it up working with its primary creator, Erica "Ricky" Sherover-Marcuse, at a nonprofit called New Bridges that taught high-school students to "unlearn oppression." Ricky helped lead New Bridges until she passed away from cancer in late 1988. She had also been Herbert Marcuse's graduate student and then third wife.

Because Sherover-Marcuse died young her legacy is not well known, yet she was one of the most important pioneers of the diversity, equity, and inclusion training industry. Robin DiAngelo, best-selling author of White Fragility, stands, without attribution, on the shoulders of Ricky Sherover-Marcuse. It was in her capacity at New Bridges that Sherover-Marcuse and her co-director, Hugh Vasquez, invented the Power Shuffle/Privilege Walk.

(Emphasis mine.)
So to summarize, we are just now learning that the third wife of Herbert Marcuse - - the daughter of a "communist-adjacent" steel tycoon - - affectionately known as "Ricky", became an "unlearning racism" workshop provider, setting a pattern for those who followed in the field, most notably Robin DiAngelo.
We also learn from the author that Ricky was teaching manners by humiliating people. Just like those Republican do-gooder women of an earlier progressive era, teaching immigrants to be more "American". That's the real start of today's Cancel Culture, don't cha know.
Ricky's introduction into cultish thinking came through her younger sister, who introduced her to Re-evaluation Counseling:
Re-evaluation Counseling's articles of incorporation even admit the Scientology connection by describing the organization's purpose as being, "to engage in, conduct and teach the art and science of Dianetics."26 Defenders of Re-evaluation Counseling, or Co-counseling as it is often called, would point out that when their modality was early-on linked to Scientology, Scientology had not yet metastasized into the bizarre and bullying monstrosity it is today.

Central to cults like Scientology and Re-evaluation Counseling is the act of confession and self-abnegation in front of a group. That is what the Privilege Walk is all about - - there being no standardized set of questions, the statements that one answers with a step forward or backward can become quite intimate and potentially very embarrassing. . .

Richard M. Childs, one of the few psychiatrists to ever get wrapped up in RC, argues that Jackins's book The Human Side of Human Beings (1965) essentially plagiarized Hubbard's Dianetics (1950).
Not only was Ricky influenced by RC, she in turn influenced it. She coined the term "unlearning racism," and before long Harvey Jackins was also using it. Indeed, from the seventies through at least the early 2000s, RC's so-called "liberation work" consisted of Trotskyist-style "enterism" in which small numbers of RC members join left political organizations and then push Re-evaluation Counseling and "unlearning oppression" methodologies.
Isn't THAT interesting?
Mark Levin makes a surprise appearance near the end of the piece. Under "Unintended Consequences".
"Unlearning Oppression" Methodologies
Looks like "unlearning oppression" is one of Robin DiAngelo's ideological themes, too. Are you familiar with her methodologies? Might they include embarrassing or even humiliating people in public over, say, "White Tears"?
While you are "unlearning oppression", be careful not to engage in cultural appropriation.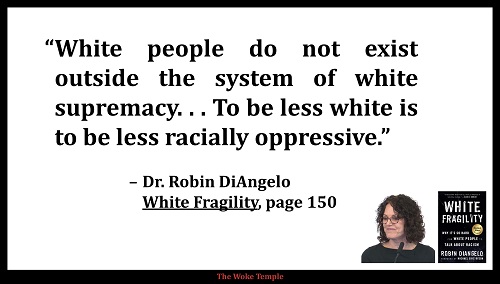 Now go out there and scowl to fight racism.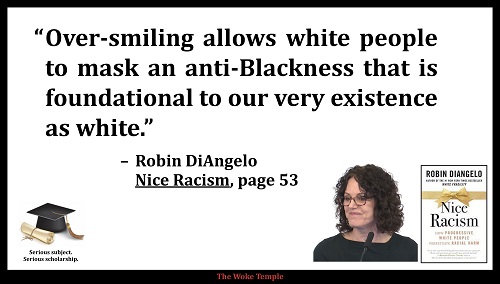 After we sort of figure out Robin DiAngelo, maybe we can look into the data mining and other methodologies utilized in schools by practitioners of Social-Emotional Learning. You know, like the company co-founded by Merrick Garland's son-in-law. Because DiAngelo is not the only person setting individuals up as targets of Woke ideology. Such targets deserve support.

posted by K.T. at
06:30 PM
|
Access Comments