« Sing For Your Supper
|
Main
|
Some Evening Humor: Are The Ornithologists OK? »
November 23, 2021
Thanksgiving Cocktails [Bitter Clinger]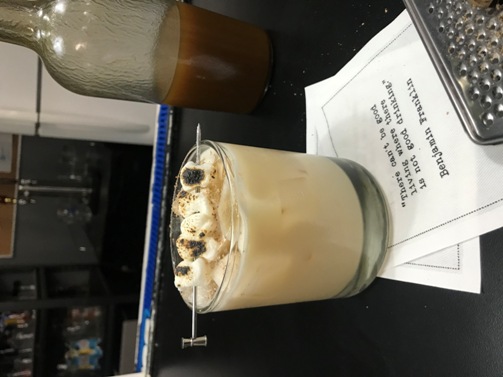 If you want to create cocktails and think like a bartender, you have a couple of options. One is to become deeply knowledgeable in all the finest products available, experiment and find what optimizes existing cocktails. The masters do this, guys like Chris McMillan, Dale DeGroff, and David Wondrich. They have nuance and refinement. They stand on the shoulders of the great bartenders of yore, the Founding Fathers of bartending, like Jerry Thomas and Harry Craddock. These guys are the Rembrants of the industry.
But then you have bartenders like me. I'm the Dogs Playing Poker on crushed velvet of the industry. So when I create cocktails, sometimes they have elements of skill to them, but I mainly want them to be fun and tasty, even if they are not always exclusive and refined.
One way I like to create new cocktails is to think of food or flavors that are reminiscent of a particular theme I'm developing drinks for and see if I might be able to deliver those flavors in cocktail format.
For Thanksgiving cocktails, there are plenty of iconic dishes to be sure. But I've no desire to create anything to do with pumpkin pie or cranberry sauce. They are both done to death and there are great drinks out there that deliver on those flavors. Well, at least cranberry, anyway. Pumpkin spice can DIAF.
Turkey and dressing seems a bit too savory. I suppose a cocktail onion and pickled green bean garnish might make a green bean casserole martini, but that seems rather unpleasant as well. Mashed potato and gravy daiquiris, umm no. But pecan pie and sweet potato casserole…hmm. I can work with that!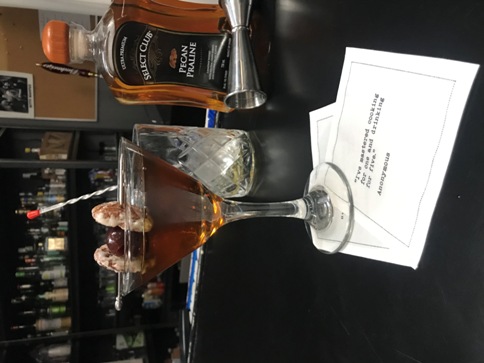 If you are into simplicity, the may be for you, no muss/no fuss. Or if you are a bit more adventurous and don't mind doing a little prep work, the Yam, What I Yam is a fun little cocktail that might give your Thanksgiving guests the impression you know a thing or two. If you make these drinks, I highly encourage you to eat the garnishes as you sip on the drinks, they really add something to the flavor and aren't just for show.
If these look inviting, give them a try. But whatever you do and whatever you drink, have a great Thanksgiving!
Cheers!

***

Pecanhattan


1.5 oz Rye Whiskey (I used Rittenhouse)

1.0 oz Select Club Pecan Praline Whisky

.75 oz Carpano Antica Formula Vermouth

3 dashes Fee Brothers Black Walnut Bitters
Stir with ice for 30 seconds and serve up with a cocktail cherry and candied pecans.
Yam, What I Yam


2.0 oz. Marshmallow Vodka*

1.5 oz. Sweet Potato Simple Syrup**

1.5 oz. Half and Half

Shake vigorously with ice for 10-15 seconds, strain fresh over ice and garnish with a dusting of freshly grated nutmeg and some charred mini-marshmallows.

* To make marshmallow vodka, simply put mini marshmallows in a jar and cover with vodka and allow to sit overnight, shaking occasionally. Make as much or as little as you like. Strain the finished vodka and store for use.
** To make sweet potato simple syrup, bake a sweet potato at 400 degrees until it is soft. Scoop the pulp out of half of it, combine with 1 cup of water and a 1/2 cup of light brown sugar and simmer on low heat for 30 minutes. Puree the mixture until smooth and strain through cheesecloth.

posted by Open Blogger at
07:30 PM
|
Access Comments