« The Morning Rant: Minimalist Edition
|
Main
|
Quinnipiac: Now Only 36% of F. Joe Biden's Rancid Stools Are Making It Into the Toilet »
November 18, 2021
Jump-Kick Man Admits His Guilt: Career Criminal and Yet Another Domestic Abuser
MAN CLAIMING TO BE MSNBC PRODUCER FOLLOWS JUROR HOME
Disclose.tv @disclosetv


JUST IN -- Person reportedly followed a Rittenhouse juror home and was arrested by Kenosha police. Judge to make a statement -- media reports
MSNBC now intimidating jurors mid-deliberation. Impliedly threatening to doxx them.
Or at least the guy arrested claimed he worked for MSNBC. I suppose he could be lying.
The judge's big action is to ban MSNBC from the courtroom. Wow, what a decisive, no-nonsense judge.
Morrison identified his supervisor as "Irene Byon" at MSNBC. Not sure how to spell that last name, but that's what it sounded like.

Here is one person matching that name at NBC. It may be her.
Posted by: Huck Follywood
Could be her. Guy could be lying, too.
Via Legal Bytes on Rekieta, Irene Byon has nuked her Twitter account. Make of that what you will. I suppose she might have been getting misdirected blowback, but usually the "nuke your account" is taken as confirmation that you did the thing people suspect you did.
Via Tami, here's the clip of the judge discussing this latest attempt at jury intimidation.
Original post:
No wonder T. Clair "Flufferboy" Binger and Fatlock were in no hurry to reveal his identity to the defense.
Another hero in the crowd of heroes.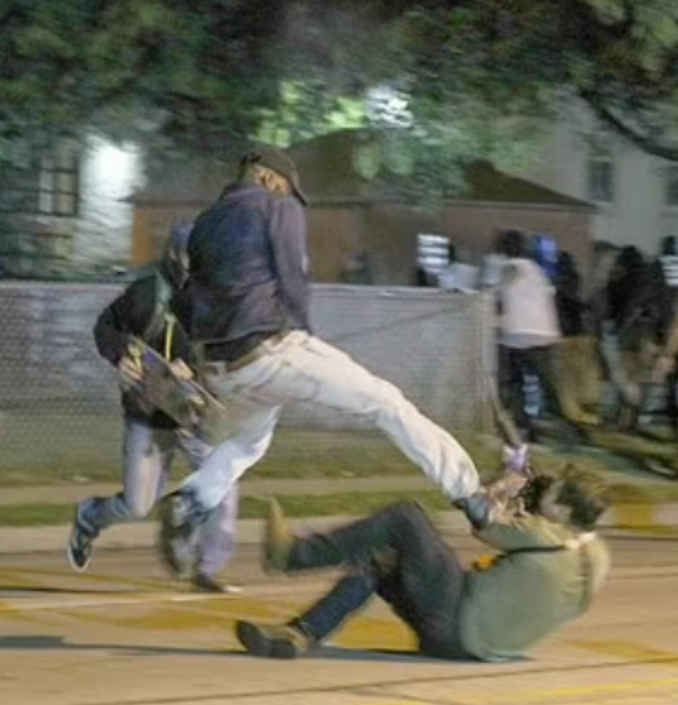 Above: Superman flying in to save the day
Another man you should submit to and let stomp your face in, because "everyone takes a beating, right?"
EXCLUSIVE: 'Jump-kick man' who was filmed kicking Kyle Rittenhouse in the head before the teen shot at him is revealed as a career criminal with an open domestic violence charge for 'throwing his girlfriend to the ground and attacking her'

Maurice Freeland, 39, has admitted that he was the one who kicked Kyle

Rittenhouse in the head on the night of August 25,2020

Rittenhouse is charged with First Degree Recklessly Endangering Safety of Freeland, who was only known as 'jump-kick man'

The state has painted all these actors as heroes attempting to take down an 'active shooter'

But DailyMail.com can reveal that at the time of the 2020 incident Freeland was out on bond and is a career criminal

He was charged with Battery Domestic Abuse, Criminal Damage to Property Domestic Abuse and Disorderly Conduct Domestic Abuse

Freeland was charged for an incident that took place on March 23, 2020 between Freeland and his partner Monalisa N McDuffie

McDuffie told police that Freeland 'threw her to the ground and kicked her in her lower right ribcage... then began punching the television'
Some thoughts about the media's role as chief instigator and inciter of violence in this country, while it piously bleats about the need to protect America from the "insurrectionists:"

A Grabien supercut of the media excusing, justifying, and actively promoting violence in the streets.
Spicy-hot Megyn Kelly recapitulation of the media's lies about Jacob Blake being "unarmed" -- oops, except for the knife -- and shot for no reason -- oops, except that his ex-girlfriend, who he had previously r@ped, called the cops because he was trying to kidnap her daughter -- and their purposeful lies about cops killing unarmed black men -- this only happens, at last count, fourteen times per year, and "unarmed" includes instances of men trying to strangle cops, using the cop's tasers against them, and attempting to run them down with their cars. "Unarmed."
But when liberals are asked how many unarmed blacks they think are killed by cops every year, most say "More than one thousand" and a large number say "More than ten thousand."
And this is because the media propagandizes this false belief. It's good for ratings, and, even better, it's good for the Democrat Party and the Social Revolution.

Remember when a large fraction of the public thought that Saddam Hussein was connected to 9/11? The media had a story a week to convince the public that this idea was wrong.
The media spent months letting you know in no uncertain terms that Alex Jones' bloviation about "crisis actors" was false, false, bad, false, double-plus bad false misinformation conspiracy theory bad.
Now, the media is constantly running stories about the "deranged conspiracy theories" of QAnon.
And yet, they know that their own propaganda has caused the left to wildly overestimate the number of blacks killed by cops.
Do they do anything to cure the insane level of misinformation they are in fact responsible for?
Do they tamp down this pernicious conspiracy theory, this deadly misinformation, which actually has a bodycount, and not, as with Alex Jones' crisis actors claim, merely some hurt feeling?
No, of course not. Because it is deliberate misinformation. It is deliberate propaganda.
It is deliberate incitement to violence, and calculated moral justification for their violent revolutionary paramilitary allies in antifa and BLM.
They mean to burn this country down.
Tucker Carlson runs down the media's riot-inciting lies about Kyle Rittenhouse, including it hyperventilating about Rittenhouse crossing a state line. In fact, he didn't; he was working as a lifeguard at a pool in Kenosha, which is where his dad and grandparents lived, and where he used to live.
Ted Lieu isn't a member of the media per se, but the media uses his soundbites so much they should give him a stipend.
And here's Ted Lieu calling for people "to take to the streets" -- in a year of violent riots. So he knows what he's calling for.
But they're really against the Unprecedented Violence of the January 6th Insurrection, right?