« The Morning Rant
|
Main
|
Racist Republican Virginia Voters Who Wear Confederate Flag Patches and Carry Tiki Torches Elect First Black Female Lieutenant Governor in State's History »
November 03, 2021
Clinton Bagman and Scumbag Terry McAuliffe Concedes Race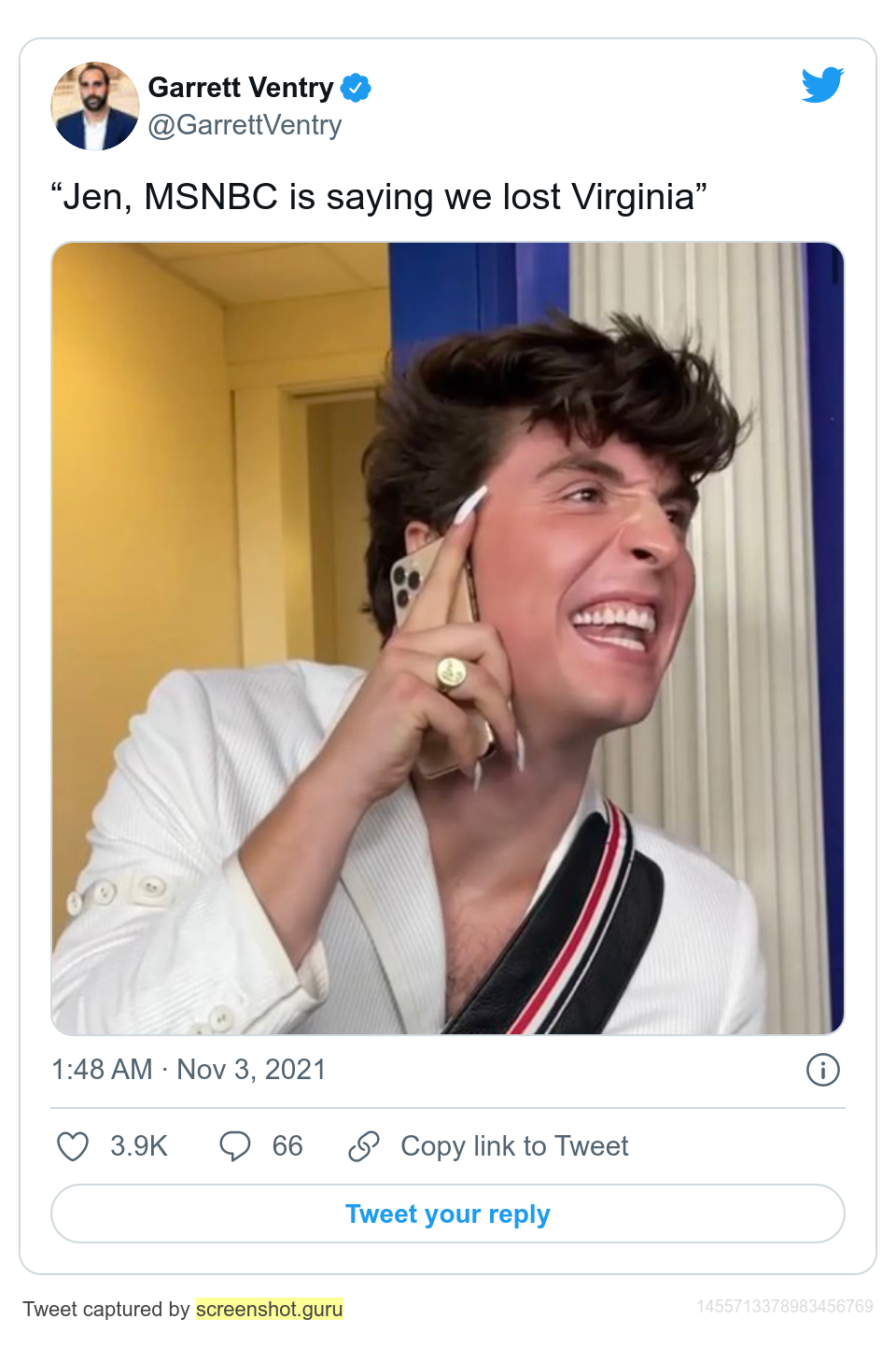 Classless Terry refused to concede last night but has finally issued a paper statement of concession.
Arresting graphic showing all the places in Virginia where voters shifted Republican. Literally: All places. I don't see a single place where there's not a red arrow.
The Times breaks the news to its fellow deranged leftist zealots:
Democratic Panic Rises as Virginia Loss Exposes the Party's Weakness

Less than a year after taking power in Washington, the party faces a grim immediate future, struggling to energize voters without a presidential foil and losing messaging wars to Republicans.

The menacing thunder couldn't get much louder for Democrats.

Few in the party had high hopes that their era of rule in Washington would last beyond the midterm elections next year. But the Republican resurgence on Tuesday in Virginia-- a state that President Biden won by 10 percentage points last year -- and surprising strength in solidly blue New Jersey offer a vivid warning of the storm clouds gathering as Democrats look warily to the horizon.

For five years, the party rode record-breaking turnouts to victory, fueled by voters with a passion for ousting a president they viewed as incompetent, divisive or worse. Tuesday's results showed the limitations of such resistance politics when the object of resistance is out of power, the failure of Democrats to fulfill many of their biggest campaign promises, and the still-simmering rage over a pandemic that transformed schools into some of the country's most divisive political battlegrounds.


In Virginia, the Democratic nominee for governor, Terry McAuliffe, was beaten with relative ease by Glenn Youngkin, a Republican private equity executive and political newcomer.

In New Jersey, Gov. Phil Murphy, a Democrat, faced a stunningly close race after being expected to coast to victory. In Minneapolis, voters rejected a ballot measure pushed by progressives that would have replaced the Police Department with a public safety department.

Perhaps most strikingly, the crushing setbacks for Democrats in heavily suburban Virginia and New Jersey hinted at a conservative-stoked backlash to the changing mores around race and identity championed by the party, as Republicans relentlessly sought to turn schools into the next front in the country's culture wars.

For Democrats, the results on the nation' single biggest day of voting until the midterms next year raised alarms that the wave of anti-Trump energy that carried them into power has curdled into apathy in a base that is tired of protesting and is largely back at brunch. Or, in what would be even more politically perilous, that the party's motivation has been replaced by a sense of dissatisfaction with the state of a country that has, despite all of Mr. Biden's campaign promises, not yet returned to a pre-Covid sense of normalcy.
Here's my take-away: This is cause for relief and happiness and vindication and even joy.
And maybe even a newfound confidence in our... sanity.
For five years -- or maybe fourteen, going back to Obama's first campaign -- we on the right have consistently told ourselves, "The left is going too far, the public will not have it, they will check and chastise the left for their lunacy."
And yet, with some occasional setbacks (the Red Tide of 2010, Trump's momentous victory), the left has gotten crazier and crazier and nastier and more fascist and have paid very little price. In fact, they've mostly... prospered.
This has left many of us feeling despondent, dispirited, and alienated from a country we used to love. We felt as though we were internal exiles in a country that was now occupied by a hostile, alien, lunatic force.
But this win may indicate that the Slow Bus Public, even the Surburban Karens and Wine Aunts, may have finally realized that, yes, the left is quite insane and they are infecting and reinfecting each other with more viral insanity and cultivating their insanity and deliberately infecting our children with insanity and competing with each other in some psychologically morbid olympics of lunancy.
And so there is comfort to be had in feeling: Ah, thank God! And I was beginning to worry that I was the crazy one here!
That has immense personal benefits and it will also have great political benefits. A demoralized movement is a defeated movement. An energized movement is an advancing one.
Meanwhile, Fox is Fox.
Newsmax is bragging about calling VA four hours before Fox. They put up a graphic showing the order in which networks called the race. I think it went:
1. Newsmax
2. ABC
3. CNN
4. MSNBC
5. Fox
CNN and MSNBC might be flipflopped.
Fox is a rotten joke. They insist on employing a hard partisan liberal as their chief election analysis, just as they insist on keeping a hard partisan liberal as the host of their Sunday interview show, just as they insist on keeping a hard partisan liberal as the host of their "media criticism" show.
They insist on keeping a left liberal gasbag and Covid Karen as their business guy, and insist on keeping a liberal turd on as their daily news anchor to interview a plethora of NeverTrumpers and overt liberals.
Anyone, or any organization, who believes they need to cling to liberals for purposes of "prestige" is, get this, liberal.

posted by Ace at
12:29 PM
|
Access Comments