« Deep State Gollum Adam Schiff Says The Intelligence Community Made No Errors, and There's No Way We Can Evacuate Everyone By Month's End
|
Main
|
Quick Hits: Everything Woke Turns to Sh!t Edition »
August 24, 2021
Biden To Read A Puppet Script, Supposedly, at 4:30PM
Delayed to 5PM
Waiting for Biden's Brain Pills to kick in.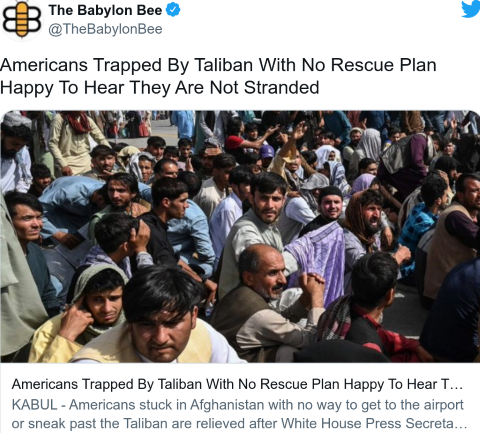 The Puppet Show was supposed to start at noon, but got pushed back-- so far -- four and a half hours.
RedState wonders if the scramble is due to the US now evacuating military troops, which would indicate that we're not going to be trying to get Americans and American allies out any more.
@LucasFoxNews

BREAKING: The U.S. military has started withdrawing from Afghanistan reducing troop presence: U.S. officials
Another reason for the Unscheduled Rescheduling might be the need to address the fact that Biden's G7 "partners," who he claims all agree with his decision to leave on this particular grabass timetable, have all stated that the US should extend the withdrawal deadline.
They have people in Afghanistan they're trying to get out, too.
The Daily Caller reports that the White House is planning to leave at least several thousand behind.
Roughly 3,800 Americans have been evacuated from Afghanistan since July 29, with an estimated 8,000 remaining in the country, an official with direct knowledge of the situation told the Daily Caller on Tuesday. The official told the Caller that it seems "doubtful we are going to bring in 8,000 more Americans" between now and the Aug. 31 deadline.

The number has been masked by the White House and Pentagon in recent days, with Pentagon press secretary John Kirby saying Monday that "several thousand" Americans have been evacuated from Afghanistan. Both Kirby and National Security advisor Jake Sullivan declined to give a more specific number and the reasoning varied from non-answers to the "fluid" evacuation process going on in Kabul.

...

The official said while there's been no clear direction on not reporting the numbers, it's become a quiet rule among officials to avoid giving out a more precise number, in part because it's "embarrassingly low."
Note: On the Chris Wallace's Leftwing Opinions Network, Neil "Chonkers" Cavuto has on... noted neoliberal Liz Cheney.
Fox and the GOP want to die.
Biden Releases Statement: I don't know if this is really "in lieu of" the delayed speech, or meant to stand in place of it.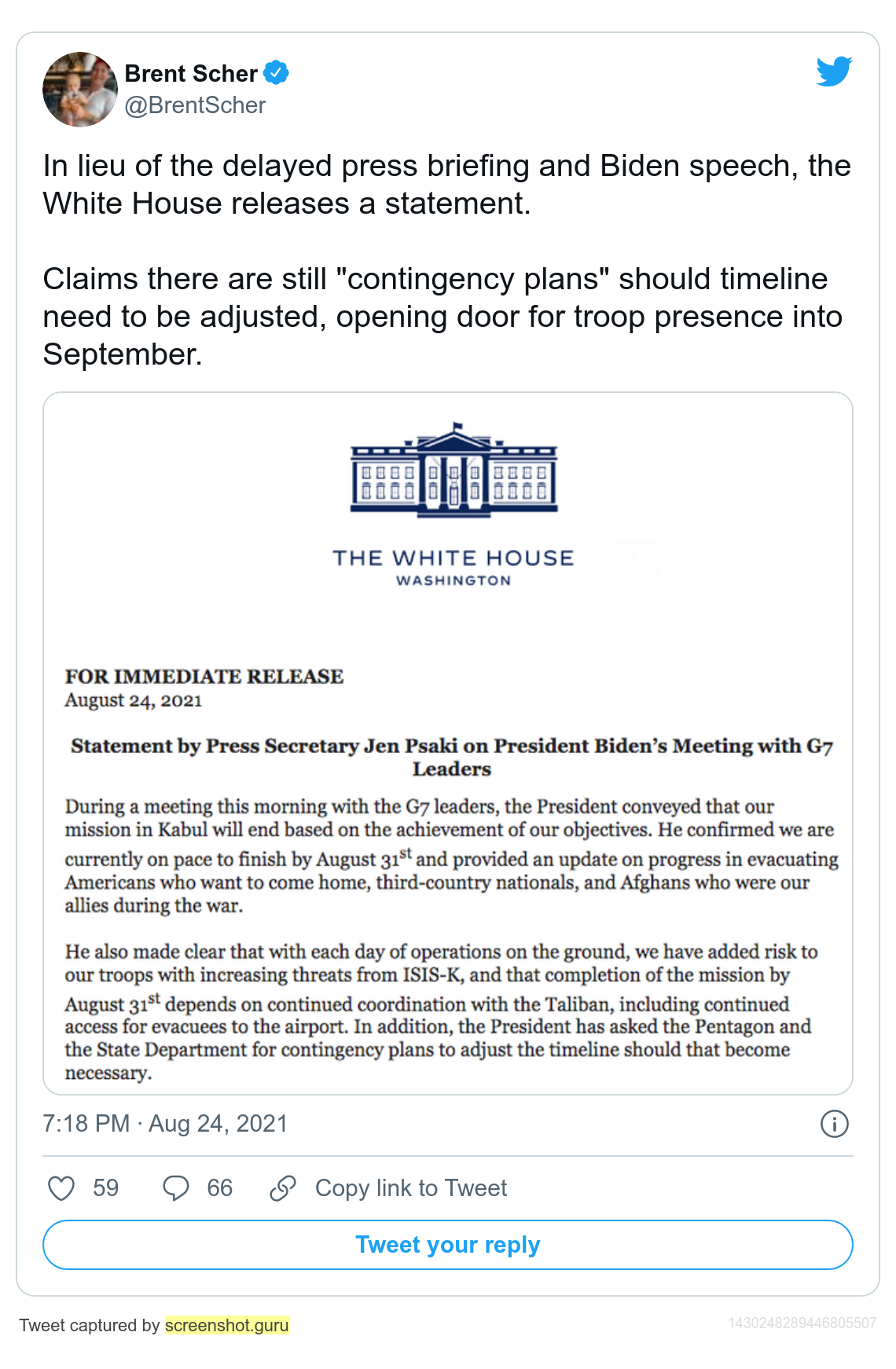 Has Biden called a lid? Is he too frail and mentally infirm to just read out a ten paragraph statement?
At what point do Democrats demand we invoke the 25th Amendment?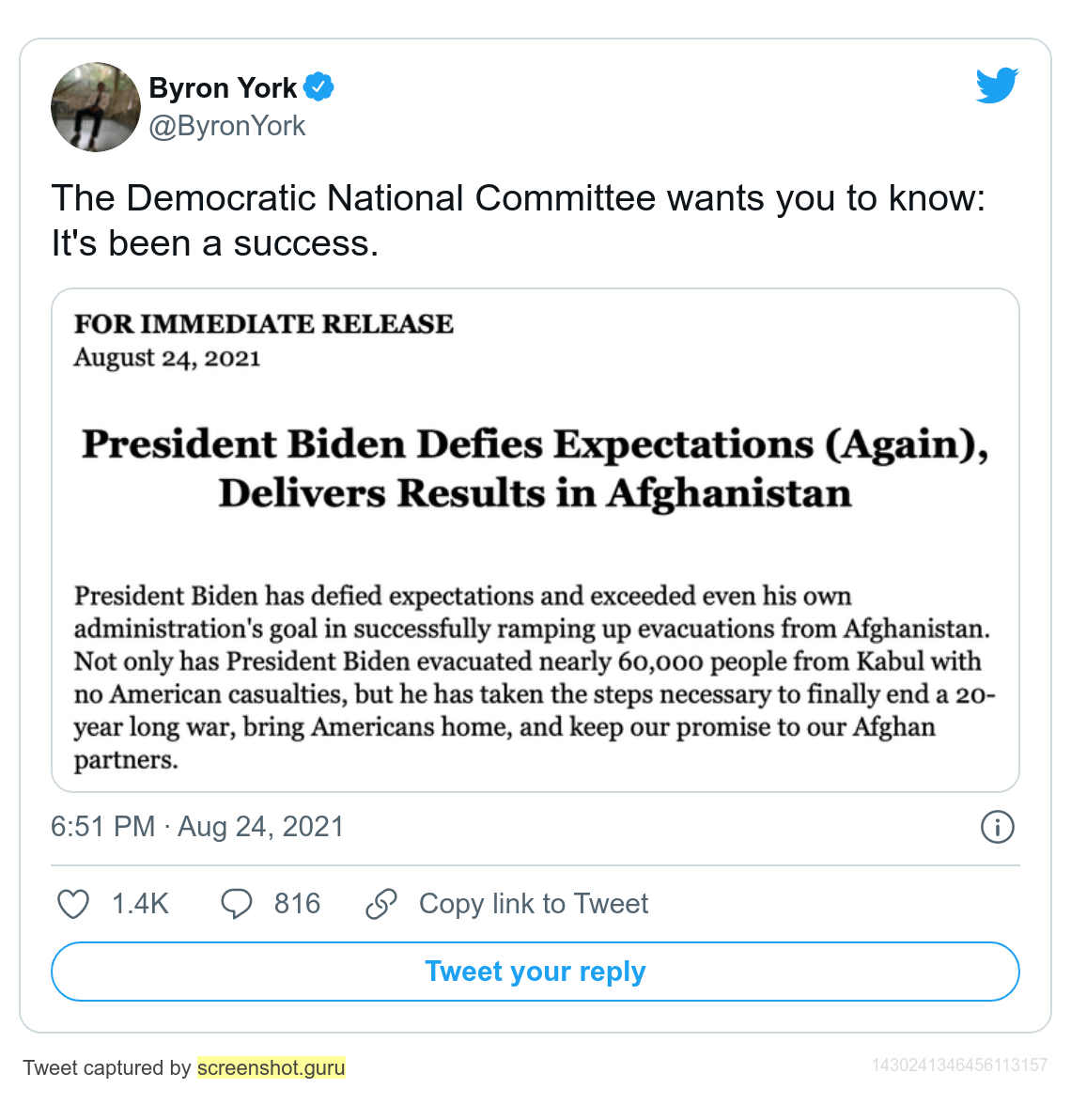 posted by Ace at
04:29 PM
|
Access Comments