« Biden To Read A Puppet Script, Supposedly, at 4:30PM
Delayed to 5PM
|
Main
|
USAToday Poll: Biden Approval 41%, Disapproval 55% »
August 24, 2021
Quick Hits: Everything Woke Turns to Sh!t Edition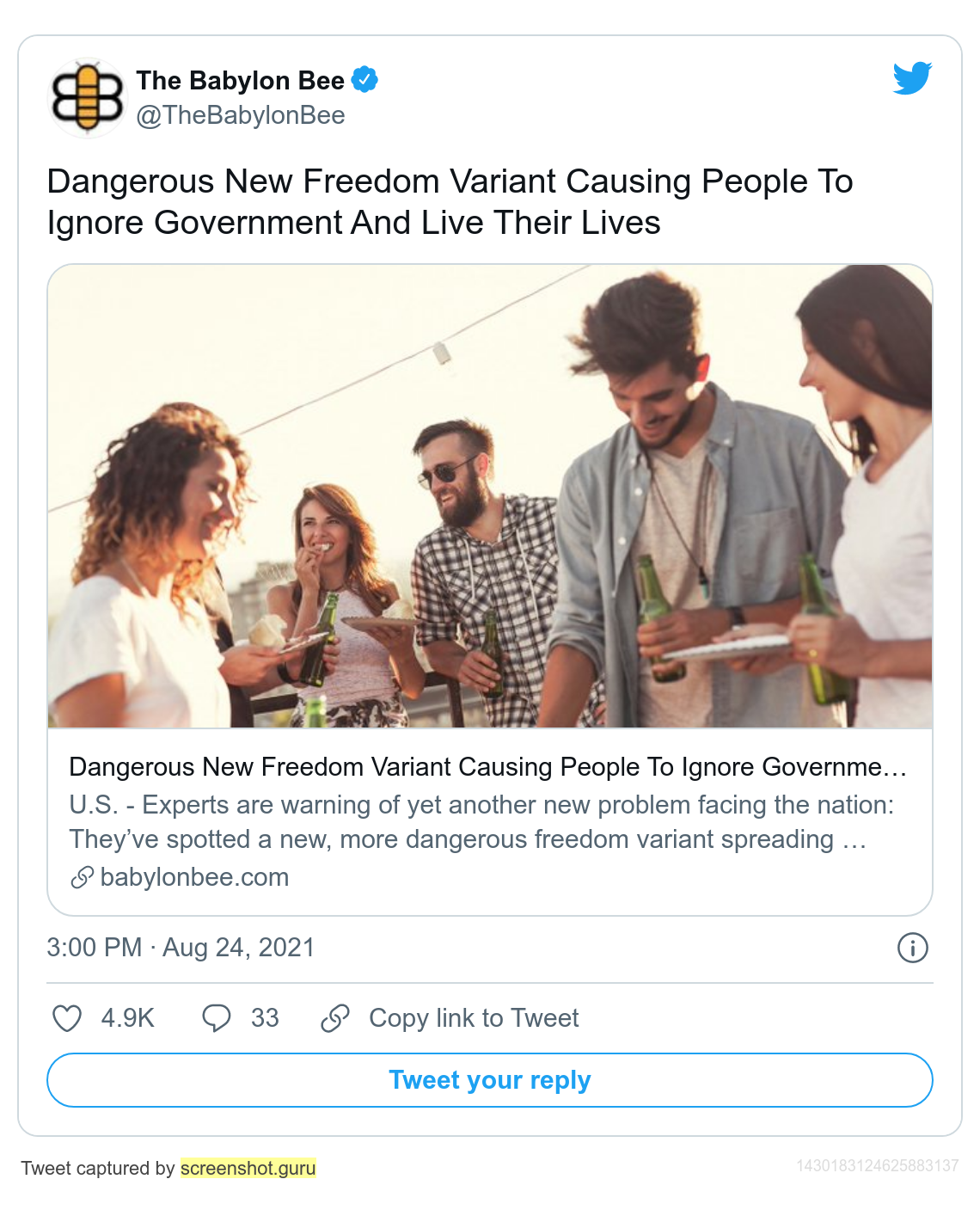 Note: I saw the complaints that Twitter-heavy posts were causing loading problems. I had thought this was more of an issue when the website was generally unstable. I see now that it continues to be a problem.
I will try to keep the number of actual twitter links low, using screenshots instead. I'll use a couple in some posts if they contain video, but I won't post 5 or 6 like I've been doing lately.
The Emmy committee has stripped Andrew Cuomo of his Emmy.
Not for killing ten thousand elders, of course. The Cuomosexuals maintain the repulsive fiction of Cuomo's covid leadership.
It's The Narrative (TM). The Ruling Class will not admit its errors. They will only punish Those Who Notice.
They're stealing the recall election.
Torrance police are investigating the discovery of hundreds of recall election ballots in a vehicle where a felon was found passed out with drugs, a loaded firearm and multiple driver's licenses one week ago, authorities said Monday.

Approximately 300 ballots were recovered from the vehicle, which was parked in the lot of a 7-Eleven convenience store on the night of Aug. 16, according to the Torrance Police Department.

Officers also discovered a loaded firearm, methamphetamine, thousands of pieces of mail, a scale, and multiple California drivers licenses and credit cards that were in other people's names, a police news release stated. Xanax pills were also located on the unidentified male subject, who authorities described as a felon.

He was arrested on suspicion of a number of offenses, including weapons violations, narcotics and forgery violations.
Tucker Carlson digs up some history which is currently repeating: The Establishment bullied people into wearing masks during the very deadly 1918 Spanish Flu pandemic. (I think that pandemic actually came from China.)
The public was willing to go along with the Ruling Class' demands, until a photograph was published showing the Ruling Class going maskless.

Kumala's trip to Hanoi -- isn't it perfect that she's going to Vietnam as Biden lives his own Saigon? -- has been delated because the embassy there has been hit by "Havana Syndrome," the mystery illness, possibly caused by a directed energy weapon fired by the Russians or Chinese, which began hitting our diplomats in Cuba.
This is the first reported case of Havana Syndrome in Vietnam. Other cases have taken place in Cuba, China, Vienna, Austria and in Washington, DC near the White House. The total number of Americans impacted since the syndrome was identified in 2016 reached 200 after a wave of attacks in Vienna which started earlier this year. Nearly all of the people targeted have worked for the CIA, FBI or State Department making it extremely unlikely this is a coincidence.

In fact, last week there were reports that two US officials in Germany had sought medical treatment for Havana Syndrome. The latest victims were working on issues related to Russia.
Biden's politicized military is threatening to revoke legally-mandated benefits to Marines if they refuse to be vaccinated.
Marines will lose their pensions, tuition assistance, and access to the G.I. bill, along with other military benefits, if they refuse the COVID-19 vaccination, according to internal emails reviewed by the Washington Free Beacon.

An Aug. 18 email from Col. Teague Pastel, a commanding officer at the Marine Barracks in Washington, D.C., told colleagues that although "vaccines are still voluntary," the military believes "they will become mandatory in the near future." The penalties for refusing the coronavirus vaccination, Pastel wrote, should be in line with others for insubordination. Those penalties include "administration separation," a demerit in the Marine's personal file, as well as the forfeiture of various retirement and financial benefits.

"Please continue engaging with our troops on the importance of vaccinating, and stress that it is still voluntary at this time. However, once the vaccine becomes mandatory they need to be prepared to separate and potentially lose benefits," Pastel's email reads. "If the Marines are not willing to lose the benefits then they should just get the vaccine now."

Pastel sent the email prior to the Food and Drug Administration's Monday move to approve the Pfizer vaccine, which opened the door for the military to mandate it for its members. The Pentagon announced the vaccine mandate within hours of FDA approval.
Rolling Stones drummer Charlie Watts has died at age 80.
Watts was due to tour the US with the band later this year as part of their 'No Filter' tour. But it was announced earlier this month he would not feature as he needed to recover from a recent emergency surgery.

Watts is the first long-stay member of The Rolling Stones to die of age-related illness. Founder and leader of the band, Jones, died in 1969, shortly after being kicked out of the band, from accidental drowning.

Today Watts' London publicist, Bernard Doherty, said in a statement: 'It is with immense sadness that we announce the death of our beloved Charlie Watts.

'He passed away peacefully in a London hospital earlier today surrounded by his family.
Prepare for a wave of greats from the post-'64 rock era to start dying.
Via Soothsayer, Nike released another #Woke commercial claiming the WNBA was better than the NBA and NFL and MLB, and also more important historically than... Alexander the Great.
Biden met this Conquering Army and... took a knee in a new low in pandering.
Though I think he took a knee mostly to sniff them "down there."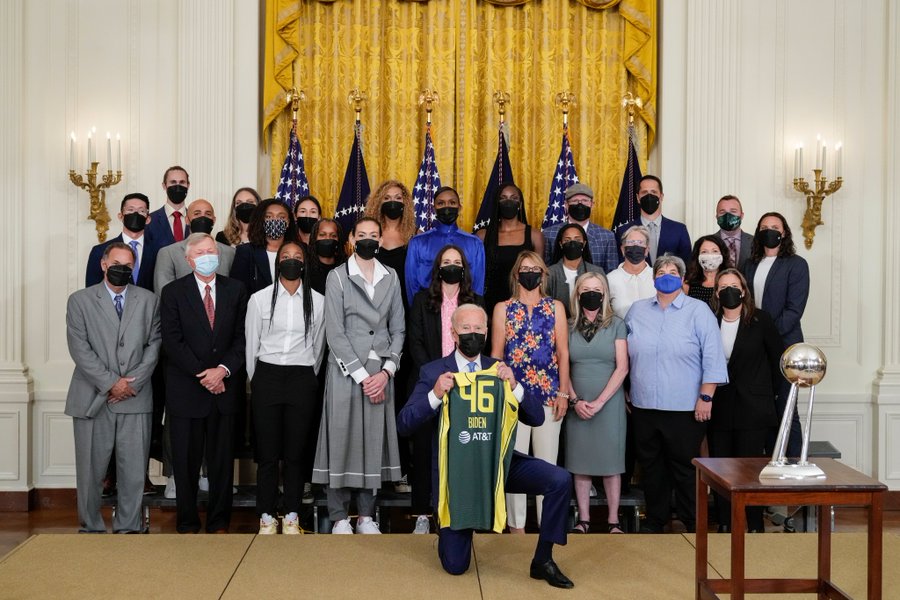 Great, now I have to cancel my season tickets to the New York Liberty.
Repulsive Teen Zealot Greta Thunberg continues her charm offensive.
On Thursday, The New York Times published an essay by "youth climate activists" led by Greta Thunberg that lectured adults about climate change, pompously charging, "Young people like us have been sounding this alarm for years. You just haven't listened." They add, "We are the ones who will have to clean up the mess you adults have made."
French president Macron told Biden that we have a "moral responsibility" to stand by our Afghan allies. The White House omitted that from the transcript when they read out a digest of the call.

Scientists say they've confirmed that cave stalactites painted with pigment 60,000 years ago were painted (colored, really) by Neanderthals. I guess this is "controversial" because Neanderthals weren't thought to be as advanced as humans, and so wouldn't decorate their caves?
Neanderthals
They got into interior decorating and then went extinct.

Below: Does Biden tip the plan to resign soon here? Is he telling us Kumala will be president "pretty soon"?
From Saturday night:

Flashback to Sum Ting Wong from Soothsayer.

posted by Ace at
05:41 PM
|
Access Comments