« Quick Hits: Everything Woke Turns to Sh!t Edition
|
Main
|
Kabul Collapse Cafe: The Milk Crate Challenge Edition »
August 24, 2021
USAToday Poll: Biden Approval 41%, Disapproval 55%
Mr. 81 Million Votes' popularity collapsed faster than the Afghan National Army.
Both were paper-only fictions created by the Deep State.
Biden's job approval is now lower than Trump's average, which was usually around 43%.
In Democrat-skewing polls, of course!
For President Joe Biden, the cost of the war's chaotic end has been steep. His overall job approval rating now stands at 41% who approve versus 55% who disapprove -- a big drop in the closely watched barometer of political health. Until last week, national polls generally showed his approval rating above 50%.
Note that USAToday/Suffolk does not mention their last poll findings on this question, and I couldn't find it on Real Clear Politics, either.
So I don't know how bad USAToday's skew is, or what the change is from their last sounding.
...

Now, while he has held the backing of 87% of Democrats, only 32% of independents say he's doing a good job.

...

Half approved of his handling of the pandemic, 39% of his handling of the economy, 26% of his handling of the Afghan withdrawal.
Unlike other pollsters who say that Afghanistan is not a main driver of Biden's collapse, this one claims it is:
"Today, President Biden's overall approval has taken a turn for the worse due to his awful job performance rating on Afghanistan," said David Paleologos, director of the Suffolk Political Research Center. "His approval on immigration and the economy are also upside down. The only issue keeping him remotely in the game is his handling of the COVID-19 pandemic, where he is barely at 50%."
...


Biden's decision to pull out troops was backed by most Americans, 53%-38%. But almost two-thirds, 62%, disapproved of the way his administration has handled that withdrawal.
Biden gets blamed for this catastrophic withdrawal, but not for the situation in Afghanistan itself -- George W. Bush is blamed by 62% of the public for that.
Biden has been found at under 50% approval in five polls straight.
By my count, this is the 5th straight poll that shows Biden under 50% in approval, but this one is far worse than the other ones (Rasmussen, for example, has him at 46% approval). 41% approval is reaching the depths that former President Donald Trump and former President George W. Bush reached in their lowest moments. This is not the kind of damage that is just repaired overnight either. In fact, it's the kind of damage that is rarely repaired.
Indeed, the Real Clear Politics average of all polls finally puts this demented fool underwater: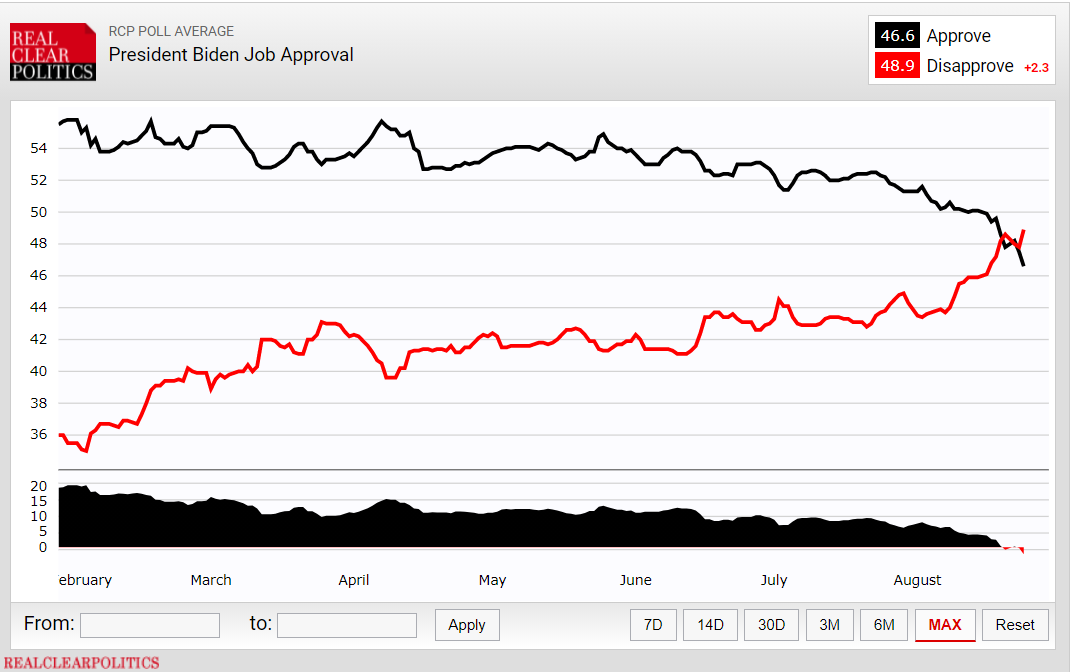 Republicans are running ahead of their 2020 performance in special elections.
Across more than 30 special state legislative and federal elections during the Biden presidency, Republicans are doing 4 points better on average than former President Donald Trump did in these same districts last year.

...


Such a change is not too large. Remember, too, that Trump lost nationally by 4 points, so a 4-point swing toward Republicans suggests a neutral national environment.
Sure.
But this would likely be enough for Republicans to take back the US House of Representatives, especially considering that they are in a good position for redistricting.

What really jumps out, though, is the trend.

When you look at the first 17 special elections this year (through early April), the Republican overperformance over Trump was just a point. Examining the last 17 special elections, the overperformance has been 7 points. When you splice the data even further, Republicans have been outperforming the 2020 baseline by double-digits since the beginning of July.

Whether such a shift sustains itself can't be known at this point. Things may shift back to Democrats.

It shouldn't be too surprising if the Republican overperformance does hold. Back in 2009, there was a big movement away from Democrats in special elections toward the middle of the year. This foretold Republicans doing very well in the 2010 midterms.

The one thing that is clear is that the special elections this year look nothing like they did four years ago at this point. Back then, Democrats were outperforming Hillary Clinton's performance by 14 points in the average special state legislative and federal elections.

Democrats went on to take back House control in 2018.
Update: Via Huck Follywood, A Federalist/Susquehanna poll found Biden's approval at a Bush-like 38% as Afghanistan crumbled.
Of our last five presidents -- Clinton, Bush, Obama, Trump, and Biden -- four have been objectively bad presidents who have left the country weaker and poorer than the one they were elected to lead.
NeverTrump voted against the only good president in that batch -- twice.
Everyone make sure you send them money! They need your money to Fight For You!
They're working on a new, improved Fight For You (F4U) Initiative.
But they need your help, friends!

posted by Ace at
06:43 PM
|
Access Comments