« New Poll Shows Newsom On the Edge of Being Recalled
Update: Ballot and Envelope Seem to Have Been Designed to Faciltiate the Most Fraud Possible
|
Main
|
Kabul Collapse Cafe: America Is Bat, Baby! Edition »
August 19, 2021
North Texas Hospital Will Soon Use Vaccination Status to Decide If You're Worth an ICU Bed
This would be an addition to the rules of triage -- who gets medical resources when medical resources are scant.
But usually those considerations are limited to questions of, for example, the chances of a patient dying even if he gets medical care, or the chances he will live if he doesn't get care.
In other words: based on the actual likely impact of care.
If medical resources are scant, the guy with a broken foot will have to wait in the ER until the guy with the gunshot wound has been stabilized.
And the guy with a massive gunshot wound may be treated after a guy with a much lighter gunshot wound -- if the doctors decide that the odds of saving the guy with the massive wound are fairly low, but the odds of saving the guy with the lighter wound are high.
Tough decisions, but note they're all based on considerations about likelihood of survival or death.
That will no longer be the case in one North Texas hospital.
This new rewrite of the rules of triage seem to purely punitive and based on Middle Class Karen moral/political/social judgements.
Triage nurses will no longer be evaluating patients' chances of survival or death with or without medical treatment; it shifts the rules of triage to being about bureaucrats' notions of who acted morally and got the vaccine, and those who acted immorally and did not get it.
North Texas doctors have quietly developed a plan that seeks to prepare for the possibility that due to the COVID-19 surge the region will run out of intensive-care beds.

If that happens, for the first time, doctors officially will be allowed to take vaccination status of sick patients into account along with other triage factors to see who gets a bed.

A copy of an internal memo written by Dr. Robert Fine, co-chair of the North Texas Mass Critical Care Guideline Task Force, was sent to members of the task force -- and leaked to The Watchdog. It summarizes the latest work by the task force, a volunteer group that periodically updates medical guidelines for hospitals in our region. There are about 50 members from various hospitals in the group. Although their recommendations are not enforceable, the guidelines are generally followed.

The one-page summary memo is a "heads up" alert in the event things get worse, says Dr. Mark Casanova, director of clinical ethics for Baylor University Medical Center and a spokesperson for the task force. After Monday's meeting, doctors had yet to make plans to inform the public.

"We're trying to decide how to explain this addition to the public," Casanova said.

But after studying the memo and interviewing doctors involved in the decision for two hours this week, The Watchdog can explain it to you.

Although doctors make triage decisions all the time, the proposed guideline addition is significant. Casanova predicted that if this change were copied by others medical care, for as long as the crisis persists, "is going to look and feel different for everybody who is alive right now in the United States of America."

Yet a leading medical ethicist who studies how COVID-19 affects communities says he worries that adding vaccination status to the triage of patients will unfairly harm low-income people and people of color. These groups are historically disadvantaged when it comes to obtaining proper medical care.
Although medical ethicists question such a huge shift in triage, away from medical questions towards moral, political ones, one commentator sees no reason for such questions: Noted Conservative/Libertarian Thinker AllahPundit, who is on-board, once again, with any punitive measure imposed by those in power to take away people's freedom of choice.
Remember, this sad, broken alcoholic c***'s stated reason for supporting Democrats for three cycles in a row is a fear of Trump's embrace of "authoritarianism."
But the authoritarianism of his Very Good Twitter Palz on the left is always sweet.
By the way: Isn't the claim (which I believe) that those with the vaccination have almost no risk of even needing an ICU?
Making this a purely punitive measure?
Oh well, KarenPundit don't sweat those sorts of questions. The one thing he knows is that Trump Voters must be officially discriminated against, coerced, and even killed by the government and quasi-governmental decision-makers.
Exit question:
Should we be forced to subsidize therapy for those who've chosen to make the medically-hazardous decision to have gay sex?
I have a feeling AllahPundit will suddenly drop his desire to insert morality into the triage protocols when we talk about the choices of his Very Good Twitter Palz on the left!
Better question:
8 Hey how about this as a triage consideration- whether you're a f***ing U.S. citizen or not? Because North Texas ICU's and pediatric ICU's are being overrun by people who aren't even citizens.

Texas has experienced and epidemic of pediatric RSV cases that are overwhelming those wards.

Posted by: Marcus T
Yeah, you know which way Mr. Anti-Authoritarian is going to swing on that one.
Recall that just earlier this week, Allahpundit called for Greg Abbot to be denied an ICU bed, even though he's vaccinated, due to Abbot's opposition to a vaccine mandate and forced masking.
Noted Conservative Thinkfluencer AllahPundit immediately spat out Democrat-Underground-level death wishes: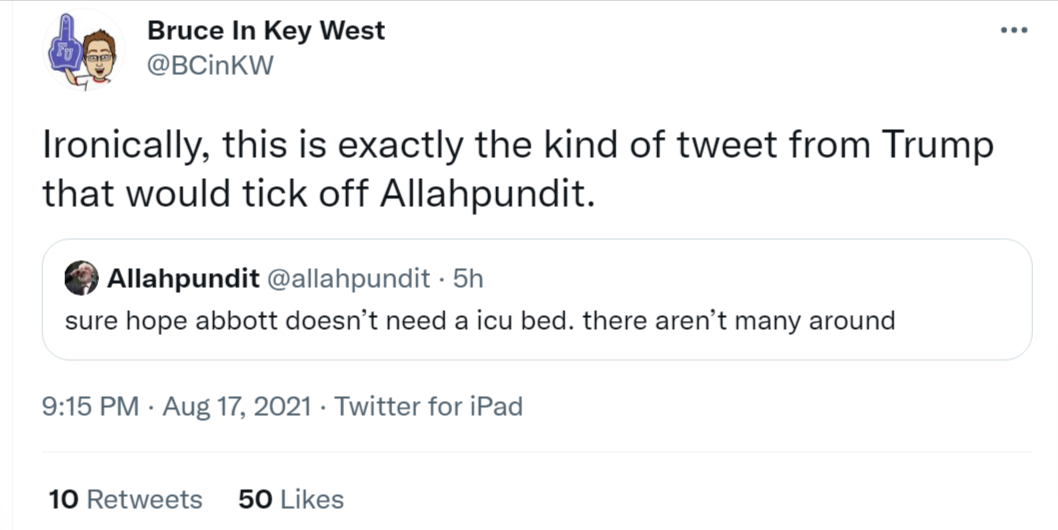 I guess this broken alcoholic shut-in is hitting the sauce again. Wonder why!
Note that it's this sort of liberal grifter interloper who has voted Democrat three cycles in a row, not because they hate conservatism and conservatives, oh no, not that.
No, they voted Democrat three cycles running because, allegedly, of a concern for "norms" and "civil discourse" and "nice tweets."
Weird, huh?
AllahPundit then lied about what his obvious death-wish tweet meant.
@allahpundit

apologies if the tweet below came off as sarcastic. i didn't mean it to be. i don't blame abbott for the lack of icu beds (although he really should lift his ban on vaccine mandates). but beds really are scarily scarce in austin now ...
"I really didn't mean 'ha-ha, Abbot gets what he deserves' but when you think about it, isn't Abbot getting what he deserves? He disagrees with my performative panic after all!"
Given that KarenPundit is just pleased as punch that hospitals might start denying care based on socio-political preferences, does anyone believe his bullshit walkback of his death wish?

posted by Ace at
06:10 PM
|
Access Comments