« Kabul '75: Video Shows Terrified Afghan Civilians Clinging Desperately to Departing US Jets, Then Plunging To Their Deaths as Their Grips Give Out
|
Main
|
Former SNL Castmate Horatio Sanz Sued for "Grooming," Sexually Assaulting a Junior in High School »
August 16, 2021
Biden's Back in Hidin', and Even Liberal NeverTrumpers and the Leftwing Propaganda Media Are Shocked That Biden Is Hidin' Again
Greta Van Susteren @greta

14h

Has the White House made any statement why we are not hearing from our President tonight? This is a 20 year war..loss of so much life and money... he was VP for 8 years of the 20... we need to hear from him tonight. This is THAT important.
Philip Melanchthon Wegmann @PhilipWegmann

13h

No public events on Biden's schedule tomorrow.
Well, there's one: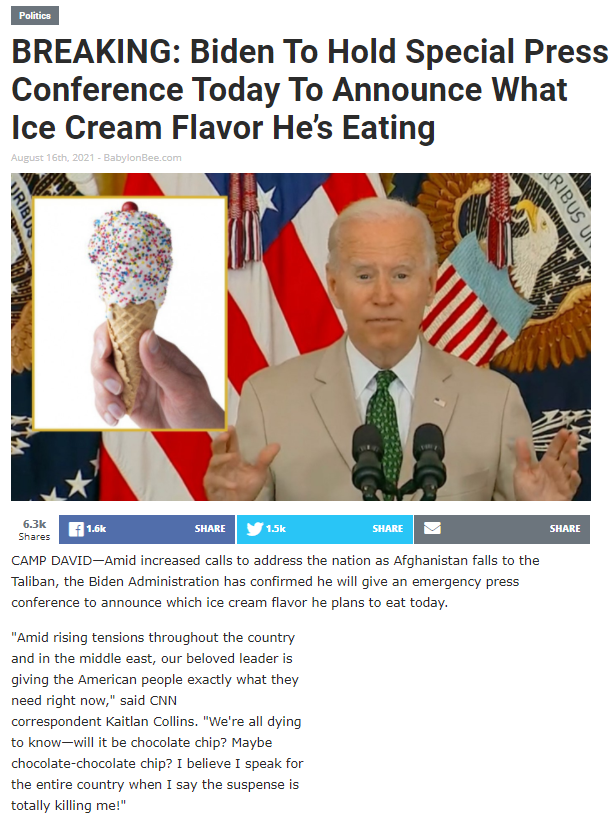 Biden finally made a statement... about when he'd be making a statement:
White House spokesgal Jen Psaki has also called a lid, and isn't coming back to work no matter what catastrophe unfolds:
This Good Time Stacey is whining about Hidin' Biden:
Mika Itchysnatch blames Biden:
Twitchy notes that Morning Joe's Zombie Liberal viewers are angry at Mika Itchysnatch.
Whiny partisan liar Jake Tapper wonders how his hero Joe Biden could have been so wrong:
Good Time Stacey notes Biden's previous vows that this would never, ever happen:
This sad cvck:
This noodledicked pussy:

NeverTrumper and Twitter gayops director against Devin Nunes (almost certainly paid by the DNC, but she won't admit that, she still claims to be a Republican) Liz Mair:

The Lincoln Project is hidin', too:

posted by Ace at
01:02 PM
|
Access Comments