« Biden's Back in Hidin', and Even Liberal NeverTrumpers and the Leftwing Propaganda Media Are Shocked That Biden Is Hidin' Again
|
Main
|
CNN Reporter/Bimbo: The Taliban Is "just chanting 'Death to America,' but they seem friendly at the same time." »
August 16, 2021
Former SNL Castmate Horatio Sanz Sued for "Grooming," Sexually Assaulting a Junior in High School
This allegedly happened when he was on the show -- and the suit also makes claims about 20 other SNL unnamed flunkies, including other cast members, for enabling this behavior.
She claims he first reached out to her when she was 15.
An allegation is not evidence, of course.
Former Saturday Night Live cast member Horatio Sanz has been accused of grooming and sexually assaulting a teenaged girl in the early 2000s in a new lawsuit filed Thursday by the now-adult accuser.

The lawsuit -- filed by a Jane Doe in Pennsylvania who says she ran a Jimmy Fallon fansite from 1999 to 2002 -- also lists NBC, Saturday Night Live, and 20 unnamed SNL cast and crew members as defendants.

Soon after launching the Fallon fan website, Fallon and Sanz emailed Jane Doe from an NBC account in January 2000, which began Sanz' "process of grooming" her, the lawsuit claims. In October 2000, the plaintiff attended an SNL taping, meeting Sanz for the first time; the actor was "flirtatious and physically affectionate with the then-15-year-old... kissing her cheek and putting his hands on her waist." A similar encounter happened at another SNL taping that fall, the lawsuit says (via Variety).

In May 2001, Jane Doe "was permitted entry to attend an SNL afterparty" where she was witnessed drinking alcohol, even though the SNL attendees "knew or should have known" she was underage; the lawsuit doesn't make clear whether she was invited by or served alcohol by Sanz.

A few months later, in August 2001, Doe and Sanz allegedly began interacting on AOL Instant Messenger, starting an "incessant exchange of communications in which Sanz groomed and molested [Doe]," with Sanz accused of "regularly and repeatedly ask[ing] for photos of her." Sanz is also accused of steering "conversations to discuss sex, sexual experiences, sexual fantasies, and masturbation."

The following fall and through the spring of 2002, Doe continued to attend SNL afterparties -- where she was allegedly introduced to Lorne Michaels by Fallon -- and served alcohol despite being underage. At a May 2002 party, Doe accuses Sanz of "kissing her, groping her breasts, groping her buttocks, and digitally penetrating her genitals forcibly without consent," which she claimed occurred "in sight of attendees, including NBC employees."
She posts what she claims is text exchange between her and Sanz, in which he admits his behavior and says "if you want to metoo me you have every right."
The lawsuit also includes a text exchange between Sanz and Doe in 2019 where the comedian said he was "very sorry" about what happened decades earlier, and that "if you want to metoo me you have every right," the lawsuit claims.

Again, none of this is proof. This is a single woman's allegation made, tardily, 20 years after the alleged actions she complains of.
Why the lawsuit now? Well, she has two days left until her right to file a late lawsuit under the Child Victims Act expires.
As Variety notes, the lawsuit was filed in a New York state court just two days before the deadline to file a claim under the state's Child Victims Act, which offers a "lookback window" to victims of child sex abuse.
I assume that means that the statute of limitations on this tolled long ago, but that the Child Victims Act affords a special modification of the statute of limitations, letting you "lookback" to when you were a child for purposes of dating the suit.
Again, this is not proof, but she says she used to run a Jimmy Fallon fan page, which would explain how she came into (internet) contact with these people.
Sanz says the claims are "ludicrous."
Sanz's attorney, Andrew Brettler, issued a statement calling the allegations "categorically false" and saying she sought an exorbitant payout to remain quiet.

"However often she repeats her ludicrous allegations or tries to rope in other high-profile names to generate media attention, they will always be false," Brettler said. "Before filing this lawsuit anonymously, she demanded $7.5 million in exchange for her silence. We, of course, refused and will vigorously contest these totally meritless claims."
Here's more from those alleged confessional texts:
The suit quotes from text messages Sanz allegedly sent her many years later, in 2019, in which he acknowledged that what he did was wrong and apologized. He described himself as a "wounded creep" in one message, and said he had quit drinking and sought to make amends.

"If you want to metoo me you have every right," he wrote, according to the complaint. "Just believe me I'm not like that anymore."

...

The plaintiff alleges that she ran into Sanz in the summer of 2019, when he admitted to masturbating while engaging in the IM chats with her. In the subsequent text messages, from November 2019, Sanz allegedly said he "felt terrible" about hooking up with her.

"I was dumb," he wrote, according to the complaint. "Very dumb."

Well, if the texts acknowledging he was a "wounded creep" who should be MeToo'd are real, then....
That's a big "if."
She also seems to be saying Sanz should have known she was underage.
Here's more to that claim: She alleges they discussed her upcoming SATs.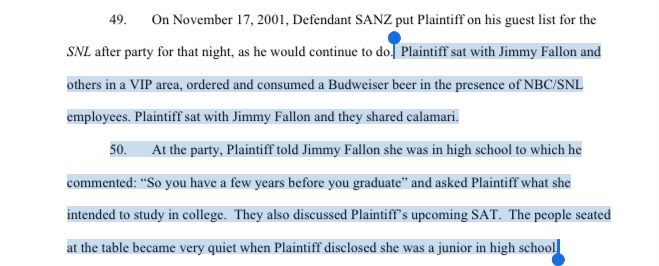 Not proof, but note note the first screenshot in this now-deleted tweet, which claims that knowledge of both Sanz and Jimmy Fallon's interest in high school girls was an open secret on SNL chat boards.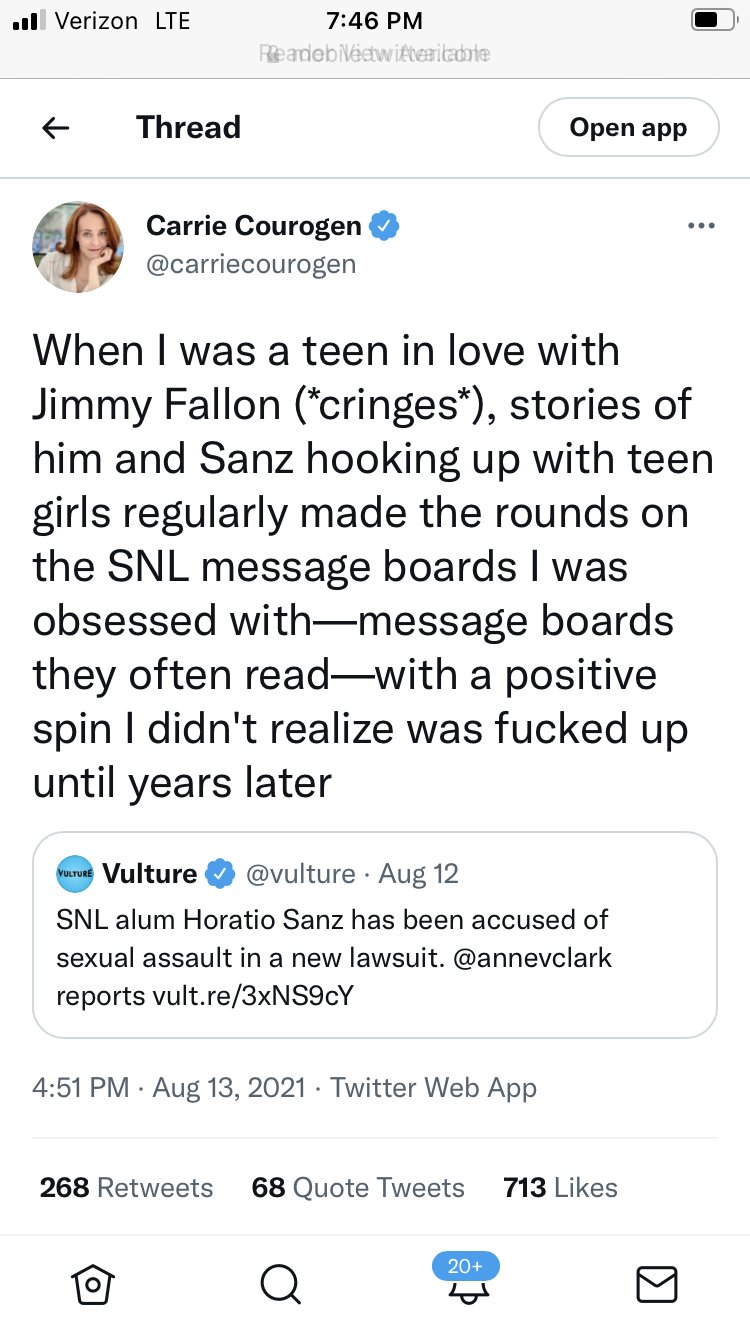 The first tweet supposedly came from Carrie Courogen, some kind of editor at Conde Nast.

Still not evidence. These girls seem to have crushes; it is not beyond belief that they could have falsely bragged about hooking up with the guys they had crushes on.
People do lie on the internet for worthless Status Points, after all.
But we'll have to see.
In other #MeToo news, Suicide Squad actor Joe Kinneman has filed a temporary restraining order against a woman in Sweden.
The woman alleges r@pe. Sort of. She says she needs to conduct additional "investigation" before actually making the allegation.
Which seems strange to me.
Joel Kinnaman has found himself involved in an investigation overseas.

A spokesperson for the Swedish Prosecution Authority confirmed to E! News on Wednesday, Aug. 11 that the Suicide Squad star has been accused in an ongoing investigation concerning alleged rape.

According to the spokesperson, "The prosecutor got the case today and has hardly been able to look at it. She has said there is a need for further investigative matters before she can make a decision."

The prosecutor has not said what their plan is for further investigation, per the spokesperson, but that it is normal to interview the alleged perpetrator. The spokesperson believes that the alleged victim is Bella Davis who also goes by the name Gabriella Magnusson.

He alleges that she's extort extorting him with a fake r@pe claim. He applied for and got a temporary restraining order against her.
In an amazing detail, he claims she demanded Hollywood introductions, a work visa, and... a Blue Checkmark on Instagram.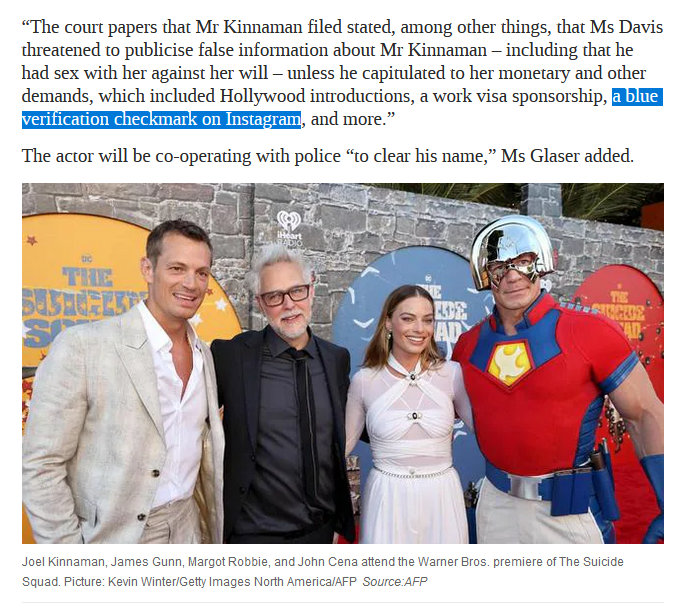 "I will MeToo you unless you get me a Blue Checkmark" is a very Current Year sort of thing to say.

posted by Ace at
02:08 PM
|
Access Comments