« Tucker Carlson: We Spent Twenty Years and a Trillion Dollars Pushing Woke Leftwing Feminism on the Barbarous Afghans, and, Shockingly, They Revolted
|
Main
|
Quick Hits: America Is Back, Baby! Edition »
August 17, 2021
Scandal: Mike Pompeo's Missing Whiskey Bottle;
Not A Scandal: Wall Street paying Janet Yellen $7 Million For Zoom Speeches
Compare these two stories and guess which one our political/media class finds scandalous.
Janet Yellen made millions in Wall Street, corporate speeches (Politico – Jan 2021)
Yellen, the former chair of the Federal Reserve, brought in nearly $1 million giving nine speeches to Citi alone.
$5,800 Whiskey Bottle, a Gift From Japan to Pompeo, Is Missing, U.S. Says; The State Department is investigating (NY Times – Aug 2021)
Under the Constitution, it is illegal for an American official to accept a gift from a foreign government, and gifts are considered property of the U.S. government. The founders included the measure to stop foreign governments from gaining undue influence over American officials. Any officials caught accepting such gifts can face civil penalties, or impeachment if they are still in office.
Trump's Secretary of State Mike Pompeo was given an expensive bottle of whiskey by the Japanese government. It is now missing, and the NY Times is all over this constitutional crisis. But when Wall Street shoveled millions of dollars at the person expected to be the next Treasury Secretary? Shrug.
By the way - if we're talking about "undue influence of American officials" might this be a good time to ask just why Wall Street repeatedly paid Janet Yellen exorbitant amounts of money for speeches after her departure as head of the Federal Reserve but before her appointment as Treasury Secretary?
From the moment Trump did not renew her in 2018, it was almost a foregone conclusion that she would be the Treasury Secretary if Trump were voted out of office. By Summer of 2020,
Yellen was already providing economic briefings to Joe Biden.
Citibank kept pumping money to Yellen all the way into October of 2020. And by the way, do you know the form of those speeches? They were Zoom calls. Ms. Yellen got on Zoom from her home or office, spoke briefly, and cashed a five or six-figure check for her "efforts." She must really give great Zoom speeches if Wall Street kept coming back time and again for more of her wisdom.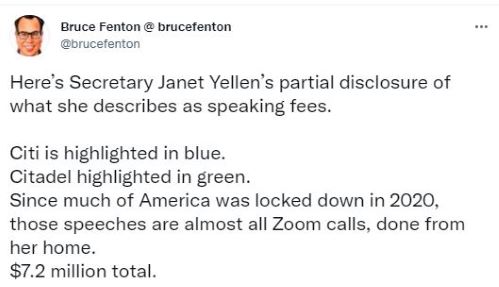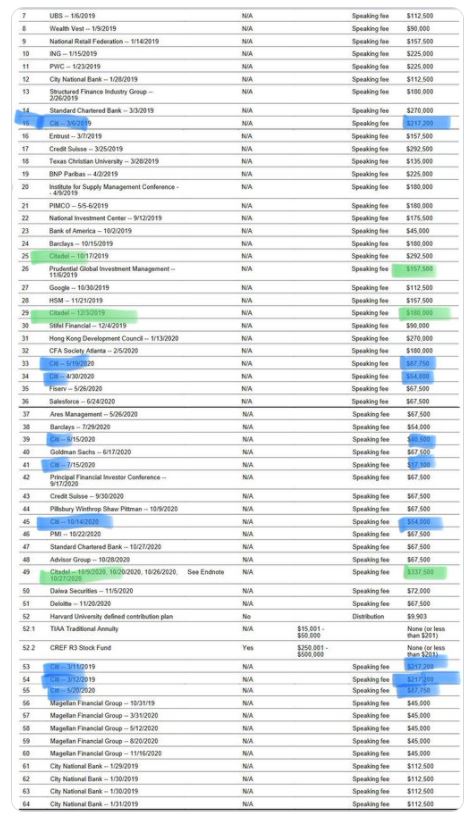 These are some of the fees she received after she started advising the Biden campaign:
CITADEL: Three Zoom speeches in October 2020 totaling $337,500
CITI: $54,000 on 10/14/2020
DELOITTE: $67,500 on 11/20/2020, which was after the election.
DAIWA SECURITIES: $72,000 on 11/05/2020, which was after the election
Just why did Wall Street throw all this money at Yellen? Mark Hemingway is exactly right. These "speaking fees" were pre-payment for favors to be named later.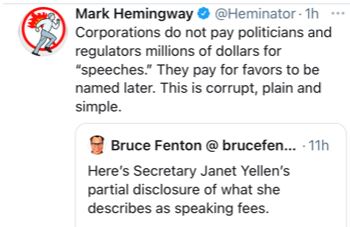 It is transparently corrupt. But it's corruption being committed by the approved team, so no one cares.
(buck.throckmorton @ protonmail dot com)


posted by Buck Throckmorton at
04:20 PM
|
Access Comments