« Scandal: Mike Pompeo's Missing Whiskey Bottle;
Not A Scandal: Wall Street paying Janet Yellen $7 Million For Zoom Speeches
|
Main
|
Yet Even More Worst of the Libs of TikTok »
August 17, 2021
Quick Hits: America Is Back, Baby! Edition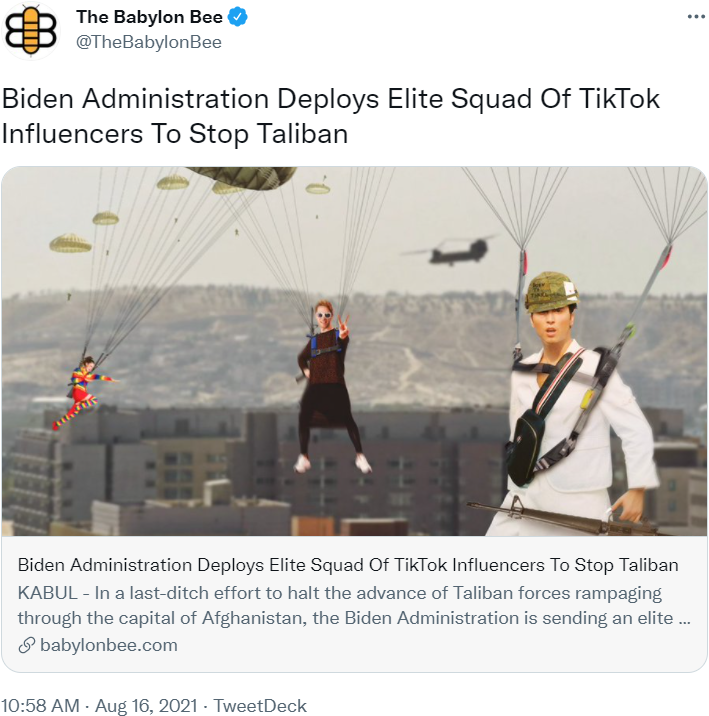 State Department spokesliar Ned Price calls upon the Taliban to form an "inclusive and representative government."
Iran is not afraid of Biden, and has accelerated its uranium enrichment to near weapons grade:
China is not afraid of Biden, and has warned Taiwan it should be "trembling:"
OPEC is not afraid of Biden, and rejected his plea to pump more oil to lower gas prices:
Obviously, the Taliban are not afraid of Biden:

But the tweets are nice, right?
And the Norms -- they have been Restored to your satisfaction, yes?
How did we get here?, asked no one with a functioning brain.

Bush issued this statement which purports to be reassuring US troops that they accomplished admirable goals in Afghanistan.
But what he's really doing is assuring the public that he set and accomplished admirable goals in Afghanistan.
He didn't. He sent troops to nation build a basketcase barbaric pit for 20 years.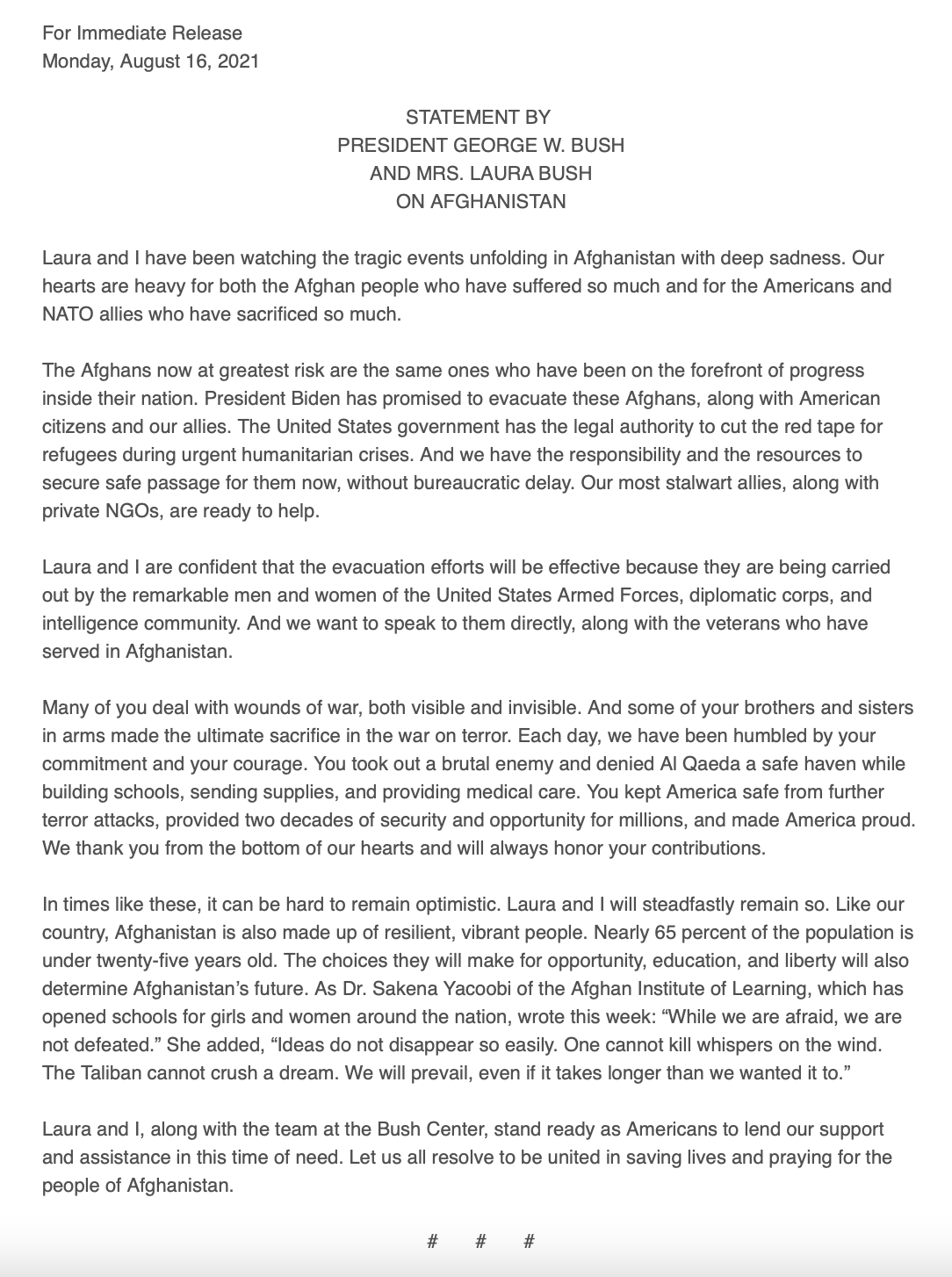 Here's another victory we paid for:
Public school teachers really don't want to go back to work. They consider themselves honorary members of The Laptop Class, as Karol Markowicz dubbed it, and resent having to be physically present at their jobs like garbagemen or postal workers.
So they're ramping up the neuroticism and hysteria in order to sway governments to cancel school again. Starting with demanding that children be made as uncomfortable as possible at school.
Hoping you'll say, "Well if they have to be masked at school, maybe Learning at Home is better!"
This one below says that teachers are stressed over having to draw up wills in case your kids infect them and they die.
Saira Rao is the grifter behind "Race2Dinner," where she gets leftwing white women to pay her money and pay for her dinner, so that she can call them racists.
I mentioned this already, but Saria Rao complains that the Leftwing White Women just want to be told that they're not racist -- or that their racism is absolved after paying indulgences to Saira Rao. Rao actually refuses to do this, and tells her Leftwing White Women marks that they're racists and furthermore still racist after giving her money.
The Taliban's dictator is permitted a Twitter account-- but Donald Trump isn't.

posted by Ace at
05:15 PM
|
Access Comments