ę White-Grifter-Pretending-to-be-Black Shaun King Buys $842,000 House With Grifted Funds, Then Actually Fundraises for Additional Grift Money, Alleging That The Disclosure Of His Luxe Home Puts Him In Danger
|
Main
|
Quick Hits: True Conservatives and Ukrainian Patriots Edition Ľ
August 03, 2021
Former NSA John Ratcliffe: It Is Nearly a "Certainty" That China Created and (Accidentally) Released the Covid-19 Virus That Killed 4.5 Million People and Shut Down the Planet
Former National Security Advisor John D. Ratcliffe says he has not seen any evidence for a non-lab-based creation of covid-19.
He also says that China should forfeit its right to host the 2022 Olympic Games.
With the summer Olympics kicking off in Japan in the midst of the ongoing COVID-19 pandemic, this is a good time to remember that in a matter of just six months, another Olympic Games is scheduled to take place in Beijing, where the Chinese Communist Party (CCP) leadership coordinated -- and continues to perpetrate -- a massive cover up of the virus's origins and the circumstances surrounding its initial outbreak.

As Director of National Intelligence during much of the pandemic, I know this particularly well.

The 2022 Winter Games should go on. We should not punish hard-working athletes who have dedicated their lives to preparing for this moment. But the world -- and the International Olympic Committee (IOC) -- should not allow Beijing to enjoy the benefits of hosting a massive global event while rejecting transparency and refusing to allow inquiries into, much less answering for, the deaths of millions of people around the world.

Just last week, China rejected the World Health Organization's (WHO) plan to investigate the theory that the virus escaped from a Chinese laboratory in Wuhan. This was remarkable not only because of China's continued belligerence, but also because the WHO was once complicit, caving to the CCP's initial pressure to dismiss the lab leak theory and downplay the CCP's coverup. But now the facts are too hard for even the WHO -- and hopefully the IOC -- to ignore.

I had access to all of the U.S. government's most sensitive intelligence related to the pandemic. My informed opinion is that the lab leak theory isn't just a "possibility," at the very least it is more like a probability, if not very close to a certainty.

More than 18 months after the virus first leaked into the world, I still have not seen a single shred of scientific evidence or intelligence that the virus outbreak was a naturally occurring "spillover" that jumped from an animal to a human.
Yesterday I mentioned that the Republicans had issued a report noting that the Wuhan Institute of Pandemic Manufacture had paid for a renovation of its ventilation system in September 2019, which was right around the time that masses of people were spotted going to hospitals in Wuhan.
Jim Geraghty notes this additional fact: The Wuhan lab solicited the bids for a "Security Services procurement project" on the exact same day the Chinese deleted its database about the viruses it was performing gain-of-function research on.
Four days later, it announced a bid competition to renovate its ventilation system (which was only two years old) for $606 million.
Gee guys what do you think happened that required the Wuhan lab to gut and replace its ventilation system?!! And to delete its database of the virus research it was doing?!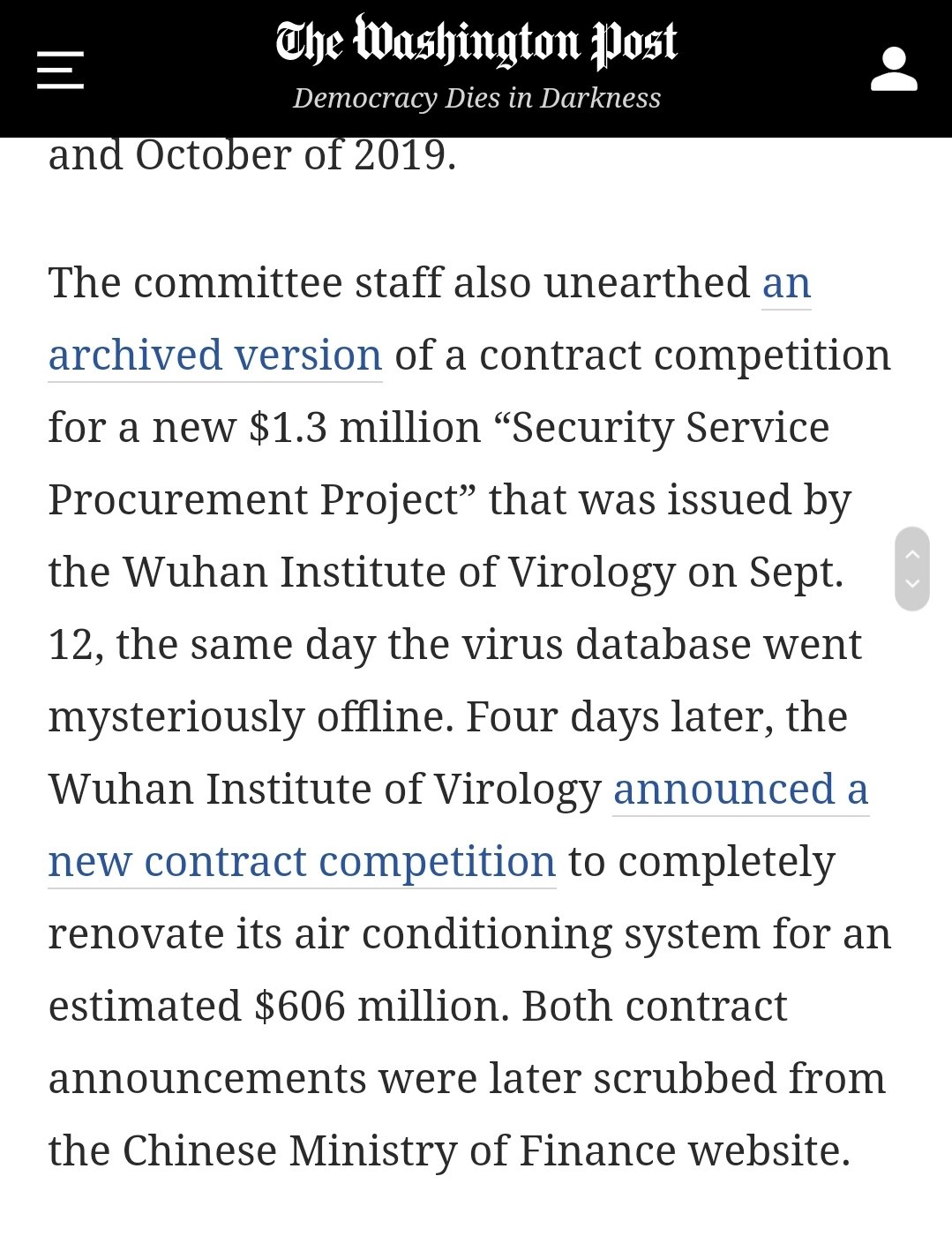 Joe Biden's top covid advisor admits that the cloth masks most people are wearing offer "very little" protection from covid, and also very little protection to other people from the mask-wearer's germs.
Cloth masks do not stop the virus from coming in, nor do they stop the virus from going out.
Fully vaccinated Dr. Guy P. Benson, Ph.D. tests positive for covid:
Lindsey Graham was also fully vaccinated, and he also came down with covid.
And he spent time this past weekend with other politicos.
Let's just hope they're all healthy! I sure wouldn't want the Senate to lack a quorum when they vote on the Human Infrastructure Bill our heroically competent Senate Republicans negotiated for us!!!
People make a big deal about vaccinated people testing positive for covid, as if this disproves the vaccines' effectiveness, but they shouldn't: Even when the vaccines were being tested, researchers announced that Pfizer and Moderna were only 91% and 94% effective (if I remember right) at fully stopping the virus.
What they always followed up with was the claim that the vaccines prevented something like 99% of all serious cases of covid-19.
I would imagine the idea is that the vaccines, having already taught the body how to make antibodies against covid-19, can produce those antibodies far faster -- no learning period required -- when infection comes. White blood cells don't have to go through the process of identifying the intruder virus and learning how to stop its ability to infect cells; they just have to begin producing the antibodies en masse with the coding already in their possession.
Thus, they provide high protection against any infection, and very high protection against serious infections.
But not complete protection.
But they were never claimed to provide that, ever.
So it's not any kind of huge point to make that vaccines which were sold as stopping most, but not all, covid infections turn out to stop most, but not all, covid infections.
That said, given Dr. Guy P. Benson, Ph.D.'s constant Panic Porn about covid, I have to ask him, as he whiningly asked the Trump Administration during a covid briefing around March/April 2020: But what about social distancing?
Dr. Benson was very, very critical of the Trump Administration for not pushing social distancing harder. They did mention it, but not with the breathless, choking fear that Dr. Guy P. Benson, Ph.D., determined was appropriate with his beakers and bunsen burners and Erlenmeyer Flasks.
So I have to ask Dr. Guy P. Benson, Ph.D., the same question: But what about social distancing, Doctor? Surely you were fully masked and maintaining a six-foot Zone of Impregnable Safety around yourself during this time of elevated panic about the Dread Delta Doom.
So how could you have gotten infected?
BUT WHAT ABOUT SOCIAL DISTANCING?!?!
I should allow that the Providence incident is closer to evidence that the vaccines are not offering >90% against any covid infection. I forget the numbers -- what was the claim, that 75% of the people in the super-spreader outbreak were vaccinated?
But most people there were probably vaccinated, and the fact that 75% of the infected in a sample were vaccinated is not the same thing as saying that 75% of the vaccinated were infected. Just like saying "almost all terrorists are Muslims" is not the same as saying "almost all Muslims are terrorists."
Still, it's that kind of evidence that would tend to establish that the vaccines do not work as advertised. You'd want to establish that the vaccines not only don't totally protect against any infection -- no one ever claimed they did -- but that they don't provide the high-but-not-complete protection they were said to provide.
Simply amplifying the fact that this guy here and and that guy there were vaccinated and got the 'rona doesn't prove the vaccines don't work as advertised. Again, the Pfizer and Moderna vaccine only claimed 91/94% total protection, and I think the J&J virus was only established to provide something like 75%/80% total protection. You'd want to establish not just that infection happens -- that was always admitted -- but that it happens at a higher rate than originally claimed.
The big selling point was always that they all reduced serious cases to a very small number, less than 1%.
As far as I know, it is now an established fact rather than a prediction or projection that the vaccines do in fact prevent 99% of all serious cases of covid. The numbers of vaccinated people being hospitalized for covid is very low, and the numbers of vaccinated people dying due to covid is even lower.
If people think the risks of vaccines that so far have only been found to be safe and effective by the reduced standards of the Emergency Use Authorization process exceed the risks on not getting them, that's understandable, though I disagree. This depends on how healthy and young you are, of course.
Personally, I think that if you're rapidly approaching age 29, as I am (and as I have been for quite some time now), and if you've got some fun stuff around your belly (as I still have, and always have had), my guess would be the risks of the vaccine itself are much lower than the risks of being unvaccinated against covid-19.
But individual decisions will of course vary.
But the "he's vaccinated, and he got 'rona" game relies on either an unwitting or willful ignorance of the high-but-imperfect level of protection of the vaccines as was always promised.
A couple of good reads on the reason for public skepticism about the vaccines:
In short, the supposed Expert Class has been lying to us not just about things like the effectiveness of masking for a long time, but about things like Russian Collusion for even longer.
This Twitter thread recounts the serial lies of The Regime, and says it's little wonder that people simply do not believe The Regime any longer.
Kurt Schlichter makes the same point in a recent column: Imagine If They Hadn't Lied to Us for 18 Months
Everybody wrap something around your face again even though they said you wouldn't need to if you got vaxxed! But they didn't lie -- no, apparently a bunch of people -- and not just those evil white nationalist-Christian-gun-Jesus-flag people -- are refusing to get the vaccine, and the reason is that they are moral defectives somehow in thrall to Tucker Carlson's Svengali-like powers of persuasion. You see, the people who won't get it are stupid people who hate science because they refuse to trust the people who have spent the last year-and-a-half lying to them.

I don't blame those folks a bit.

Let's try a thought experiment. Let's imagine our ruling class was not as utterly corrupt, dishonest, incompetent and downright stupid as it manifestly is. I know that's hard, but go with me.

This weird new virus appears and starts spreading. Instead of leveraging it to take down Trump, the Democrats appear with the Republican president and GOP leadership to announce they are working together to solve the problem. Imagine that instead of shaming people, first about wearing masks, then about not wearing masks, then about not wearing two masks, then no masks, then masks again, they went with transparency.

"We are not sure how much, if at all, masks work. We're running test trials to see and we'll tell you what we find as soon as we have the data. In the meantime, let's all wear them just in case." And then, when they ran the studies, they would tell us the answer.

Have you seen any studies about masks? We get a lot of that fascist gnome and others telling us to wear masks (after initially telling us they were useless -- remember that memory-holed narrative?) but where's the actual science?

See, you have to believe the science, and believe them when they tell you what it is yet won't show you. Obey!

But trust is earned, and these people act like it is their right to have our trust, that we owe them to take it on faith that whatever these people say is the Gospel. Except they are wrong all the time, and instead of owning up to it, they treat you like some sort of idiot for noticing. When you don't trust people who are perpetually wrong, that's not denying science. That is science---you are making observations, and drawing reasonable conclusions. In this case, the observation is that our establishment sucks, and that it can't be trusted.

How far would a little humility gone? Very far.
I had this thought a couple of weeks ago:
The Panic Karens are now all nattering about how they can finally instruct/bully/coerce everyone into obeying their latest "guidances."
They keep asking, "How do we convince these Stubborn Trumpkins?"
(They don't ask how they can convince the stubborn black and Hispanic vaccine-hesitant, because The Regime has determined only the white working class can be attacked.)
Here's a possible answer:
You can start to convince these stubborn people by admitting all of the errors you made -- and lies you told -- and cover-ups and gaslighting you engaged in to hide your lies -- and thereby start to re-earn public trust.
Now all of The Regime claims it cares only about helping people and keeping them well.
But notice their Noble Concern does not quite go far enough to compel them to admit error and lies.
No, no, no. They'd rather see another million or two die than admit having been wrong and having lied in the past.
So take their claims of being so very Concerned for that they are: Yet another series of Regime lies, casting their unrelenting, hateful, snarling attacks on the white working class and Trump voters generally as something benevolent and holy.


posted by Ace at
02:22 PM
|
Access Comments