« The Joke Congressional Investigation into the January 6th Protest Isn't Just Politics: It's Also Fear
|
Main
|
Food Thread: Pork-Crusted Pork...A Match Made In Heaven! »
August 01, 2021
First-World Problems...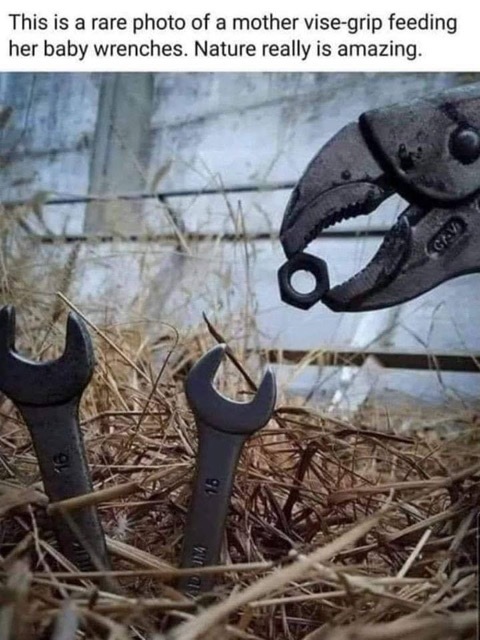 [No context...it's just a funny photo!]
We all love great tools, whether it is a fantastic pair of pliers or a kitchen knife that is just perfect for...whatever...or a 1911 that shoots better than you do.
But what about the bad ones? We all have tools sitting in our tool boxes or in the corner of our basements or in the back of the kitchen tool drawer that we use occasionally, but only under duress, and we can guarantee that at the end of the repair we will be irritated and cranky and ready to throw it in the lake.
What's mine? Well, I have a list of several, but high on the list is what is called a basin wrench...nothing more than a long shafted gripper for the nut underneath a faucet. But the damned thing is a piece of crap, and is woefully inadequate for the long-term task at hand, which is to remove the faucet of one of our sinks. And yes, it is the beautifully engineered but pathetically bad faucet made by Grohe (spit!).
And speaking of bathrooms: plungers! Hah. Their designs maybe have worked for toilets of yesteryear, but with new low-flow designs they simply don't seal against the toilet nearly well enough to create pressure. In fact, I think they were designed to create waves tall enough to splash out and soak the user.
One tool that I am amazed hasn't been perfected is the simple siphon. Moving fuel from a tank to a storage container, or in an emergency taking fuel from a car tank should be manageable by now, but I have yet to find one that is better than marginal. And yes, I know there are plenty of workarounds, but still, there should be an easy way!
So have at it...worst tools in your kit! Or kitchen.

posted by CBD at
02:00 PM
|
Access Comments