« The Morning Rant
|
Main
|
Insiders Say There Is Growing Tension Between Disney's Dueling Heads, Bob Iger and Bob Chapek
Scarlet Johanson Sues Disney Over Black Widow Payments, Confirming the Film is the MCU's First Bomb »
July 30, 2021
Biden: I Might Decide I Have the Power to Unilaterally Mandate Vaccines for the Entire Country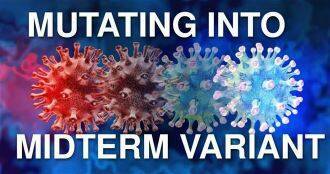 When Biden says he "[doesn't] know yet" whether he has the power to unilaterally demand every American undergo a medical procedure against their will, remember, Barack Obama denied he had the power to unilaterally impose DACA and DAPA on America, until he "discovered" he did have that power after all.
Also keep in mind that at one point Obama and Biden weren't sure if they had the power to mandate that every American buy health insurance.
Then they decided: "It's a tax." (Or wait: They said it wasn't a tax. John Roberts decided it was a tax to save them.)
But the left wouldn't link vaccination to taxes, would they?
Well, here's leftwing Twitter Addict (aren't they all?) Ian Millheiser proposing the John Roberts Option on increasing taxes on the unvaccinated:
@imillhiser

Congress should increase the income tax rate on taxpayers who are unvaccinated, and who have no legitimate religious or medical reason to be unvaccinated, to 99 percent.

This could be done through reconciliation.
I'm sure AllahPundit will be quoting this latest Deep Thought from his pals at Vox.
One single reporter in the White House Press Corps -- perhaps we should change that name; they're not the press, they're DNC Zealots -- asked the White House deputy press secretary how Biden can impose masks on Americans, while secretly -- no heads up to the local government! -- hiding covid-infected illegal immigrants in small towns in Texas.
She did not answer.
She did not have to answer -- no other member of the press pushed her on the question.
She then lied, saying the White House is basing its erratic decision on "science."
They listen to the teachers unions, which are seizing upon the Delta Variant as the next justification for spending another year in their pajamas as children stop learning.
Do you question the CDC?
You shouldn't, she says.
And of course: She admits that Acting President Ron Klain is considering imposing national lockdowns:
Some exemplary emoji-sarcasm there from coblogger emeritus John Ekdahl.
Note that they don't have any science to back these new impositions up: They merely have their guesses.
Weird how we need the gold standard of proof for anything The Regime doesn't like -- observational studies showing that HCQ helps people get over covid more quickly are no good; we need double-blind controlled tests for that -- but when The Regime wants to do something, incomplete information and observational studies are sufficient, and become "The Science."
There has never been a single double-blind controlled study proving a quarantine of the healthy was both effective and without deleterious side-effects (like depression), and never a single double-blind controlled study proving that masking is effective (and, again: without negative side effects), but The Regime continues pushing both of those on you.
But HCQ? Ivermectin?
No double-blind controlled studies! "The Science" does not like those measures!

American Federation of Teachers president Randi Weingarten says that she and her fellow government teachers will "try to" reopen in September.
Try to? We, the taxpayers and citizens, have already decided you uneducated goldbrickers are going the fuck back to work.
What is this "we'll try" shit?
American Federation of Teachers (AFT) President Randi Weingarten was ripped after hedging on whether or not U.S. schools would reopen in the fall during a Wednesday interview on MSNBC.

While having previously recommended that fully vaccinated individuals are not required to wear masks, the Centers for Disease Control and Prevention reversed guidance following the spread of the new Delta variant of the virus, announcing that vaccinated people should return to wearing masks indoors and suggesting universal masking in schools.

Weingarten called the guidance a "curveball," before suggesting that school reopenings this fall are not a done deal.

"So the bottom line is, we're going to keep kids safe, we're going to keep our members safe, we're going to try to open up schools, and we're going to move through this political battlefield," Weingarten said.
By try to, she means they're going to try to convince the CDC to play up the Delta Variant and adopt rules about masking children for the benefit of the fat, comorbid teachers, many of whom remain unvaccinated by choice and to the detriment of the actual children.
And remember: The AFT and Randi Weingarten have previously successfully pressured the CDC into making changes -- and pressured the CDC head ditz Rochelle Walensky specifically -- not based on "science" but based on pleasing a key Democrat constituency, as well as fellow goldbrickers in the sea of smug mediocrity called the civil service.
The American Federation of Teachers lobbied the Centers for Disease Control and Prevention on, and even suggested language for, the federal agency's school-reopening guidance released in February.

The powerful teachers union's full-court press preceded the federal agency putting the brakes on a full re-opening of in-person classrooms, emails between top CDC, AFT and White House officials show.

The emails were obtained through a Freedom of Information Act request by the conservative watchdog group Americans for Public Trust and provided to The Post.

The documents show a flurry of activity between CDC Director Dr. Rochelle Walensky, her top advisors and union officials -- with Biden brass being looped in at the White House -- in the days before the highly-anticipated Feb. 12 announcement on school-reopening guidelines.

"Thank you again for Friday's rich discussion about forthcoming CDC guidance and for your openness to the suggestions made by our president, Randi Weingarten, and the AFT," wrote AFT senior director for health issues Kelly Trautner in a Feb 1 email-- which described the union as the CDC's "thought partner."
And the "thoughts" they "partnered" on were: How do we continue to punish children while letting teachers stay home, like the white collar workers they're so envious of?
Emails show a call between Walensky and Weingarten -- the former boss of New York City's United Federation of Teachers -- was arranged for Feb 7.

The lobbying paid off. In at least two instances, language "suggestions" offered by the union were adopted nearly verbatim into the final text of the CDC document.

...

The AFT also demanded special remote work concessions for teachers "who have documented high-risk conditions or who are at increased risk for... COVID-19," and that similar arrangements should extend to "staff who have a household member" with similar risks. A lengthy provision for that made it into the text of the final guidance.
As I said: It was all about protecting -- or really, just coddling, indulging -- teachers at the expense of children.
And keep this in mind:
People know that children have suffered during this pandemic. They're not learning, and of course they're not growing socially, either.
We've done the worst thing we could possibly do them -- at a young, impressionable age, we've chained them in front of computers and taught them to live life through the glowing screen.
Some people want to measure how badly the teachers unions and their Democrat servants/patrons have harmed children.
Believe it or not -- there are some "stakeholders" who do not want us to measure the harm to children!
The NWEA (formerly the Northwest Evaluation Association) has published a new report on learning loss during the pandemic. The report is based on testing data for over 5 million elementary and junior high students collected by NWEA over the 2020-21 school year. The organization then compared those outcomes to similar data from 2019. Not surprisingly, what they found was that the last school year was bad for everyone but particularly for minority students.

[charts and quotes from the report omitted, hit the link]

This second chart shows the decline for each grade level by race. As you can see, everyone's lost ground in terms of their percentile but the declines are larger for Hispanic, Black and Native American students. This graph also shows that younger students in every cohort were more impacted than older ones.

The Times notes that a similar report by McKinsey, also published this week, found the same basic outcome. Elementary students in majority Black and Hispanic schools were six months behind where they should be in math while students in majority white schools were four months behind. Put another way, white students got about half a year's worth of learning out of the full year while minority students got more like a third of a year of learning.
A professor objected to the report. He doesn't want there to be any record that Democrat policies and Democrat pressure groups are harming minority kids:
But the NY Times spoke to one professor who objected on precisely these grounds, i.e. that any testing that frames the issue as minority students "falling behind" is not measuring the full spectrum of learning.
John Sexton links a previous report he wrote, in which a school board member and a Seattle-area teacher, each separately confronted with proof that their lockdowns were hurting all children but minority children especially, objected that it was racist to even try to measure this.
They know they're harming your children.
They just don't want you to know.
Remember, back in June, Randi Weingarten bemoaned the psychological harm that covid restrictions were having on children, and their rising depression.
Did I say children? I misspoke. No, this ugly cow ignored the fact that children's anxiety and depression were soaring and instead entirely and whined about the teachers having a case of the Mondays:
Finally: Dementia patient lashes out with prototypical anger to cover the fact that his memory is failing and he does not remember the event being discussed.

posted by Ace at
12:16 PM
|
Access Comments