« The Morning Report - 7/28/21
|
Main
|
The Morning Rant »
July 28, 2021
Mid-Morning Art Thread [Kris]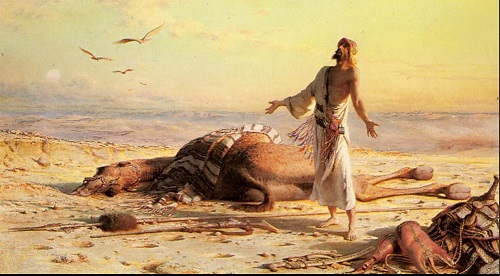 Shipwreck In The Desert
Carl Haag
What I really like about this work is how Haag reinterprets a very popular theme of Romanticism—the shipwreck--with another very popular theme in the movement—Orientalism. The work is still tragic, but it is the use of opposites that make this painting work.
Generally, art depicting shipwrecks are swirls of color, line, and form. The compositions are dramatic and chaotic. The palettes are cold. None of that is present here, yet the mood remains the same—it oozes distress and dread. The actual ship of the shipwreck is replaced by metaphor—the camel, the ship of the desert. It had met with some catastrophe and died. Its "sailor" is marooned, not on a deserted island, but in the middle of an actual desert. Vultures circle.
Like the horizon of a blue/black ocean blends into the sky, so does this here. The color of the hot sky is similar to the yellow sand. The blurry, faded background implies the hot thermals rising from the land that create a sense of intense heat. The yellow palette reflects the heat of the sun and intensifies the aridness. The land is desolate and the man is stranded alone. This man is forced to try to make for civilization alone, carrying any provisions he can salvage himself. The going will be hard and slow, and it seems he will have little cover from the elements. The odds are not very good for this man, and he knows it. His pose is that of pleading for a miracle.
The landscape is flat and vast. Spears, camel, landscape, clouds… all form strict horizontals. The man is the only vertical element in this work, and just like in any flat landscape, the vertical element will attract attention. Since his color matches his surroundings, his verticality allows him to be seen and dominate the painting. The viewer is meant to focus on him and his condition. The horizontals are also light in tone and light in weight. The painting floats. The solid vertical of the man and the intense drama anchor the piece.

His pose also mimics the vultures. The hopelessness of his situation is emphasized by the birds. In your mind's eye, remove them. Without them, while still in a dire situation, his situation is more indefinite. Now reintroduce the vultures. Their presence, dark against a light sky is unavoidable. They weigh the work down and dampen the mood considerably. I find the imagery interesting here. Two of the greatest universal conflicts and opposites are represented—Man versus Nature, and Life versus Death.

posted by Open Blogger at
09:30 AM
|
Access Comments