« Daily Tech News 28 July 2021
|
Main
|
Mid-Morning Art Thread [Kris] »
July 28, 2021
The Morning Report - 7/28/21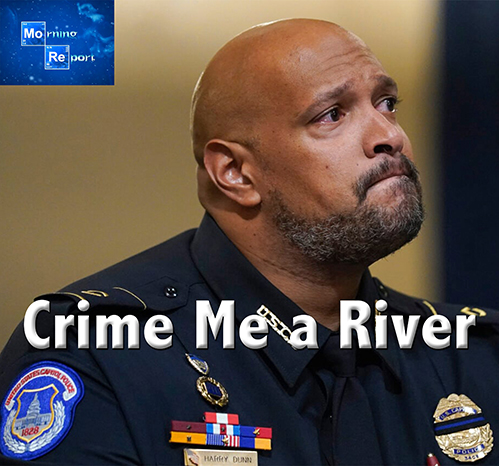 Good morning, kids. Wednesday and I guess the theme of "the beatings will continue until morale improves" marches on. Is yesterday's revolting episode of what can only be described as a Soviet-style show trial really all that surprising, given the equally revolting episodes of two sham-peachment trials, the railroading of Derek Chauvin and Kyle Rittenhouse, a stolen 2020 election, the weaponization of intelligence and law enforcement in the 2016 election, the shredding of our liberty in the wake of the Chinese Lung AIDS-driven fear campaign, and of course the imprisonment of scores of innocent Americans and the cold-blooded assassination of Ashli Babbitt by a DC cop who remains shielded and faces no recriminations?
Anger over the crimes and abuses that the Left have wrought is one thing. But what gets me to the verge of having an aneurysm the size of a cantaloupe is how these criminals drape themselves in the mantle of virtue, morality and righteousness while projecting their damnable guilt on all of us. But the thing of it is, when a truly worthless, cheap, crooked lowlife like Chuck Schumer puts his face in front of a microphone and pondered "How could 74 million people vote for such a despicable human being as Donald Trump? I don't care if you're a liberal or a conservative, Democrat or Republican, he is a vile man" he's not just yammering to hear the sound of his own voice.
Don't let the nasal, low-class Flatbush accent fool you. He just blood-libeled 74 million Americans as "despicable," "racist" and "vile." Now, put his words in context with what is being taught about what is still the majority in this country - whites and conservatives - and it should besides raising your BP raise an eyebrow. Throw in the words of execrable thugs like General Vanilli Milley and now the official policy of the US military to purge the ranks of "racists" and "white supremacists" - meaning anyone and everyone who defends the US Constitution and even looks funny at the Maoists who control the country - and we have got ourselves a situation.
Before I go any further, I have to get something straight, and this is aimed unfortunately at pundits and pols that are on our side. Stop referring to the thousands of people who attended the January 6th rally - even those who actually entered the Capitol building - as "rioters." At worst, legitimate Trump supporters who made the mistake of entering the building were at worst guilty of misdemeanor trespassing.
Whatever rioting and mayhem that occurred was solely the fault of PLANTED ANTIFA/BLM OPERATIVES dressed in MAGA attire, working at the behest of the Democrat Party and with the knowledge and even assistance of the Capitol Police up to and including its chief and DC mayor Muriel Bowser, and quite possibly Schumer and Pelosi as well.
Yes, what happened on January 6th, 2021, a bookend to the events of the night of November 3rd/4th, 2020 and, in fact since about 1913, was indeed an insurrection. Except we know who the insurrectionists were, and they succeeded. Now, it's all about cementing their hold on power and making it permanent. And absolute. Yet as they tighten the screws, the more we protest. Which causes them to ratchet things even tighter.
It should be noted that while this is going on, the Cuban and Iranian people are still seething with rage and, while the media can't and more likely won't show it, the same rage against tyranny is happening even in China. Does that have a bearing on things right here? I think it does.
Some sub-literate propagandist at The New York Times deleted a Tweet in which she called Trump supporters "enemies of the state.' I'll say this; considering who and what is in power, how they attained it and the nature of this new "State," I'm proud to wear that appellation as a badge of honor -- but not publicly. Sigh.
We are sick of the lies, the depravity, the in-your-face thuggery of politicians, the weaponization of our own children against us, the destruction of our livelihoods, the erasure of our history and culture and on and on and on. They won't let up, because now they can't. We've seen this picture before and the more we protest, and the more everything they do fails and/or causes outrage, the more. . . the beatings will continue until morale improves.


ABOVE THE FOLD, BREAKING, NOTEWORTHY 


"On May 25, 2021, the U.S. Senate voted for an amendment submitted by Senator Rand Paul banning all funding for gain-of-function research in China -- a crucial step in the right direction. We need FBI and congressional investigations of each person involved, starting with Dr. Fauci but not ending with him. We need to know who betrayed our country."
The Great Betrayal

"Every single day, more and more Americans are finding their lives held hostage by the ideology of an elite that has the privilege of avoiding nearly all consequences for its own actions."
A Seven-Day Journey Through the Revolt Against the American People

"So, can you tell me why Coca Cola doesn't have a say in whether it's sponsors the genocide Olympics next year, but it does have a say and how the state of Georgia runs its election laws?. . . "So, you're sponsoring the genocide Olympics, you are spending millions of dollars to sponsor the genocide Olympics. Yet you will not opine on any matter about it, that you will stick your nose in the Georgia legislature's election reform laws. Can you explain to me the contrast?"
WATCH: Tom Cotton Shreds Coca-Cola In Explosive Hearing For Refusing To Condemn Communist China
CIVIL WAR 2.0: LEFTIST PERSECUTIONS, CAPITOL HILL BLACK WEDNESDAY PROTEST AFTERMATH, DEMOCRAT PUTSCH, AMERICAN DISSOLUTION
NOTE: The opinions expressed in some links may or may not reflect my own. I include them because of their relevance to the discussion of a particular issue.
ALSO: The Morning Report is cross-posted at CutJibNewsletter.com if you want to continue the conversation all day.
Follow us on Twitter: @CutJibNews
Follow us on Instagram:@Cutjibnewsletter

posted by J.J. Sefton at
07:31 AM
|
Access Comments