« Food Thread: It's A Real Rib-Tickler!
|
Main
|
Sunday Overnight Open Thread (7/25/21) »
July 25, 2021
Gun Thread: Post NoVaMoMe Discussion and Analysis Edition!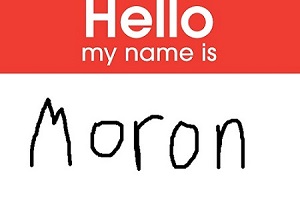 Howdy, Ya'll! Welcome to the wondrously fabulous Gun Thread! As always, I want to thank all of our regulars for being here week in and week out, and also give a bigly welcome to any newcomers who may be joining us tonight. Howdy and thank you for stopping by! I hope you find our conversation on the subject of guns 'n shooting both enjoyable and informative. You are always welcome to lurk in the shadows of shame, but I'd like to invite you to jump into the conversation, say howdy, and tell us what kind of shooting you like to do!
So! Another NoVaMoMe is in the record books. Oh, we laughed, we cried, we put out fires and we raised bail money. A rip-roarin' good time was had by all, I think! I would like to invite those who attended to share their experiences here tonight, without disclosing the location please, in the hopes it will encourage others to join us next year! I want give thanks to the greatest co-host in the history of the universe, bluebell, for being such a good friend and for doing all of the work. She's the best!
With that, let's get the the gun stuff below, shall we?
******
Correction
First, allow me to correct something I wrote last week regarding the size of the NRA Board.
I personally think the board, at 25 members, is too large and creates too much opportunity for factions to develop among the members.
Well I had that number wrong! I thought it seemed too low based on what I recalled, but honestly just didn't check. Fortunately, our pal iron308 came to the rescue!
The NRA BoD has 75 members, 25 of which are elected each year. Posted by: iron308 at July 18, 2021 07:59 PM (6D9ZD)
Well if 25 is too many, then 75 is approximately three times too many! Thanks iron308!
Follow-up
We've had a great discussion the last two weeks on what to say and do after being involved in a self-defense shooting. Here's a short video featuring Massad Ayoub, a recognized expert on the subject.
Looks like Mr. Ayoub validates many of the same steps we were discussing, and I also received a great suggestion by email from our pal pmacb
One item to add to the post defensive shooting "to do" list is ask for an ambulance and a ride to the nearest hospital.

Here's my rationale. You've just gone from 0-100 in the blink of an eye and done something that, while legally justified, has some social and legal risks to it. Your adrenaline is going to be surging and you may even be hurt without noticing it. Give the responding cops a one sentence statement like, "he/she/it/xe/xhe threatened my life and I was forced to protect myself";, then say "I don't feel so good, I need to go to the hospital".

Officer Snuffy does not want another casualty in his crime scene (especially the prime witness) so you're going to get EMS care and a ride to the ER ASAP. Get your heart rate and blood pressure checked and then let the ER nurses run interference for you. Use that time and privacy to 1) get your head together, 2) call your loved ones and tell them you're okay, and 3) call your attorney. After all that, with your attorney either present or on the phone, talk to the cops (maybe).

I'm recently retired from 30+ years of policing, including 15 years in command ranks. This is basically the advice we had built into our policy for officer involved shootings. It protects the health of the good guy while getting the police a coherent statement of what happened in a fairly timely fashion.
I think this is an excellent suggestion! Thank you very much pmacb, and welcome to the Gun Thread!
******
Next we have a sort of related topic, what steps to take during a traffic stop when you are carrying concealed or otherwise.
I'm certain we'll have two camps on whether or not to disclose you're armed when interacting with the police. Keep in mind, informing the police is a requirement in many states. I have my thoughts on the matter, but what are yours?
And as long as we're talking about guns and cars, how about a video on traveling with your firearm?
******
What's the ammo situation where you are?
******
By popular demand, we have a short video of WeaselDog and Fun Size Joe greeting your 'ol pal Weasel when I come home from work. Where else can you find such enthusiasm for simply showing up?
******
Danger! Math!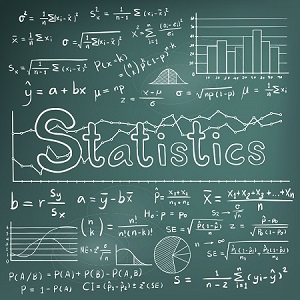 I am a big believer in taking measurements and recording observations at the range. Here's an article from Load Data on making sense of the data you collect. Carefully taken measurements of muzzle velocity, for example, can go a long way in accurizing a load.
Anyone else doing this?
******
Here's a good article on ammunition over-penetration from Pew Pew Tactical.
It's an important topic whether you're shooting inside the house, or outside. [h/t redc1c4]
******
Our pal Dr. Fred send in a pic of a friend's firearm.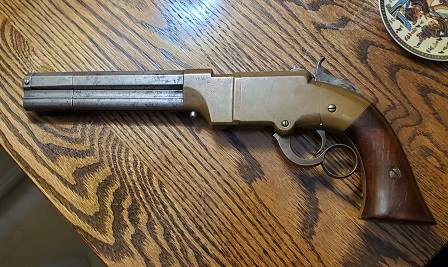 Ever heard of a Vulcan Repeating Pistol? Chambered in 44-40, the inventor was apparently a partner of Henry, the maker of rifles.
I had not heard of it before now, but it looks familiar for some reason. Thanks Dr. Fred! Anyone else familiar with this firearm?
******
NoVaMoMe 2021!!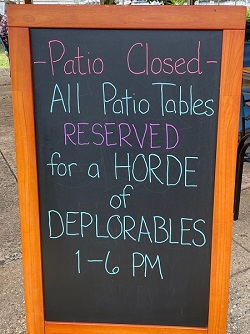 The social and cultural event of the season, NoVaMoMe 2021 went off without a hitch yesterday afternoon and into the evening. The weather cooperated bigly, and mostly everyone who said they would make it, did. We are in the process of arranging bail for the last few revelers and I am happy to report the rescue squad only had to respond once. By any measure, it was a huge success! Please take an opportunity to share your thoughts on your NoVaMoMe experience here tonight. One reminder though; please do not disclose or otherwise make reference to this year's venue! It worked so well, we'd like to use the same place again and will not be able to do so if everyone blabs about where it was. Thank you for understanding, and with that, let's get to the nitty-gritty.
First up, the thank yous!
There is no way we could have done it without you all, so Thank You if you were were able to attend. We're still sorting things out, but I can happily report we were able to add a chunk of change to the bank account for our charities, Toys-for-Tots and Fisher House.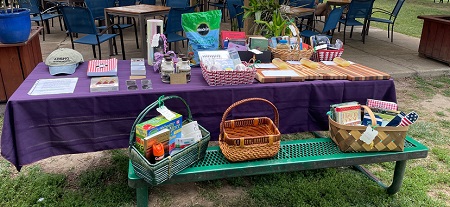 Valuable Prizes on Table
Next, a few of you went way above and beyond with contributions to the event. I am almost certain to miss a few, so my apologies in advance if I do. Please speak up in the comments if I have missed anyone. Anyhoo, a big thanks to Ben Had for buying everyone's first raffle ticket, Jewells45 for donating bracelets and charms, blake for donating three handmade kitchen cutting boards, Muad'dib for donating several containers of homemade maple syrup and also providing the NOOD mugs, Mattski a Horde author for contributing several of his books, Ladyl for contributing a bunch of very nice AoSHQ ball caps, and finally Sharon(willow's apprentice) for a Glock t-shirt, all in addition to the fabulous blog themed gift baskets created by none other than bluebell. Again, if I am forgetting anyone, please forgive me!
Proving once again it takes a Village of Morons to make a MoMe, we'd like to thank our sign-in table volunteers; RedMindBlueState, Boone, Jinx the Cat, Hrothgar, Moonbeam, IrishEi, OpenChannel D, WeaselWoman and McGyver, and also our raffle prize table volunteers; Iris, sharon, Liberty Defender Ladyl, NoLongerintheBellyoftheBeast, Babalu, Ed L. ThiccBoi, rtw366 and Just Wondering. We absolutely could not have done this without you!
Our caterer for the evening did an outstanding job, and the site manager Bruce really made the whole thing look easy. From start to finish it was an absolute pleasure to work with Bruce and his team. We cannot thank you enough!
Also, a big thank you to Chris, with the local Stella Artois beer distributor for providing everyone with a custom engraved beer glass, and a big, big, big thank you to Dennis Wayland for the evening's live music. Dennis is a great guy and has a lot of talent! Seriously, thanks again, Dennis. Very well done!
As many of you know, all of the evening's food was from recipes in the The Deplorable Gourmet and everyone wants to know whose recipes were included, so here 'tis. The numeric reference is to the recipe number in TDG.
Drinks
#3 Metropolitan - Diogenes
#9 Bajan Rum Punch - runner
Appetizers
#177 - Jolo's Salsa - Jolo
#178 - Salsa Negra - Tammy al-Thor
#213 - Academy Award Meatballs - Dr. Alice
#219 - Chicken Bacon Bites - Krebs v. Carnot: Epic Battle of the Cycling Stars

Buffet
#254 - Utica Greens - WhatWhatWhat?
#301 - Mazza's Salad - Ladyl
#311 - Grilled Chicken Cilantro - CBD*
#346 - Cowboy Steak with Red-Eye Gravy - McGyver
#436 - Baked Orange-Ginger Mahi-Mahi - Manny
#277 - Roasted Vegetable Mix - Dr. Alice
#255 - Unbelievably Easy Rice Pilaf - Duke Lowell

Dessert
#59 - Easiest Cake - Nora
#73 - Navaho Peach - Rustic Broad
#129 - Apple Blackberry Cobbler - tms
*currently pending investigation by the FDA
Here again, the caterer did an amazing job and the food was all delicious!
Last but not least, the winner of the Dream Date with Weasel? None other than our pal Thicc Boi! Congratulations, Thicc Boi, and I look forward to shooting with you for a day down at the farm!
Again, please feel free to share your thought on the NoVaMoMe 2021 in the comments below. We're already making plans for next year and hope that you can join us!
******
Link-O-Rama
I'm really very seriously not kidding around anymore. Buy Ammo
AmmoSeek - online ammo search tool
GunBot - online ammo search tool
SG Ammo
Palmetto State Armory
Georgia Arms
AmmoMan
Target Sports USA
Bud's Gun Shop
***Mail Bag***
One of the ette's brought this gentleman to the NoVaMoMe, but I'm not saying who!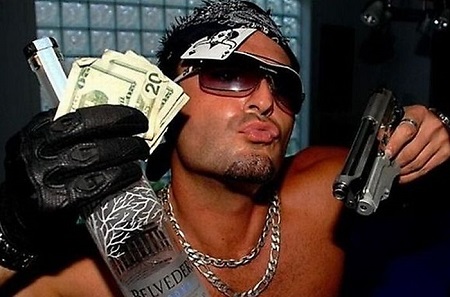 ******
Please note the new and improved protonmail account gunthread at protonmail dot com. An informal Gun Thread archive can be found HERE. Future expansion plans are in the works for the site Weasel Gun Thread. If you have a question you would like to ask Gun Thread Staff offline, just send us a note and we'll do our best to answer. If you care to share the story of your favorite firearm, send a picture with your nic and tell us what you sadly lost in the tragic canoe accident. If you would like to remain completely anonymous, just say so. Lurkers are always welcome!
That's it for this week - have you been to the range?


posted by Weasel at
07:00 PM
|
Access Comments