« First-World Problems...
|
Main
|
Gun Thread: Post NoVaMoMe Discussion and Analysis Edition! »
July 25, 2021
Food Thread: It's A Real Rib-Tickler!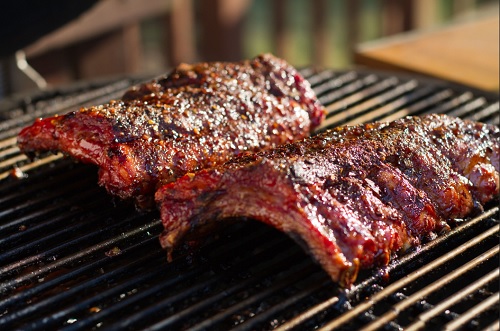 Baby Backs were always the red-headed stepchild in my ribs world. The classic, and maybe still the champ is a St. Louis trimmed pork rib rack, followed by the difficult-to-find beef rib*, and then lamb ribs. Baby back ribs never appealed to me because the ones I have had were small and not too meaty compared to the sparerib.
But I had some last night at a friend's house, and they were bigger than I expected, and much meatier. It was a thoroughly enjoyable experience, and that has nothing to do with the two Hendricks martinis I had before dinner.
This shouldn't surprise me, as the pork industry has upped its game tremendously in all other respects, so why not expect baby backs to be better?
Well, because I am a dolt. It never occurred to me.
*Finding beef ribs is easy. Finding beef ribs with enough meat on them to enjoy is another thing entirely.
******
Just because you
can
do something doesn't mean you
should!
Van Leeuwen and Kraft debut mac and cheese-flavored ice cream
It sounds disgusting, and whatever pleasant flavors they have happened upon is no doubt mostly the result of the ice cream portion of the concoction. Why people insist upon screwing up perfectly good foods is beyond me. Ice cream is good! Mac & Cheese is good! Why mix them?
Hell...peanut butter is good. Mushrooms are good. Why not make mushroom flavored peanut butter?
THAT'S A JOKE! DON'T DO IT!
[Hat tip: red1c4. Of course it should be Flipping the bird to redc1c4 for pointing out this horror-show]

******
When I see anything tout itself as the "ultimate" guide to anything, I know that I will eventually stand up, angrily throw down my keyboard and stomp out of the room, muttering vulgarities and questioning the honor of the writer's family. So read
The Ultimate Guide To Southern Cocktails
with suspicion, or at least the jaded eye of an enlightened amateur drinker, who knows better than to listen to anything other than his own palate.
Milk Punch? Dark 'n Stormy? Really? Yuck. But it is fun to read, with a bunch of links and a map of the signature drink of every southern state...at least according to the writer!

******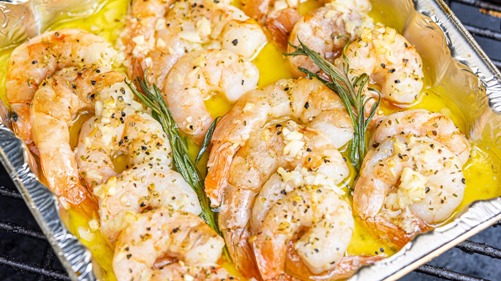 Smoked shrimp! What's not to like? Well, when they taste like smoked rubber bands...that's what. So this is one of the those times were the understandable temperature obsession of Thermoworks is sort of important. I'm not sure that checking the temperature of every single shrimp in the pan is necessary, but I think it is a good idea to use a probe or check the temperature with an instant-read thermometer. Buttery Smoked Shrimp sure does sound good, and it doesn't have to be done in a smoker. A covered grill will work if you have a smoker insert or even a piece of hickory to toss on the burner. The shrimp and butter will pick up plenty of smoke flavor very quickly, so be careful not to overwhelm the delicate flavors with smoke!

******
I sometimes get this at my favorite Italian-American restaurant, and it never disappoints. Chicken, eggplant, mozzarella and prosciutto. Yeah...there's a real head scratcher. No idea why it would taste good.
Chicken Sorrentino is also pretty easy to make, and the only modification to this recipe I would make is to slice the eggplant in advance, then salt it and blot it. That minimizes the bitterness that can be a problem with eggplant.

******
I'm no longer linking to "Epicurious" because they insisted on shoving their stupid corporate SJW crap in my face. But MisHUm keeps sending me interesting recipes, and this one, a
Frozen Moscow Mule
, sounds quite good. It uses fresh ginger instead of ginger beer, and has a good technique for making a frozen drink that isn't either too watery or too frozen.
It caught my eye because I just made another batch of honey-ginger simple syrup for my world famous (and stolen from The Palomar in London) Bumblee cocktail and the house smells of ginger!
[Hat Tip: Misanthropic Humanitarian]

******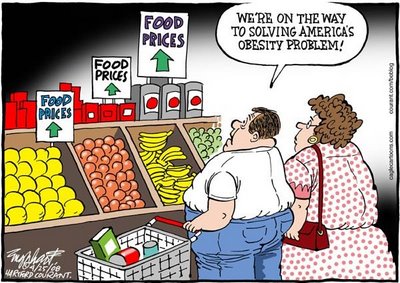 Yes, that's sort of funny, in a very unfunny way. Only the bald-faced liars inside the Beltway could pretend that food inflation isn't significant. And none of that 3%-5%. I have seen 50% increases in some foods, and the typical summer decreases for seasonal fruits and vegetables have been smaller than I recall in previous years.

******
Avocados sans thumbprints, beef short ribs that have meat on them (not the stupid little sliver of bone they sneak into the packages), carrots that don't taste like stalky chalk, spare bottles of Van Winkle Special Reserve 12 Year Old Bourbon, an herb garden that actually produces herbs, well-marbled NY strip steaks and elk backstrap to:
cbd dot aoshq at gmail dot com.
And don't think that you are off the hook with maple syrup and French Toast: I'm watching you...all of you! And I am watching you perverts who shake Manhattans and keeping a list for the Burning Times.

posted by CBD at
04:00 PM
|
Access Comments