« EMT 7/18/21
|
Main
|
Buckhead Rhymes With F&%*head GOPe »
July 18, 2021
Sunday Morning Book Thread 07-18-2021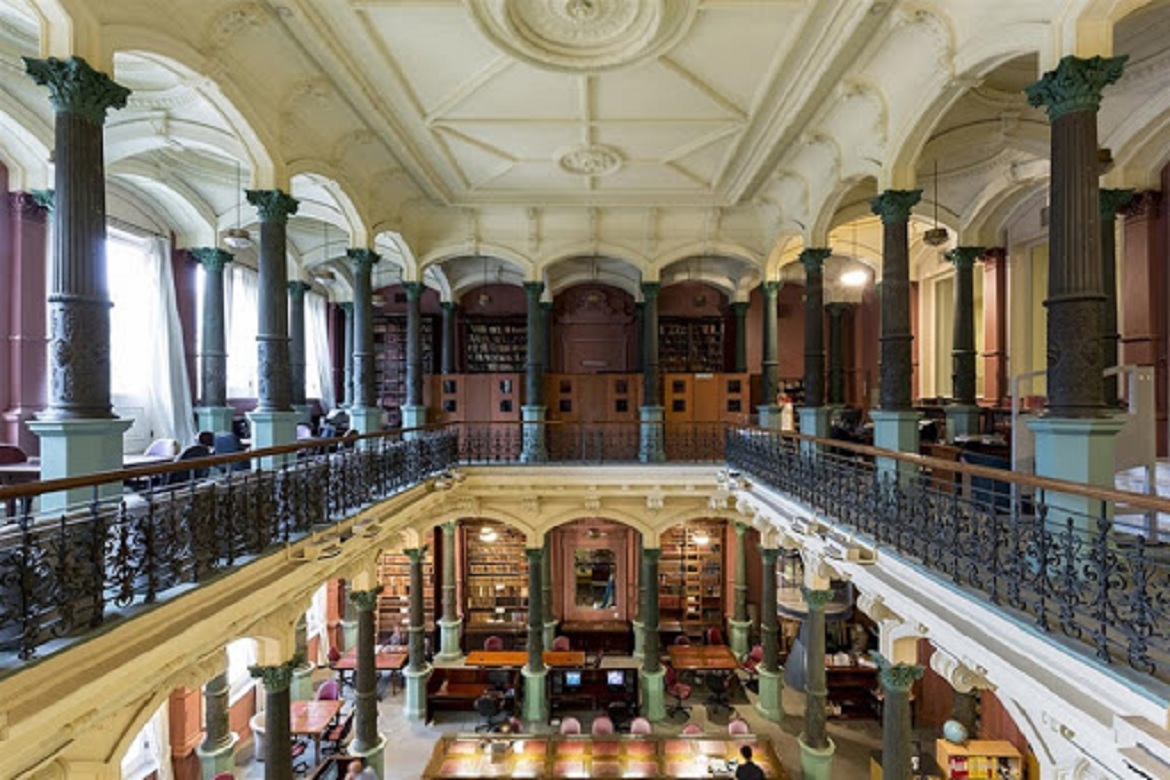 National Library, Buenos Aires, Argentina

Good morning to all you 'rons, 'ettes, lurkers, and lurkettes, wine moms, frat bros, crétins sans pantalon (who are technically breaking the rules). Welcome once again to the stately, prestigious, internationally acclaimed and high-class Sunday Morning Book Thread, a weekly compendium of reviews, observations, snark, witty repartee, hilarious bon mots, and a continuing conversation on books, reading, spending way too much money on books, writing books, and publishing books by escaped oafs and oafettes who follow words with their fingers and whose lips move as they read. Unlike other AoSHQ comment threads, the Sunday Morning Book Thread is so hoity-toity, pants are required. Even if it's these pants, of which I think Mrs. Muse owns several pair. (just kidding!)


Pic Note:
I'm actually not sure which library this is. I found one photo that labeled it the National Library of Teachers, but there is no other information, and it came up in the search results for National Library. External photos of the Argentine National Library show a modern, almost Brutalist, architecture, not classical like this one appears to be, so I don't really know.


It Pays To Increase Your Word Power®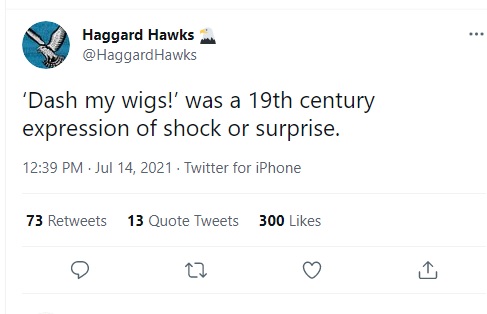 I hope ace reads this. He needs to include this in the HQ Style Guide right alongside 'the deuce you say' which should be used whenever you report things such as: a windowless van registered to The Lincoln Project was found parked next to a primary school, or Jen Rubin joins the Communist Party.
Dash my wigs!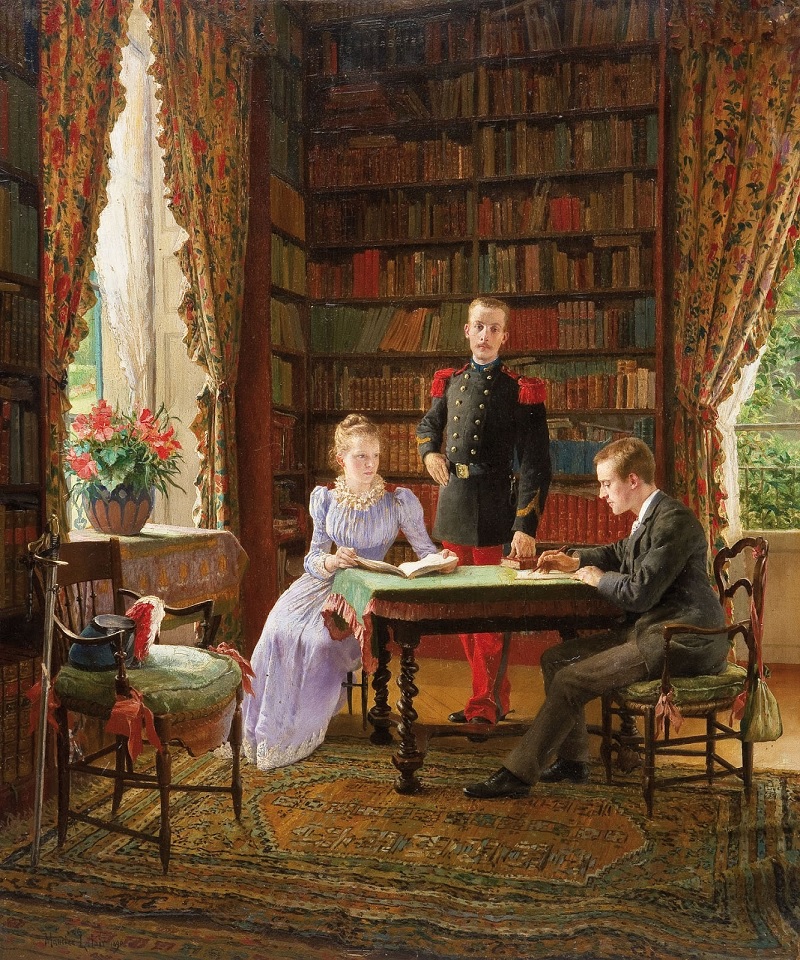 In the Library (1890), Maurice Leloir (1853–1940)


The Undeclared War on Small Business
During 2020, the stock market surged to new highs, despite the economic collapse. Politicians and other idiots used this to gaslight the rest of us that there really wasn't any economic collapse.
But Carol Roth, author of The War on Small Business: How the Government Used the Pandemic to Crush the Backbone of America, knows better:
During the last financial crisis, Washington bailed out large banks, saying they were "too big to fail." When the federal government finally pushed out the CARES Act in 2020, it clearly favored the wealthy and well-connected, showing that small businesses were too small to matter. People across the political spectrum constantly complain about the tyranny of big business, and they're not wrong. However, too many think government is the solution. In reality, government is the problem.

In The War on Small Business, entrepreneur Carol Roth unveils the many abuses of power inflicted on small businesses during the COVID-19 pandemic. Small business owners were thrown in jail for trying to make a living. Individual rights were discarded.

This is the most underreported story coming out of the pandemic. The government chose winners and losers, who would thrive and who would fight to survive, based on not data or science, but based on clout and connections. This enabled the government, with the aid of the Federal Reserve, to oversee the largest wealth transfer in history from Main Street to Wall Street. The issues started long ago and continue today with a highly tilted playing field that favors those "in the club" to the detriment of the average Americans.
So Big Government did what it always does -- protect the rich and powerful. And with Biden and the Democrats in charge, it's only going to get worse.
The Kindle edition is a somewhat spendy $14.99.


Who Dis: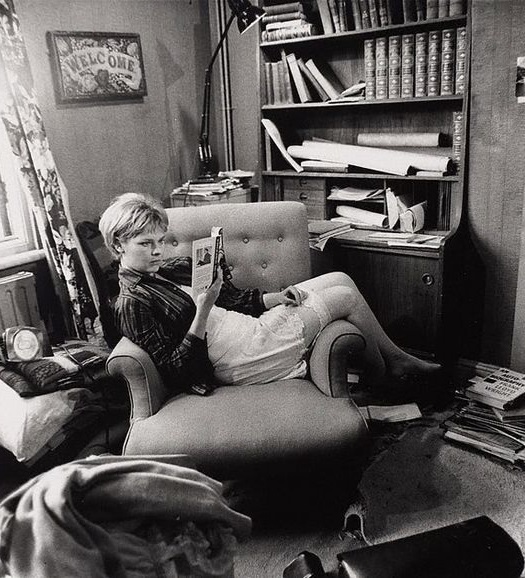 (
Last week's 'who dis'
was A-list Hollywood hottie Rita Hayworth.


Books Of Interest
These books aren't necessarily "recommended", as I know nothing about them or the authors. They're just books that came across my path at random and strike me (ow!) as books that at least some of you morons might enjoy. Caveat emptor and all that:
Merona Grant and the Lost Tomb of Golgotha, which looks like an Indiana Jones/National Treasure crossover:
When presented with an opportunity for adventure and, more importantly, cash, Merona takes up the offer to follow a coded map and hunt down Judas Iscariot's infamous thirty pieces of silver. The only caveat? Babysitting the expedition's financier: an elderly, thrill-seeking aristocrat with a propensity for attracting trouble.

A ragtag team is assembled, complete with a loyal dog, a stalwart pilot, a poised linguist, and a fusspot physician. But when a hail of bullets threatens their quest before departure, it becomes blindingly clear that ancient puzzles and booby-traps will be the least of their worries, as cultists, curses, and undead hordes begin to rear their ugly heads.

Why can't quests for ancient treasure ever just be simple?
Globetrotting!
Adventures full of action!
Puzzles!
witty banter!
...and
A touch of the supernatural!
400+ pages!
The Kindle edition is $4.00.
___________
Now, how about a James Bond parody? Or, more precisely, James Bond meets Avengers meets Knives Out?
The main character of Jove Brand Is Near Death is a failed actor in a failed superspy movie franchise whose past comes back to bite him hard:
Eighteen years ago, Ken Allen played the famous fictional superspy Jove Brand in Near Death, a movie so bad it was never meant to be seen. Since then, Ken has faded into cult obscurity, but when his celebrated successor is killed in the same ghastly fashion as the villain in Near Death, Ken is cast as the prime suspect. The only way for Ken to clear his name is to go full method and once again play the part of Jove Brand, except this time it's for real. As murder surrounds him, the secrets behind Near Death Ken fought to keep buried for eighteen years begin to surface.
$7.99 on Kindle.
___________
Let me introduce you to Adam Lawson's hard-boiled detective series, Cigars and Legs. The first book is The Boots are Red:
"One thing about Kate, though, was that he hated everyone just the same."

Ron Cavanaugh flew a fighter over Korea, at one point taking shrapnel, and then spent time recovering in England. He thought coming home, a home he left in anger before joining the Air Force, would be a break from the violence. Until he found out that his mentor, a grizzled, cynical old gumshoe named Kate Nass, had been murdered. There were no answers forthcoming from the residents of the small town, or their police. Ron began looking for answers on his own.
Naturally, it doesn't go as planned.
What he discovered was more than he expected. A criminal conspiracy, running deep and with deeper pockets. Drugs, weapons, and sex -- all for sale, all under the table, and all at the expense of the innocent citizens of Escagoula Point. And all protected from on high.
You mean criminals do criminal things and officials who should be prosecuting them actually protect and cover for them? Well, dash my wigs, I'm glad nothing like that ever happens in real life!
The first book in the Cigars and Legs series, The Boots Are Red introduces Ron, his companions, his city, and his enemies. Set in the 1950s, Ron has to deal with the limitations of technology as he pursues answers, and he has to deal with a police force governed by a man distrustful of him and with no interest in solving the Kate Nass Murder.
And that's just the first installment. The sequel, The Boots Come Off, is also available, both $4.99 each. Or, if you want a real deal, you can take the plunge and get the first 4 volumes in a combined set, Boots, Dames, and Skies: The Red, White, and Blue Collection, for only $7.99. Over 900 pages of gritty, hard-boiled action. And dames.
___________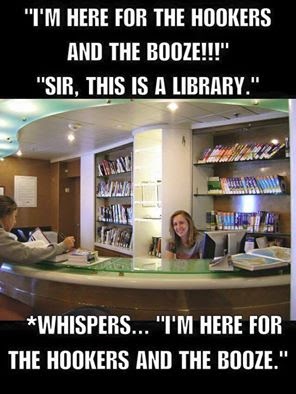 Books By Morons
Received an e-mail from 'ette author Sabrina Chase, who tells me:
My latest fantasy, Sky Tribe, is now live at all fine electronic book establishments. It is book 3 in the Guardian's Compact series.
Ms. Chase asks, "Ever wonder what it would be like if you had to save the world, but you don't have superpowers, or magic, or even money? And were expected to attend classes at the same time?"
Jens-Peter Oberacker thought the secret research facility for magical craft would be peaceful and quiet--the perfect place to finish his engineering research paper. He didn't expect a violent gang of thieves to have their eyes on the ships, or having to escape to save his life. Worse yet, he's now being blamed for the entire thing!

Jens-Peter [is] desperate to find someone, anyone, who can clear his name. And let him finish his paper...
Sabrina assures me that it's suitable for "all low-budget adventurers and fanatical readers, such as the stalwart members of the Book Thread!"
Available at Amazon for $3.99 and other e-book sellers.
___________
Patrick Chiles (author of the indie science fiction novels Perigee and Farside) has just published the novella Battlespace, which is a Cold War technothriller set in Earth orbit. It's the backstory of Vladimir Vaschenko, the cosmonaut at the center of the mystery in the novel Frozen Orbit, published last year.
Long before he commanded the Arkangel on its mission to the outer planets, Vladimir Vaschenko was a new cosmonaut defending his country from the high ground of space.

At the height of the Cold War, the United States and Soviet Union were in a race not only to the Moon but for military domination of Earth orbit. Through intricate dances of deception and evasion, with astronauts and cosmonauts doggedly angling for advantages over each other, two top-secret spacecraft clash high above Earth. In a battle that neither side would ever acknowledge, the young Lieutenant Vaschenko and an American adversary known as "Cowboy" would be tested in ways neither man could expect.
The Kindle edition of Battlespace id only $2.99.
___________
So that's all for this week. As always, book thread tips, suggestions, bribes, insults, threats, ugly pants pics and moron library submissions may be sent to OregonMuse, Proprietor, AoSHQ Book Thread, at the book thread e-mail address: aoshqbookthread, followed by the 'at' sign, and then 'G' mail, and then dot cee oh emm.
What have you all been reading this week? Hopefully something good, because, as you all know, life is too short to be reading lousy books.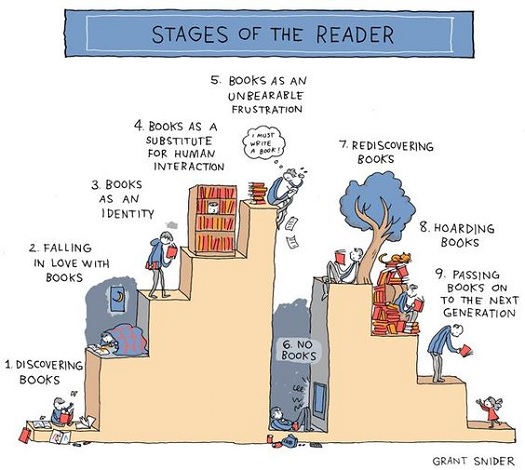 posted by OregonMuse at
09:00 AM
|
Access Comments