« Larry Elder leading in recall poll in California
|
Main
|
Ace of Spades Pet Thread »
July 24, 2021
Saturday Gardening and Puttering Thread, July 24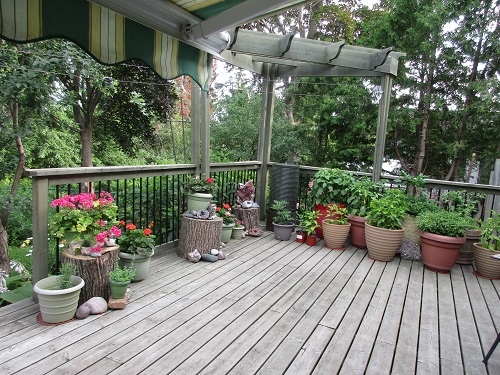 We have some nice reports on Edible Gardening from The Horde this week, plus some ornamental plants and other fine content. The handsome container garden above was created by Dr. Mabuse, in Ottowa, Canada:
Hi K.T.!

Here's a picture of my back deck, where this year I am growing hot peppers in a big way. I've got 7 different varieties in different-sized pots, along with an assortment of geraniums I started from seed this year. There's a fountain in the corner, and I took some oversized trunk segments from a tree we had cut down a few months ago, to create display stands. Someone on a past thread was talking about using geodes as decorations - my husband used to collect fancy minerals, an so I've added those along with river stones for decoration. It looks pretty nice this year, now that the plants have filled out. The peppers are still immature, but when they finally get full sized and suitable for picking I'll send a picture of the harvest. Thanks!

Dr. Mabuse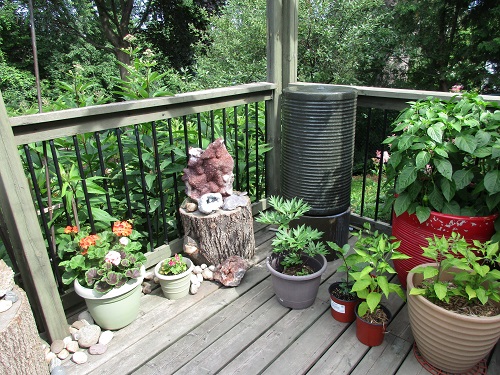 I love it. Looks like that lovely spot could provide some enjoyment for a few putterers as well as gardeners.
On the Farm
From Illiniwek:
Lots of milkweed here and in patches around the farm, only a few Monarchs.

New Thomcord grapes, in the grow tubes, mostly to protect from deer that might stray inside the fence.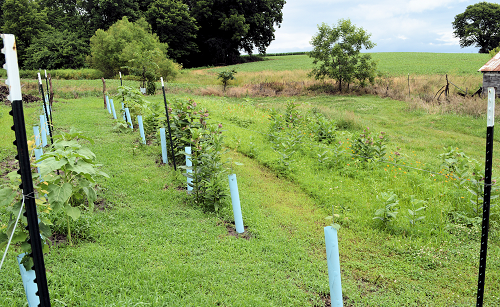 a mix of flowers competing with the grass, not in full bloom yet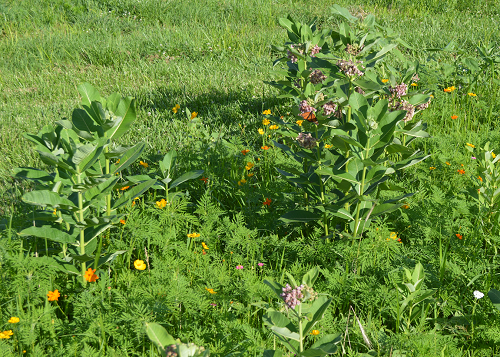 Monarch and Ladybug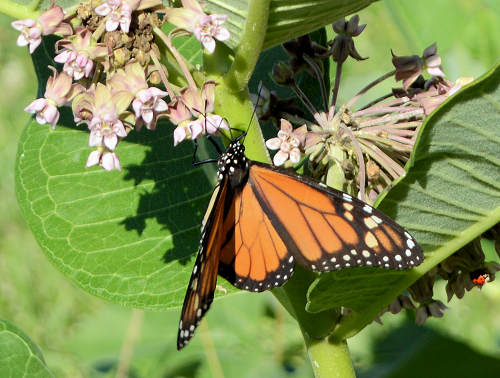 a few honeybees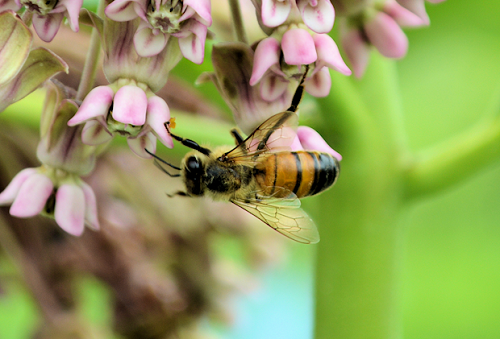 lots of bumble (?) bees, not sure about the other two "bugs"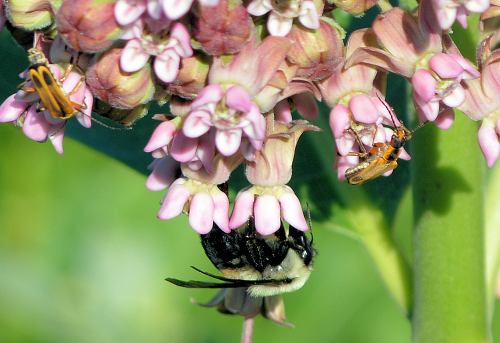 and a Great Spangled Fritillary (or some fritillary)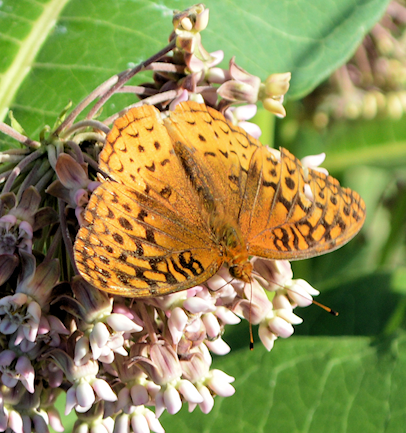 Monarchs aren't the only butterflies that like milkweed blossoms.
Edible Gardening
From Nemo:
Here in SW Wisconsin, it's been a great summer for fruits, at least so far. We had a fine crop of strawberries, from which my wife (the lovely and gracious Annalucia) made several batches of jam.

Now, the raspberry canes are yielding a bumper crop of berries; our little backyard patch has yielded more than a gallon so far. The fresh berries are delicious
in yoghurt, and more jam is in our future. Also, the berries freeze
well: just spread them on a metal sheet or pan, so they're only one
layer deep, then pop the pan into the freezer. The freeze quickly; then
move them into a zip-lock freezer bag for storage in the freezer. When
thawed, they're are nearly as good as fresh.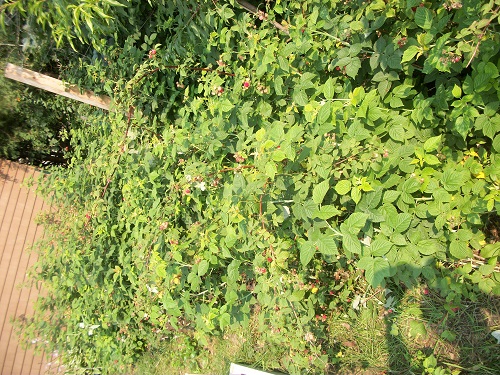 From Wee Kreek Farm Girl:
Hey KT, All is well here at Wee Kreek Holler, still getting up at 5am to walk the dogs so I can start watering at 6 while it is still quite pleasant. By 10 am it is pretty hot already. My Brown Turkey Fig is putting on quite a show. I have finally figured out how to keep the birds from getting them before they are ripe. Organza bags, you can buy 100 on Amazon for about $10 and I can reuse them year after year. My tree looks very fancy with 30 + white bags all over it. I have been eating figs every morning while I water and check on things.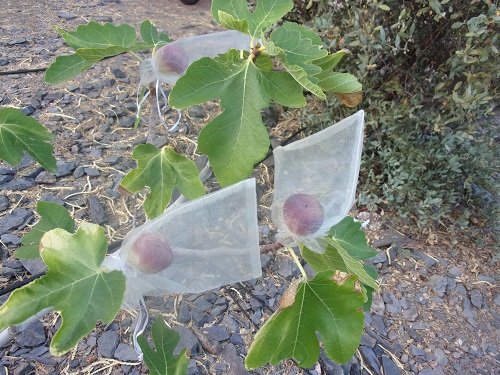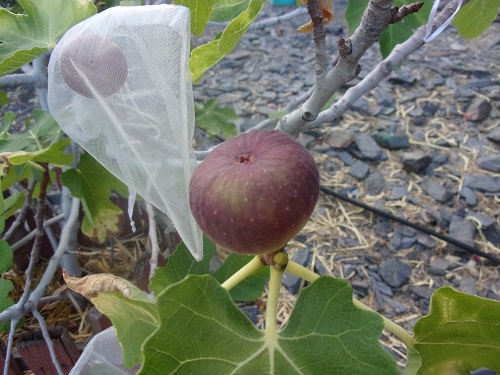 I love the fig envelopes!
My Orange Okra plant is getting big and seems to like it here, no blooms yet but I am hopeful, seems healthy and happy.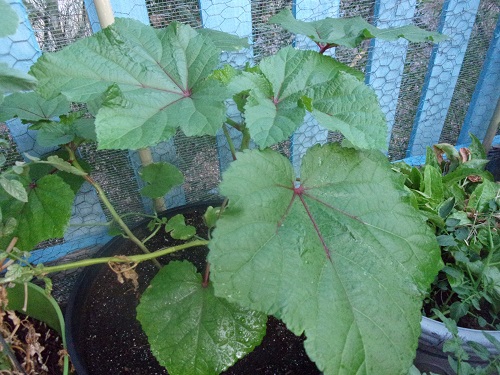 Meanwhile my Madhu melon vine is producing lots of melons, this is my first one that is starting to turn color, almost ready but not quite. This one is a beauty, the biggest one I have grown over the years. Hopefully nothing will ruin it for me before it is ready. Getting a few cucumbers yet and the last of the tomatoes are ripening, they won't start fruiting again until it gets under 105 degrees consistently. Hope all of the horde are safe from the crazy weather, we have had storms predicted every day but they always seem to pass us by, we could really use some rain. Maybe the places that are flooding could send it our way. Wee Kreek Farm Girl
Arizona has had some rain since then. Wonder if she got any?
The growth continues. The story of Mrs. Leggy's Sunflowers:
The sunflowers have been blooming like crazy and attracting all sorts of bees, mostly of the bumble varieties. The largest ones are well over 10 feet tall. In fact, I had to hold my phone way above my head to take a couple of these pictures. We have finally had a few days with no rain here so I'm thinking the hot sun will be making them growing even taller.

Thanks as always for the garden thread! It's very nice to share my hobby with all of you.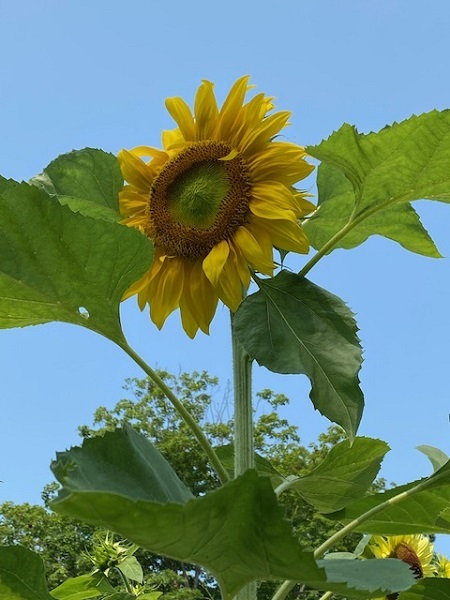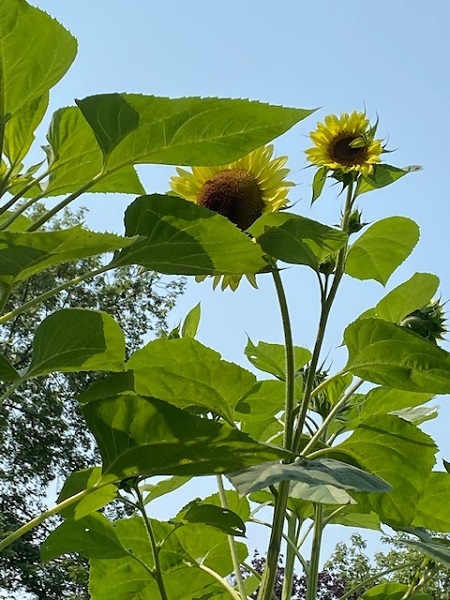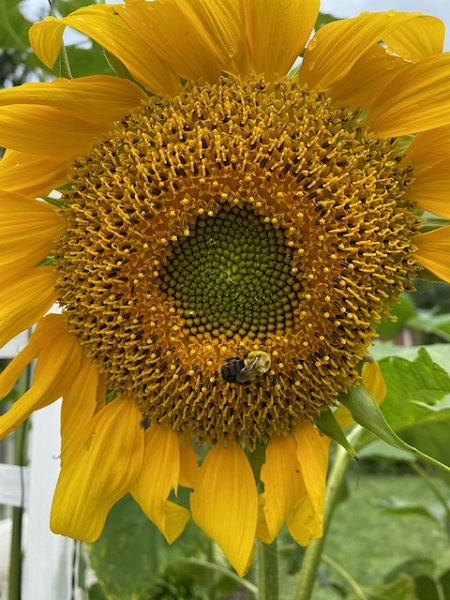 Highlights from Last Week
Johann Amadeus Metesky provided some very interesting details about what we might learn on a tour of Drayton Hall. Really interesting.
And we heard, I think for the first time, from The Guy, outside of Charleston, about what is surviving in his garden. What do you think they might have grown in the gardens at Drayton Hall?
1. In May planted a variety of tomatoes, squash and cucumbers.

2. Current status - tomatoes are doing awesome. Lost one plant to bacterial wilt, but strict and heartless yanking it out of the ground has saved other plants. Romas, Early Girls, Chadwick Cherry, Cherry 100s, and Purple Cherokee have been fantastic. Best in the last couple of years.

Cucumbers are big fail. Some form of fungus has wiped out the leaves.

Yellow squash. For the first time ever, no squash borer has gotten into the stems. CROP ROTATION BABY!!

No new buds on any plants for August harvest. Just too damn hot.
Wilt is terrible. Might check into a reserve wilt-resistant variety. Same for fungus-tolerant cucumbers. Off the ground. Heat resistant.
Yay for the borer-free squash!
The famous Pat* got Surprise Strawberries, under the lilacs of all places.
Flowers from The Horde
Hollyhocks, from Neal in Israel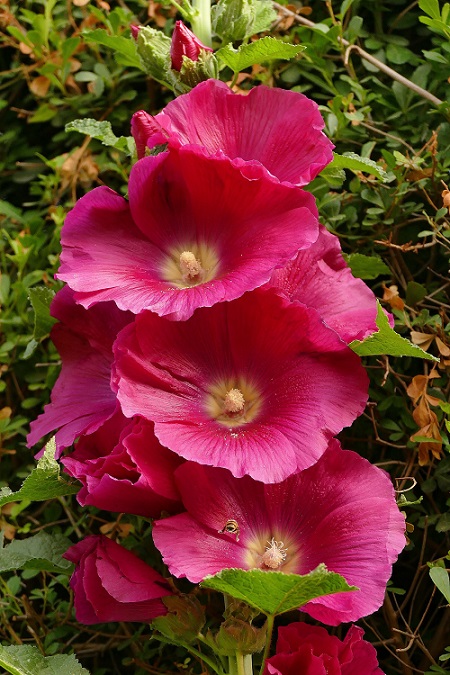 Music for Cows
If you would like to send information and/or photos for the Saturday Gardening Thread, the address is:
ktinthegarden
at that g mail dot com place
Include the nic by which you wish to be known when you comment at AoSHQ,
unless you want to remain a lurker.

posted by K.T. at
01:14 PM
|
Access Comments