« Saturday Morning Coffee Break
|
Main
|
Saturday Gardening and Puttering Thread, July 24 »
July 24, 2021
Larry Elder leading in recall poll in California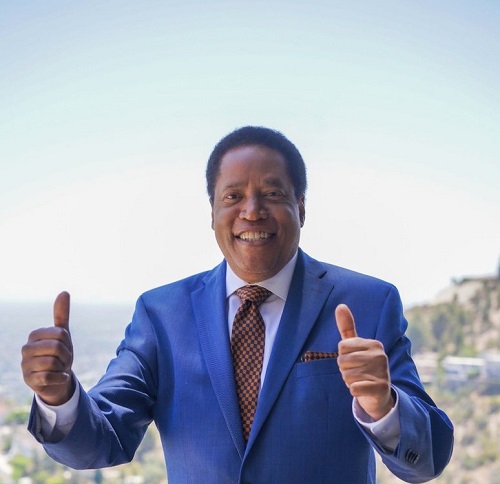 As noted here on Wednesday, the first effort to have Larry Elder disqualified from the ballot in the recall effort against Gavin Newsom has failed.
A California judge on Wednesday cleared the way for conservative talk radio host Larry Elder to join the field of candidates for an upcoming recall election that could remove Democratic Gov. Gavin Newsom from office.

Elder scored a swift court victory in Sacramento, where he challenged a decision by state election officials to block him from the ballot.

Superior Court Judge Laurie M. Earl disagreed with a state decision that Elder failed to meet requirements to qualify to run in the election. Forty-two other candidates have been cleared to appear on the Sept. 14 recall ballot.

In a tweet, Elder wrote, "Victory! My next one will be on Sept. 14 at the ballot box."

"This isn't just a victory for me, but a victory for the people of California. And not just those who favor the recall and support me, but all voters, including many who will come to know me," he wrote.
It would take a miracle, but I would love it:
Residents moved to recall Newsom through a petition drive, largely of what they considered his mishandling of the state response to the COVID-19 pandemic.

Elder, who announced last week he was running, submitted his nomination paperwork and five years of tax returns on Friday, the candidate deadline for the Sept. 14 election.

But when the secretary of state's office released a list of candidates who had met the requirements to qualify for the ballot Saturday, Elder was not among them. The office told Elder's campaign that its candidate's tax returns were incomplete or improperly submitted. Filing tax returns is a new requirement of a law signed by Newsom in 2019.
Conservative radio host Larry Elder is leading the field of candidates running to remove California Gov. Gavin Newsom from office by way of a recall election scheduled to take place on Sept. 14, according to a new poll released Wednesday.

The Inside California Politics and Emerson College poll found California voters favored Elder by 10 points when asked which of the recall candidates they planned to support.

Speaking with KRON-TV Wednesday evening, Elder said he announced his candidacy earlier this month, and has thus not been a candidate in the race to recall Newsom for long. Elder credited his public profile as a nationally syndicated radio host with his showing in the poll.
While 16 percent of poll respondents said they intended to vote for Elder, businessman John Cox and former San Diego Mayor Kevin Faulconer each received 6 percent of voter support in the poll. Earlier polls conducted in the spring before Elder announced his campaign found Cox and Faulconer, both Republicans, vying for the lead.

Reality television personality and Olympian Caitlyn Jenner garnered 4 percent of support from voters, as did state lawmaker Kevin Kiley. YouTube personality Kevin Paffrath polled at 2 percent, while an additional 8 percent of the polled voters said they intended to support another candidate. The remaining 53 percent of respondents said they weren't yet sure who they would support.
I have heard some interviews with John Cox, and I have read some brief blurbs on Caitlyn Jenner's positions. "Reality TV personality and Olympian". I'm pretty much in the dark about the other 40 candidates.
Though the poll showed Elder leading among the recall candidates by double digits, California voters first have to decide to remove Newsom from office before a decision can be made about who will replace him. . .
Elder didn't enter the race until July 12.
Incidentally, Democrats in Sacramento recently passed a bill to move the date of the recall election up, to give challengers less time to campaign.
California's Political Challenges and Larry Elder's History
No one should harbor any illusions that any single person could turn California around. The Democratic hegemony in Sacramento is remarkable, and often cruel, in a soap opera sort of way. And often stupid, especially now with CRT/"anti-racism" coming to the fore in political calculations. Larry Elder brings the facts, but I don't know that he has a lot of politicians backing him up. "The Identity Party". Heh.
It's not like Larry Elder himself is wildly optimistic. He seems to feel a sense of civic obligation:
Months ago, I was approached to run for governor by Dennis Prager because people asked him to ask me, they know how much I respect Dennis and how influential Dennis has been in my life and my career, and I said Dennis, thank you for that. But, hell no. I said, 'I think this state is ungovernable,'" he said. "The Democrats enjoy supermajorities in the Senate, supermajorities in the Assembly, so Republicans need not show up for work."

"I think this is a race between Gavin Newsom and me. I don't think about the other candidates," Elder told the Associated Press, adding, "I know it's a long shot."
But however it turns out, it is a way to get some ideas other than those being pushed by the Democrats out into the wild.
Larry Elder, the "Sage from South Central", was born and raised in Southern California. He had a high-powered education and worked at a top law firm before going into business for himself. He started dabbling in talk radio including, believe it or not, NPR. Dennis Prager pushed for his inclusion in the talk show lineup at KABC in Los Angeles, though Elder is more libertarian than Prager (aside from Elder's very strong stance against illegitimacy).
Elder's time on radio has not been free from controversy. He was targeted by a black group early on, which got several sponsors to withdraw from the program. He was defended by the ACLU (a different organization in those days) and by ABC (before the Disney takeover). The KABC defense included some effective radio and TV spots featuring Elder taking physical punches from his critics.
He has been off the air a couple of times since then. He eventually went national.
He was fired by KABC in 2014 and moved to Salem Broadcasting.
A couple of years after Larry Elder started in Los Angeles, in 1996, Reason did a pretty good interview with him. They called him "libertarian":
I've been accused of being a late convert to conservatism because it's "hot." It's a marketing edge in radio and as a black conservative, it's man bites dog. I went back and got some of my old high school papers, one of which was a book report on Booker T. Washington's Up From Slavery. This was in 1968. I set up the term paper by saying that my classmates refer to Booker T. Washington as an Uncle Tom but he was anything but. He used to talk about self help and not relying on government and hard work wins. That philosophy is the core of what I believe right now.
Any thoughts on his candidacy? What about the numerous other candidates?
What about Newsom?
Music
I have always loved the theme music for Larry Elder's radio program. This is it:
Way Back Home (Instrumental Version)
Here's the version with words.
This is the Thread before the Gardening Thread.
Serving your mid-day open thread needs
Hope you have a great weekend.

posted by K.T. at
11:10 AM
|
Access Comments