ę Megyn Kelly: "No Question" About Whether the Media Exaggerated the Capitol Riot to "Make It Worse Than It Actually Was"
|
Main
|
The Moderate, Centrist Democrat Relentlessly Promoted By NeverTrump Declares That We're Facing "The Most Significant Test of Our Democracy Since the Civil War" Ľ
July 13, 2021
Quick Hits: Lisa Murkowski Is One Old Dour Brokedown Nasty Whore Edition
Rasmussen: 58% of the public agree that "the media is the enemy of the people."
Voters overwhelmingly believe "fake news" is a problem, and a majority agree with former President Donald Trump that the media have become "the enemy of the people."

A new national telephone and online survey by Rasmussen Reports finds that 58% of Likely U.S. Voters at least somewhat agree that the media are "truly the enemy of the people," including 34% who Strongly Agree. Thirty-six percent (36%) donít agree, including 23% who Strongly Disagree.
Lisa Murkowski's best-positioned challenger, Kelly Tshibaka, received the endorsement of the entire Alaska Republican Party.
There's been another development in the primary battle between Sen. Lisa Murkowski (R-AK) and Kelly Tshibaka, who was the Alaska Department of Administration commissioner until she resigned to run for the senate. On Saturday, Tshibaka won the endorsement of the Alaska Republican Party, and she won it handily.

Suzanne Downey with Must Read Alaska broke down the numbers. Tshibaka won the endorsement with a margin of 58-17, at over 77 percent of those voting. As Downey also pointed out, 77 percent of the state party had also voted to censure Murkowski over her voting to convict Donald Trump in his second impeachment trial. The former president, at that point, had already been out of office.

The Office of National Intelligence ran a propaganda photo supposedly showing diversity in their organization.
Trouble is, it was a stock photo -- available to anyone on the internet for a small price -- of "Diversity in the Workplace," to which they added, in a clumsy, amateurish photoshop job, a woman in a wheelchair and a man with blind glasses and a seeing eye dog.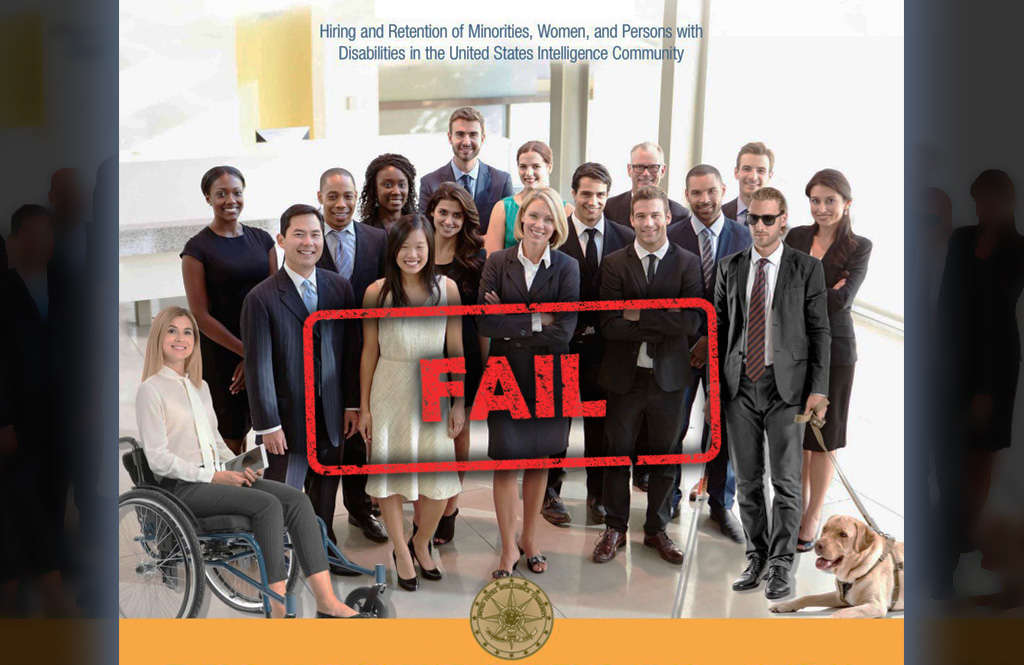 An astute social media user observed that the report's cover page featured a stock photo titled, "Portrait Of Multi-Cultural Office Staff Standing In Lobby." In an apparent effort to enhance the intelligence community's performative display of diversity, a blind man and a wheelchair-bound woman were sloppily added via Photoshop. One should never underestimate a government employee's capacity for half-assing a meaningless task.
Your "intelligence" agencies, everyone.
You trust them to spy on you, right?
Leftwing drull Bill Press has a hard-hitting news article at The Hill: Ice cream's back -- thank you, Joe!
Conservative news outlets, as well as Donald Trump himself, are apoplectic about positive media coverage of Bidenís ice cream choices. The National Review, the New York Post, and the Washington Times have all accused White House reporters of paying more attention to what flavor of ice cream he orders (and how many scoops) than to what Bidenís going to do about Russian hacking.

Which is pure nonsense.
He said, as he ignored skyrocketing inflation and Joe Biden's son selling "painting" to foreign benefactors whose names are being kept secret by the White House to talk about puddingbrained Joe Biden's love of ice cream.
NYC school principal tried to drive out white teachers, asked a coworker to contrive a complaint against a white teacher so that she could fire him.
"Antiracism," yo!
The faculty of a Washington Heights high school is rebelling against their principal, charging in a vote of no confidence that she has "flagrantly but unsuccessfully attempted to divide our school by race."

Paula Lev, principal of the High School for Law and Public Service, is now under investigation by the city Department of Education for allegedly telling a faculty member she "was going to get rid of all these white teachers that aren't doing anything for the kids of our community," a complaint states.

Lev, a Dominican, also asked the faculty member to "conspire with her" to try to oust a white colleague, according to the complaint filed last week with the DOEís Office of Equal Opportunity.

"She definitely has something against white people," says the complaint, obtained by The Post.
Frequent CNN guest and racist Mark Lamont Hill proclaims that all white people are racist.
But not him!
Temple University professor Marc Lamont Hill gave an unequivocal answer when asked if he believed that all white people were inherently racist.

"I don't know if you're backing me into a corner with that question but yes, I do," Hill responded.

The former CNN contributor was discussing the controversy over critical race theory when he made the comments to political commentator Liz Wheeler on the "Black News Tonight" show.

"I do believe that all White people are at some level, at the unconscious level, connected to racism, it's unavoidable," he explained. "I think all men are sexist at some level. I think that's absolutely the case."
1. The political catechism that racism is the worst thing in the entire universe
2. Anti-white racism
Pick one, and only one, leftwing black racists.
Content Warning: You know that absolutely creepy video of transsexuals trying to make a baby "feed" off their male nipples? Facebook actually promoted that video.
Muh Private Degenerate Monopolies.
Guys, CNN says stop blaming Biden for soaring gasoline prices!
Noted All-Time Jeopardy Great Wolf Blitzer just noticed that gas prices are rising
Instapundit's Ed Driscoll notes that Democrats have been agitating for higher gasoline prices since at least 2008. Obama, of course, promised that his schemes would cause electricity prices to "necessarily skyrocket.
Transgender Queen Kristi Noem is taking a passive-aggressive shot at Ron DeSantis, for temporarily, and lightly, imposing some covid lockdown measures.
That might have something to do with the fact that Florida has the highest percentage of old people, and thus the highest percentage of people in actual danger of being killed by covid, in the nation.
Does she really seriously think she's a candidate for president? LOL. Go back to your scheming conference calls with Asa Hutchinson and Paul Ryan, ditz.
Leftists, meanwhile, are training all firepower on DeSantis:
Eric Swallowall embarrasses himself again with a shirtless pic of himself:
Per Bonchie at RedState: the pic shows him on a Qatar-paid junket -- during the pandemic.
According to Business Insider, the pictures were taken earlier this year and show Swalwell and Rep. Ruben Gallego (D-AZ) as well as their wives riding camels along the Persian Gulf while on a trip paid for by the US-Qatar Business Council. It cost $84,621.59, according to the NY Post.

Now, this is embarrassing all on its own because yuck, shirtless on a camel? Is he daft? But beyond that, itís another Democrat doing his "rules for thee but not for me" bit. So while other Americans were still facing restrictions, while folks in his state were still locked down, here's Eric yucking it up on a special-interest-paid-for jaunt. We still donít know how much he was compromised by the Chinese spy.

LOL, of course: Elizabeth Warren-ism comes to Australia, as white people who can claim only 1/1024th aboriginal parentage (if that!) are suddenly all claiming they're aboriginees -- to grab up racial set-asides and quota-slots.
In the comic book world, straight women are now claiming to be "bisexual" to keep getting gigs. Expect a lot of white men in Hollywood to bite the bullet and come out, honestly, as gay -- deciding that losing roles as romantic leads is better than losing all roles -- or dishonestly claiming to be "bi-curious" or something.

posted by Ace at
04:36 PM
|
Access Comments