« Quick Hits: The Media Finds a Way to Spin the "Silver Lining" of Skyrocketing Inflation
|
Main
|
To GAINZZZ or Not To GAINZZZ, That Is the QUEZZZTion »
July 09, 2021
San Francisco Gay Men's Chorus Blames "Conservative Media" For Misinterpreting Their Threat That They're "Coming For Your Children;"
But -- Is the "Conservative Media" Covering This Story At All? (Spoiler: No)
The San Francisco Gay Men's Chorus privated their video after finding out that promising to prey on people's children wasn't the cute viral moment they were looking for, but it was copied here, if you want to see the degeneracy.
If that video doesn't work, well, I guess they got another takedown.
The group published a non-apology bragging that they're getting every single copy of their video struck down on fake legal grounds: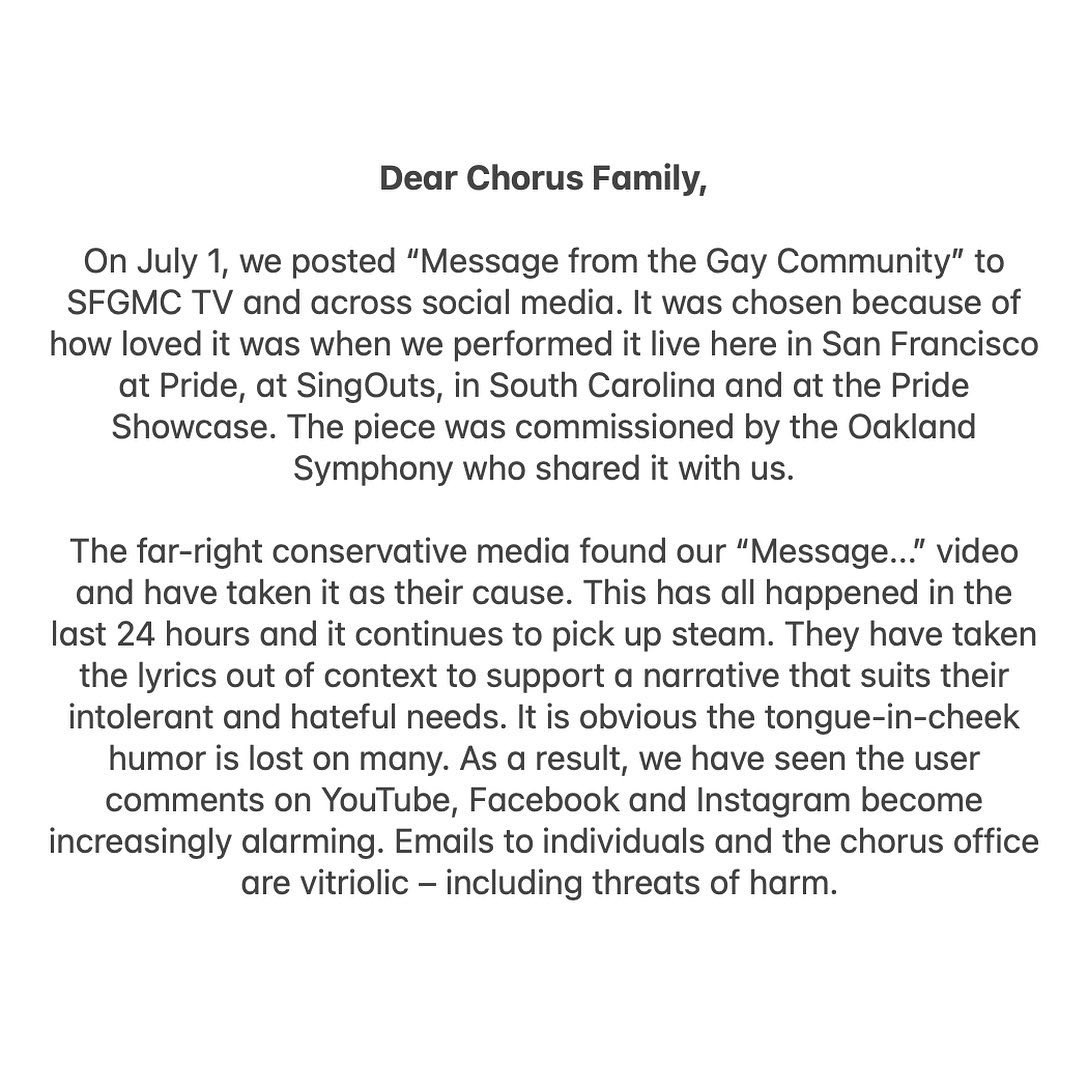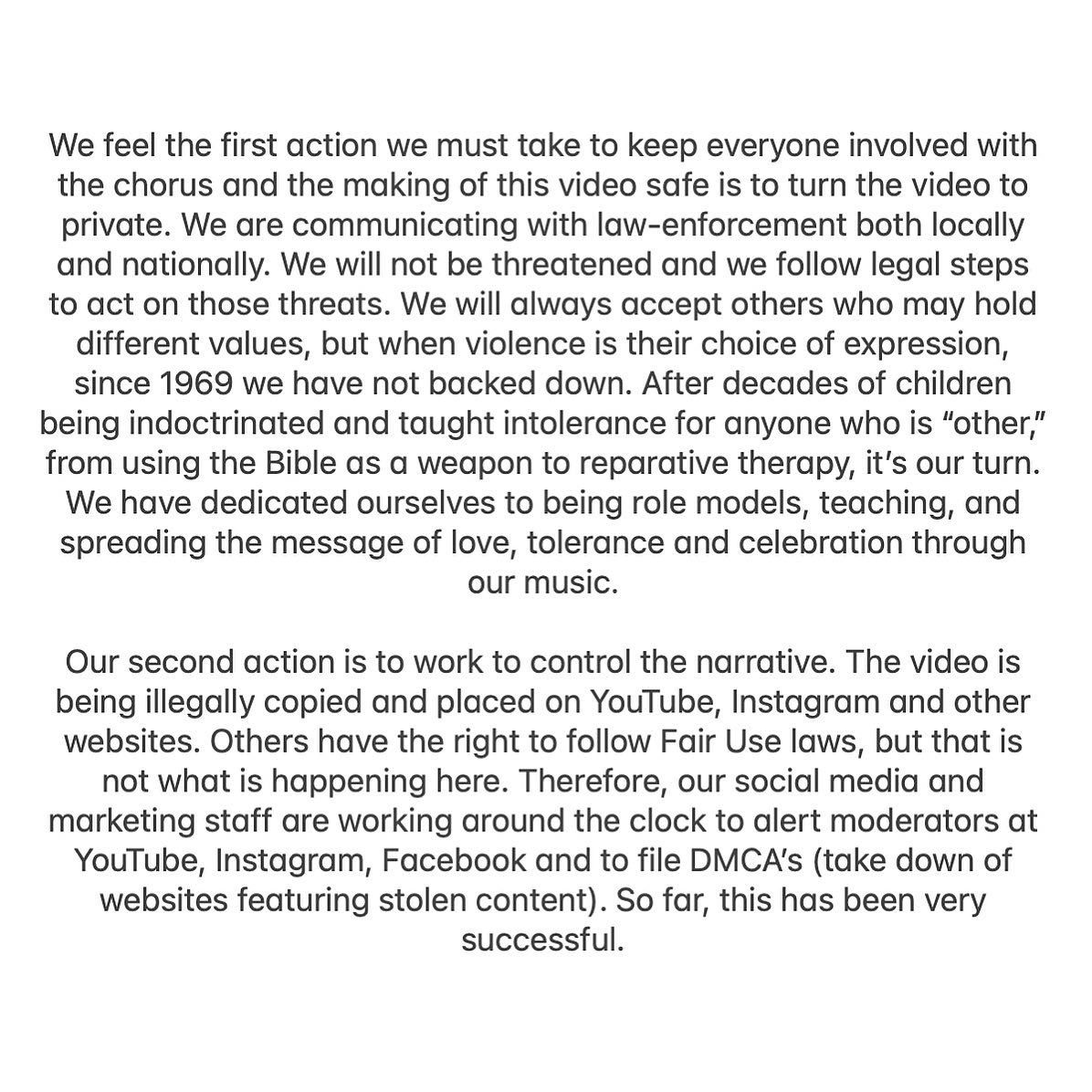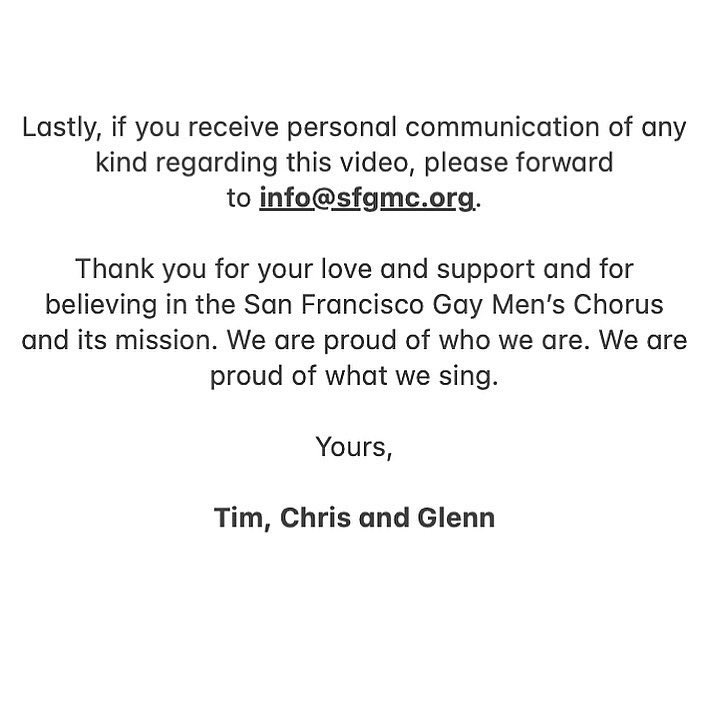 Let me get this straight:
First of all, they say this is "humor."
"Tongue in cheek humor," in fact.
Yes do tell me where your tongues are as you sing about "coming for our children" and "converting" them.
So the joke is, "We're coming to f*** your children, ha-ha, just kidding uptight breeder! We just mean we're going to get access to them and indoctrinate them into leftwing Sexual Liberation Theory and turn them against you and get them to curse your 'God.'"
I have the "humor" right? Super-funny. Straight people think that children should be kept innocent of sex, rather than brought to gay pride kink parades. What squares!
Second of all, they say that they've taken down the video and are also filing copyright claims to get every copy of the video taken down from the internet.
Third, they say that the conservative media (more on that later) is taking their "humor" "out of context."
Take those two claims together: They're saying that we're taking their "humor" "out of context" while simultaneously siccing lawyers on commentators for publishing the video in full context.
How can people judge whether it's being "taken out of context" when they're using legal threats to specifically keep people from judging the context?
That, of course, is the whole game.
They plan to remove all mention of the video from the internet, and then say "All the people publishing the lyrics are liars," and they'll have made sure that there's no evidence remaining to contradict their own lies.
Deb Heine at American Greatness reports on something else: You're not going to believe this, but the two degenerates who wrote this song threatening to corrupt your children were previously criticized for writing a play that was widely criticized for its creepy treatment of the forced enslavement of very young boys in gay prostitution.
Sohne and Rosser created a musical in 2016 about "bacha bazi" or "boy play," a custom in Afghanistan involving child sexual abuse between older men and young adolescent males or boys--known as dancing boys. The boys are trained to dance seductively in front of older men at parties and are often sexually abused.

The play, titled "The Boy Who Danced on Air," is described by the BBC as "a love story between a 16-year-old boy, Paiman, and another young boy caught in the same bacha bazi practice."

The production got mixed reviews among liberal theater critics, with some calling it "courageous, thoughtful and beautiful," but with many others finding the subject matter to be off-putting, including a New York Times reviewer who found the play to be "troubling" and said Sohne and Rosser had "taken the challenge of difficult source material too far."

Even so, the musical debuted without causing too much of a stir. That changed in 2020, when, according to the BBC, the COVID pandemic "forced theatres to close, and The Boy Who Danced on Air joined many other productions on online streaming services instead."

As it found a wider audience online, the play reportedly "provoked a wave of outrage and criticism from Afghans living around the world, who, learning of the musical for the first time, accused it of romanticising child sexual abuse and child rape."
These "men" definitely have a Brand, don't they?
People are now matching up photos and names of the men from the chorus with sexual predator lists. I think it's a reasonable avenue of exploration.
So they do seem to have a "Brand" here. They really think it's hilarious to joke -- or, " " " joke " " " -- about f***ing children.
The leftwing media is of course completely embargoing the story of the San Francisco Gay Men's Chorus threatening "We're coming for your children."
Of course they are.
But when I say "the leftwing media is embargoing the story," I include the left-leaning fake "conservative media," which is also embargoing the story.
PJ Media did write it up yesterday in a news article and then an opinion piece building off the first story.
Fox News finally covered the story, just six hours ago, presumably after the "backlash" they use as a news hook grew too great to continue embargoing the story.
But what about the four blogs run by the Salem Media corporation?
No mention of "gay men's chorus" or "gay men's choir" at Twitchy.
No mention of either "chorus" or "choir" at RedState.
There's a single mention of the story at Townhall -- on a VIP page, which most people can't see.

And obviously no mention at AllahPundit's and Ed Morrissey's Hot Air.
Now I know there are a fair number of conservatives at these sites. So why has only a single conservative covered the story at Salem Media?
One obvious answer: Because they've all been instructed not to by corporate. The one story might have just slipped through.
There are dozens of dozens of writers at these four blogs, all of whom find their own stories to write about.
It cannot be the case that out of 50 or so writers, only one stumbled upon this story. It cannot be the case that all other 50 independently reached the conclusion, "No news here, move along."
It seems far more likely that they were told to come to that conclusion.
Sign up for Salem's VIP program to "Support Conservative Journalism," LOL.
No mention of "gay men's chorus" at National Review.
You know -- the "Catholic" conservative magazine.
The ones that couldn't wait to jump ugly on the Covington Kids.
But they're okay with this.
Again, this is because their corporate donors are themselves on the far sexual left. To criticize this would not only be square and declassee, but -- you guessed it -- homophobic.
Make sure you donate to their next Web-A-Thon! They're standing athwart history shouting "DO NOT PUBLISH THIS STORY!"
No mention at the corporate shill site Washington Examiner, obviously. The pro-CRT-training corporate class actively approves of this degeneracy.
Obviously no mention of it at The Bulwark or The Dispatch.
If I'm missing mentions of the story at these places, please let me know. I've searched on their own search engines, and I've searched on Google and DuckDuckGo. I just cannot find any mentions of this story, except for Leah Baroukis' one story at Townhall.
I would contact the people I know who work at these places for comment, but I wouldn't want to put them in the position of having to lie to a friend to protect their jobs.

This is corrupt.
The "conservative media" is controlled by the left. Specifically, the corporate left. It is the definition of controlled opposition.
At what point do people finally reject a "conservative media" that embargoes the same stories the leftwing media does?
Denial: I just had a denial of my claim that the blackout is being directed by corporate at Salem.
Okay, so... like no one except Leah Baroukis at Townhall thought that this was a story? No one?
Just one person?
This person says they're all contractors and they post about what they think is interesting and what they think will generate traffic... so like no one thought that a gay chorus openly bragging that they're "coming for your children" would generate revenue?
I mean, I'll post this because it's a denial, but... Well, I'm skeptical.

Leah Baroukis did post at Townhall, in a paywalled article.
But across the other three Salem properties, all with a bunch of different writers with different worldviews, different fashions of conservatism, and different sensibilities, they all landed on the exact same conclusion about the story?
Did they just happen to pick a fleet of conservative writers who were all unaccountably squeamish about reporting on the left's laser-like focus on indoctrinating and "converting" other people's children?
I don't know. I just... I'm just having a hard time believing that no one except Leah Baroukis saw this and thought, "huh, would make a good post."

Me, when I see birds all fly in the same direction I usually think there was an external force driving them in that same direction. But then, sometimes they fly in a direction because of a complex interplay with all other birds.
Eh. Make of the denial what you will.