« Great Thread on How the Election Was Rigged, and How the Nation Was Stolen
|
Main
|
San Francisco Gay Men's Chorus Blames "Conservative Media" For Misinterpreting Their Threat That They're "Coming For Your Children;"
But -- Is the "Conservative Media" Covering This Story At All? (Spoiler: No) »
July 09, 2021
Quick Hits: The Media Finds a Way to Spin the "Silver Lining" of Skyrocketing Inflation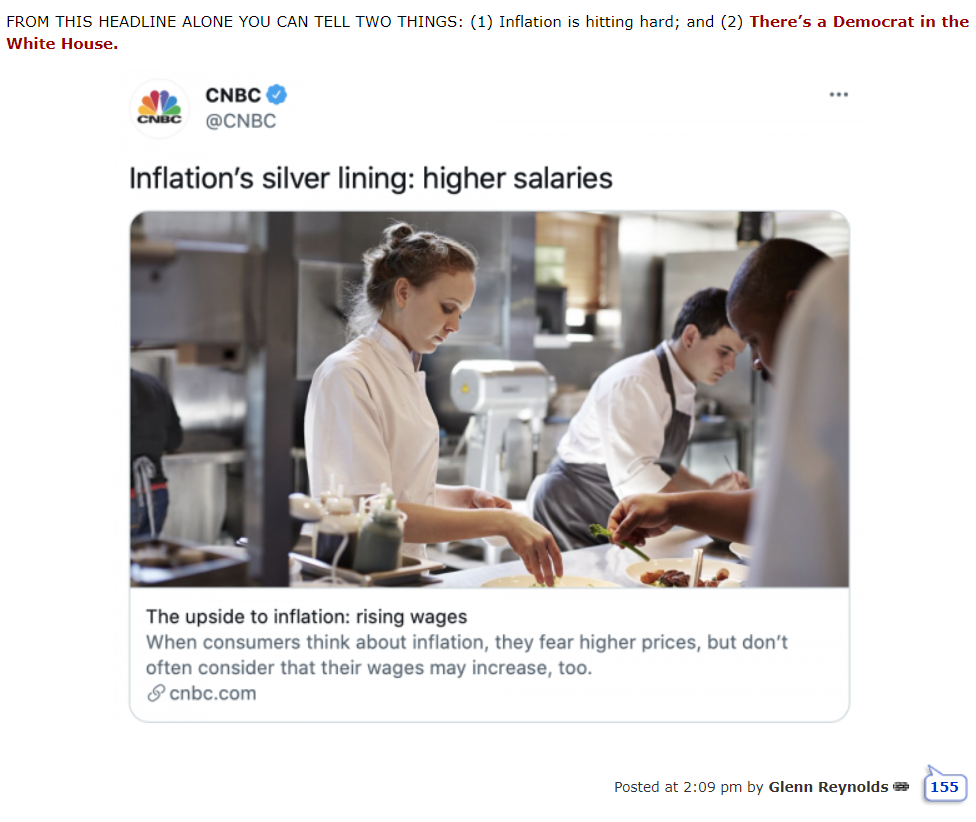 TIRED: "Funemployment"
WIRED: Inflation causes phantom rises in your nominal pay rate, which is all wiped out (and then some!) by rising costs, but at least the numbers look bigger on your check!
You probably already know that a witness at a hearing -- Congress' Sergeant at Arms -- revealed the secret of who killed Ashli Babbit -- Officer Byrd of the Capitol Police.
Paul Sperry writes about it at Real Clear Investigations.
Most police departments -- including Washington, D.C.'s Metropolitan Police -- are required to release an officer's name within days of a fatal shooting. Not the U.S. Capitol Police, which is controlled by Congress and answers only to Congress. It can keep the public in the dark about the identity and investigation of an officer involved in a shooting indefinitely.

Which is what happened with the Jan. 6 shooting of Ashli Babbitt, an unarmed protester in the U.S. Capitol riot who was fatally wounded by a plainclothes police lieutenant as she attempted to breach a set of doors inside the building.
Great, a Praetorian Guard.
Now a new name has surfaced in the Babbitt imbroglio -- Lt. Michael L. Byrd -- and while USCP Communications Director Eva Malecki won't confirm he is the shooter, in this case she isn't denying it.

In a little-noticed exchange, Byrd was cited by the acting House sergeant at arms during a brief discussion of the officer who shot Babbitt at a Feb. 25 House hearing. Both C-SPAN and CNN removed his name from transcripts, but CQ Transcripts -- which, according to its website, provides "the complete word from Capitol Hill; exactly as it was spoken" -- recorded the Capitol official, Timothy Blodgett, referring to the cop as "Officer Byrd." His name is clearly audible in the videotape of the hearing (see video embed further below).

Great, the Brave Artistes of Hollywood have made a movie spoofing/attacking Pizzagate.
No movies attacking Louis Farrakhan or the Pussy Hat Brigades.
But the Brave Artistes sure do enlist themselves up to attack Permitted Targets.
The Pizzagate Massacre, a satirical thriller based (loosely) on the infamous -- and debunked -- alt-right conspiracy theory, has found a U.S. home with Archstone Entertainment.

Starring newcomers Tinus Seaux and Alexandria Payne alongside Lee Eddy (Panic), the directorial debut of Texan filmmaker John Valley is billed as a darkly comic adventure involving an amateur journalist and a far-right militiaman who team up to expose the ugly truth behind rumors involving sex cults, a pizza place and -- of course -- lizard people. It won the best midnight feature award at last year's Nightmares Film Festival.
AllahPundit, David "The Pharisee" French, and Jonah Soytits bought their tickets early through Fandango. They're gonna have a little ManDate together, while their wives are... occupied.
Like, literally occupied. Like they're physically occupied.
Like, they have strange men occupying their veegers.
Spotify's purplehair nosering transsexual supremacist staff says they're "outraged" that Joe Rogan remains on the service.
Joe Rogan, the notoriously polarizing host of "The Joe Rogan Experience," America's most popular podcast in 2020, is upsetting some Spotify staffers, according to a report. Employee complaints, however, fall on the deaf ears of company executives who paid the 53-year-old comedian more than $100 million to exclusively stream on the platform.

"I'm personally bothered by his transphobic comments and am concerned with the way he might spread misinformation," one Spotify employee wrote last fall on an internal networking channel on the app Fishbowl, Insider reported Tuesday.
Shut the fuck up.
Glenn Greenwald snarked: "Replace him with a nice liberal who sounds exactly like everyone else in media who nobody will listen to but at least won't upset millennial Spotify employees."
MSNBC keeps trying to create New Trump:
Chris Hayes -- AllahPundit's favorite cable host, you might remember -- also attempted to claim that increased (legal, Fed-approved) gun sales were driving skyrocketing violence, rather than the much more obvious relationship of skyrocketing murder and assault rates driving gun sales.
Just didn't even occur to her!
Flashback: Watch leftwing media figures, as well as NeverTrump pundits, who are also leftwing media figures, gush over Michael Avenatti for three minutes:
Boy, Amanda Carpenter sure has a... satisfied glow on her face as she speaks of Avenatti, no?
Soytits McGee is at top left (appropriately enough) in this collection of tweet snapshots:

posted by Ace at
03:36 PM
|
Access Comments