« The Oligarchy Sees the War on Terror Winding Down, So They've Repurposed Their Anti-Terrorist Surveillance Programs to Target the New Budget-Justifying Enemy: You
|
Main
|
Patriot GAINZZZ »
July 02, 2021
Ed Henry Lawsuit: Fox is a Leftwing Organization
Ed Henry is suing Fox, CNN, and NPR for defamation.
He had been fired from Fox for allegedly violently r**ing a Fox employee. Fox News dismissed several of the claims as untrue -- claims about Tucker Carlson, Sean Hannity, and Howie Kurtz -- but I guess didn't deny them as strongly regarding Henry?
I'm not sure.
But he says his own former network, as well as CNN and NPR, defamed him by falsely reporting on his firing.
He names Tater specifically. He calls Stelter "Tater" right in his lawsuit, right in the caption.
No I'm just kidding, I made that up. That's what I call a wish-lie.
But wouldn't it be a more magical world if Stelter were routinely referred to as "Tater" in official documents?
Ex-Fox News Host Ed Henry filed two more defamation lawsuits today in US District Court in New York, naming National Public Radio's David Folkenflik and CNN's Alisyn Camerota and Brian Stelter (as well as their CNN parent, Turner Broadcasting) for their allegedly defamatory commentary and reporting on his firing by Fox News.

The filings follow a similar lawsuit filed Wednesday in New York against Fox News and the channel's CEO Suzanne Scott. That lawsuit also alleged defamation.

One of the new complaints alleged that Folkenflik, Camerota and Stelter have "longstanding grudges against Fox News and/or individuals associated with the company," causing them to repeat false allegations on the reasons why Henry was dismissed from Fox News relating to alleged sexual misconduct.
I'm not sure how these claims bear on Ed Henry's lawsuit alleging that he was unjustly terminated for -- allegedly -- but it's interesting.
In the suit he filed against Fox News and its CEO Suzanne Scott, he alleges that Fox is essentially a leftwing organization and -- I presume -- links this to his firing by claiming that Fox News is biased against conservatives and eager to trash and defame them.
Some interesting reading here.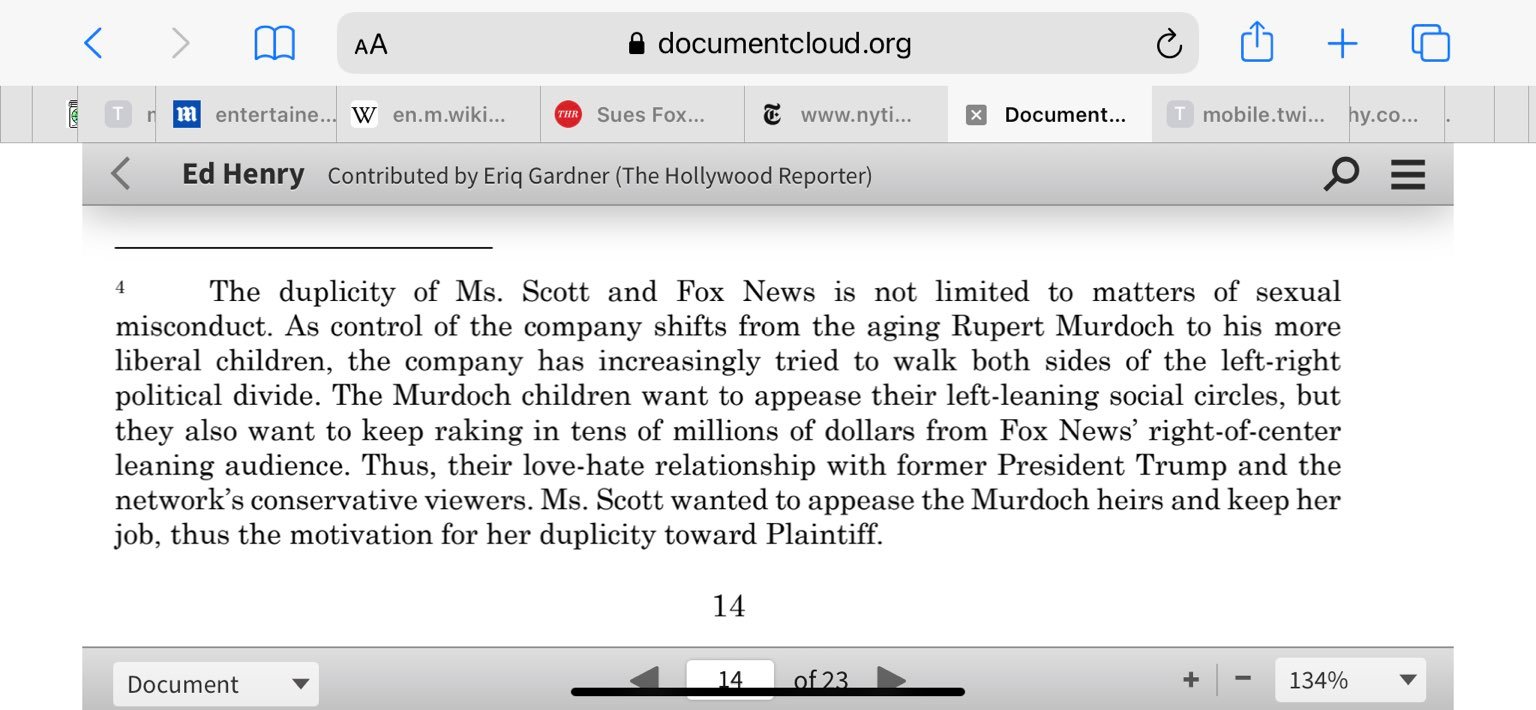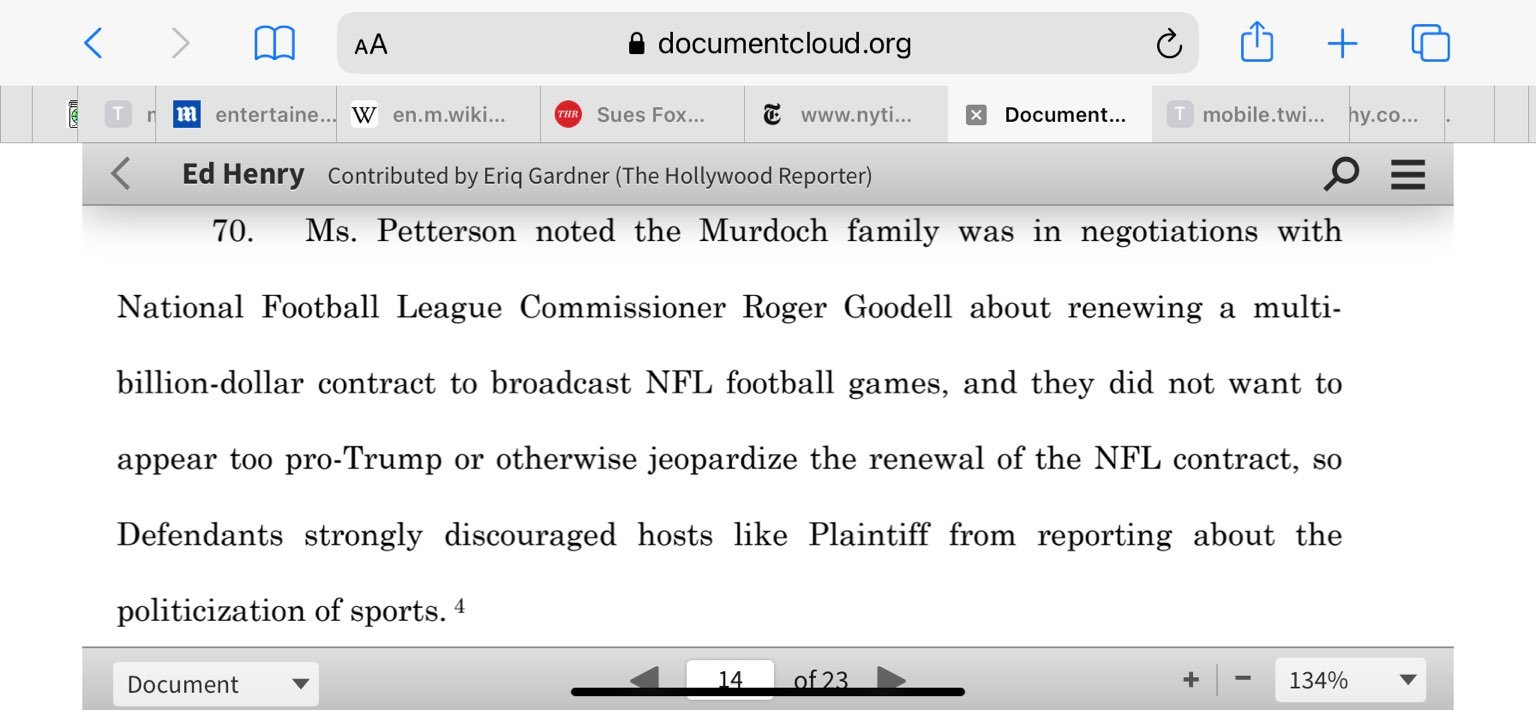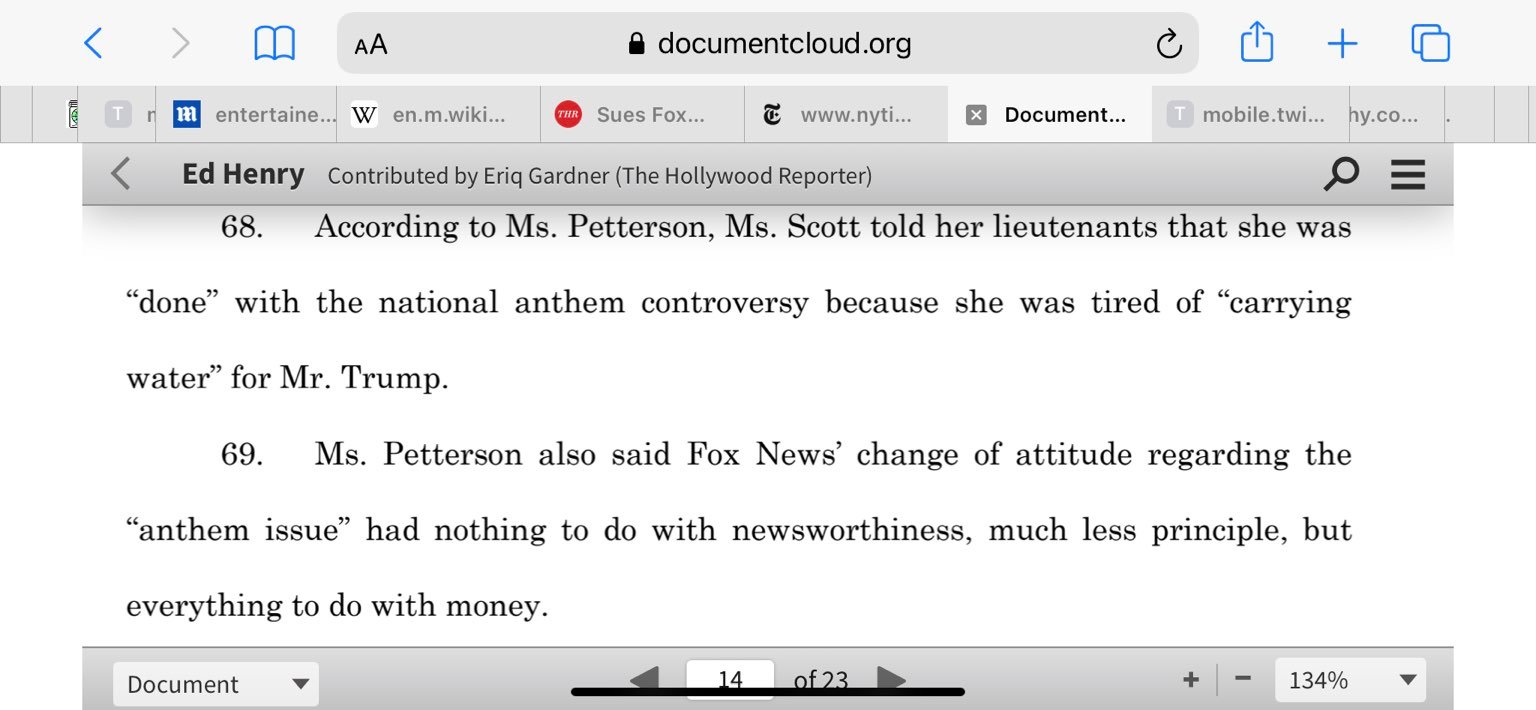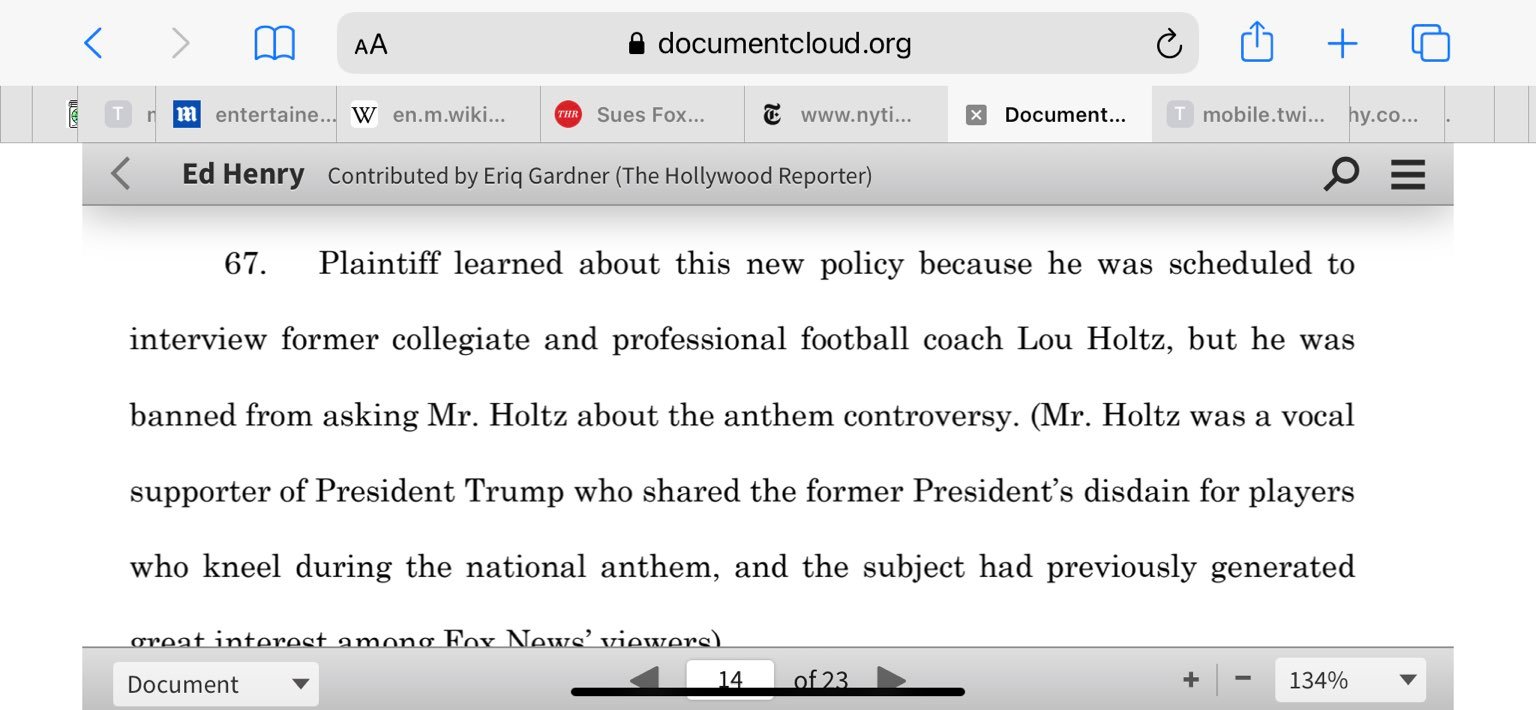 It's pretty obvious that Henry is right: Fox News is a leftwing organization which is simply gulling the rubes to keep Lachlan Murdoch in ascots and spats.
And I do know that Fox takes disciplinary action, disguised as "sudden unplanned vacation," against conservatives at the network, while taking none at all against the leftwing propagandist Chris Wallace or the leftwing Fox contributor Mara Liaison, who praised antifa terrorists as the equivalents of the heroes of Normandy.
Ed Henry claims that an executive named Jay Wallace was promoted at Fox despite having an illicit sexual relationship with a subordinate, which the network "covered up."
Ty Clevenger, Henry's lawyer, said he expected to prove that Scott threw his client "under the bus to burnish her image as the tough female executive who cleaned up Fox News" while covering up for others at the network.

Specifically, the lawsuit accused Scott of having "protected and promoted" Fox News president Jay Wallace, "despite the fact that he had a romantic relationship with a subordinate while he was still married."

The lawsuit said that Fox News' Human Resources department investigated Wallace for "having an inappropriate relationship with a subordinate" and "obtained unequivocal evidence confirming Mr. Wallace's illicit relationship and favoritism."

But, according to the lawsuit Henry filed, the matter was "intentionally covered up" by Scott.
Fox says that's not true.
Ed Henry's case that Fox is eager to punish conservatives is plausible.
I just don't know if it could be proven. I also don't know if it's relevant -- mercy shown in one case does not require mercy be shown in another, generally.
I will say this: If he writes a book exposing Fox, I will buy it. But I'm sure he's bound by an NDA.
Maybe he's putting this stuff out in a lawsuit because otherwise, he would be bound by the NDA.
From the comments:
This has been evident for a long time. For at least ten years, though really apparent in the past six, it has been a Tale of Two Foxes.

FNC's news division was center-left for a long time, and then started moving left dramatically after the 2016 election. It is now indistinguishable from the mainline networks like NBC and Bloomberg, though still slightly less crazy than MSNBC and slightly more legitimate than CNN.

FNC's commentary/opinion division is somewhat conservative, mostly due to legacy operators like Carlson and Hannity. The bench is empty, though, and it will move center-left soon as the news division continues its trend moves even further left.

Then FNC will finish failing. No one needs another MSNBC, which is what it will be soon. "Lefty propaganda outlet" is already a crowded field, and there are more than enough subsidized operators there. Until that happens, though, FNC will still be the "far right" whipping boy for the rest, because everyone in media is still pretending that FNC is what it used to be: center-left journalism with right-wing commentary.

Posted by: Joe Mannix (Not a cop!)
* Fox's headliner was that mushbrained simp O'Reilly for years

* During those same years they had Dummy Colmes in the Idiot Slot, to regurgitate nightly all of the most glorious leftwing lies imaginable

* They promoted plastic hair Shepard-is-Gay to tell all of Fox's conservative viewers Bush was raping babies in the Super Dome while totally covering up the botched local Democrat Katrina response

* They demoted and memory-holed Michelle Malkin.

* And for a final insult, they showcased none other than Patriot John McCain as the #1 Choice for America in the 2008 Primary.

* All while supplying gobs of material to the Left as our named ambassador.

Since 2001, Fox has been about as right wing as a bird's left wing. But they sure played the part well.

Posted by: ...

posted by Ace at
04:23 PM
|
Access Comments